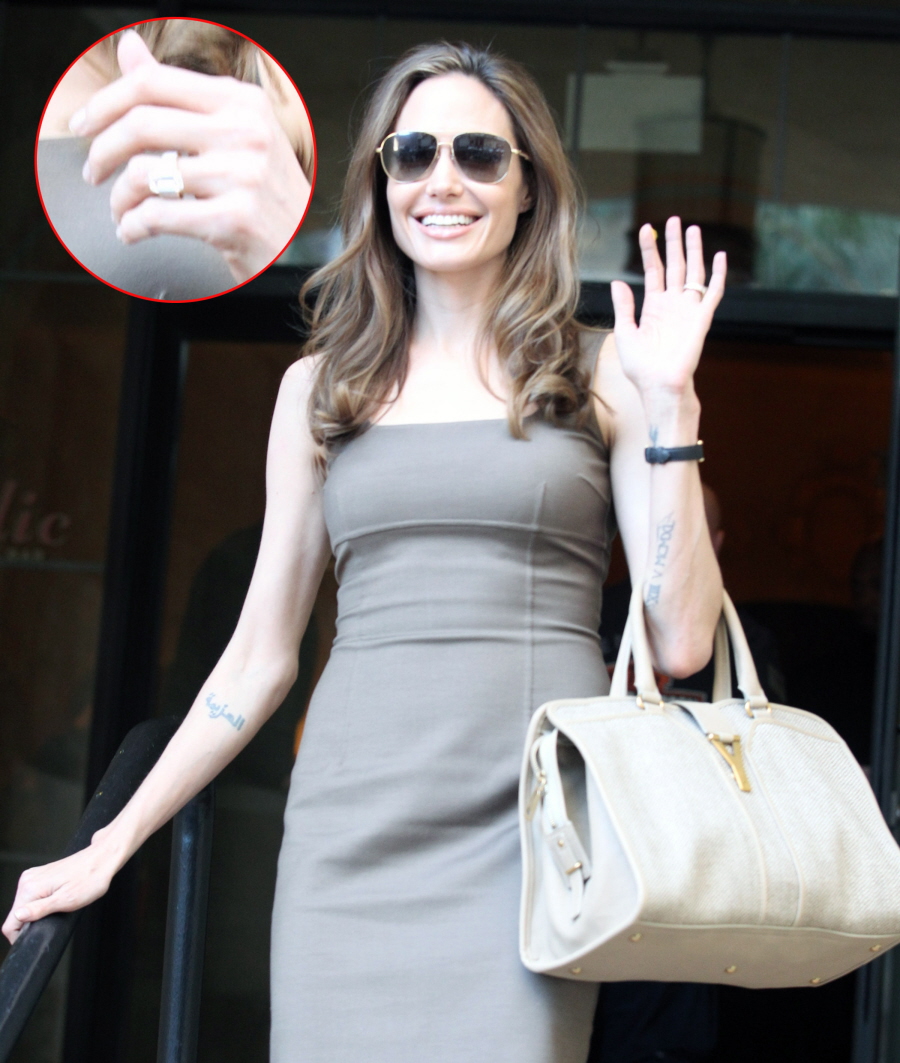 It's time for another chapter in the book of Angelina Jolie Hates Everything About Brad Pitt, Especially His Taste In Jewelry. Previous chapters have detailed how The Villainess Jolie constantly makes Brad cry and curl up in a little ball, while she laughs her villainess laugh and demands more children for her Orphan Lair. Last year, we even had a chapter about Angelina not wearing her (then new) engagement ring during a UNHCR trip to Ecuador, and because she didn't wear the giant diamond ring, that obviously meant she hates her fiancé. Back then, Angelina was depressed because she secretly wanted Brad to give her an emerald engagement ring (As opposed to an emerald-cut diamond ring). Star Magazine has a new story that goes even further – The Villainess thinks Brad's ring is gaudy, tacky and she just flat-out hates it.
When Angelina Jolie was spotted back in LA on March 27th after a humanitarian trip to the Democratic Republic of Congo and Rwanda, she was seen wearing a simple gold band in place of her engagement bauble. Speculation ran rampant, but Angelina insisted no secret wedding had taken place. So why did Angelina replace the ring encrusted with multiple emerald-cut diamonds – estimated at $500,000 – that Brad gave her one year ago?

Some sources say that Angie simply didn't want to wear a giant jewel while visiting one of the poorest places in the world.

"Angie thought it was tacky to have such conspicuous wealth when she is visiting a third-world country on a charity mission," explains a friend. "That's why she replaced it with the gold band – it's just more low-key."

But Angie is still not wearing the ring despite being back in the US and hasn't been seen with it since Feb. 14th. So what gives? A source close to Angie gives Star a far less noble reason: taste!

"Angie really hates that ring. It's so big and gaudy, just not her style at all. She tries to get out of wearing it as much as she can. Angie knows Brad spent a lot of time designing it for her, and she would never hurt his feelings by telling him she isn't crazy about it. But she really just doesn't like the ring."
[From Star Magazine, print edition]
I'll admit, I'm not in love with her ring either, but if a dude (ANY dude) gave me a $500,000 ring, I would wear that sucker everywhere. I would probably be afraid to take it off, but mostly I would want to show it off. If someone called it tacky, I would just say "Yeah, five hundred thousand dollars." As for the potential veracity of this… I hate to admit it, but I could see it being partly true. The ring really does NOT seem like Angelina's taste. I bet she's really looking forward to the day when she can just wear a wedding band without controversy.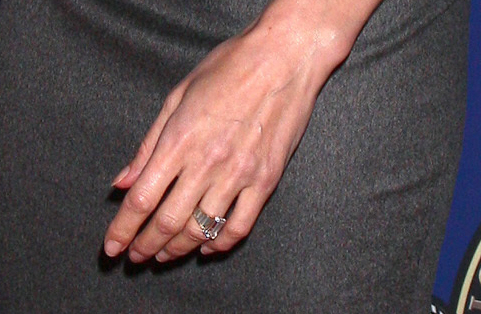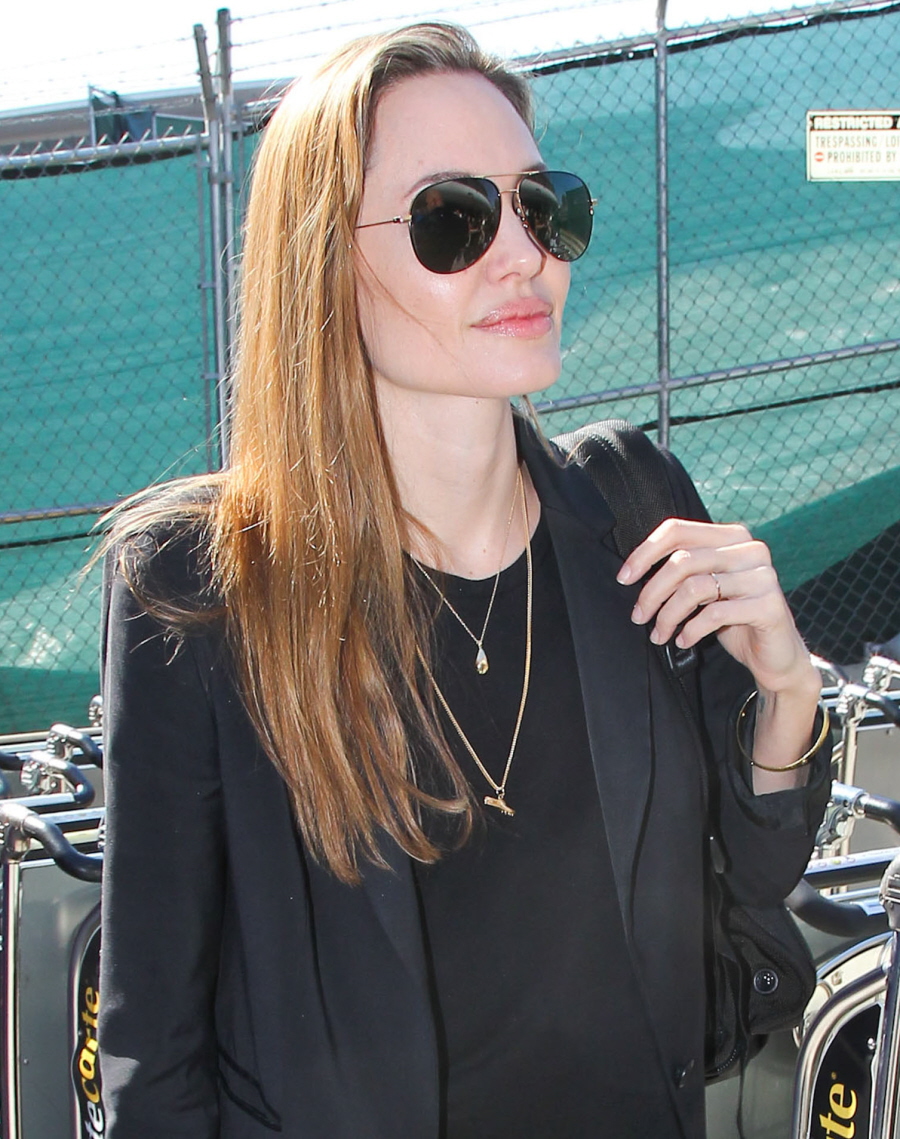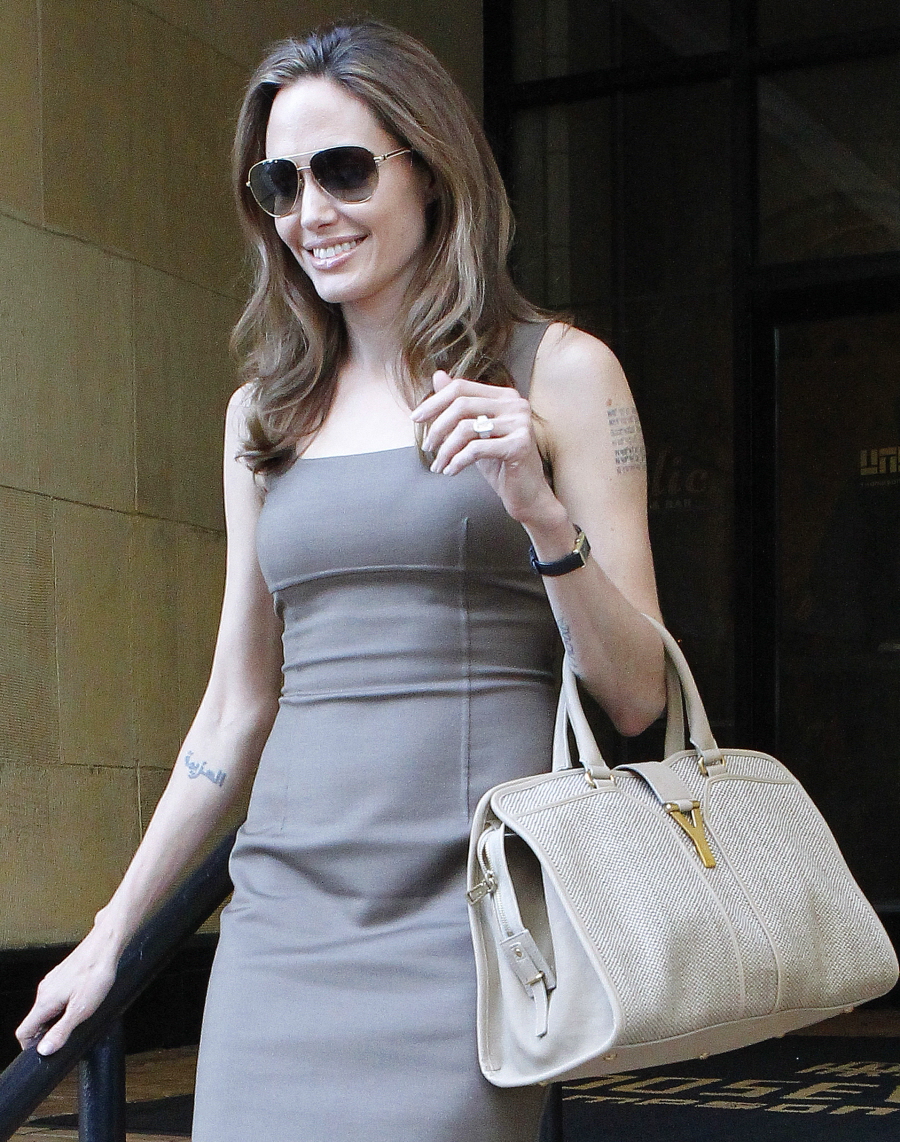 Photos courtesy of Fame/Flynet and WENN.