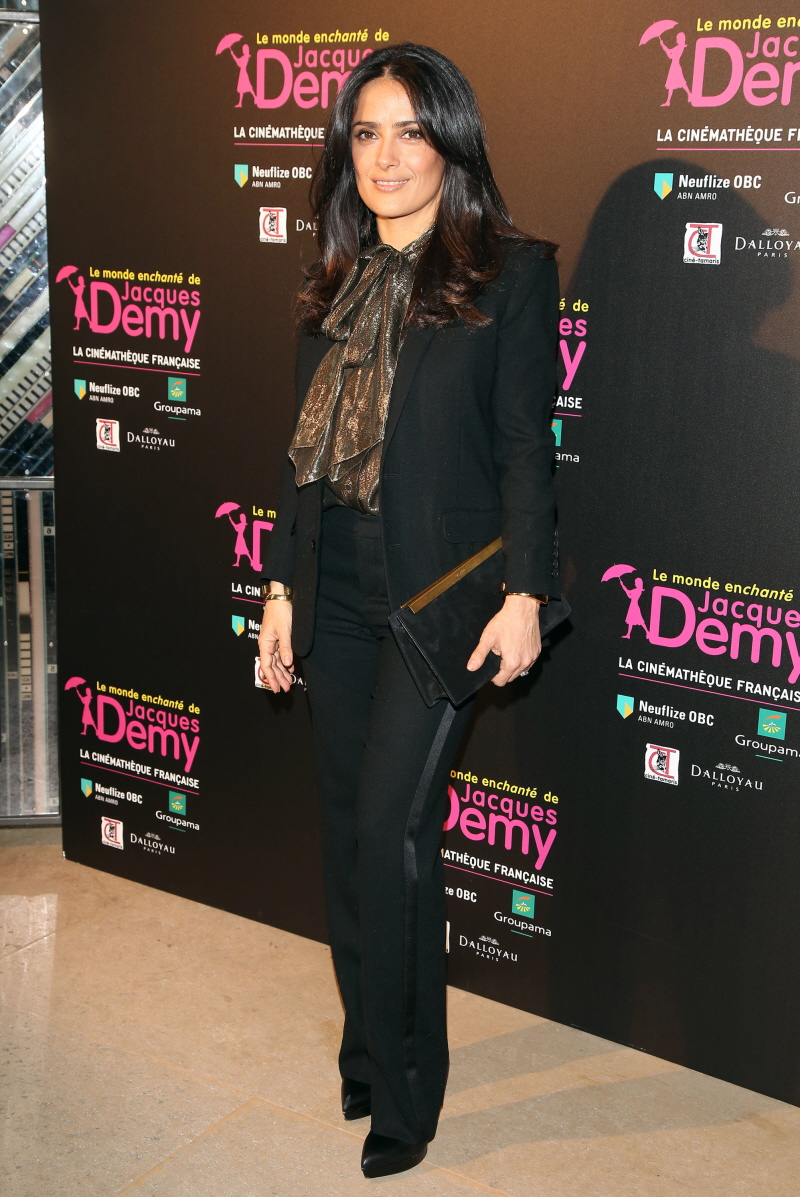 Here are some photos of Salma Hayek in Paris last night, walking the carpet for 'The enchanted world of Jacques Demy', an exhibition opening at the Cinematheque Francaise. I can't find the designer ID on her suit or blouse, but I'm sure the ensemble comes from one of the collections her husband owns (update: Salma is carrying a Saint Laurent Lutetia clutch!). I think the suit would have been much better with a cleaner, more tailored blouse, or at least a blouse that didn't look so fug and dated.
Salma was recently in London to promote that Chime for Change event which we discussed in the John Legend post less than two weeks ago. Salma and John did some events and press for the event, and Salma ended up giving an interview to The Guardian. So, this is kind of old but I haven't seen it get any play on other blogs, so it should be new to you! You can read Salma's full Guardian piece here, and here are the highlights I wanted to discuss:
Her childhood: "I was privileged to grow up in Coatzacoalcos, Mexico with my parents [Diana, an opera singer, and Sami, an oil company executive] and my younger brother, Sami. It was a close community, we lived near the ocean and we would be outside all the time with the neighbours' kids, running free, playing football on the streets and at the beach. What better place could there be for a child?"

Her mom was a philanthropist: "My mother was devoted to helping people – with my father's money! – who had great voices but didn't have the financial means to study music. He and my mum gave away dozens of music scholarships, and my mum opened a school in town, introduced opera to children and created fantastic programmes. With my father's help she brought in teachers from Mexico City. They would train anybody who had a good voice, and several of her students are now working as professional singers."

On women's rights: "I have always been inspired by my parents to carry on helping people – mainly in fighting for justice for women around the world, which is the focus of Chime for Change [a global campaign to raise funds and awareness for girls and women's empowerment]. We are concerned about all women's issues relating to justice, education and health. If you look at any other group of people suffering injustice, women are always in the worst situation within that group. And the problem is growing. For example, human trafficking in America is a booming business. There is still so much domestic violence and a general lack of laws to protect women. We have to make sure women around the world are respected and valued."

She likes being a mom: "I like being a mother. For some people it's so much work that it can be a burden. But it's not for me, maybe because I had my daughter, Valentina, later on in life, at 41. I have never been apart from Valentina for more than a week – even when my husband, François-Henri Pinault, and I went on our honeymoon, we were only without her for one week."

She loves being a wife & homemaker: "I love being a wife and homemaker – because it's my choice. My friends who don't have children say it's impossible to get together with me because I don't want to talk about anything else except motherhood. But being a mother is more exhausting than working, and sometimes I push myself too hard and burn myself out. I can appreciate how exhausting it must be for women who have to do everything themselves all the time. I don't have to work now, but I have to work because it's not about money, it's about passion. It is part of my personal evolution."
I can understand when a middle-class woman describes herself as a "homemaker" – my mom was a homemaker when I was really young, and it IS an important job, raising children and running a home and all of that. But I don't understand how Salma considers herself a homemaker when she is married to one of the wealthiest men in the world, she has a fleet of staffers eager to jump to her every whim, plus she probably has nannies, maids, etc. Plus, she's still acting (in crap like The Grown-Ups 2, no joke), and she's promoting her recently launched skincare line. So how in the world is she a "homemaker"?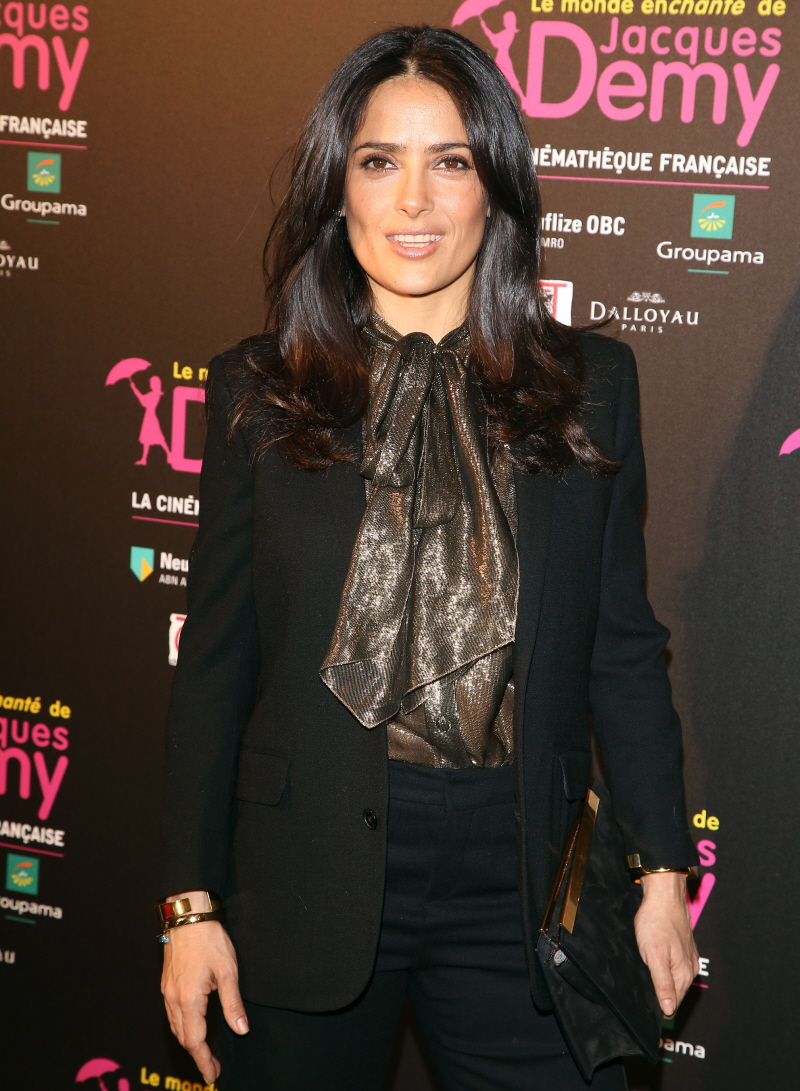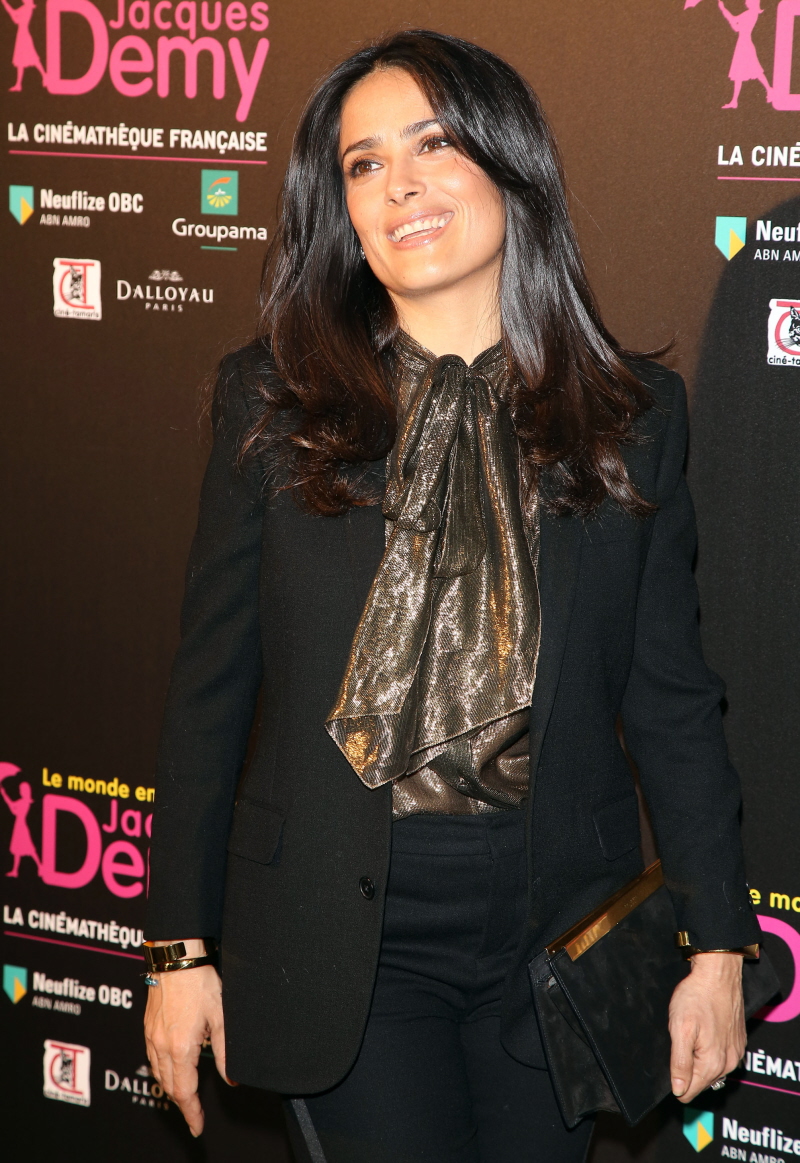 Photos courtesy of WENN, Fame/Flynet.