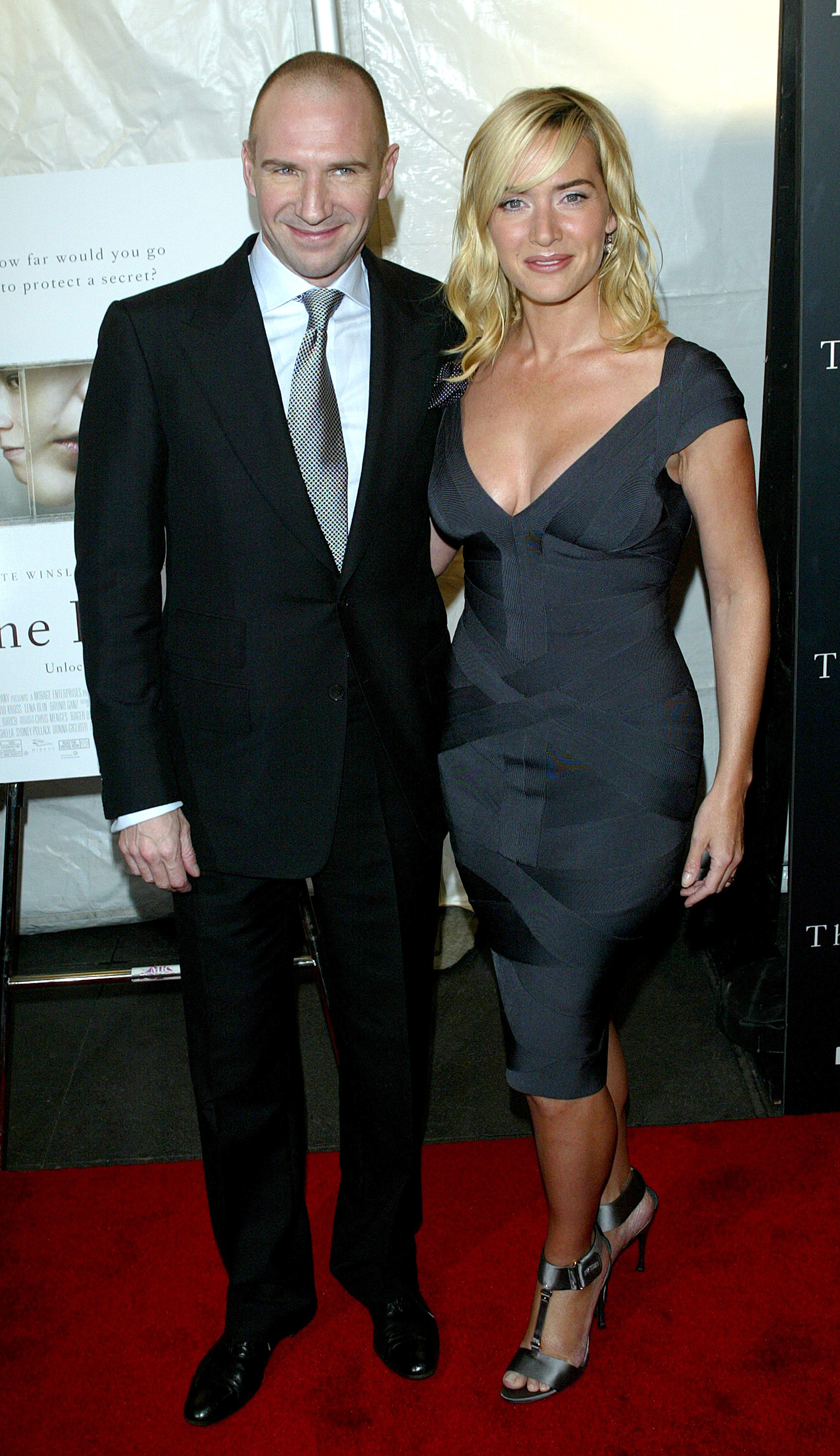 Finally, Ralph Fiennes has started doing some interviews to promote his supporting role in The Reader. I say "finally" because Kate Winslet was doing the bulk of the promotional duties, which is no surprise for two reasons. First, this seems to be a film season where only actresses are doing promotion (like Reese Witherspoon in Four Christmases). Secondly, after finally reading an interview with Ralph Fiennes – who's one of my favorite actors – I completely understand why The Reader's producers might not want this profoundly talented and profoundly weird man opening his mouth any more.
Ralph Fiennes starts out the Times interview by reenacting a scene of Ben Gazarra in Tales of Ordinary Madness. The scene, in Ralph's words, is "literally about trying to get inside her womb… this unhappy man [Gazzara] is with a woman, and he literally wants to climb back inside her". This sets the tone for the rest of the interview.
On any other day this might have seemed like an odd skit to come from the 46-year-old star of The English Patient, Schindler's List and two Harry Potter movies (where he played the boy wizard's evil nemesis Voldemort). But today Fiennes is on fire. He's more than halfway through a mesmerising run of Sophocles' brutally unforgiving Oedipus at the National Theatre and is thus somehow fantastically engorged with life's Big Ideas.

"For me the lines in the play that resonate continually are, 'I want to know the secret of my birth' and 'I do not know who I am!'" he says, dropping his voice to a whisper and running a hand slowly over his shaven pate. The haircut was his idea, he explains, to make him feel more naked on stage, but it has a powerfully imposing effect that, together with today's outfit of blazer and denims with turn-ups, creates the impression of a patrician bouncer. "And isn't that the journey that most of us are on?" he continues, undaunted, transfixed by the tragic clarity of his words. "Who are we? What are we doing? And where did we come from?"

The play is agony, he says. The play might destroy him yet, he adds. And the play, as we all know, is about mothers. It's all their fault. They are the site of the eternal return – that metaphorical place to which we, according to Sophocles, Freud and Fiennes, spend our life returning. We are trying, says Fiennes, to re-enter the womb (hence the skit). And that, he says, can sometimes get in the way of a decent romantic relationship.

"There is a tension in relationships between wanting to return to the womb, but also wanting to be free," he says, with impressive candour for a man who was, until they split in 2006, often described as being in a vaguely "maternal" relationship with the actress Francesca Annis (17 years his senior). "Because sometimes the woman's attentions can be overly maternal, and you want to go, 'Ahhhh!'"
[From TimesOnline]
The whole "mothers, it's all their fault" comment is such a horrible way to sum up both Oedipus and the larger point Ralph was making. To be fair to the source material, for years Oedipus's mother never knew she was sleeping with her son, and when she did find out, she killed herself. When Oedipus found out, all he did was claw out his eyes. Whoops, was that a spoiler? My point: mothers always get the blame.
Ralph seems to be working through some issues with women in general, not just his mother. The conversation that started with such gems as "he literally wants to climb back inside her" and "I want to know the secret of my birth" is taking the logical course to Ralph's current film, The Reader. Fiennes plays a German lawyer reflecting on a love affair he had with a woman in her thirties (played by Kate Winslet), when his character was fifteen. Sometimes the actor finds the material, and sometimes the material finds them, eh?
We move on to The Reader, which has its own share of provocations and mother issues. These are in the erotic and Oedipalised relationship between Fiennes's younger screen self (played by David Kross) and an older, mysterious and illiterate former Nazi, Hanna Schmitz (Kate Winslet). The provocations, says Fiennes, are in the plot, "and the idea that Hanna's illiteracy could be an excuse for her joining the SS in the first place. I don't accept that she couldn't make a moral judgment about joining the SS just because she's illiterate. And I think that's a troubling area."

Fiennes himself, you suspect, has little estimation of his own talents. His acting, it seems, is itself beyond acting, part of his own delicate process of individuation (remember, "I want to know the secret of my birth"?). All this, a Freudian might add, emerges in the dense undergrowth of childhood, and here it seems particularly poignant and indeed fitting that Fiennes can trace everything back to, yes, his mother, the writer Jennifer Lash.

The Fiennes family history is well-worn lore, and usually involves his farmer-turned-photographer father Mark and mother Jennifer dragging their seven-strong brood (including brother Joseph, sisters Martha and Sophie and foster brother Michael Emery) on a peripatetic childhood whirl through Dorset, Suffolk, West Cork and Salisbury.

In conversation the family tends to describe the period with quasi affection as a time of love without much material comfort. But today, focusing exclusively on Lash, Fiennes is a little more unsparing. He says that she had her own demons, and that, "in her own way, she could make you feel like you hadn't hit the mark, or you simply weren't good enough".
[From TimesOnline]
When Ralph Fiennes appeared on an episode of "Inside the Actor's Studio", he wept when the conversation turned to his mother and her death. While I'm glad to see that Ralph has stepped outside of his grief and is talking openly about his mother and his issues, my guess is that The Reader's publicity team might want this extraordinarily talented actor to tone it down a bit for this promotional tour.
Note by Celebitchy: I saw a special on Bravo many years ago called "The Family Fiennes" about Ralph's family. He comes from a large family and has four brothers and two sisters, including an adopted foster brother. His mother was portrayed as a wonderful nurturing woman who tried to instill a love of art and literature in her children. If there were any issues between Ralph or any of the other children and their mom you couldn't tell from the Bravo special and they all spoke very highly of her. Ralph's mom published a few books under her maiden name, Jennifer Lash, including a travelogue and a work of fiction about an abandoned boy called Blood Ties. It was reminiscent of DH Lawrence and well written.
Ralph Fiennes and Kate Winslet are shown at the New York premiere of 'The Reader' on December 3rd. Images thanks to WENN.