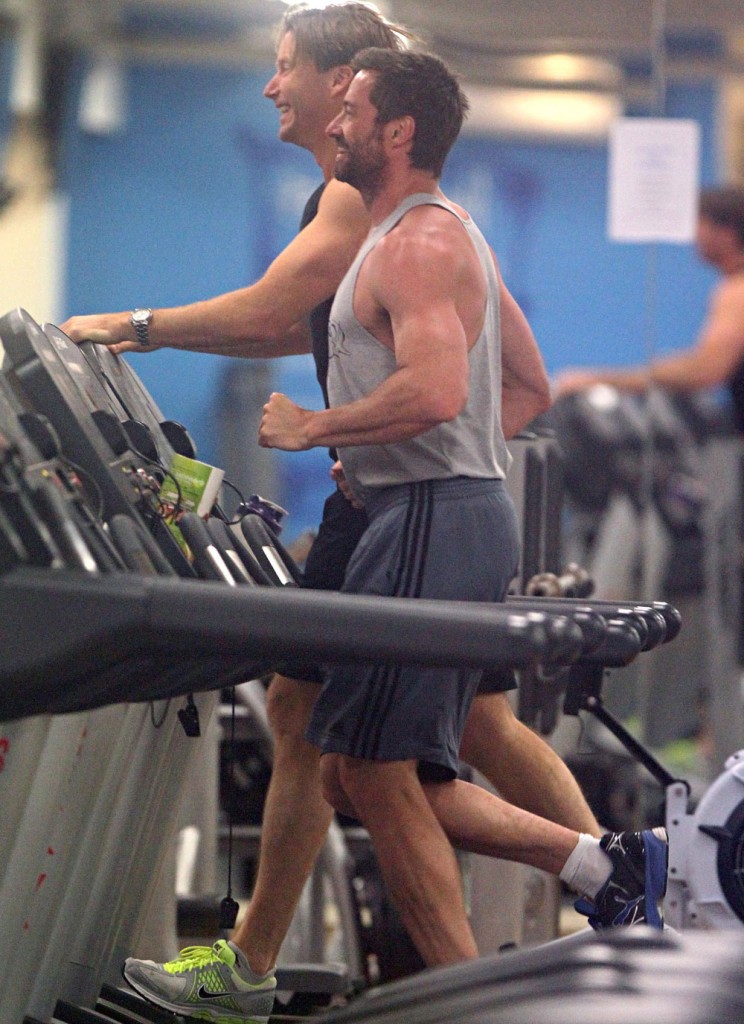 This is just a reminder that no matter how many awesome perks must come with the job, it still sucks in some significant ways to be famous. Take Hugh Jackman for example, a super nice committed family man and an all-around good guy. It doesn't matter how much integrity someone has, if they're famous they can be targeted.
On Saturday Hugh Jackman was working out his hot body at Gotham gym when a 47 year-old woman named Katherine Thurston followed him into the gym and and tried to come at him with an electric razor. She was Hugh's known stalker, and she reached into her waistband, pulled out an electric razor (reportedly filled with pubes, ew!) when a gym employee stopped her, so she threw the razor at Hugh instead. She told the cops that she hated Hugh's whiskers and wanted to be his second wife. Crazy. In response, Hugh said "Here's a woman who obviously needs help, so I just hope she gets the help she needs." He also added that "the primary concern is my family." He's so nice.
A California woman obsessed with Hugh Jackman attacked the Aussie actor with an electric razor in a West Village gym because she didn't like his whiskers, prosecutors said Sunday.
Katherine Thurston, 47, told cops she came to New York two months ago determined to become the married "Les Misérables" star's second wife.

"I want to marry him," Thurston told NYPD Detective Frank Francisco, according to a criminal complaint. "This is not against the law. It is not against the law to have two wives."

Thurston was arraigned Sunday night in Manhattan Criminal Court on misdemeanor charges of menacing, stalking, harassment and trespassing. She was also charged with criminal possession of a weapon — the black electric shaver she went after Jackman with.

Jackman, 44, was not injured in Saturday morning's frightening fan-gone-wild incident at the Gotham Gym on Washington St.

"The most important thing is the security of my family," Jackman said Sunday night outside his West Village home. "I'm very appreciative of what the DA is doing."

Jackman was at the gym buffing up for his recurring role as the superhero Wolverine in the latest installment of the "X-Men" film series when the bizarre crime unfolded.

Katherine Thurston, whose dream is to marry Hugh Jackman, appears in court Sunday on charge of attacking him with electric razor at a West Village gym.

He told cops Thurston was already outside the gym when he arrived at about 8 a.m.

"We're going to get married, right?" Thurston told Jackman before following him inside.

She then allegedly pulled the razor full of hair out of a bag and charged after Jackman, but her attack was foiled by personal trainer Michael Castillo.

Castillo booted Thurston from the gym. She was arrested a few blocks away.

"I hated him having those whiskers," Thurston told police.

Thurston, who was being held Sunday night on $15,000 bail, claimed she started emailing Jackman about a year ago.

On March 6, Thurston went to the school where Jackman's 7-year-old daughter, Ava, is enrolled and confronted the actor's wife, Deborra-Lee Furness, outside.

"I'm going to marry your husband," she told Furness, according to police.
Well I hope this lady gets put away and gets some medication. I guess there are some serious drawbacks to being so accessible and known. It's one thing to have the paparazzi know how to find a famous person, it's another when some sick fan gets it in their mind that they're meant to be with them.
Is it wrong to include shirtless pics of Hugh Jackman with this story? Because I feel like I can't help it. I hear Hugh Jackman and gym and my mind just goes there.
These photos are of Hugh working out in Sydney, Australia last summer. Credit: FameFlynet. He's also shown on the beach in Barcelona in June, 2012. Credit: WENN.com