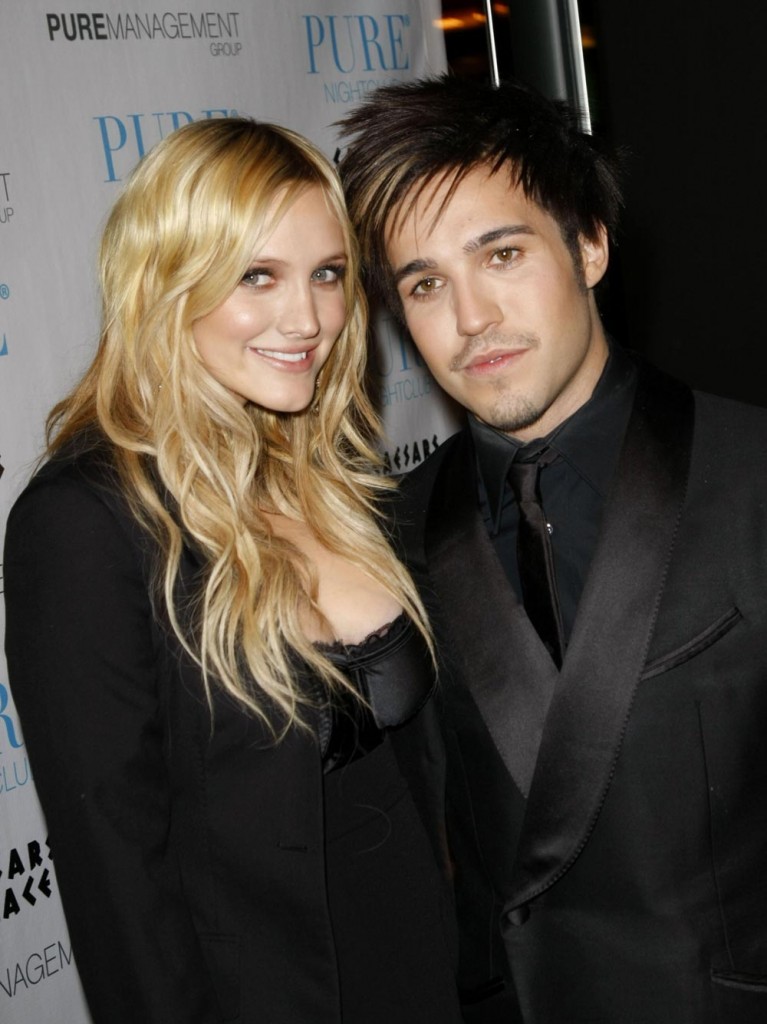 For the first post-birth interview, some celebrities go high-class. A glowing appearance on Oprah, perchance a classy little interview on Today. But not Ashlee Simpson and Pete Wentz. These two decided to give their exclusive interview away to Extra, the Toyota Camry of entertainment journalism, not the best, but at least it's not Inside Edition. OK! Magazine has the details.
Ashlee talks about going back to blonde and Pete talks about giving away Bronx's pictures for free on his website. Ashlee looks good as a redhead and as a brunette, but perhaps she thinks blonde hair helps with her career? As for the baby pictures, the rumor was that no tabloid wanted to pay for them, something Wentz still denies, saying they received multiple offers. The only thing I found interesting was when Wentz talks about how he cusses like a sailor.
Ashlee Simpson and Pete Wentz have been decidedly low-key about the newest addition to their family, choosing to introduce six-week-old Bronx Mowgli to the world on the Fall Out Boy's website, rather than selling the pictures.

In keeping with their relaxed attitude, the first-time parents are only just now going on TV, sitting down with Extra at Las Vegas' Pure Nightclub to chat about life with their little guy and their decision not to sell his first photos.

"People came and made offers to us," Pete reveals, "[But] it seems strange that your first picture would be next to 'Who's hot! Who's not!'"

As for his hopes for 2009, Pete is all about Bronx and seeing how he experiences the world. "The thing I'm looking forward to is watching Bronx discover life…the first time he laughs, first time he crawls…" he says. "It's kind of cool to go back to someone else and care for someone and have responsibility… It's one of the few aspects of life where the clichés are totally true."

Part of spending time with Bronx also plays into Pete's New Year's resolution — watching his mouth. "I'm working on not swearing around Bronx…I know I have a bit of a bad mouth," he admits, while Ashlee chimes in, "I'm more of a 'Gee golly!' kind of person."

Post-birth life has also brought many changes for Ashlee, including one very noticeable alteration to her look. "I couldn't put bleach to my head while I was pregnant, so I'm happy to be blonde again," she reveals, adding that's also working to get back her pre-baby bod. "I'm being a mom. I'm breast-feeding and when I get a chance to work out, I'm working out."

Pete's got nothing but love for his wife as she is, as he adds, "I think she's a babe!"
[From OK! Magazine]
Good Lord, are you asleep yet? But I appreciate the sentiments behind not trying to cuss in front of your child. My mother swears that one of my first phrases was "goddamn it". Babies really do learn their communication skills from their parents, and it helps if every other word out a parent's mouth isn't something that would make a pimp blush. And I totally believe that Ashlee's curses are of the "gee golly" variety, that seems really genuine. I wonder what Pete cusses about.
Ashlee Simpson and Pete Wentz are shown on 1/31/08 at Pure Nightclub in Las Vegas. Credit: WENN