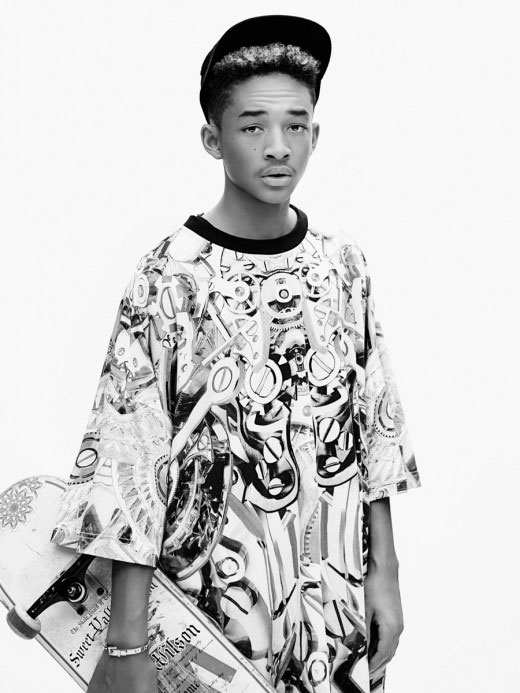 Jaden Smith, 14, is about to co-star with his dad, Will Smith, in a science fiction movie directed by M. Night Shamalan called After Earth. It's out June 7th. I just watched the trailer, and I was surprised at how good it looks. I would go see it based on the trailer, but I'm going to wait and see what critics say. If this is a blockbuster hit, it will cement Jaden's status as an up-and-coming teen movie star. He's already proved that he can carry a film with 2010′s Karate Kid. His dad is helping him out significantly here, but the trailer makes it look like the movie focuses on Jaden and his quest to survive on a hostile planet. So we're about to see a lot more of him.
Jaden has a new interview in Wonderland Magazine, and he talks about a lot of things – his music career, his fashion line, and his friendship with Kylie Jenner, whom he's rumored to be dating:
On aliens, which he believes in
"I like aliens!" he says. "I think aliens are really cool, because they exist." He's got proof. On a trip to the White House with his dad (Men In Black superstar) Will, mother Jada and sister Willow, he found himself in the President's Situation Room.

"I talked to President Obama about extraterrestrials. He said he could neither confirm nor deny the existence of aliens, which means they're real. If people think we're the only people that live in this universe, then something is wrong with them."

On being honest in his rap lyrics
"That's the type of artist I am. I let it flow out the way it's going to flow out, and I don't care what people are going to think about it. It's really like a journey into my life – if you listen and pay attention to the lyrics. People like to hear honest things and that's what really makes an artist. if you're lying, you can disconnect from the story, and if you disconnect from the story then people won't like you any more."

On his Music
"Nobody was expecting CoolTape Volume 1, so absolutely nobody is expecting CoolTape Volume 2. Like, you have no idea what I'm going to do. You don't even understand."

On his fashion label, with two other friends
"It's kind of just black on black. We all really like black, so almost everything in the line is black. Some would call it street goth. I would say it's a fashion-forward street brand.

"I want it to be as big as possible, an all over the world thing. Because everybody can be a misfit. It's not just a clique. People ask me if they can be misfits all the time. But everybody is a misfit." Why's everybody a misfit? I ask.

"I mean, they're a misfit because they're different. You'd have to ask them." Do you ever feel like a misfit?

There's a long silence.

"Every. Single. Second of my existence," he sighs.

On Kylie Jenner
"I was in LA, we were all hanging out. Then I went to New York and she came too, and then she came here and surprised me, so that's pretty baller. She's one of my best friends. It's pretty awesome."
If I wrack my brain hard enough, I can sort-of remember what it was like to be 14. My life was full of drama and acting out, although I'm sure it's different for boys. So while this kid is growing up and going through adolescence, he's making music, touring with Justin Bieber, acting in movies, and putting out a fashion line. It sounds like his parents are letting him do whatever the hell he wants. I don't think it's fair to him, and I don't want to dig through his quotes and discuss what they mean. He's 14 years old! His mom and dad are Jada and Will, and they're raising their kids to be little stars who are treated like adults from a very young age. (Just like the Scientologists do it, although Will and Jada deny they're Scientologists.) I kind of hate that they're doing this to their kids. Kaiser reminded me that Willow has said she doesn't want to be famous. It's not like she has a choice.
In terms of the quote in the title, Will has told that story before about Jaden asking Obama about aliens. Will added the detail that Obama said "I can tell you if there had been a top secret meeting and if there would have been a discussion about it, it would have taken place in this room." Maybe that's what convinced Jaden, because if someone says there's no evidence either way, that doesn't mean it proves or disproves something. That's pretty basic logic, although I'm sure that kind of education isn't taught in the Smith household.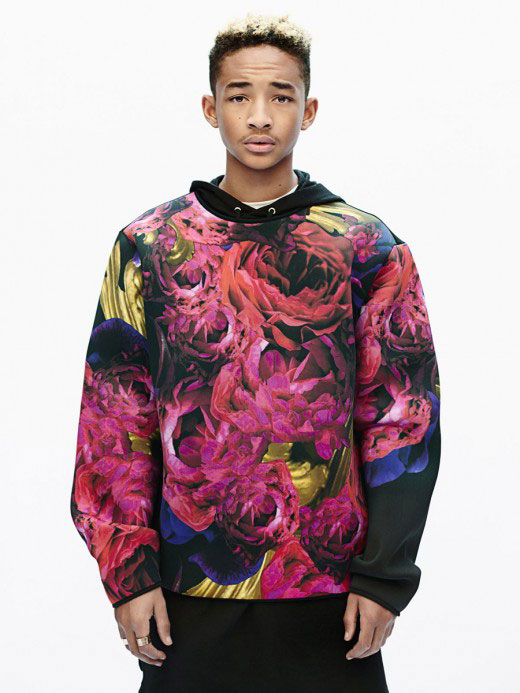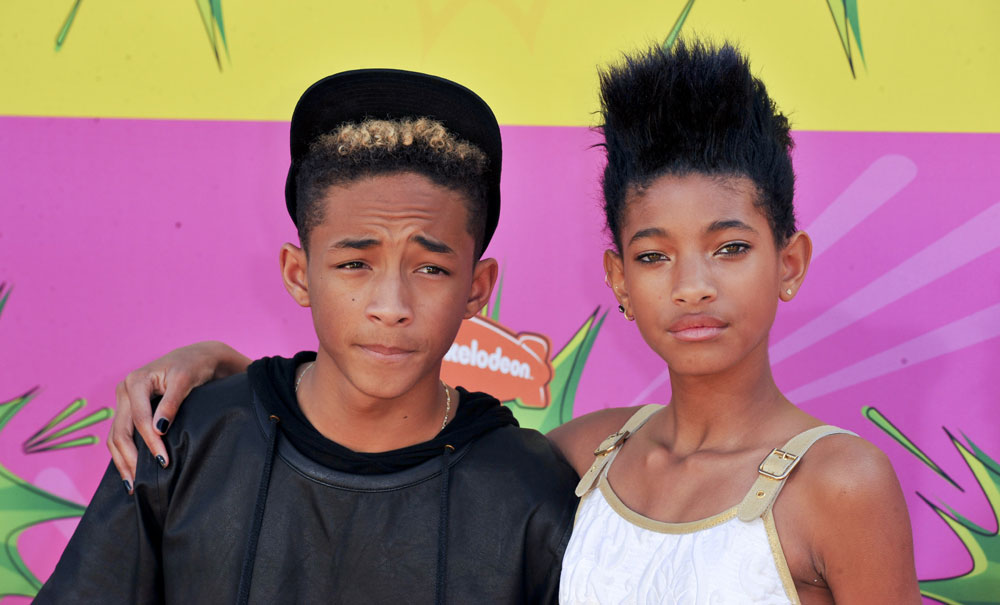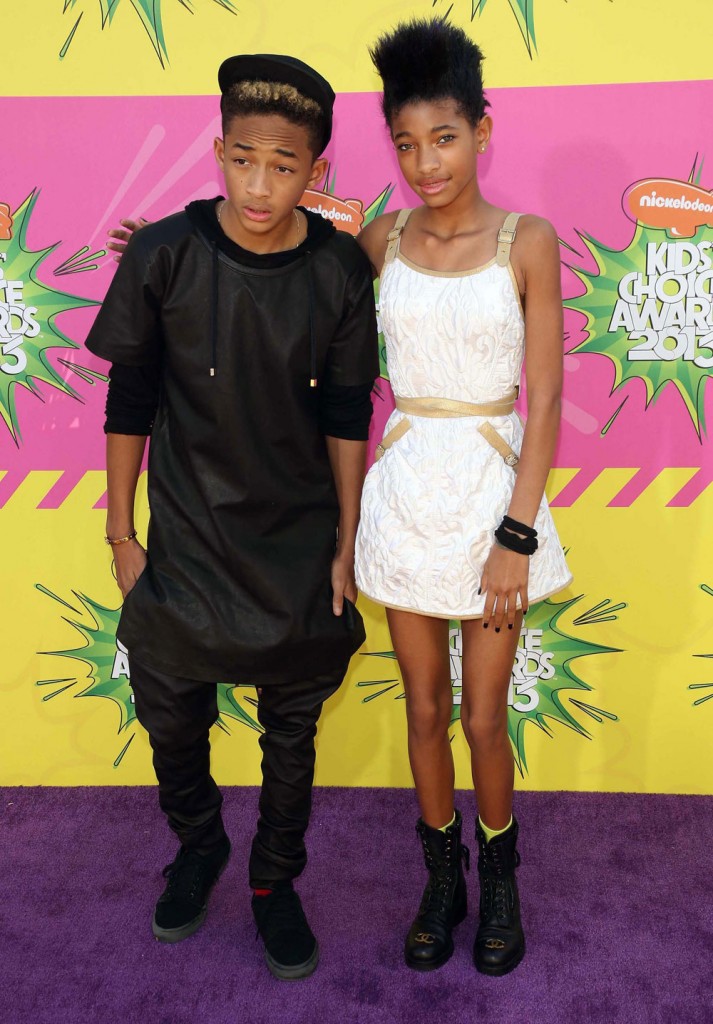 Photos from Wonderland by Rory van Millingen. Willow and Jaden are shown at the Kids Choice Awards in March. Credit: WENN.com