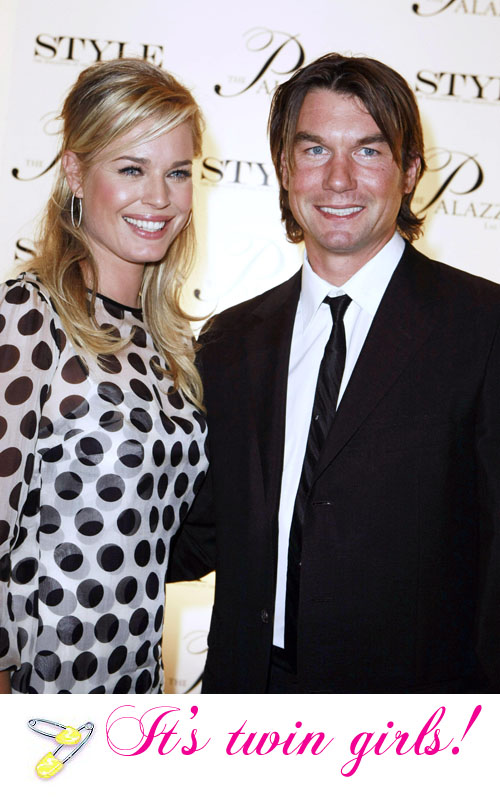 Rebecca Romijn and Jerry O'Connell have had twin girls. US Magazine reports that family friend Howard Stern made the announcement on his show this morning. There is not much more information about the girls and we're not sure of their names yet or even exactly when they were born. (If you listened to this Stern this morning and have more details, please comment.)
Romijn said she tried Clomid a year before she got preganant, but said she was off the fertility drug for months before the twins were conceived naturally without in vitro fertilization:
Rebecca Romijn and husband Jerry O'Connell have welcomed twin girls, Howard Stern announced on his Sirius radio show Monday morning…

In November, Romijn, 36, told Page Six magazine she was ready to give birth. (She had to skip pal Stern's October wedding because she was put on bed rest.)

"I can't move anymore… I'm a beached whale!" she said. "I have not been without a bra this entire pregnancy. I refuse. I'm not taking any chances. I'm determined to keep the puppies up!"

See Us' baby bump hall of fame.

She also revealed that the twins were conceived without the help of in vitro fertilization or the fertility drug Clomid.

"A year ago, we tried Clomid for a couple of months unsuccessfully," Romijn said. "But by the second month, I was like, 'Ahhh! I hate this!' I think when you start messing with your own hormones, it's crazy-making."
Last fall Romijn said in all seriousness that she wanted to name one of her daughters Dolly after Dolly Parton as she's a huge fan of the country legend. O'Connell mentioned the names Mary-Kate and Ashley for the babies after the famous Olsen twins, and said it was a joke but added that they "really thought about that." Hopefully everyone is well and we'll have to wait and see what the babies are named.
Romijn and O'Connell recently released a video through Funny or Die that was a spoof on Romijn's shape shifting role in X-Men as the Mystique. Romijn changed into different people from bed, including comedian Jerry Minor and Perez Hilton. The 36 year-old actress spent the last few months of her pregnancy on bed rest.
Congratulations to Romijn and O'Connell!