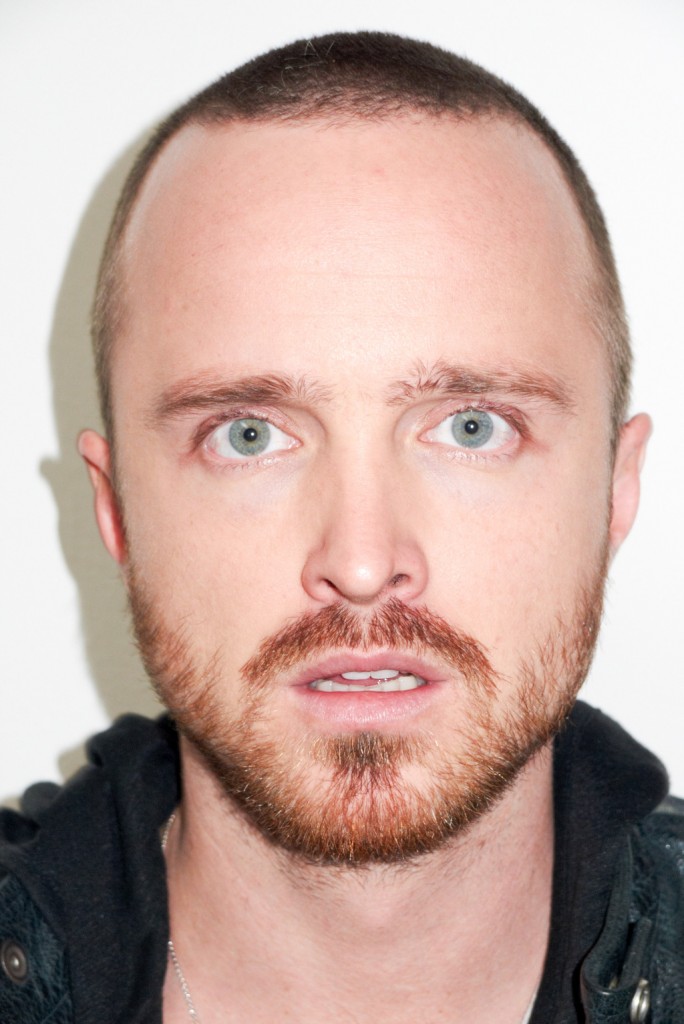 I love Aaron Paul of "Breaking Bad," bitches. He's so lovely, he's such a talented actor and the real guy is decent, smart, funny and interesting. In interviews he's hilarious. (See this interview where they showed footage of him on The Price is Right about 16 years ago. I just watched it again and got so happy.)
So I have mixed feelings about these photos. Overall they're giving me the warm and fuzzies in my pants, but at the same time Terry Richardson's taint is one them like oil in a puddle. I'll just try and ignore that aspect, in particular the photo of Aaron in Terry's scummy glasses, and just focus on his piercing blue-green eyes. He's so beautiful, even when he's posed with his mouth hanging open. These photos were shot for British GQ Style.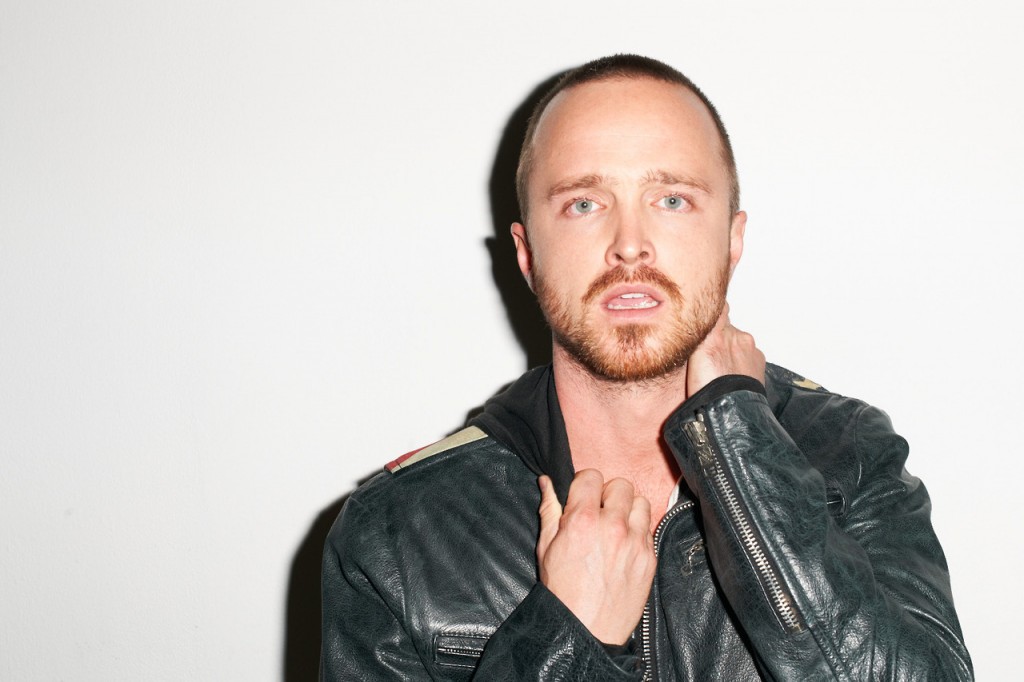 Unfortunately Aaron, 33, won't be single much longer. He's marrying his fiance, activist Lauren Parsekian, any day now. I can't hate on her though, she seems sweet and Aaron is so crazy about her. He talks about her like she's the best thing ever and says things like "I couldn't imagine myself being without her" and that he didn't realize a love like that could "actually exist." They're adorable together. I have another cute story to share. On a whim, Aaron tweeted British pop star Ellie Goulding ("Lights," "Anything Could Happen") and asked her if she would play his wedding. She tweeted yes!
The "Breaking Bad" actor, who has been engaged to activist Lauren Parsekian since January 2012, took to Twitter Thursday to make the request.

"Hey @elliegoulding hope your day is going beautifully. Quick question, would you like to play at my wedding? Say yes," Paul tweeted.

Goulding quickly responded, "@aaronpaul_8 ok" and then, "@aaronpaul_8 um soooo… When is it?"

"@elliegoulding said yes everyone!!! Call me for details and also let me know where I can send over a giant bribe gift. You're amazing," an excited Paul tweeted back. "Wedding is next month and you're awesome. Where should I deliver my first born?"

Goulding also performed at Prince William and Kate Middleton's wedding in 2011
That's such a sweet story. Aaron and Lauren's wedding must be coming up soon because this story is from April 19th. I hope we see pictures!
So yes, of course I would hit it hard, but none of us would get the chance because Aaron is a one-woman kind of guy. That just makes him that much hotter.
Oh let's talk about Breaking Bad! Crap, for some reason I thought it was coming back in a month or two but the second part of this final fifth season isn't airing until August 11. Why do they have to do that to us? Also, Saul is probably going to get a spinoff. Yes SAUL, the scummy yet level-headed lawyer, is likely to get a comedy spin off, according to Breaking Bad creator Vince Gilligan. Who am I kidding? I would watch it.
photos from Terry's Diary, where there are more
He looks high here, right?