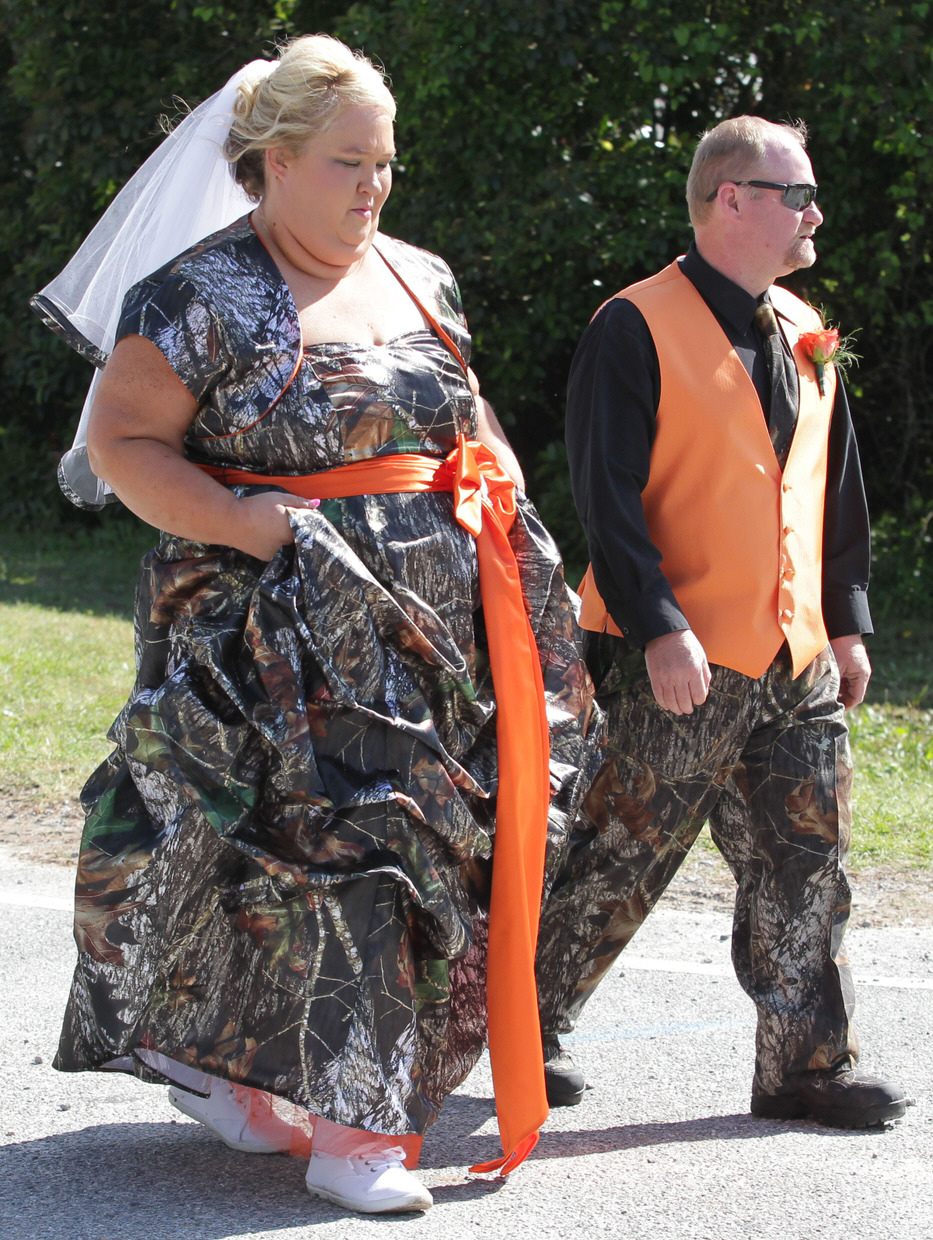 Here are some photos of THE WEDDING OF THE YEAR!! I'm so happy Mama June and Sugar Bear managed to get married before tonight's Met Gala or else I wouldn't have been able to know what to concentrate on. These are some pics from June and Sugar Bear's weekend wedding in Georgia. The bride wore a gown made of camo and bright orange fabrics. The whole thing was filmed by TLC, so it's possible that there will be a very special wedding episode of Here Comes Honey Boo Boo very soon. After the wedding, everybody changed out of their wedding finery (!) and into more comfortable clothes. There was no limo or even a nice car. The first ride that June and Sugar Bear took with each other as man and wife was on an ATV.
They had vows, a cake, a camouflage gown and all their family and friends present, but Here Comes Honey Boo Boo stars Mama June (June Shannon, 33) and Sugar Bear, 41, won't say whether they've actually gotten married – or just recommitted to each other.

On Sunday, friends and family, including Honey Boo Boo (Alana Thompson, 7) and big sisters Pumpkin, Chickadee and Chubbs, joined the duo in their Georgia backyard for a ceremony to celebrate their love, followed by a rowdy family barbecue on what happens to be Cinco de Mayo.

"The day was very special mostly because my girls were able to take part in it," says June. "I felt like it was important for them to see this moment and celebrate my love for Sugar Bear."

The fun-loving family, whose series returns to TLC July 17, didn't go over the top with the celebration.

"My sister baked the cake, and we spent most of the money on barbecue," says June. "We stayed true to our roots and made the focus on the family and my commitment to Sugar Bear. You can definitely plan an event on a budget!"

And whether or not they're actually married, June says she's found the secret to keeping her relationship strong.

"Never settle for a man who doesn't treat you right," she says. "If a guy doesn't love everything about you, move on! There are plenty of other fish in the sea."

"I give this advice to my daughters," she adds, "because I always want them to be themselves and surround themselves with people who love them for them."
Isn't there some confusion as to whether Sugar Bear fathered all of Mama June's children? I think Sugar Bear is definitely Honey Boo Boo's father, but the rest of it… well, anyway, I'm glad they're happy. And I get a kick out of how Mama June doesn't really care if she's married or whatever. Whatever, y'all. They're happy. And June got the wedding she wanted, and isn't that what matters most? Congrats to June & Sugar Bear!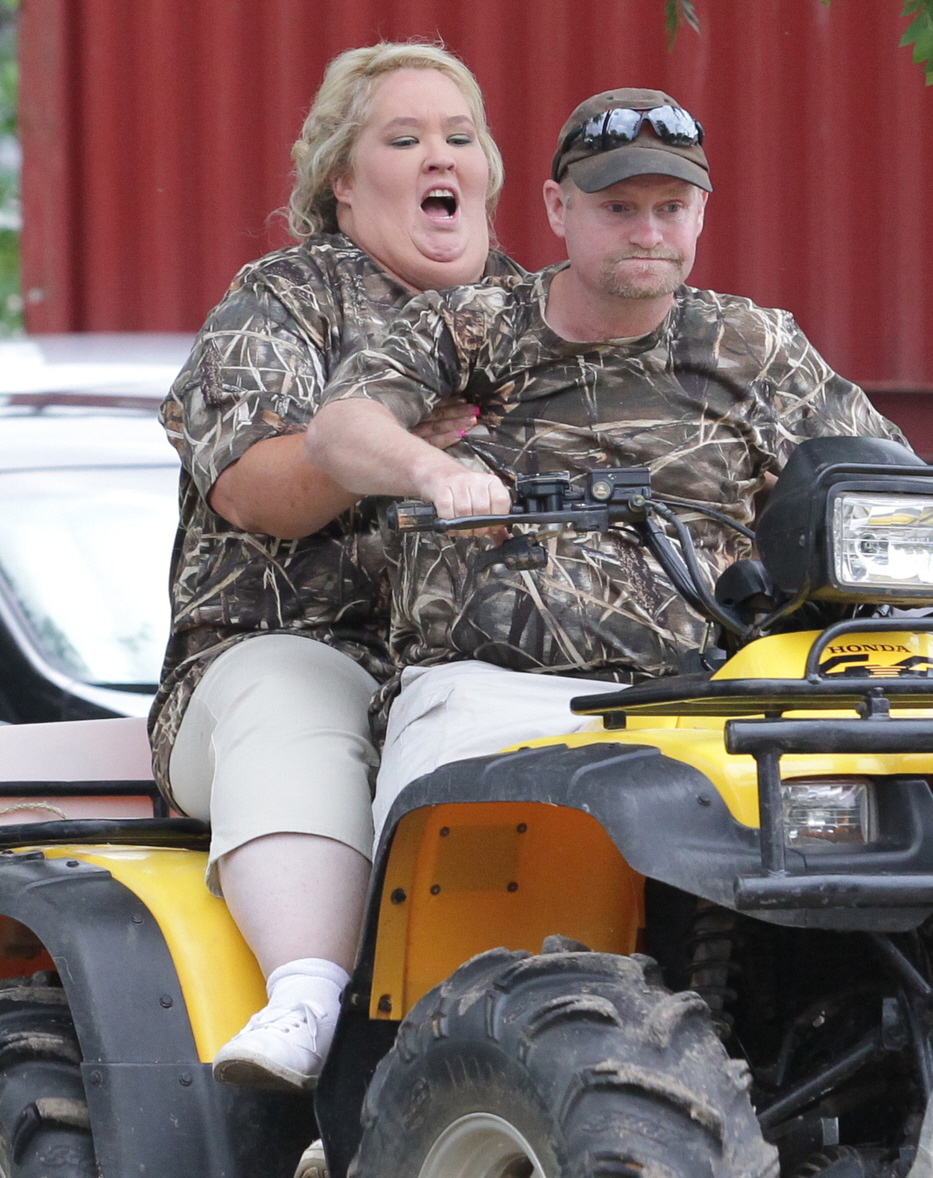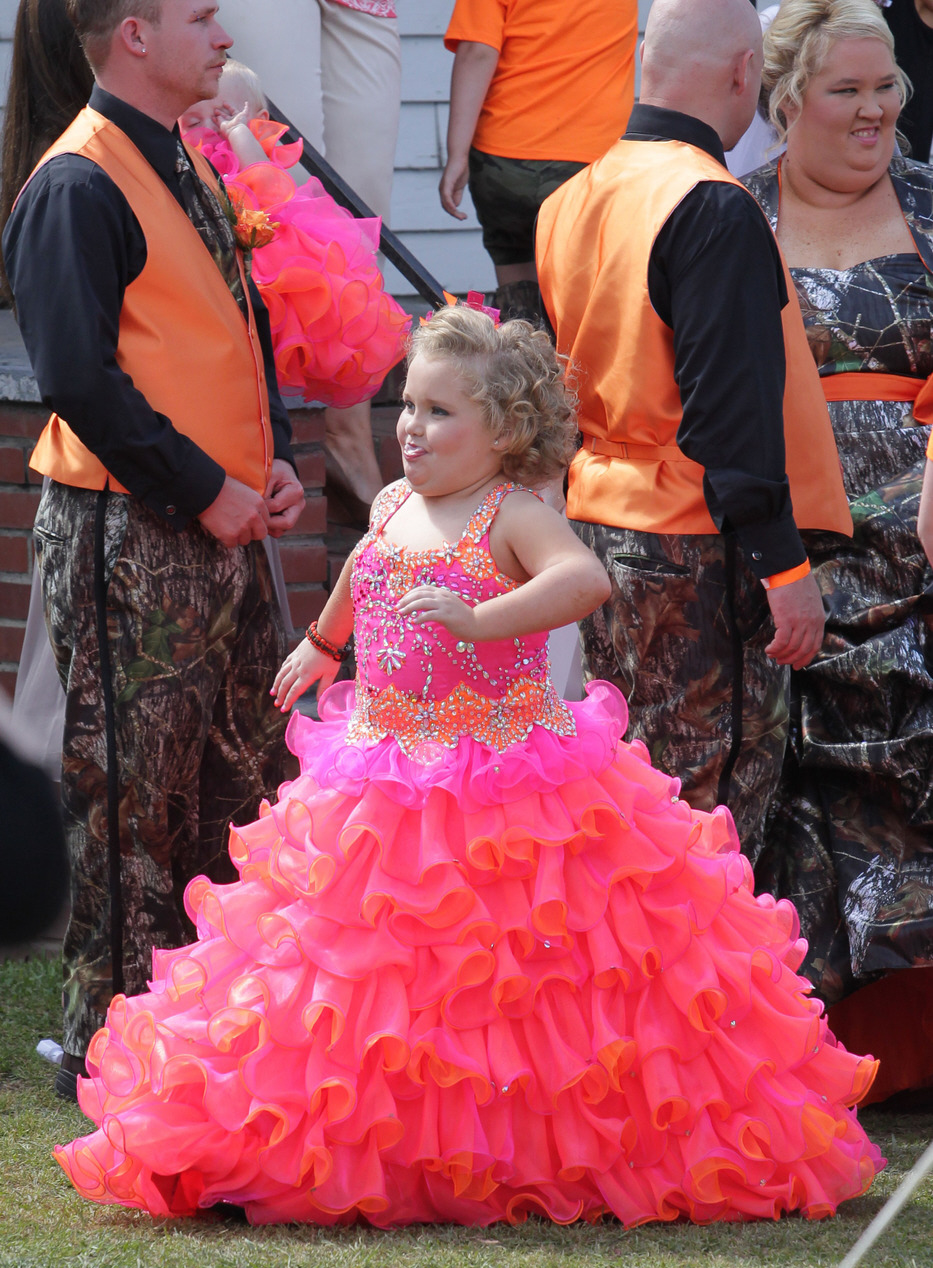 Photos courtesy of Pacific Coast News.