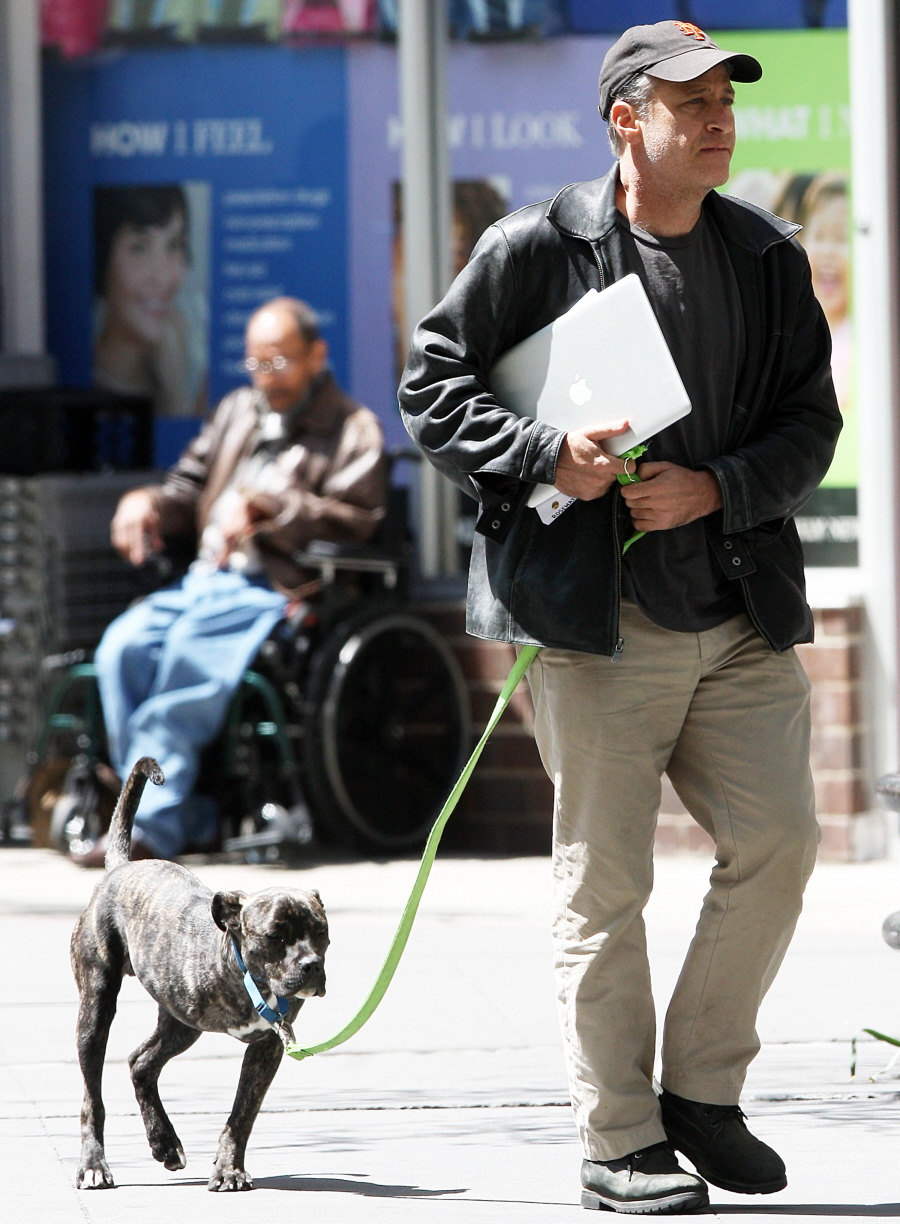 First, let's talk about these amazing photos!!! Jon Stewart was out and about in NYC yesterday with his dog, Champ. Champ only has three legs!! OMG. I didn't know Jon Stewart had a three-legged dog, but that is just… adorable. It makes me love Jon even more, and I'm already pretty much crazy in love with him.
Anyway, the latest controversy with/about Jon is that Donald Trump is trying to start something with him. And I do think that's how it's going down – Jon was just minding his own business, doing The Daily Show and doing his thing and Trump was looking for a new victim to bully now that the overwhelming majority of people think Trump is a frothing-at-the-mouth wingnut (especially after his call for armed revolution against… a duly and fairly re-elected president). So Trump tried to start something and Jon Stewart had some fun with that:
Jon Stewart has a lot of fans — but Donald Trump is not one of them. After a bit of back-and-forth between the two, beginning with a tweet from the real estate tycoon and culminating in a joke at his expense during the Daily Show on Wednesday, May 1, Trump again took to Twitter to voice his less-than-favorable opinions of the comedian.

"If Jon Stewart is so above it all & legit, why did he change his name from Jonathan Leibowitz? He should be proud of his heritage!" the Celebrity Apprentice boss wrote on Friday, May 3.

"Jon Stewart is a total phony — he should cherish his past — not run from it," he added. "As I've said many times before, Jon Stewart is highly overrated."

The drama between the two started on April 24, when Trump insulted the Daily Show host's intelligence on Twitter. "I promise you that I'm much smarter than Jonathan Leibowitz — I mean Jon Stewart," he wrote, prompting some followers to question whether he is anti-semitic.

In response, Stewart called out Trump on his show, joking that the business magnate's birth name was "F–kface Von Clownstick." The Donald was not amused.

"Amazing how the haters & losers keep tweeting the name 'F**kface Von Clownstick' like they are so original & like no one else is doing it…" he tweeted, adding that Stewart had stolen the moniker "from some moron" on Twitter.

"He's an overrated a–hole," he told a follower of the comedian. "Total phony."
I'm fine with this. I'm fine with Donald Trump attacking Jon Stewart and I'm fine with Jon Stewart defending himself by making fun of F—kface Von Clownstick. I think this is a fair fight as far as "celebrity battles" go. What bugs me is when people treat Trump like he's a legitimate political player with something to say about government or the economy. He's not. He's a petty windbag and a C-list celebrity who starts feuds and then whines when people disagree with him.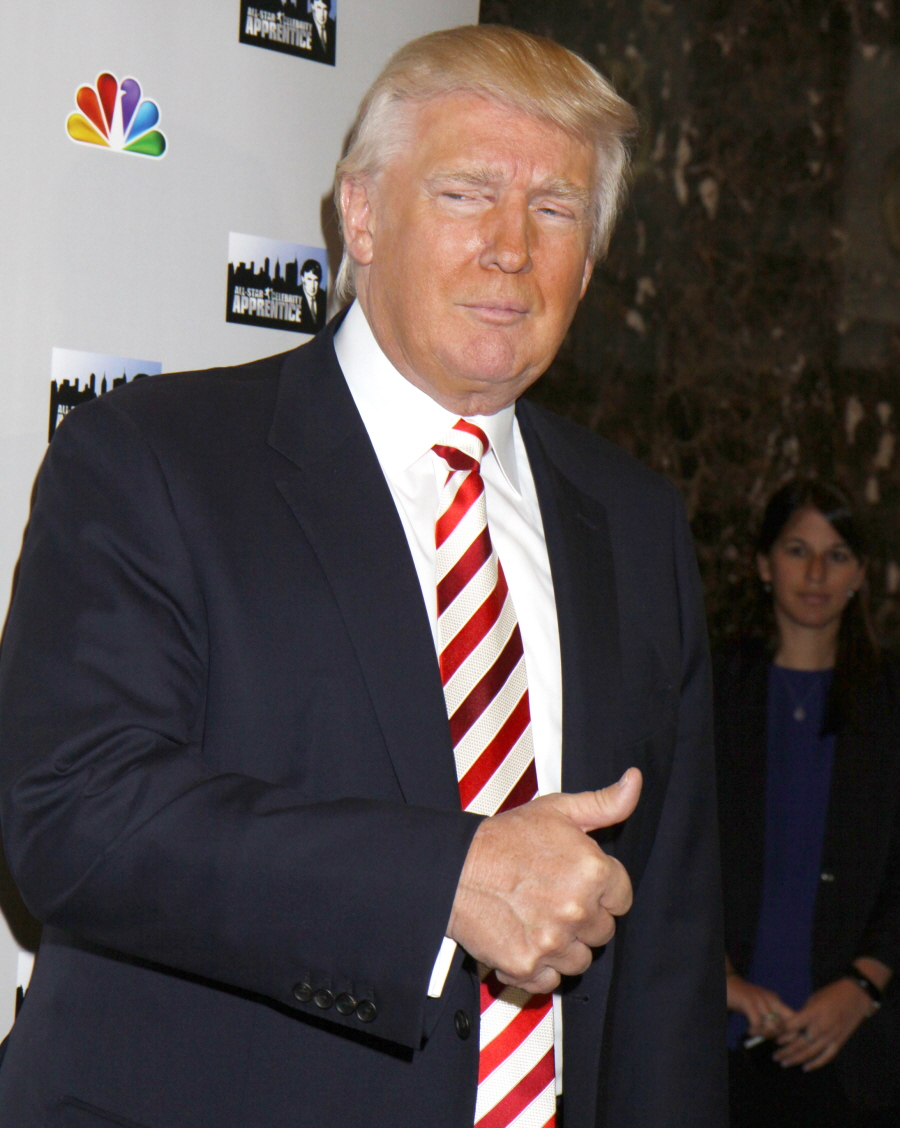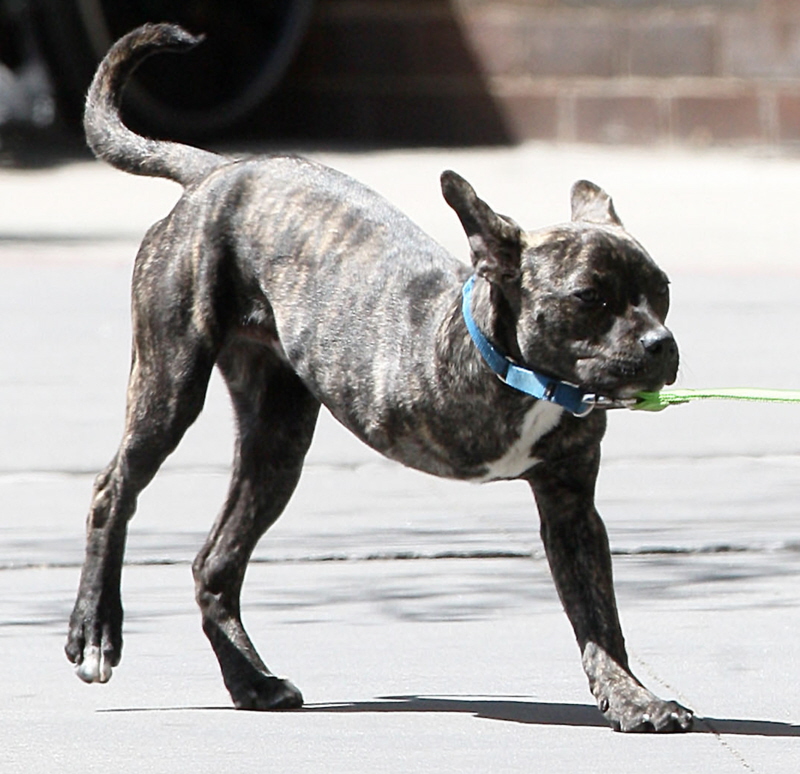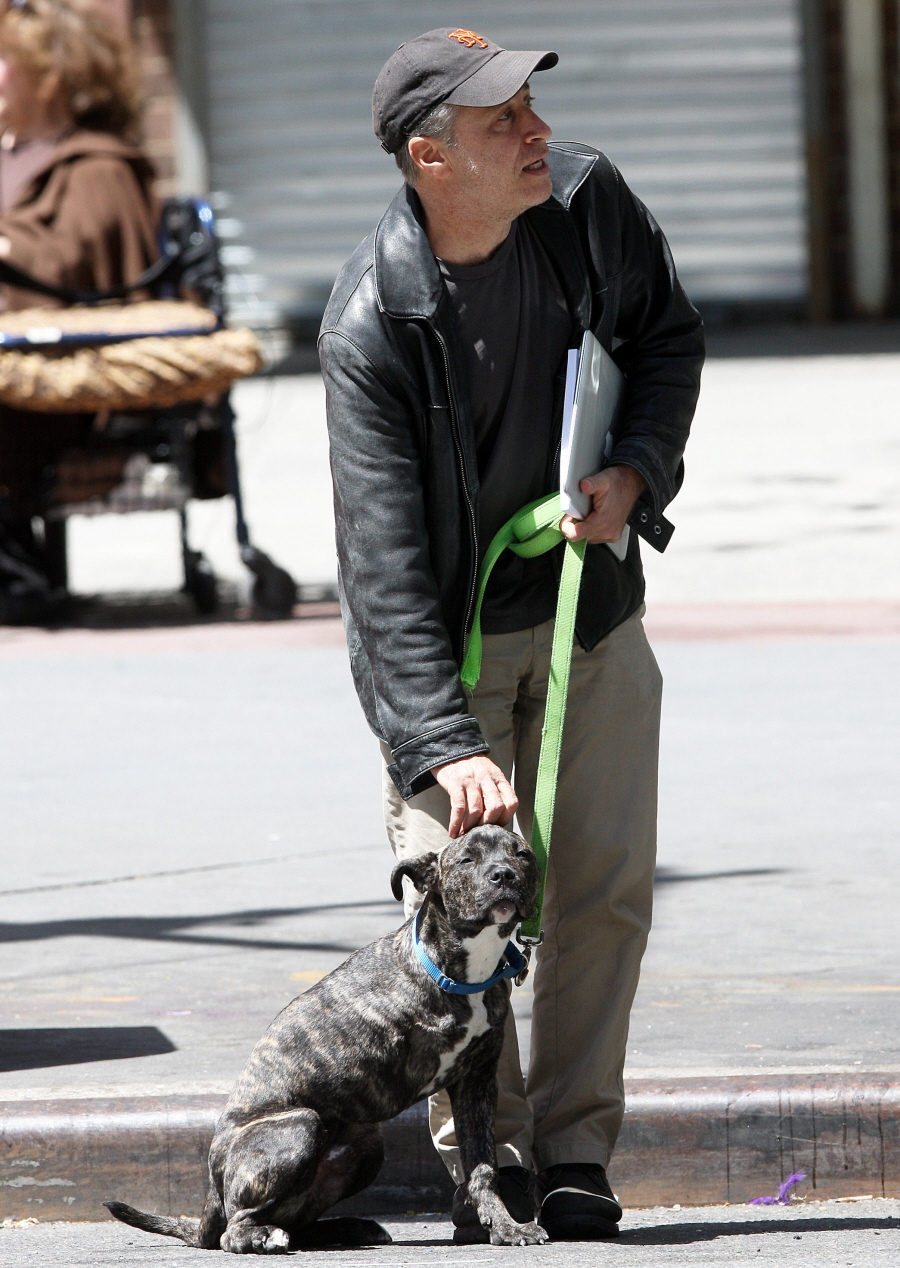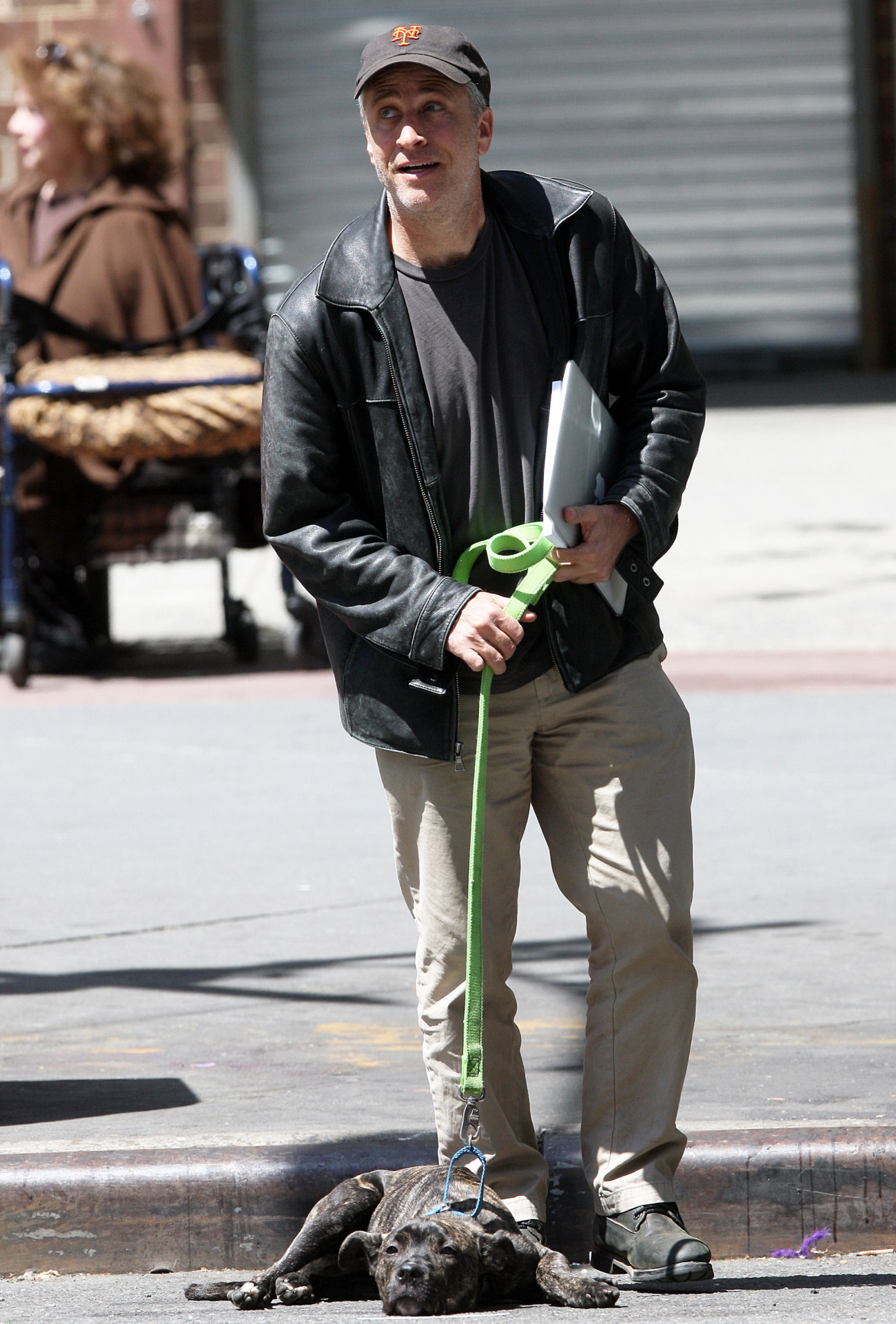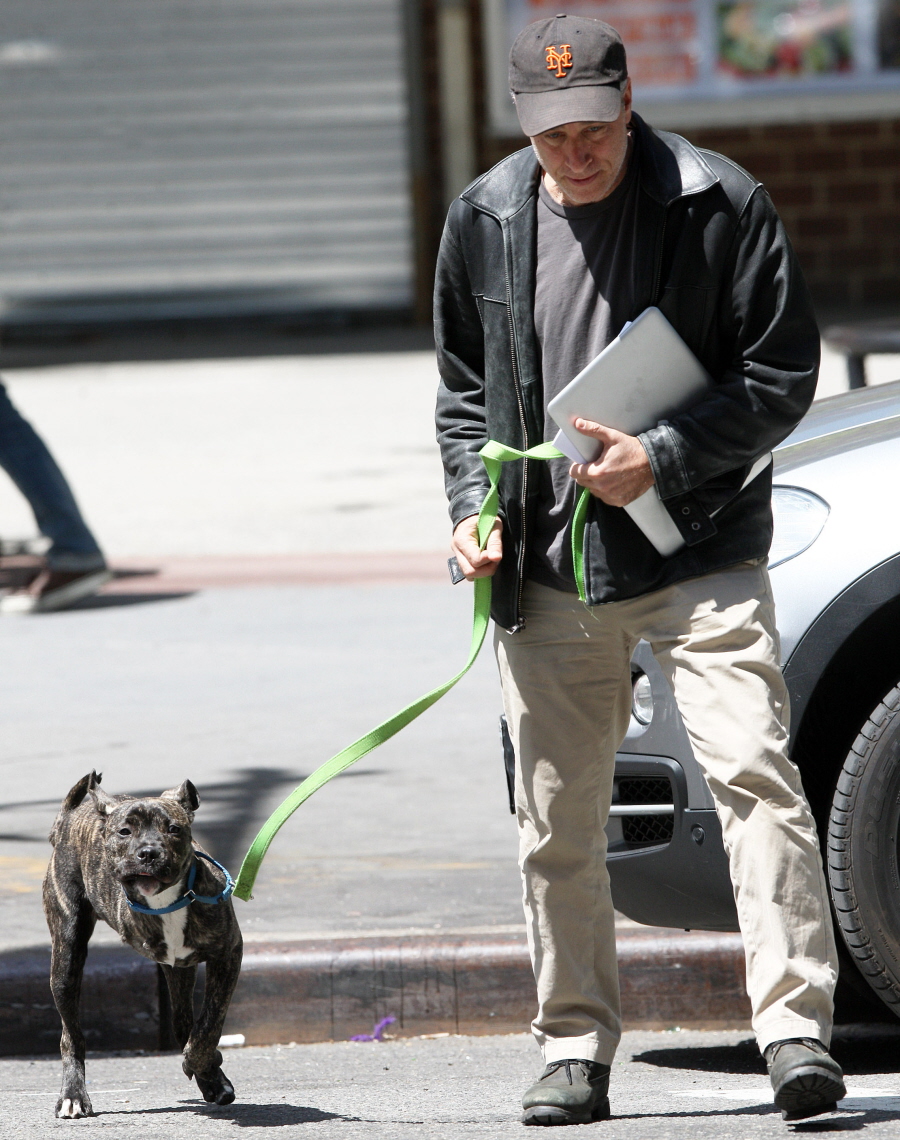 Photos courtesy of Fame/Flynet.