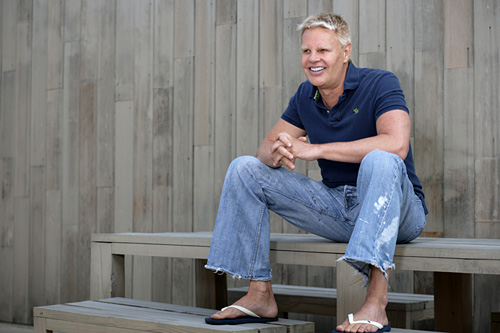 This was on the front page of Reddit yesterday, in which they linked to the photo, above, (from our friends at Starcasm) of Mike Jeffries, the CEO of Abercrombie & Fitch. Jeffries is a royal a**hole, basically, I'm not going to sugarcoat it and I can't come to any other conclusion after reading his remarks. (Which are old, but they're getting new play.) He only wants pretty, thin people to shop at his stores and work at his stores and he says as much in interviews. Jeffries has said this for years, and his refusal to sell clothes for women above a size 10 or a Large (while selling XXL for men) has hurt sales. I'm going to quote Starcasm here because they sum it up the best, but they're basing this on an article in Business Insider which claims that Abercrombie's retail downfall may be tied to their refusal to accommodate larger customers:
"We go after the cool kids. We go after the attractive all-American kid with a great attitude and a lot of friends," said CEO Mike Jeffries in a 2006 interview with Salon. "A lot of people don't belong [in our clothes], and they can't belong. Are we exclusionary? Absolutely."

To ensure that only "attractive" kids buy, wear and promote Abercrombie, Jeffries enthusiastically supports the company's size restrictions. For men's clothes, that doesn't mean much: They offer XXL sizes for the cool, muscular jocks.

But, for women, that means no pants above size 10 and no shirts or dresses above a large. The company does tread into "extra-size" territory for women, but only to offer extra-small.

Not only is this kind of policy upsetting, it's also bad business — which finally seems to be taking a toll on Abercrombie.

"While a specialty retailer like Abercrombie can't be expected to appeal to everyone, the brand's standard of beauty is quickly becoming stale," wrote Ashley Lutz for Business Insider this week. "Plus-sized is no longer a niche market: 67 percent of the apparel purchasing population fit that label, and the number is growing all the time."

Indeed, Abercrombie stories are rapidly disappearing from malls. Since 2010, closed (or announced plans to close) more than 10 percent of its shops. The company's stock has also taken a beating.

Considering these past few years have also been marred by the recession and rising cotton prices, it's impossible to tell whether negative attitudes toward the branding are responsible for Abercrombie's troubles. However, some of Abercrombie's top competitors have done better in face of the same economic issues. They also offer larger sizes and promote healthier body images with the use of plus-sized models.
The article in Business Insider goes on to say that H&M, which is thriving, has a plus sized line and is trying to accommodate customers who need larger sizes. There are plenty of stories on Reddit (which are impossible to verify since it's Reddit) from people who claim they were employees at Abercrombie or its sister store, Hollister. They say that only the most attractive employees were allowed to work the floor, and that this was regularly enforced by upper management. We've heard these stories about A&F for some time, their advertising supports it too. (And all the models they use are white.) It just seems fitting that their sales are taking a hit, but as Emily at Starcasm points out, so are a lot of other mall-based stores and businesses in general.
Here's another picture of Jeffries, from Wikipedia. I already know what some of you are going to say.