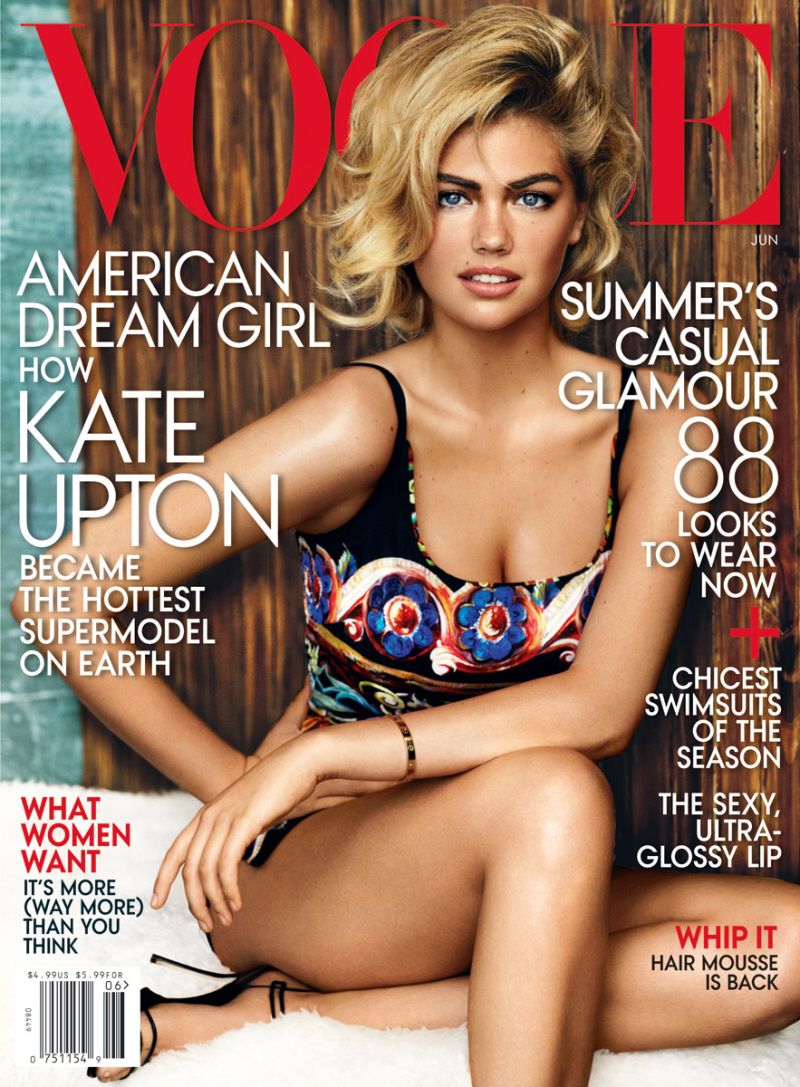 Kate Upton finally scored her first cover of American Vogue! She's covered some of the international editions of Vogue, of course, but Anna Wintour was making Upton wait for this one. Still, now Upton has an American Vogue cover… and Victoria Beckham does not. Does that make you giggle a little bit? Anyway, Kate covers the June issue which… I mean, it's an okay start for her. Wintour doesn't care as much about the summer month issues, so this was a decent compromise. If I was Upton, I would be incredibly pleased with how this came together – the photoshoot (by Mario Testino) is mostly beautiful, with several striking images. And she's styled really well too and it's a real pictorial, they didn't half-ass it. Plus, Upton should be happy that she got a real interview and profile in the magazine, and that it's mostly complimentary. You can read the full thing here and here's a short excerpt:
The Upton legend begins on YouTube. She broke out in 2011, dancing to Cali Swag District's "Teach Me How to Dougie" in footage shot by a friend at a Clippers game—her appeal a mix of blonde bombshell and homespun girl next door. (The video has two million views and counting.) A subsequent clip was more risqué: Upton dancing the Cat Daddy in a skimpy bikini for Terry Richardson—and yet here, too, she's goofy, disarming, improbably wholesome (that video has nearly sixteen million hits). Meanwhile she's a regular on Twitter (more than 900,000 followers), and was an early adopter of the video-sharing app Vine.

"It's just me sharing my life," she says about tweeting. "I like it if it's authentic and in the moment and happening." Growing up, she adds, "I didn't buy the magazines that had models on the covers, because I didn't know them. So I think this kind of gives me, as a model, a personality that people can connect with." It seems to be working. In 2012, she was the fourth-most-popular search on Yahoo—just behind Election, iPhone5, and Kim Kardashian.

What makes the Kate Upton era so unlikely is that the things we love about her—those curves! that personality!—defy what the word model has come to mean, at least on the runway: a seemingly endless procession of lanky, expressionless wraiths. That is most certainly not Upton's profile. (Descriptions of her figure tend to involve euphemisms for a single word: breasts.) And yet Upton's body has sparked debate. This year's Sports Illustrated cover—a shot of her in Antarctica, parka open to reveal a stunning breadth of cleavage—set off a fresh round of "Is she fat?" conversations across the Internet.

"It was hard at first," she admits of hearing such rumblings. "You sit there and you're like 'Is something wrong with me?' " But she's learned to ignore her critics—and come to regard her healthy body as a point of pride. "The things that they're rejecting are things that I can't change. I can't change my bra size. They're natural! I can work out and I can stay healthy and motivated, but I can't change some things. I really just live my life. I love my body. It's what God gave me! I feel confident with myself, and if that inspires other women to feel confident with their bodies, great."
Yeah. It's fine. Kate Upton got a Vogue cover and the world didn't end. I wonder what's up with Wintour lately? She let poor gauche Kate Upton have a cover AND she allowed Kim Kardashian to come to the Met Gala? Do you think Wintour is just tired of fighting with these people? She's like, "Damn, I'm tired. I shall let it go just this once."
The photo with the glasses is my favorite!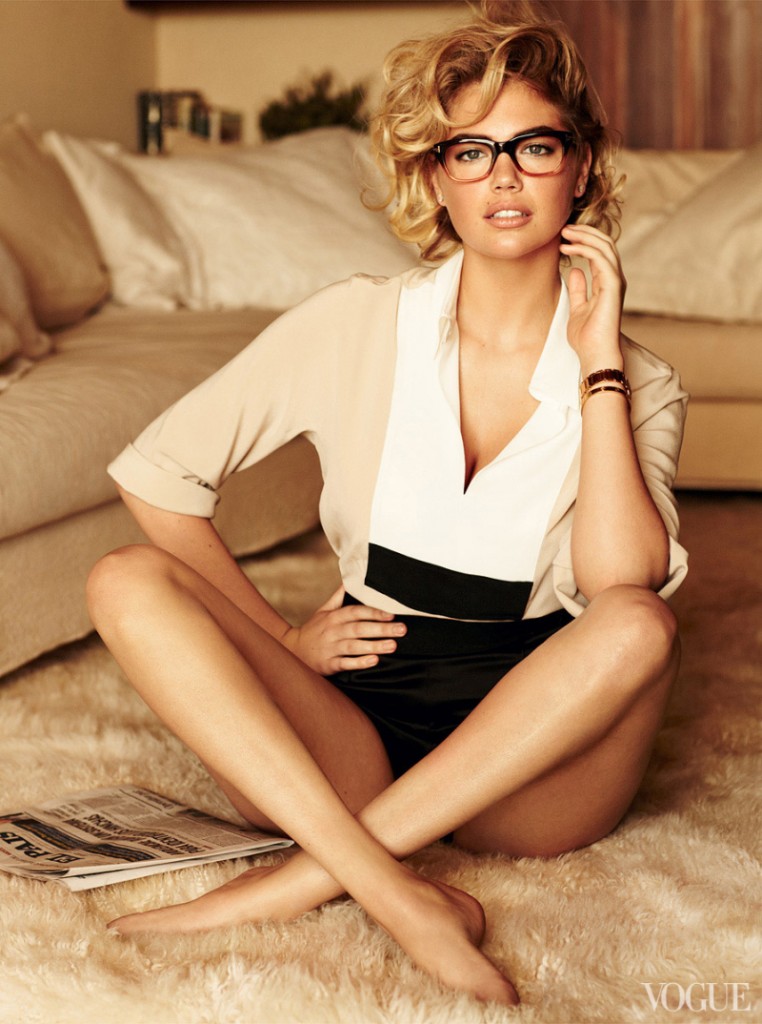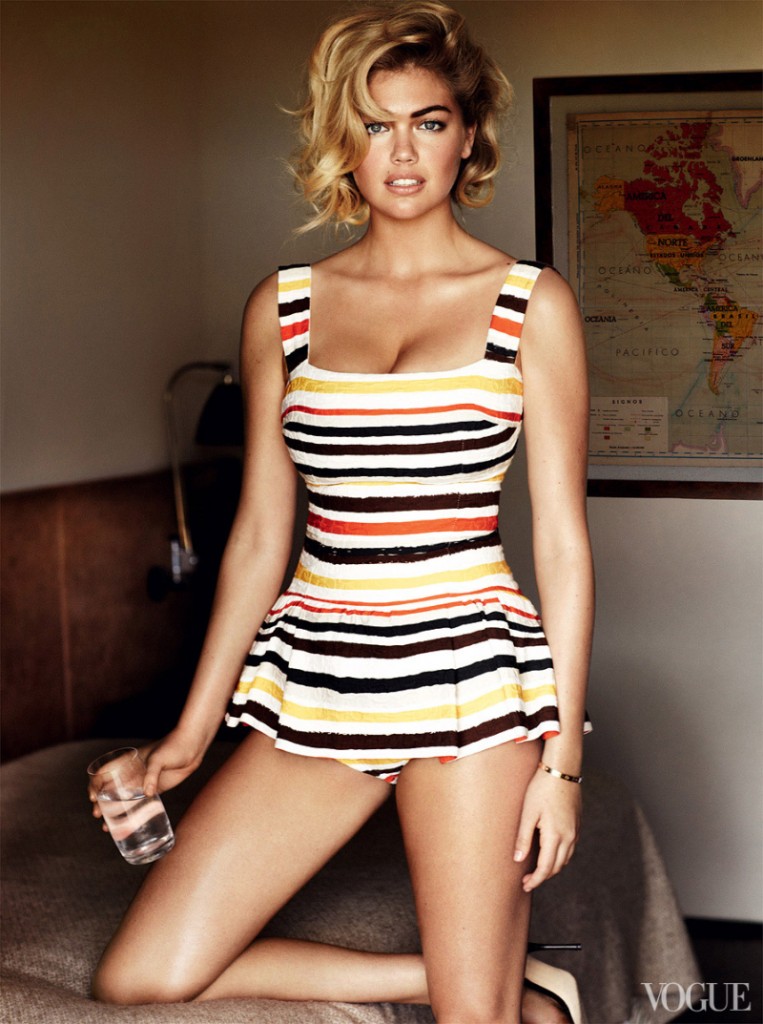 Photos courtesy of Mario Testino/VOGUE.