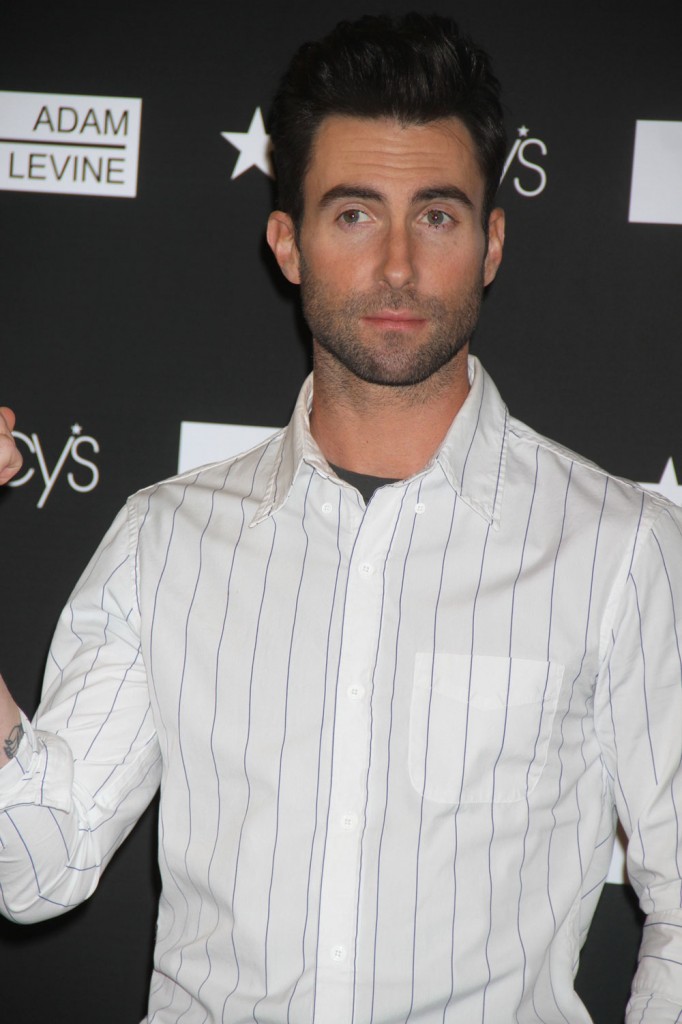 There's apparently a big to-do over some remarks that Voice judge Adam Levine made during a live airing of the show, when he assumed he was off air. Levine had his microphone on, unbeknownst to him, and was frustrated about an elimination of two of the contests he was coaching. (Voice judges have a team of contestants under them.) He said "I hate this country," and it's unclear if he was referring to our nation's taste in music, maybe country music in general, or if he felt the voting process was flawed and was somehow confusing a reality show with national policy. Whatever happened, Levine's non-apology makes it sound like he's pissed that his comments got aired more than he regrets saying them.
America won't tolerate Adam Levine's "unpatriotic" exasperation. The Maroon 5 frontman drew scores of complaints for quipping "I hate this country" on an episode of The Voice, requiring a formal statement to explain his remark.

On Tuesday night's episode of the US series, viewers eliminated two of the three singers Levine coaches on the show. Part-way through the segment (at 1:14 in this video), Levine muttered his allegedly anti-American remark; reports suggest that the star didn't know that his microphone was recording.

Most viewers, one would think, would understand Levine's comment: the American public had just rebuffed his taste, rejecting two thirds of his contestants. Of course he hates them. But across the US, hundreds of viewers took Levine's whingeing as a threat to liberty, democracy and the principles of the founding fathers.

"Hey @adamlevine this country you apparently hate so much made you rich. You're free to leave. Try Syria. I hear it's nice this time of year," wrote one patriot. "Can we send Seal Team 6 after him?" enquired another. Others suggested Levine "move to a communist country".

Initially, Levine tried to laugh off the incident. After the episode aired, he tweeted dictiontary definitions for "joke", "humourless" , "lighthearted" and "misunderstand". But America is very serious about its anti-Americans, and whether due to public or network pressure, by Wednesday afternoon his publicist was distributing a penitent press release.

"I obviously love my country very much," Levine avowed. "My comments last night were made purely out of frustration. Being a part of The Voice, I am passionately invested in my team and want to see my artists succeed. Last night's elimination of Judith and Sarah was confusing and downright emotional for me and my comments were made based on my personal dissatisfaction with the results. I am very connected to my artists and know they have long careers ahead, regardless of their outcome on the show."

Levine has appeared on The Voice since its debut in 2011, and coached season one winner, Javier Colon. Maroon 5′s fourth album, Overexposed, debuted at No 2 last June.
Douchebag say what? I don't know, that was just is a stupid thing to say when you're a judge on a reality show. In his non-apology he didn't use the word "sorry," "apologize," "regret," or "poor choice of words," all of which would have been acceptable. Instead he just focused on how frustrated he was because it's all about Adam all the time. At least he said he loved his country "obviously," even though he blames it for not embracing his artists. That said, I don't like the knee jerk "if you don't like it, get out" response. That's such a cliche. He didn't mean it that way, but he could have done a better job at apologizing.
Here's the video. Adam makes the remarks at 1:14. They drag out these eliminations so much on reality competition shows.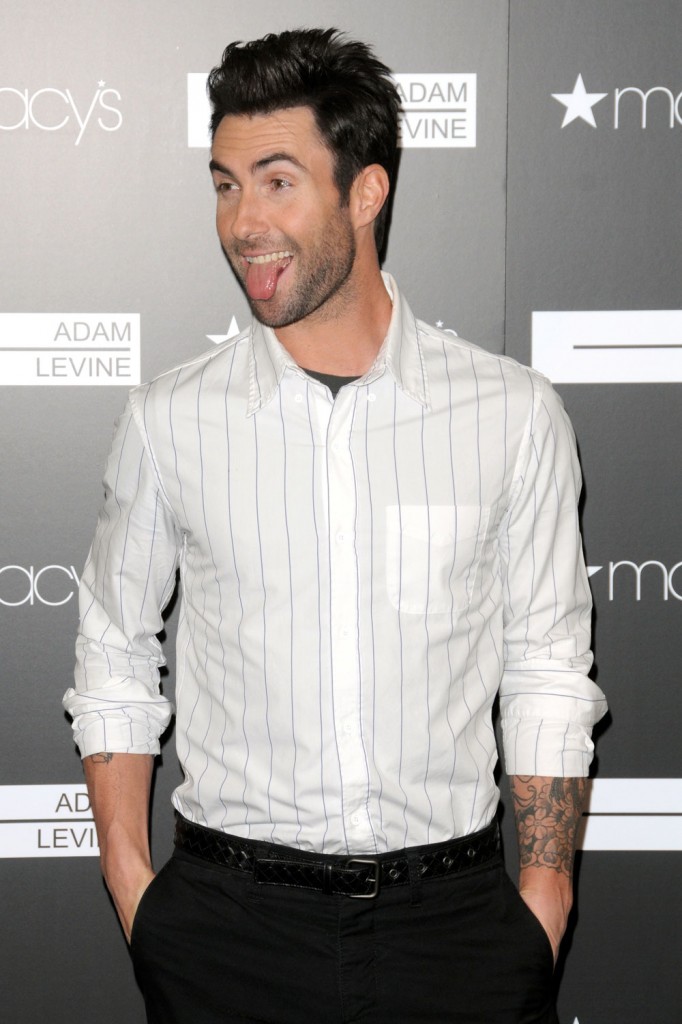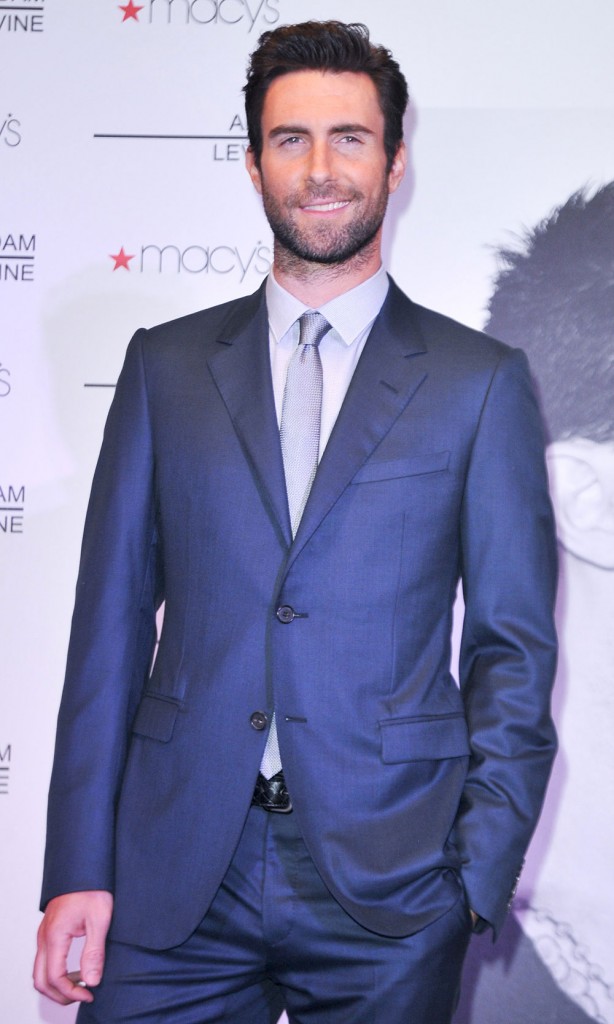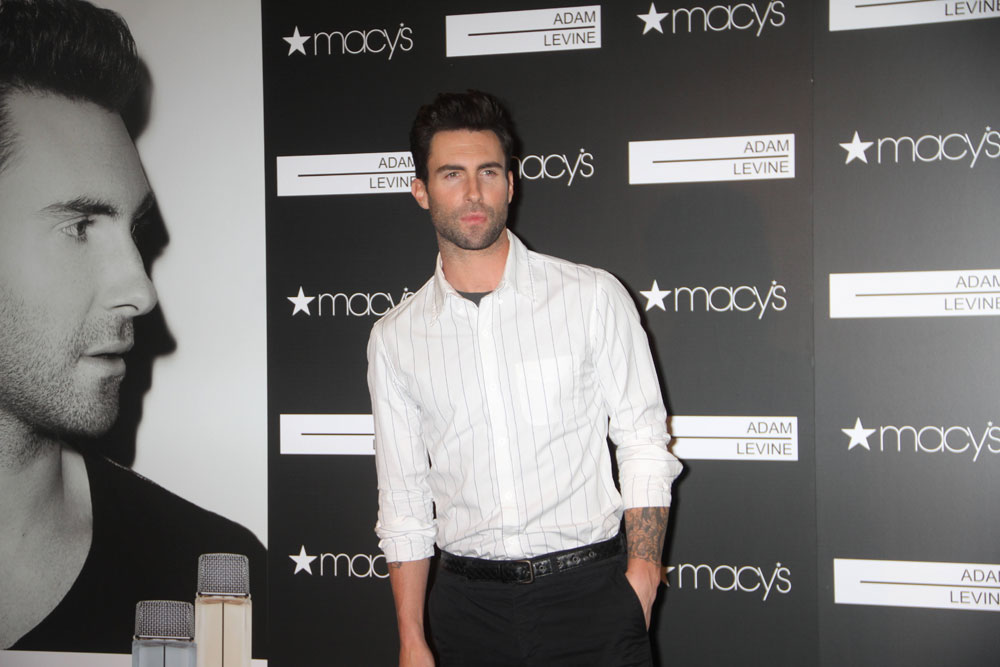 Adam Levine is shown "launching his new fragrance" – really! – at Macy's in February. Credit: WENN.com