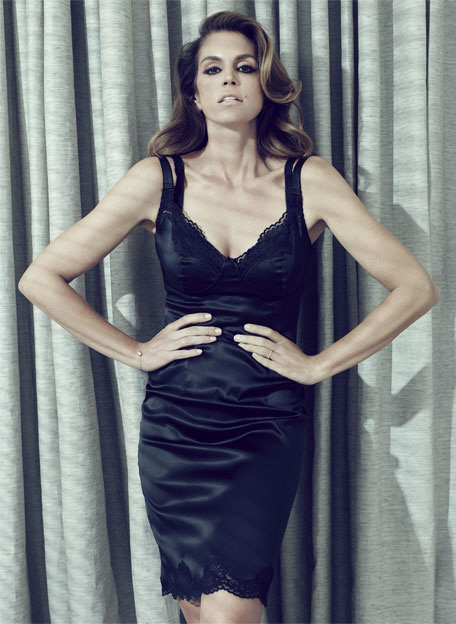 We can discuss whether or not Cindy Crawford Botoxes. We can discuss whether or not she and Rande ever swap partners with George Clooney and Stacy Keibler. We can discuss whether or not Cindy Crawford is still relevant today. But one thing I cannot question is that Cindy still has PRESENCE. You look at her and you still see one of the first supermodels, a rule-breaker and modeling/branding iconoclast. While I'm not flat-out in love with Cindy's editorial in this week's net-a-porter.com online magazine, The Edit, she still looks interesting. Even when Cindy takes a boring photo, it's boringly interesting. You can read the full piece here at The Edit, and here are some highlights:
Choosing to mix it up early in her career: "I trusted that I understood what was right for my brand. It felt more authentic to not be super-exclusive and highbrow. That didn't feel like who I am. And I was willing to do things that weren't necessarily the next thing you should do, like MTV or Playboy, things that even my agency wasn't sure about me doing. I was like, 'Why not? Let's try it'. I never had a grand design. I am very professional, so I think that got me far. It's kind of underrated in the fashion world to be on time, for example. Sometimes I would be annoyed
that certain models – we shall not name names – could show up five hours late to a shoot and there was no consequence."

The women's rights model? "I thought, 'I am going to take advantage of this moment, do my own thing'. I think some of the young girls saw me as someone who used the business back, not just getting eaten up by it. It's like women's rights or everything else – you break the glass ceiling a little each time."

Was she fearless? "I wouldn't consider myself fearless at all, I wish I was. At that age, it was probably an ignorance-is-bliss kind of thing. I remember when I was about 21, I got in a car with someone in Paris. I thought it was a guy from my agency there to pick me up because he had a card with my name on it when I got off the plane. But then when I asked him questions, I realized he didn't know anything. I guess someone had seen me getting on the plane and he turned up there. I waited until a stoplight and then jumped out of the car. When I saw that Liam Neeson movie [Taken] about a kidnap, I thought, 'God, that could have been me'."

Photographers: "I loved Herb Ritts and I loved Helmut Newton. A lot of the guys I worked with are gone: those two, [Richard] Avedon and [Irving] Penn. I don't know if it can get better than that group. Sometimes, when you are working with young photographers and they say, 'This is so Helmut', I'm thinking, 'No, not really. I was there with Helmut, this is not Helmut'."

Her favorite images of herself: "Herb took more pictures of me super-natural, no makeup – that's how I wish I looked when I woke up in the morning."

Photoshoots have changed: "The good thing about back then was that no one had cell phones, so you would actually sit and have lunch together. You'd arrive, you'd listen to [art dealer] Tony [Shafrazi] tell Patrick [Demarchelier] about some Basquiat and you would learn something, get an education. Now everyone's just doing their email."

She doesn't think she's all that fashionable: "I'm not like Kate Moss or someone who has incredible style," she insists. But when it comes to the 'Cindy look', she knows exactly how to define it. "A 'supermodel day' is heels, skinny jeans, those things… I wouldn't show up for an autograph signing with a chignon, because my fans want Cindy Crawford, they want the hair. For events, I feel most comfortable in Versace, Cavalli, sometimes Pucci, or I like trying a new designer, like Preen, Alexander Wang – those tend to fit me because I have boobs. We had a Victoria Beckham dress on the shoot and I was a little scared that I would only be able to get it over my toe, but actually it fit great and it was beautiful." Day-to-day, Crawford favors what she calls the 'Malibu mom' look, wearing "jeans, a top or something that's one step above from a T-shirt, like a little silk blouse, then a leather jacket over that."

Aging: "I'm a normal woman, sometimes I feel pretty good and some days I'm like, 'Oh my God, nothing fits'. My new resolution is that by the time I am 50, I want to have come to terms with my body. Because for me, being five pounds lighter, what it would cost me… I don't want to be like, 'Oh no, no salad dressing, no wine, no fun'."

Happiness: "My goal in life is not to be happy all the time. It's asking a lot. How would you even know you were happy if you were always happy? I just want to be present so I can experience whatever emotion is there. Sometimes it's joy, sometimes it's not joy and I'm fine with that. I just want to be real."
Cindy reminds me a little of Cameron Diaz, in that Camy sounds a lot like this in interviews. In interviews, I LOVE Camy. She seems grounded and real, interesting, smart and "together". And then in life, she ends up dating douche after douche and you hear stories about her being not-so-grounded. Like, I love what Cindy's selling. I want to buy it. I want to believe she's mostly at peace with her life and all of that. But I don't know. Eh. Maybe she just gives good interviews.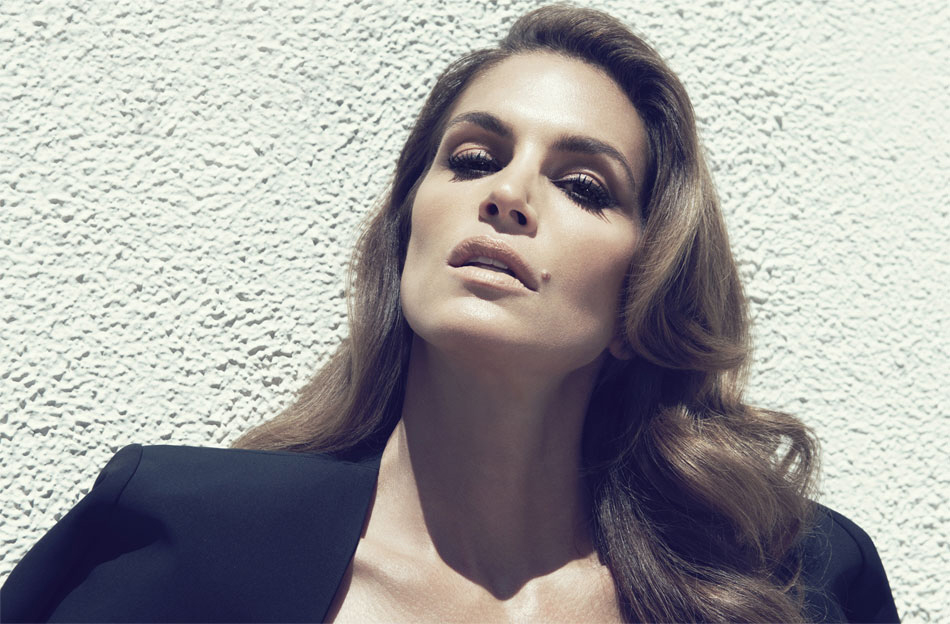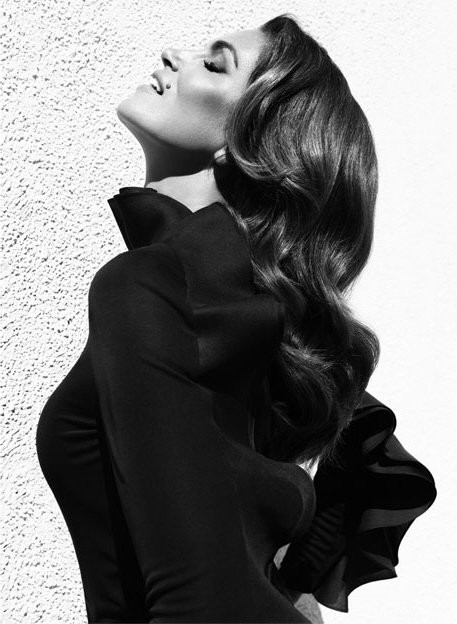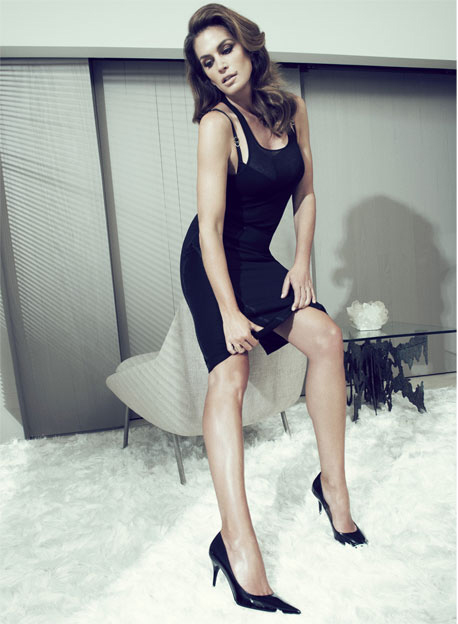 Photos courtesy of The Edit.