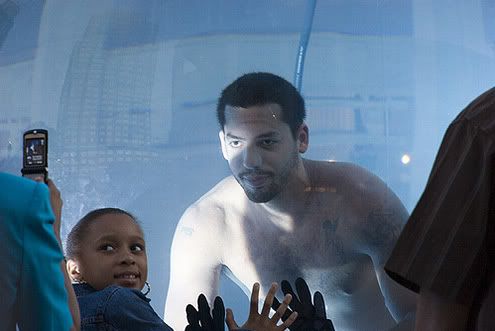 I don't wish David Blaine any ill will, and I really hope he gets out of the bubble alive and without permanent brain damage from oxygen deprivation. He's a total fool, though, to bring his body to its breaking point and then expect to top it off by holding his breath longer than people who are in top form and have trained for years – while he's breaking out of a bunch of chains!
Blaine's skin is predictably peeling off from his week-long underwater stunt, and now he's experiencing excruciating pain throughout his body. Doctors says his muscles are breaking down and that he "might never be the same again" and could develop a seizure disorder:
David Blaine has
described his seven days in a sphere of water as "horrific", saying he has never experienced pain like this before…
"I think the time has started to really take its toll on my body. It has started to become horrific in many, many ways.
"Every muscle doesn't just ache, it feels like a sharp shooting pain, like a knife being stabbed."
Blaine's skin, which has shrivlled and pruned due to the water, hurts as well, and he is very concerned for his muscles – which have begun to atrophy.
"I don't think it's permanent, but I've never felt this kind of pain in a stunt before…"
Blaine's management has refused to discuss how much he will make from his latest act, but it is certain to be in the millions, with advertising revenues alone reportedly set to top $9 million.
Doctors have already raised concerns over Blaine's health, with Dr Murat Gunel of Yale University, who is monitoring and advising the illusionist, saying on May 2 that he "might never be the same again".
He said a lack of adequate oxygen in Blaine's brain during the breath-holding challenge, especially after seven days under water, carried a risk of irreversible brain injury
"Even if he is fine immediately after, there is a risk for developing seizures in the long run.
"We all advised him against this stunt."
The bottom line is that David Blaine is making a ton of cash in a deal with the devil that could leave him with permanent health problems.
There are plenty of real people who live with chronic pain and disability. David Blaine thinks it's ok to gamble with his health for fame and fortune. He's about to find out that it's not worth it.
Update: the status of Blaine's breath-holding stunt for his two hour ABC special tonight, to air at 8:00 pm, is uncertain:
"I was basically doing breath holds on my own up 'til recently but now my long, everything, feels weaker than normal," he said.
"Frankly, right now the angle of the finale is uncertain," a source tells the New York Daily News. "They're still wrestling with how the finale will end."
"We're just not sure if he'll be able to handle it," said Kirk Krack, a free-diving expert who has been training Blaine. "If we pulled him out of the water, he likely would experience a blackout."
According to the News, blood tests have shown Blaine's body has adapted to the weightless environment by constricting his blood vessels, Krack said.
His blood plasma levels are only at 75% of normal, which means that he'll probably have to be removed from the water gradually, after the stunt is completed.
Pictures from Flickr: [via] [via] [via] [via] [via] [via]