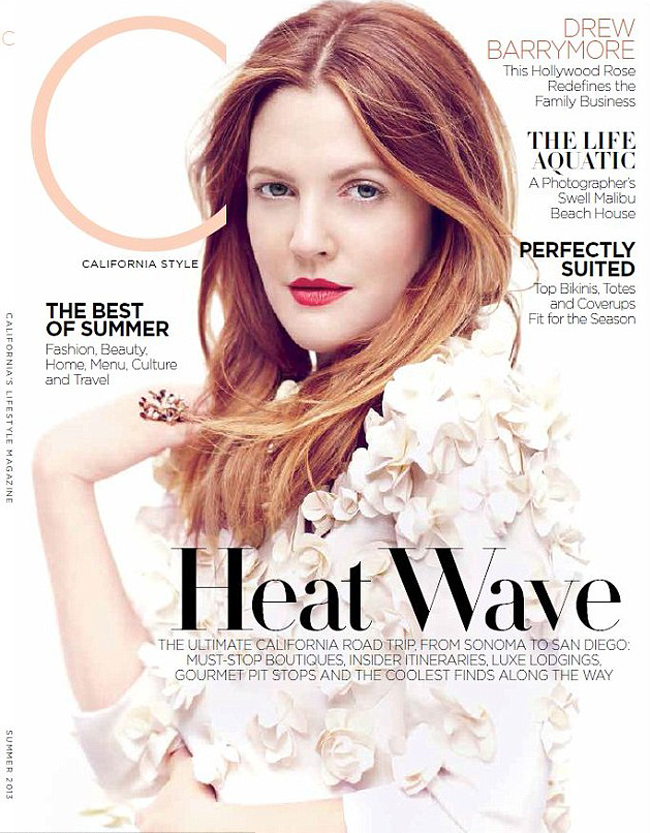 Drew Barrymore covers the summer 2013 issue of California Style or C Magazine, and the publication chose the worst, most vanilla photo out of the whole shoot as the cover. The editorial is very gorgeous and features Drew in colorful botanical settings, and she's styled beautifully, but the cover is so bland. Such a waste of an opportunity to sell copy.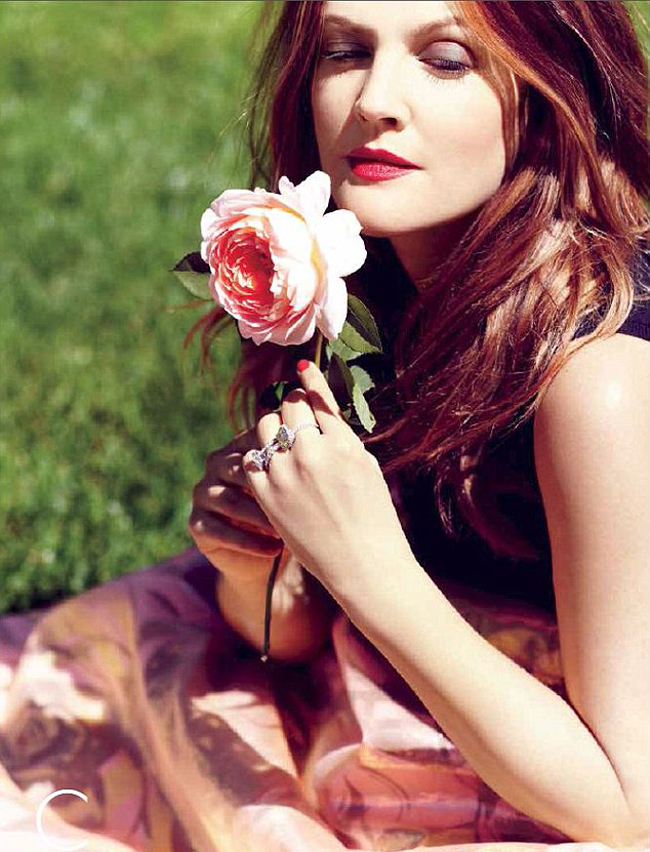 In the interview, Drew gushes (like she is wont to do — it's her default method of conversation) about her wonderful married life with Will Kopelman. Drew absolutely adores his (monied) family, which includes a philanthropist mom, Coco; a former Chanel CEO father, Arie; and a novelist sister, Jill Kargman. As a side note, I read one of Kargman's books, The Rock Star in Seat 3A (which is totally about Trent Reznor, by the way), on an airplane a few years ago. Her writing is pure fluff but not as bad as a lot of chick lit. Well, Drew loves her new family, and she seems to particularly enjoy the fact that the Kopelmans actually sit down to dinner together, which is something she hadn't really heard of as part of the dysfunctional Barrymore clan. Now Drew is all about sit-down meals, and she's going to tell us all about it:
She's so lucky: "I won the in-laws jackpot. It might be the best karma for having one of the wackiest upbringings. I never had dinner with my mom or dad, let alone together. It's amazing to think that in life you can completely have a do-over."

Kopelman enlightened her: "I told him, 'Dining rooms are stupid. They shouldn't exist. When was the last time we had a dinner party?' Family dinners would never have occurred to me, and that's what I want most. Now it's my life mission to figure out this room."
[From California Style mag]
Oh noooo. I just had a vision of Drew getting so excited about dining rooms that she gets the bright idea to start offering a designing service just for that room! That's what she does, you know. She tie-dyes socks in her sink and decides to try and sell them. She puts on lipstick, and all of a sudden she's got a make-up line at Wal-Mart. So get ready for wacky, Drew Barrymore-designed dining spaces coming to an Ikea near you.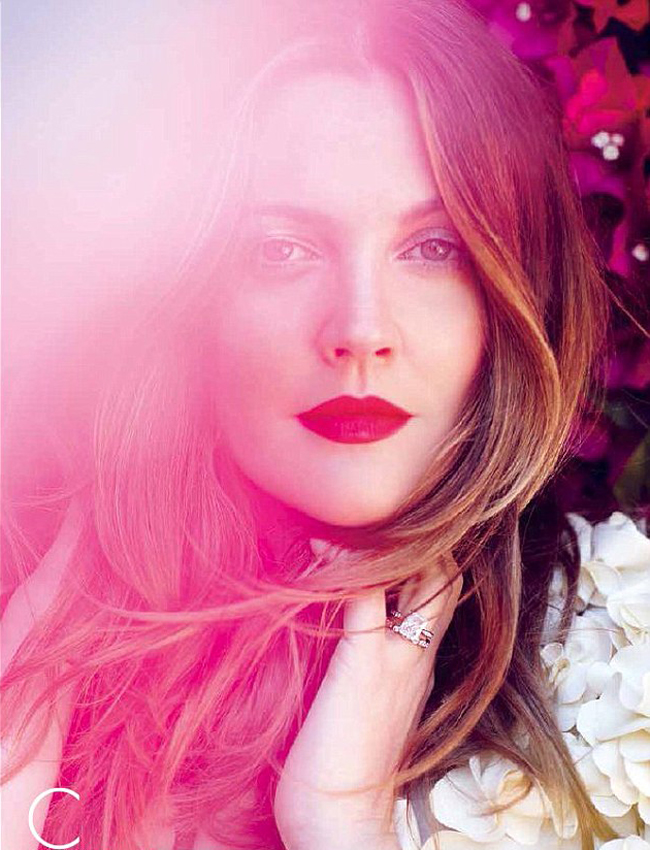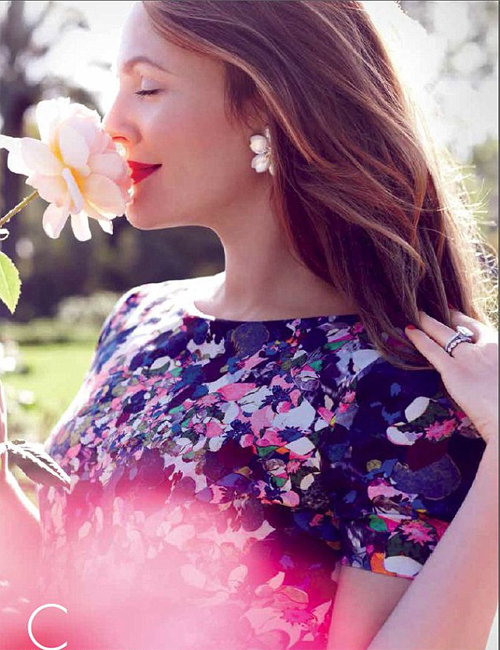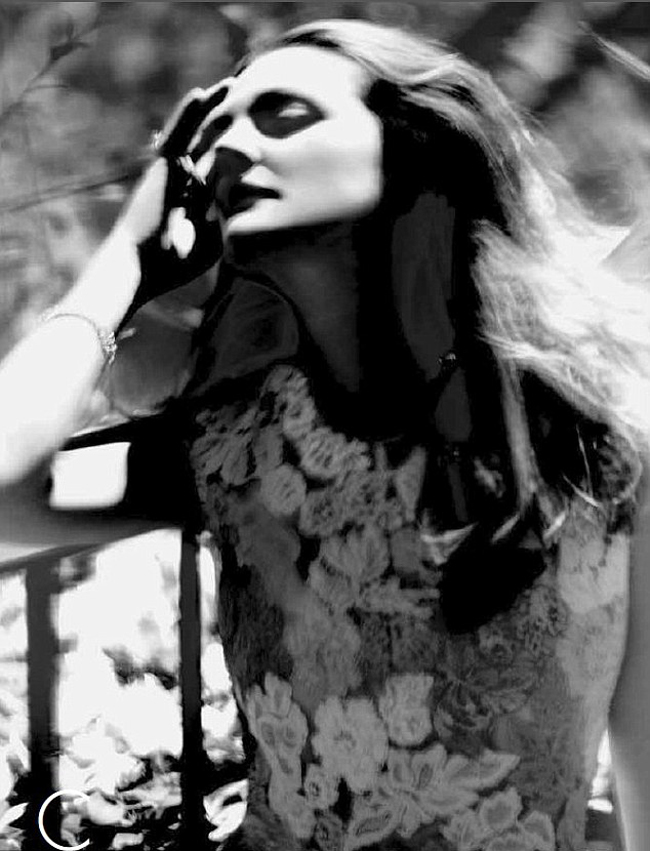 Photos courtesy of C Mag