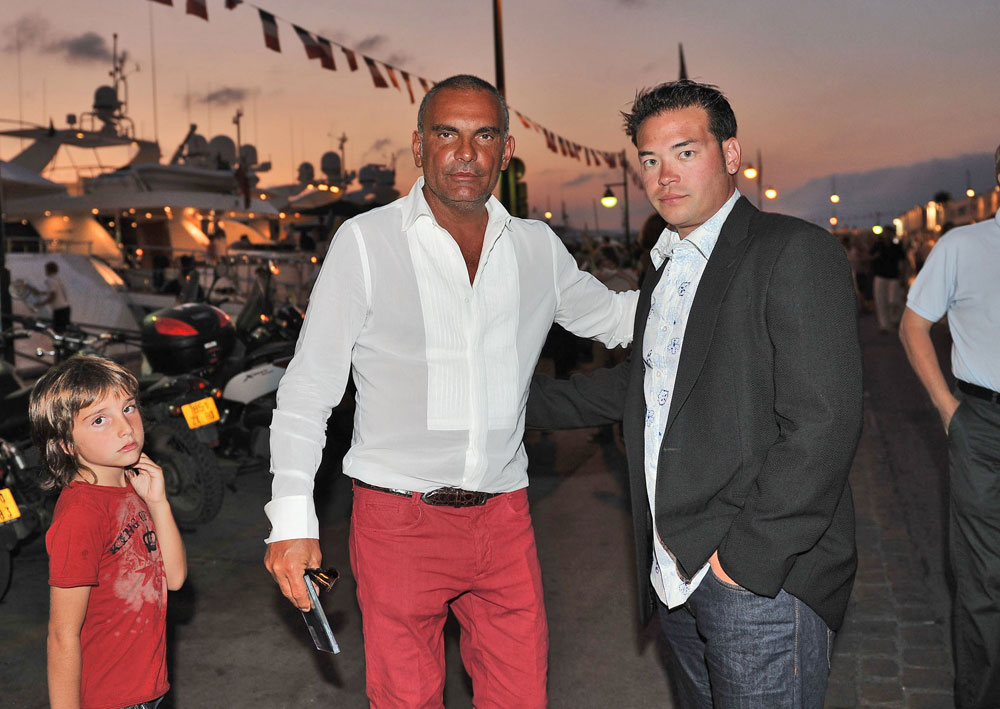 Jon Gosselin with Christian Audigier in 2009
Back when the Gosselins were achieving the pinnacle of their fame, back when Jon Gosselin called himself "the most photographed person on the planet" after getting caught cheating on his bitch wife, Jon was wearing Ed Hardy t-shirts. He seemed to epitomize the brand, which soon became synonymous with "douche" and "try-hard." A lot of that was due to French fashion designer who was running and had licensed the brand at the time, Christian Audigier. Audigier never met a d-lister he didn't like. He flew Gosselin and his then girlfriend, Hailey Glassman, in 2009 to his yacht in France, where paparazzi followed the couple like they were more than just flash-in-the-pan reality stars. He also befriended George Clooney's cocktail waitress ex, Sarah Larson (remember her?) and gave her modeling job right after Clooney dumped her.
The real Ed Hardy is speaking out about Audigier, claiming that he ruined his brand. He's since wrested back control of it and has a new memoir out. Here's part of his interview with The NY Post, with more at the source:
"That Jon Gosselin thing was the nail in the coffin," says the actual Ed Hardy. "That's what tanked it. Macy's used to have a huge window display with Ed Hardy, and it filtered down and that's why Macy's dropped the brand."

The 68-year-old tattoo visionary is sitting in Soho's Thom Bar in a classic pink buttondown and sharp navy blazer with his extensive tattoos — which stop at his wrists — peeking out from under his cuffs.

He is good-humored, like a cool uncle. And no, he's not dripping with bling and aggressive cologne.

That dude would be Christian Audigier, the celebrity-obsessed French businessman who licensed Hardy's art onto everything from T-shirts to air fresheners and energy drinks. He accompanied Gosselin on that ill-fated trip to Cannes.

"Christian worships celebrities so much, he will get next to anyone who is famous for anything," says Hardy, who says people thought Hardy was made up — like Aunt Jemima. "If he could have gotten Charles Manson in a shirt, he would have."

But who is really the man whose name has become synonymous with the word "douchey"?

Hardy, who just penned a fascinating new memoir, "Wear your Dreams: My Life in Tattoos," chronicling his journey from artist provocateur to accidental fashion mogul, is a Southern California-raised collector of art books. He attended art school and even turned down a full ride at Yale grad school to became one of the world's leading ink artists.

As a youngster in Corona Del Mar, Calif., Donald Edward Talbott Hardy was precociously obsessed with tattoos, even drawing them on neighborhood kids with the caveat that they were at least 9 years old.

"In those days you wanted to be a fireman or jet pilot," he says. "I would say, 'I am going to be a tattoo artist.' "
Hardy has more to say about his brand and how it got hijacked by Audigier but ended up making a mint. He gained back control in 2010 through a series of legal battles, and Audigier then stepped down after selling it back to him. The brand may be shot, but it still probably makes a ton of money. It's on practically everything and there are still people who buy it. I see people wearing Ed Hardy shirts occasionally although I live in the south where people can be blissfully unaware of how they look. Hey it takes the pressure off me to feel the need to look polished all the time, I appreciate that.
These are photos from 2009 of Jon with Christian Audigier and his then-girlfriend, Hailey Glassman. Credit: BauerGriffinOnline