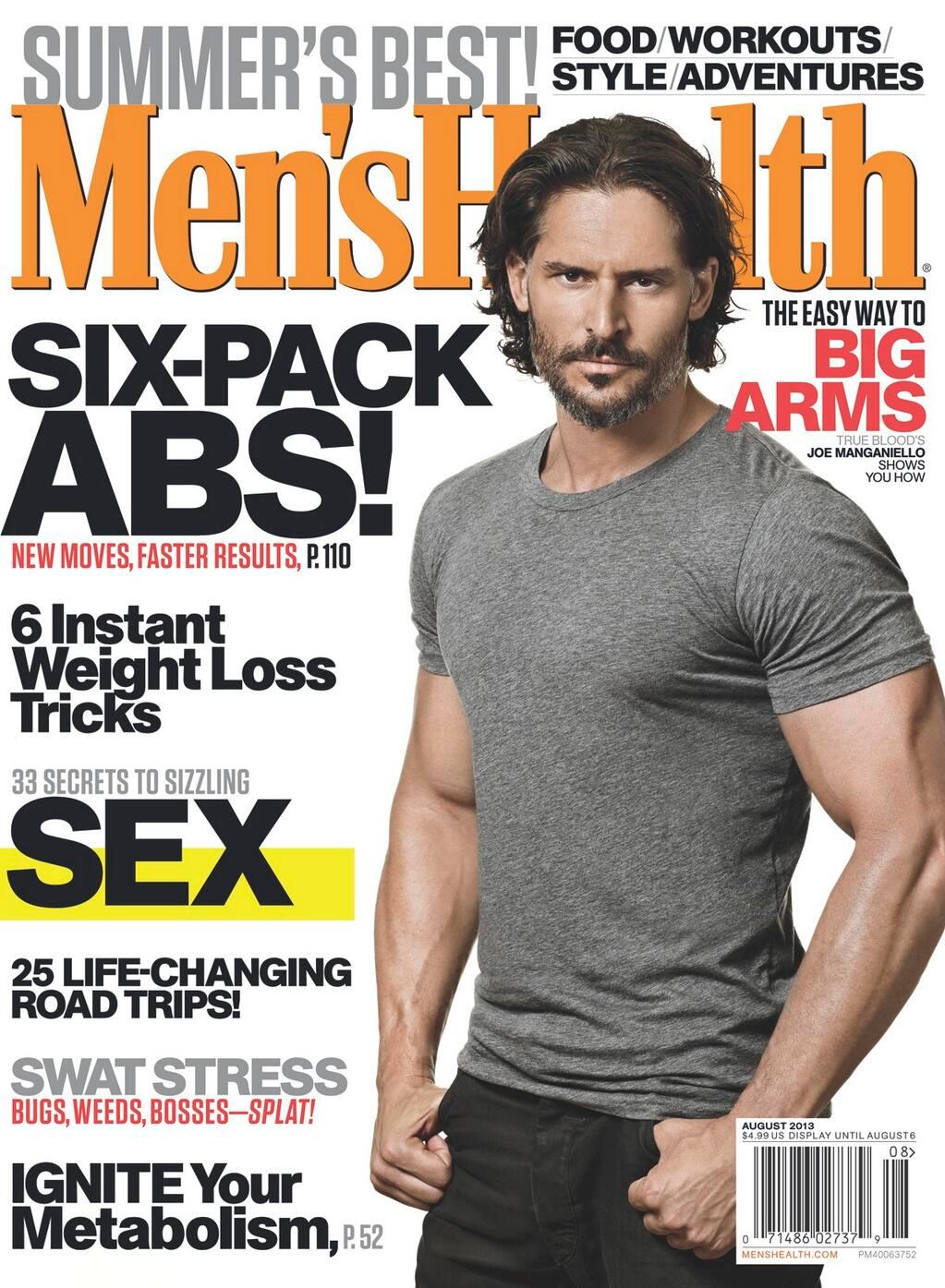 Does anyone else find it kind of funny that the only magazine covers Joe Manganiello gets are issues of Men's Health? Like, Esquire doesn't want him. Details won't touch him. GQ won't return his calls. But he manages to cover the UK and US editions of Men's Health simultaneously, with completely different photoshoots and interviews. Anyway, as I previously discussed, Joe covers the July issue of Men's Health UK. And now here he is on the August cover of the US edition. I like the US photoshoot so much more – it's more relaxed, and the photographer didn't make him look like a steroid monster attacking a mountain. Here are some highlights (ha) from the new interview:
His chest: "I'm playing a werewolf. I want to look sinewy. I want to look like an animal when the shirt comes off, but I want it to be misleading when I have the shirt on."

His different workout styles: "[Previously], It was very fast-paced, no rest between sets, getting the heart rate up. [Now it's] 'Lift heavy, hang out, get back under it."

Struggling to pay his bills, doing small parts: "About 6 months after the shoot ended (for Spiderman), I got thrown out of my apartment for not paying rent. Lost my car. Lost all my clothes. Furniture. The sheriff gave me 5 minutes to collect my things in a duffle bag and leave the apartment."

On where he spent his True Blood earnings: "All the money I was paid as a guest star that year—which was not a lot, after I'd paid out my expenses—I spent on training. I netted zero. I lived off my savings, hoping my car didn't break down. I just put everything into seeing what I could actually do. I think that was the shift."

On his real-life superhero moment: "A friend of mine and I were moving a refrigerator, and it fell down the stairs. I caught it—in the air—and put it down."
Did you get that? HE CAUGHT A REFRIGERATOR. MID-AIR. I don't think it was one of those mini-fridges either (although those things are heavy too). I think this was an actual refrigerator. Crazy. Anyway, I think Joe is a dumb meathead but he seems relatively harmless and I'm kind of rooting for him now that I know how much he struggled to make ends meet. He's never going to be a major actor or anything, but he can have a place in Hollywood and be a moderately successful actor (probably on TV). I would watch him as part of some kind of well-written cop ensemble or something.
Cover photo courtesy of Men's Health.