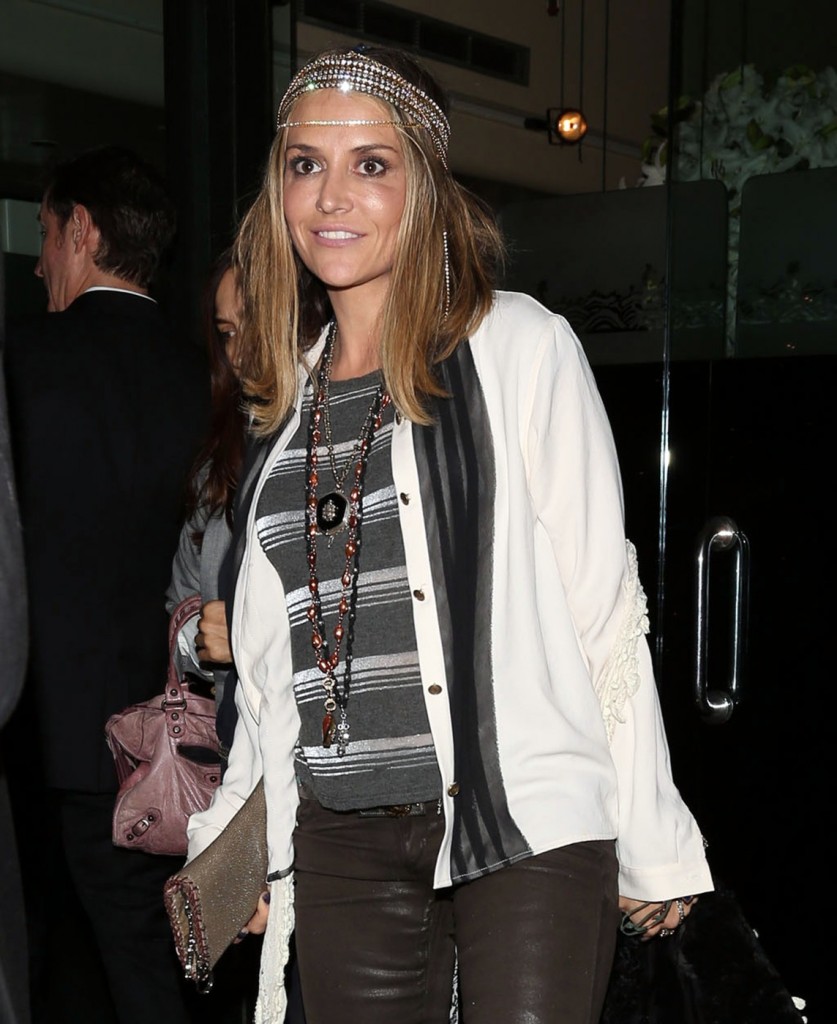 Like Lindsay Lohan, Brooke Mueller couldn't hack Betty Ford rehab and headed to a more crackhead friendly facility last week. Brooke left about a day after Lohan bolted, but she didn't follow Lohan to the next place, (Lohan reportedly shunned her in Betty Ford anyway) she ended up somewhere else in California, where she surely had much less accountability.
This is Brooke's 21st stint in rehab, and since she's gone back to drugs 20 other times there's little chance this latest half-effort will stick for her. The judge in her custody case knows this, and called a hearing to demand why Brooke left Betty Ford without informing her lawyer or child protective services. Brooke's four year-old twin boys with Charlie Sheen are under the guardianship of Denise Richards. Brooke has failed twice to have the boys placed with her family members.
A very angry judge overseeing the custody situation of Charlie Sheen's twins, hauled their mother, Brooke Mueller into dependency court in Los Angeles on Monday and demanded to know why she left Betty Ford, RadarOnline.com has learned exclusively.

To say the judge was "angry is a major understatement," a source told Radar. "The judge was livid that Brooke ditched Betty Ford, for a more upscale and less stringent rehab in San Juan Capistrano.

"Brooke was told that she was an unfit mother and her actions had seriously harmed her chances of regaining custody of the boys anytime soon. It was apparent to everyone that Brooke isn't taking her sobriety seriously. The judge was particularly irked that Brooke made the sudden move without even notifying her attorney or child protective services."

Mueller, ditched her treatment at the Betty Ford Clinic because it was "too hard" for her.

The 35-year-old Palm Beach socialite did not like the manual labor and chores asked of patients at the famed Rancho Mirage, Calif. center, a source previously told us.
Brooke sounds like a woman who can only be sober while in some kind of institutional custody, much like Lindsay Lohan. These famous women are giving the impression that court-ordered rehab doesn't work, when in fact statistics show that the recovery rate is about the same or even slightly better for people who come on their own and people who are forced into rehab for some reason. (At least according to the director of the Hazelden rehab.) These hard cases just suck up all the media air, when you hear about celebrities going to rehab and getting sober all the time, you just don't hear about their successes.
In Brooke's case her kids have a wonderful, sober woman caring for them and they're with their three half-sisters. That's a positive outcome for this story. Maybe Brooke will get sober, maybe she won't, but her kids are where they belong.
Here are Brooke's sons Max and Bob out with Denise Richards and her youngest daughter, Eloise, on 6-18-13. I'm not sure who the man is with them. He may be a helper or a relative. Credit: FameFlynet. Photos of Brooke Mueller are from 12-6-12 credit: Pacific Coast News