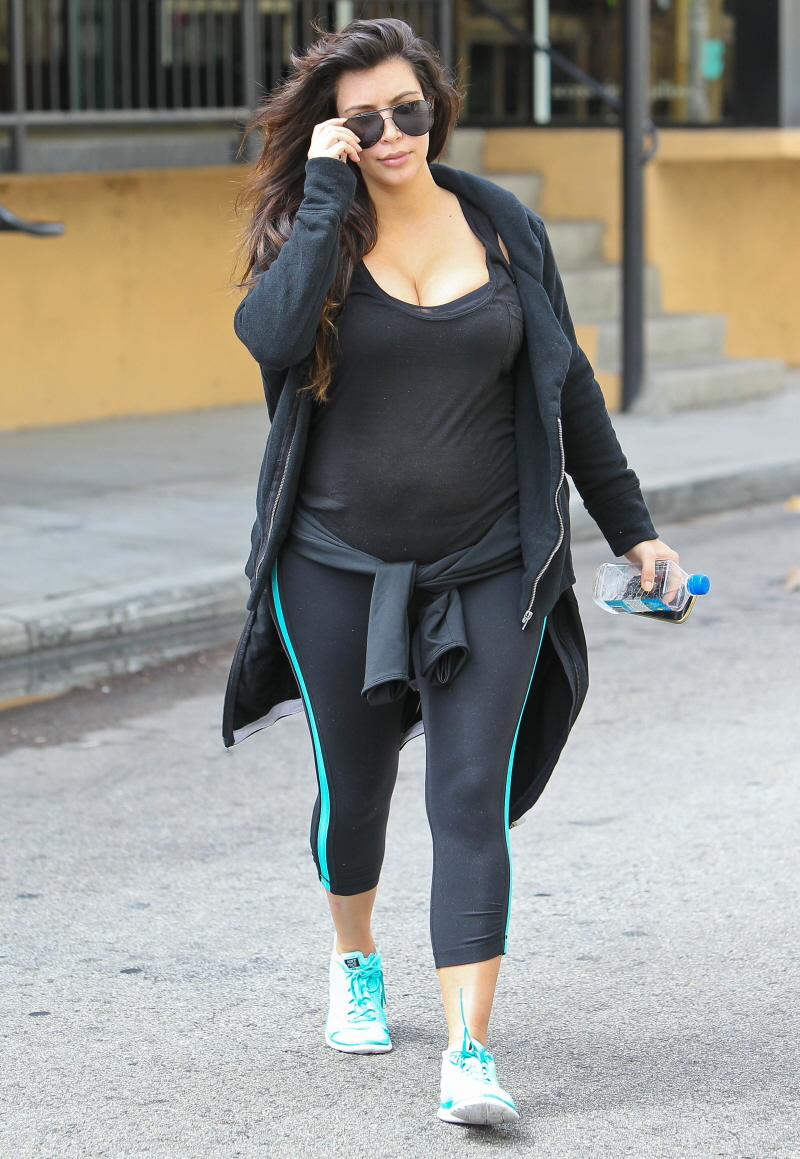 I knew it was coming, but I was just hoping that the "Kim Kardashian Post-Baby Weight Loss" stories would only start up after the baby was more than a week old. But of course that's not happening. Of course "post-pregnancy weight loss" must be rammed down our throats the second after a celebrity woman gives birth. To be fair, Kim kind of brings it on herself. She was the one blatantly lying about her pregnancy weight gain (remember when she claimed she was only 140 pounds? And then 151 pounds?) and now she'll lie about how much she actually gained and then she'll lie about how much she's lost. But for now, enjoy the first of many stories about this subject:
Kim Kardashian has been the target of nasty headlines and criticism since she put on weight while pregnant. If affected her so much that a source tells Us Weekly magazine, "She's already looking ahead to when she can exercise again" and that her goal weight is her old body — 115 pounds!

"She has over 30 bouquets from loved ones," in the hospital, an insider tells Us Weekly. "She told everyone not to bring sweets — she said she doesn't need any temptations!"

The source says Kim desperately misses her old body and wants it back as soon as possible. "She's already looking ahead to when she can exercise again."

To ensure she had a head start on losing the weight, Kim worked out regularly while pregnant (sometimes even in a full face of makeup) and will work with her favorite trainers Tracy Anderson and Gunnar Peterson to help her shed the pounds post-baby.

Gunnar recently helped sister Khloe Kardashian slim down and lose 25 pounds! "She really wants to get back into shape. It's important to her," the source says.
Radar also reports that Kim stayed in the hospital for several days longer than usual because of the high blood pressure (preeclampsia) concerns. Radar also claims that Kim is having difficulty breast feeding. Is the baby still in an incubator? I don't know. There are also stories about Kim hiring a baby nurse full-time already. She's going to need an extra set of hands, because Kanye is definitely heading out to promote Yeezus and tour for the album too. Kanye's producer just confirmed that there's a tour planned. Oh, and Kanye is already writing songs about his baby girl:
Will Kim Kardashian and Kanye West's newborn debut her crying voice on a song like Blue Ivy?

Life & Style has learned that Jay-Z's rap protege, Kanye, is following in his dear friend's footsteps by recording new music about his baby girl.

"He's been really inspired by the birth," an insider shares with Life & Style of Kanye's adoration for his daughter. "He's written four songs already."

With his creative juices flowing and his much-anticipated album, Yeezus, released yesterday, friends and family are pleasantly surprised at how attentive the new papa has been. "Kanye is actually really being good right now," the insider dishes.
Songs are nice. But I think I would rather have a baby-daddy who sticks around for a few months at least. And obviously, Kanye is totally copying Jay-Z, who released a song as soon as Blue Ivy was born. There's also a story about Kim being upset that Kanye didn't present her with an engagement ring as a "push present" – Kim thought for sure Kanye would propose when she gave birth, and he hasn't yet. That being said, Us Weekly's sources claim that Kanye "feels he's already deeply changed after having the baby. He's so in love with her and Kim right now… They are both over the moon." And now Kanye IS considering marrying Kim.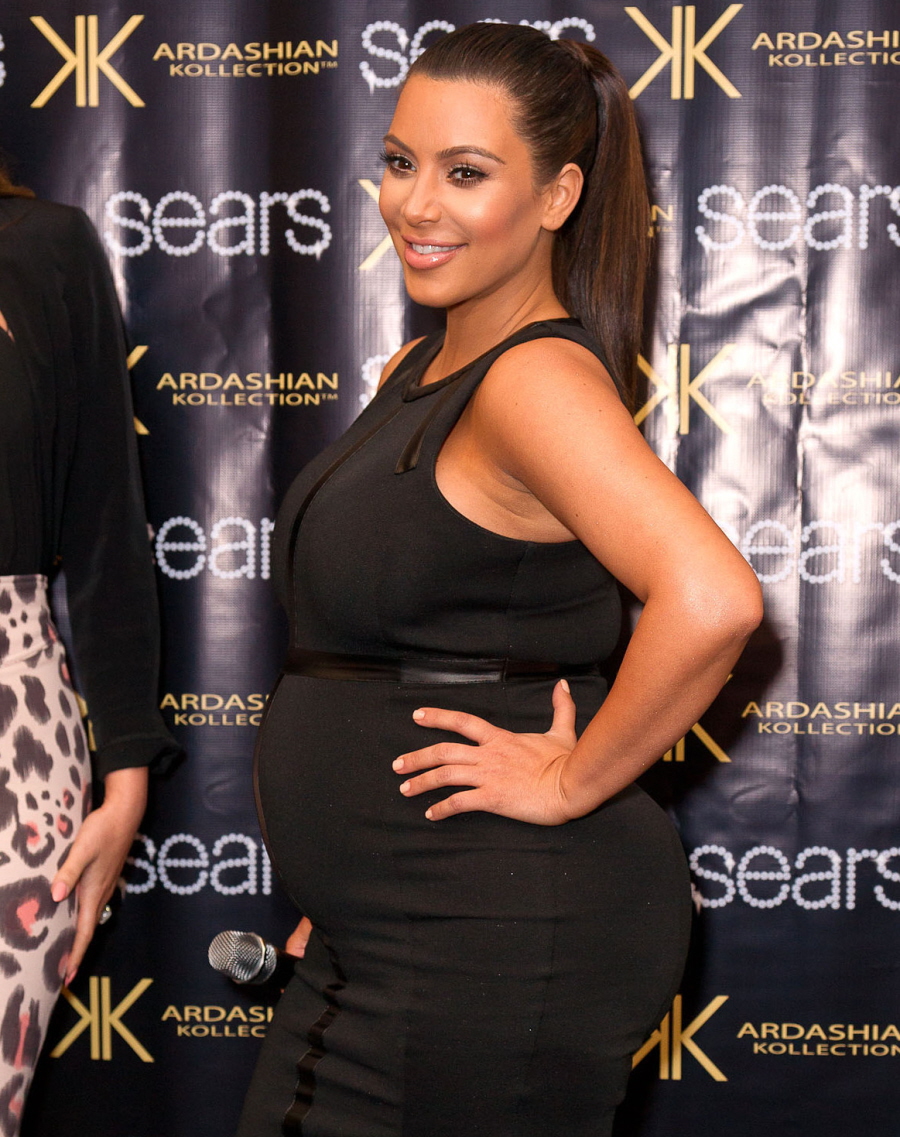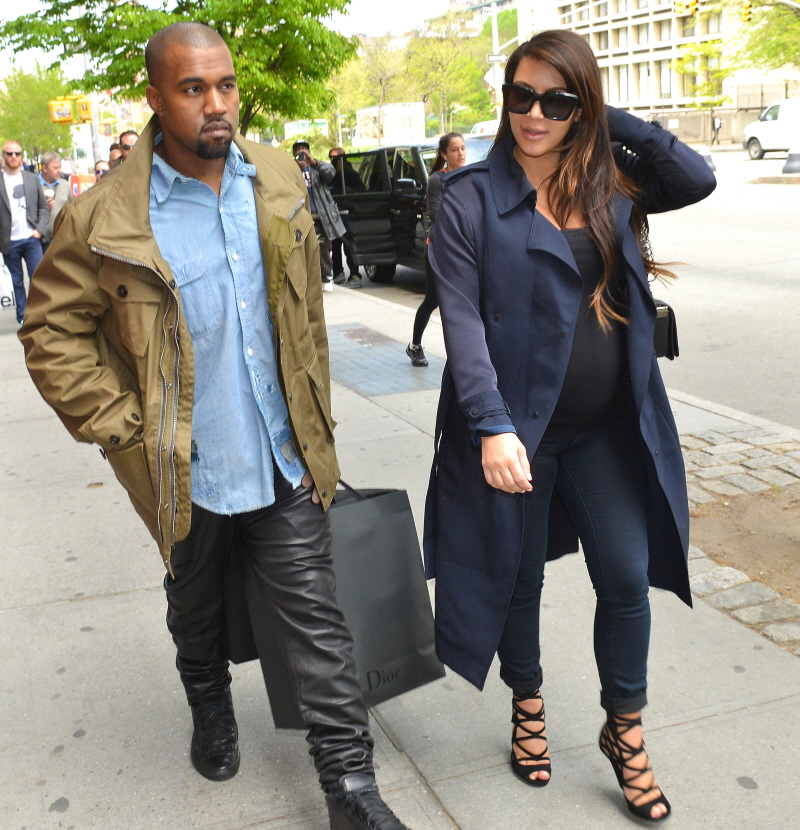 Photos courtesy of WENN.