I wish more of you had paid attention to Armie Hammer's Playboy interview yesterday because it was kind of weird. Armie was talking about sex with his "feminist wife" and how he "used to" like to pull a girl's hair and be dominant during sex and nowadays, with his wife, he "respects" her too much to do that kind of stuff. It was a good discussion, and I agreed with many commenters: it seemed like he was saying that if two consenting adults are in love, they shouldn't do kinky things to each other because of love and respect. Which is weird, but I guess a lot of dudes think like that. Anyway, Armie has a new profile in Elle Mag – you can read the full piece here. Here are some highlights:
He grew up in Texas & he loves guns: "It was a family activity kind of thing—go out and shoot a bunch of cactuses," he explains), so I suggest skipping lunch and heading to the nearest gun range. "F–k yeah!" he says, scrolling through his iPhone, trying to find one nearby. "My favorite is next to the Angeles National Forest. You can do things like throw a watermelon in the air and shoot it." Hammer is a gun enthusiast—he bought his first rifle at 18.

But he's pro gun control: "I'm definitely for responsibility. I don't think Obama is trying to take our guns, and I don't think we have to fight the government to keep them. If you want to go out for a hunting trip and shoot cans with your son and a .22, that's fine. Do I need an AK-47 with a 100-round magazine if I'm going on a hunting trip? No. It is, to borrow a phrase from Confucius, like using a cannon to kill a mosquito. Having just made a Western, though," he says, breaking into a grin, "it's fun to have a gun on your hip. You're like, 'This is an extension of my manhood.' "

In his spare time, he punches homeless dudes: During the filming of The Lone Ranger in Moab, Utah, he spent his weekends off with the crew, rock climbing or cliff jumping or renting four-wheelers, he says, to "just tear up mountains." And once, while in Australia, "this homeless guy tried to stab me. I punched him and stole his knife… He started it." The guy had mistaken Hammer for a person who owed him money, and started swinging his knife. "I was full of piss and hubris, and was like 'F–k you,' " he says, mock punching the air. "I took his knife. Because he would have tried to stab somebody else! He was obviously crazy."

He loves danger: "My wife says I have a frontal lobe issue. Your frontal lobe controls your danger response, like, 'Whoa, I shouldn't be doing this.' But she says it's okay, because your frontal lobe doesn't fully develop until around 30, so I have until then to get all this s–t out of my system and then I need to calm down."

Despite his pedigree, he didn't care about school: "I didn't care about college," he says. "I knew I wanted to make movies." Fine, they said, but he'd have to support himself.

His first years in LA: "I'd grown up in a household of so much love and so much good, everything just felt wholesome. Once I was on my own, I was like, Let's see how hot this candle can burn." For three or four years, there were drugs and drinking and staying up for days on end and a lot of girls who were, in his estimation, "bad, bad news."

A chick tried to stab him: "One chick tried to stab me when we were having sex. I should so not be telling this story," he says—then does so anyway. "She was like, 'True love leaves scars. You don't have any.' And then she tried to stab me with a butcher knife. Of course I promptly broke up with her," he says. "Seven months later."

He's been with Elizabeth Chambers, his now-wife, since 2008: Chambers had been seeing someone else, but the couple was unhappy, and one night when she came over with friends, Hammer made his move with a prepared speech. "I was like, 'You have to break up with your boyfriend because we have to start dating.' Her mouth kind of fell open. I said, 'You were made for me,' and she got this look on her face like"—Hammer launches into a girl's voice—" 'Don't you even.' " He laughs. "I was like, 'Wait, wait! And I was made for you. We were made to be together. So we can do this 30 years from now, when I've gotten married a couple of times and you've gotten married a couple of times, or we can start now and end up 60 years from now sitting on a porch in rocking chairs, talking about how good an adventure the whole thing was.' "

On marriage: "I like the idea of marriage. I like the idea that I have a best friend," he says, twisting the ring on his finger. "It's just really comforting. I remember being single and trying to date, and it was just stressful and hard. It wasn't fun. This is fun. I mean, not to be graphic," he says, lowering his voice, ostensibly so his grandparents can't hear, "but you can have sex and in the middle just start laughing about something totally funny. You can't do that with someone you're dating; you're too nervous."

He's romantic, emotional: "I have no qualms about kissing her in public. I know some guys are like, 'Stop, there's people around,' " he says. "There's such a big part of our culture, the male psyche—you don't cry, you don't show weakness. I mean, guys are just as emotionally complicated as women. We just play dumb better." He readily calls Chambers his "soul mate." "I don't mean it in a cheesy way, but just like that connection, you just get it."

He's never asked his family for money: "For a while in our marriage, it was pretty tight," he says. "And we liked that. We like living sort of hand-to-mouth. It makes you appreciate the time when you don't have to live like that. We didn't want to go to my parents and tuck our tails between our legs and be like, 'Can you help us?' We wanted to be our own adults."

On-screen nudity: "I'm not crazy about taking my shirt off for a movie," he says. "Right now, that's the thing: You have a young, handsome actor, take his shirt off, put him in front of the camera. It sets up this pressure to stay camera ready all the time. I don't want to think about myself that much. The guys who do it are like, 'Oh, it's been two hours, I have to eat yams. My glycemic index is dropping.' It can very easily turn people into narcissists. It just seems silly."
Armie has a potty mouth. I don't know if that's a dealbreaker for any of you. I cuss up a storm all the time, but I do tend to judge a celebrity harshly if every other word out of their mouth is a curse. As for the rest of it… Armie seems kind of sweet. There's always the comparison with him – like he's just some big, overexcited puppy who doesn't know his own strength or something. Also, he was 22 years old when he got with Elizabeth Chambers. Their age difference is only four years – she's 30 right now, he's 26. I guess she has a steadying (almost maternal) influence on him, but who knows. Some guys just want to settle down.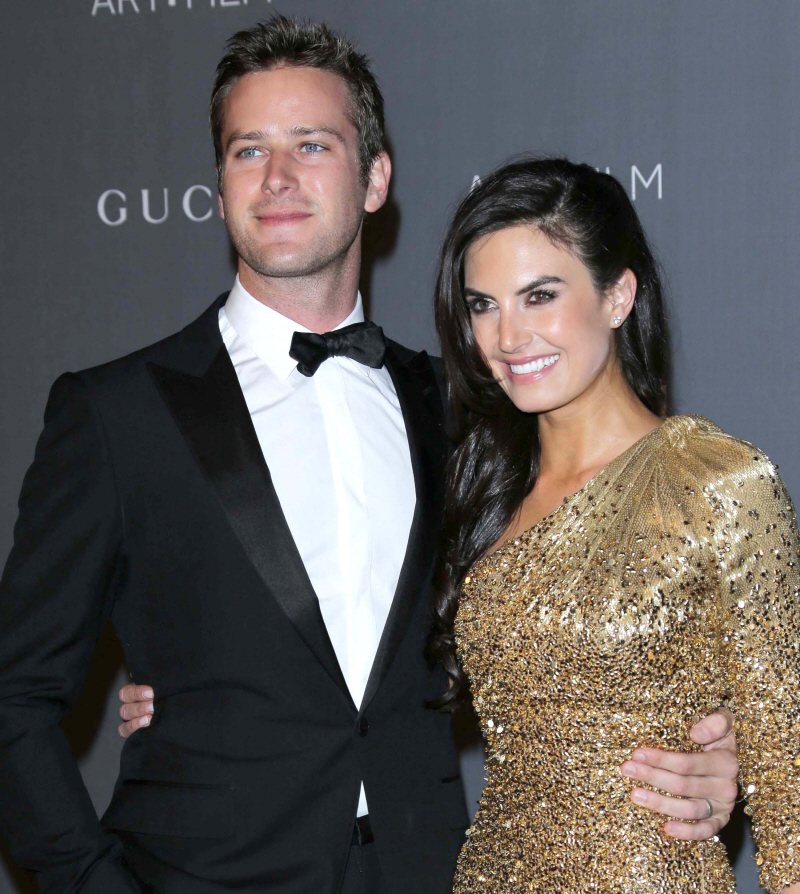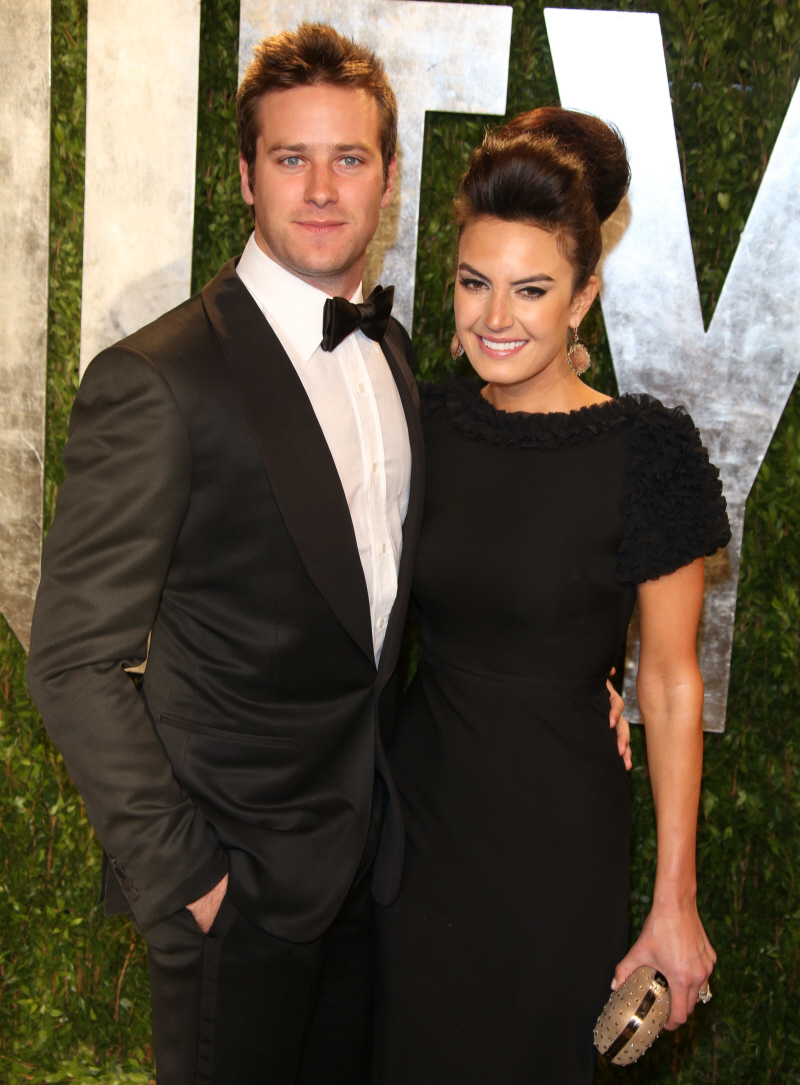 Photos courtesy of Elle, WENN.