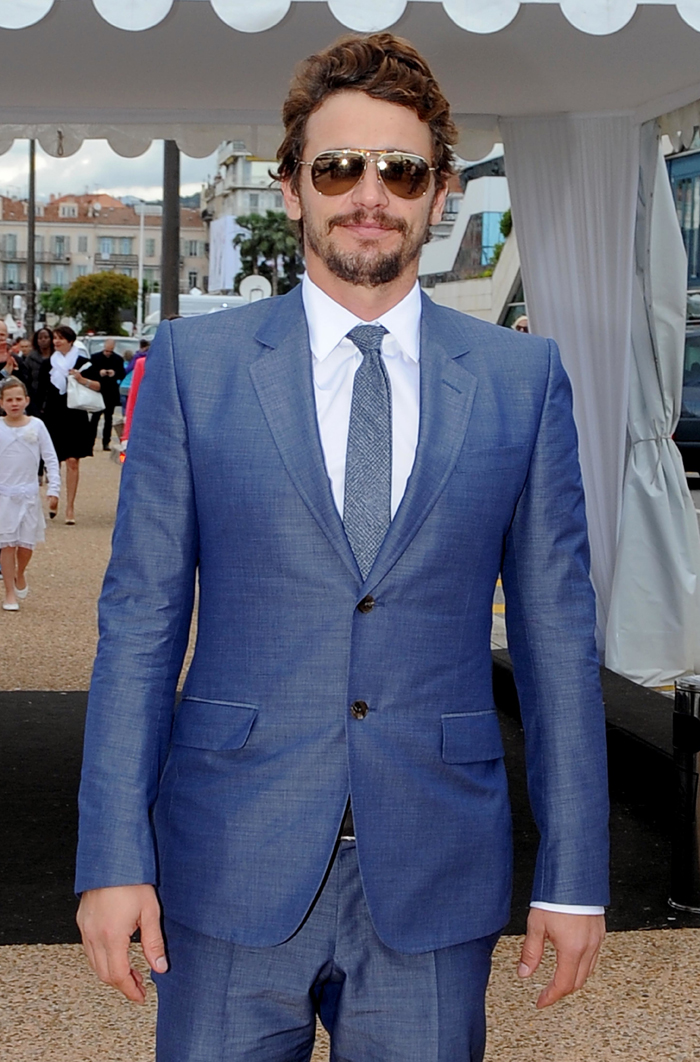 I'm going to go out on a limb here and admit that I'm getting really tired of the crowdfunding craze that has taken over the internet. Like, Kickstarter could disappear tomorrow, and I would never shed the tiniest of tears because I'm so tired of watching Facebook and Twitter timelines devolve into streams of constant updates of people who are essentially getting money ahead of time for projects that they have no legal obligation to complete. And a lot of people (although I won't name names) do take the money and run without writing the books or filming the movies or otherwise providing the goods as promised. Even worse are the rich and famous celebrities who use Kickstarter and the like to fund their projects when they could get studio backing instead of asking their fans for their lunch money.
Now James Franco has joined the crowdfunding club by soliciting $500,000 on Indiegogo to film a passion project trilogy called Palo Alto Stories. He's got several levels of pledging set up. $450 gets you a personalized voice mail from Franco, $1000 gets an associate producer credit, $2500 gets a set visit, $5000 gets a role in the movie, $7000 gets an original painting by Franco (0 claimed), and $10,000 gets an executive producer credit and dinner with Franco (1 claimed). So far, he's only raised $53,237 with 27 days left to go, and I guess it's awful for me to admit that it would be awfully funny if Franco didn't get his way here.
In the meantime, Renaissance Franco still thinks that in addition to being a student, a professor, an actor, a novelist, and a poet, he's also something of a film critic. He published a "review" of Man of Steel for Vice Magazine, and although he calls it "a great film," he still manages to sound really sh-tty and condescending at the same time. It sounds like the dude doesn't like Henry Cavill much, and he calls Superman a "douchey" character. Well, it takes one to know one: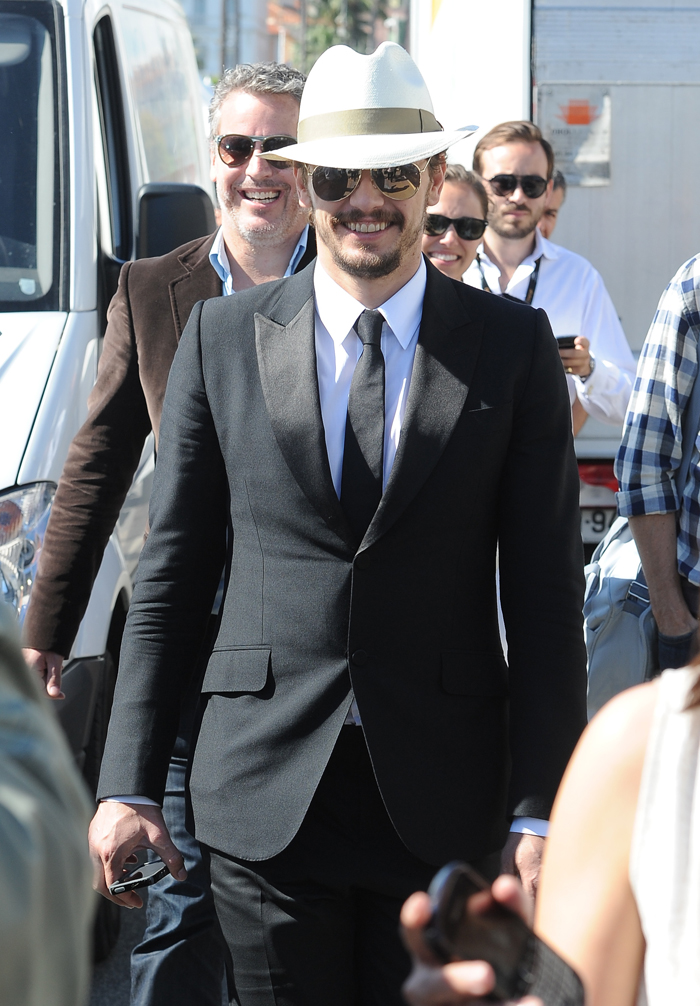 Man of Steel's red carpet sucked & Cavill doesn't like him: "I was also at Leicester Square earlier this year for the premiere of my film Oz, when the red carpet was a yellow brick road, but the night I saw the new Superman, I arrived incognito: 1) because it wasn't my film, and 2) because I don't think Henry Cavill would have wanted to see me there. Not that we're enemies. Years ago we worked on a film together called Tristan and Isolde. My hunch is that he didn't like me very much. I don't know this for certain, but I know that I wouldn't have liked myself back then because I was a difficult young actor who took himself too seriously."

Henry's obsession: "What Henry took seriously back then was Superman. He wanted to be Superman more than anything in the world. Personally, I'm not sure why. I missed the whole Superman-film phenomenon. I was more a fan of director Richard Donner's Goonies and Lethal Weapon. I can understand the appeal the original Superman comics had for the WWII generation and its need for a hero to rid the world of evil, but in my days as a young man, this appeal was long outstripped by the cheesiness of the character's suit and his douchey invincibility."

Henry's life won't get better than this: "The night of the premiere I saw Henry from afar on the red carpet and knew this was the moment his whole life had been building toward."

Then Franco remembers he's writing a review: "So, what did we watch? A great film. But what makes me say this? Is it the nerd revolution that has brought our public taste to the point where comic-book characters and video games are now cool? Are these huge comic-book films the way for the world at large to embrace the subjects of these forms that are traditionally relegated to the nerd niche? Yes, in a way. But in another way, we are just wowed by the money that brings them to fruition."
[From Vice Magazine]
What's funny is that Franco admits that he used to take himself too seriously, but he doesn't realize that he still comes off that way on the outside. In addition, Franco spends a great majority of his "review" talking about extraneous topics before remembering that he ought to devote a paragraph or two to the actual movie, which by the way, he does not consider to be AAART.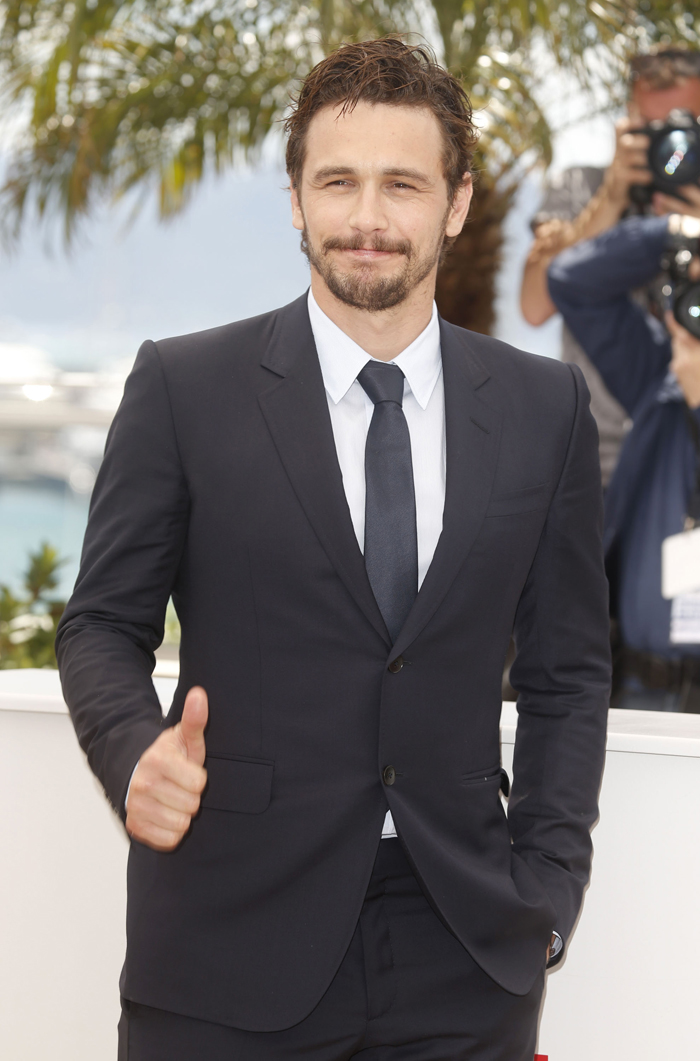 Photos courtesy of Fame/Flynet and WENN