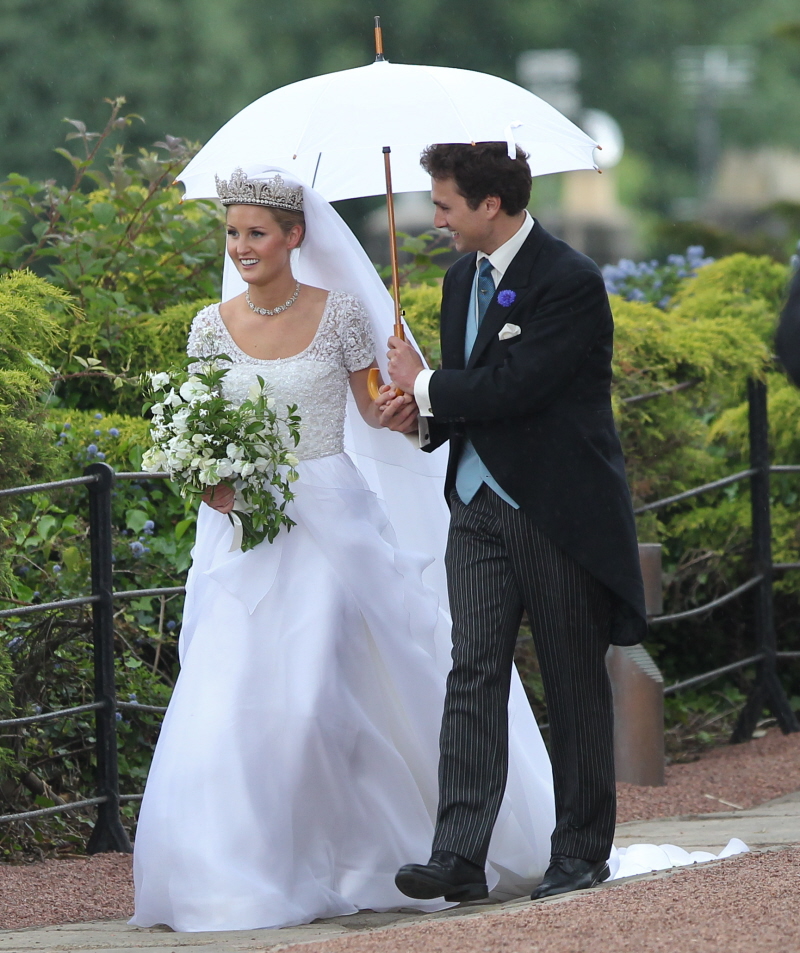 When Prince William married Kate Middleton, there really didn't seem to be too much "society drama" about it. Of course, if I remember correctly, Kate made sure that Isabella Anstruther Gough Calthorpe was not invited to the wedding, considering that it's widely believed that William fell in love with Isabella during one of his many "breaks" with Kate. But other than that, the only real "scandal" of Kate's wedding was Beatrice and Eugenie's terrible hats.
So to fill our British-society-drama quota, I hereby present some photos from this weekend's wedding of Thomas van Straubenzee and Lady Melissa Percy. Thomas is one of the oldest and closest friends of William and Harry. The Percy family – the children of the Duke of Northumberland – are close to the royal family as well, and Lady Melissa's brother George dated Pippa Middleton off-and-on for a while (Pippa tried to land him, I think, but his family didn't want a Wisteria Sister). Lady Melissa is also really close friends with Chelsy Davy. Chelsy was a bridesmaid. And Princesses Eugenie and Beatrice were also at the wedding, as was Prince Harry's current girl Cressida Bonas (they were set up by Eugenie and Beatrice). Everyone was at the wedding! Except Duchess Kate, who was too pregnant to attend – the wedding took place hundreds of miles outside of London, at Alnwick Castle (the Duke of Northumberland's familial pile). There were fireworks. The bride wore a tiara. Will and Harry were ushers. DRAMA. Or maybe not?
It's a time of celebration for Prince William, who celebrated his 31st birthday on Friday, June 21, and attended a friend's wedding ceremony on Saturday, June 22 in the town of Alnwick in Northumberland, England. While pregnant wife Kate Middleton stayed home, resting, the Duke of Cambridge and brother Harry served as ushers at the wedding of their old friend Thomas van Straubenzee to Lady Melissa Percy, daughter of the Duke of Northumberland, Ralph Percy.

Before the nuptials, a source tells Us Weekly that William and Harry and other members of the wedding party had lunch at a local restaurant, the Treehouse, before arriving at the ceremony at St. Mary's Church.

The beautiful bride arrived in 200-year old horse-drawn carriage, wearing a Bruce Oldfield dress. Harry's ex-girlfriend, Chelsy Davy, served as chief bridesmaid, looking stunning in a floor-length camel colored dress. At one point before the ceremony, Davy struggled to keep the bride's veil under control when a strong gust of wind blew by.

There seemed to be no tension between Harry, 28, and Davy, 27, who dated for five years and have not been photographed since December 2011, as an eyewitness tells Us that the Zimbabwe-native lawyer and William were seen laughing and joking around together before the wedding.
Harry's current girlfriend, Cressida Bonas, 24, was also in attendance, joined by cousins Princess Eugenie and Princess Beatrice.

With Kate at home, sister Pippa, 29, stole the show, looking chic in a black and white Tabitha Webb dress. Pippa knows the bride through her brother, George Percy.

The ceremony will be followed by a reception at the 1,000-year old Alnwick Castle, and then dinner and dancing at the estate's marquee, followed by fireworks. (The jaw-dropping Alnwick estate has doubled as Hogwarts School in the Harry Potter movies).
Do you think Kate really regrets not coming to this drama-filled wedding? Or do you think she was happy not to go because the focus would not have been on her? God knows, if she had gone to this wedding, she probably would have worn another short, fluttery minidress and it was super-windy at the wedding too… so it's good she didn't come.
So here are some assorted photos from the wedding… I'm okay with Lady Melissa's gown, tiara and veil, but mother of God, that is a HUGE bouquet. The bridesmaids' dresses are pretty and muted, and I'm glad everything isn't matchy-matchy. Pippa Middleton's peplum is awful. Cressida (blue and white dress, blue sequined jacket) looks thrilled but I'm not even sure she and Harry are really together at this point. Harry always looks handsome at weddings. My guess: he and Chelsy totally got drunk and hooked up after the reception.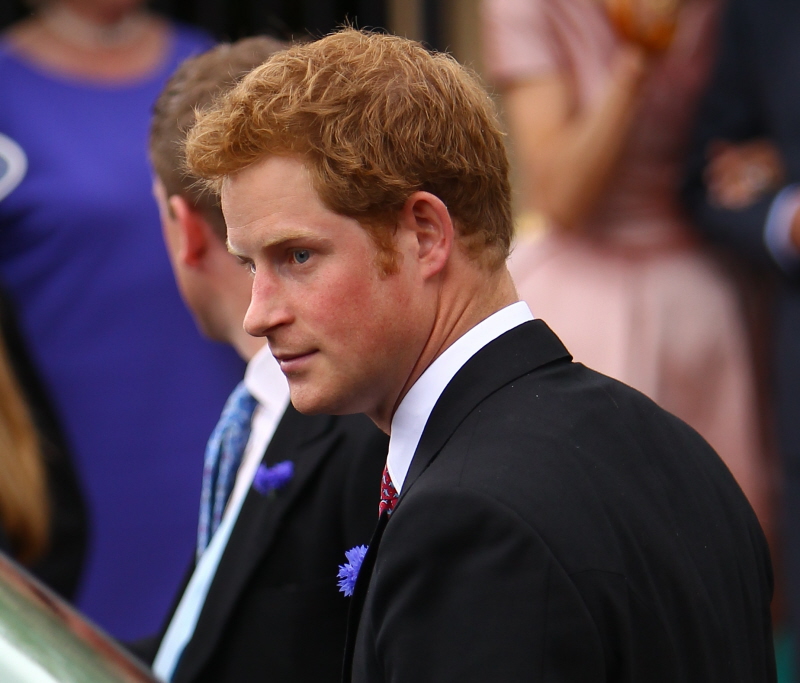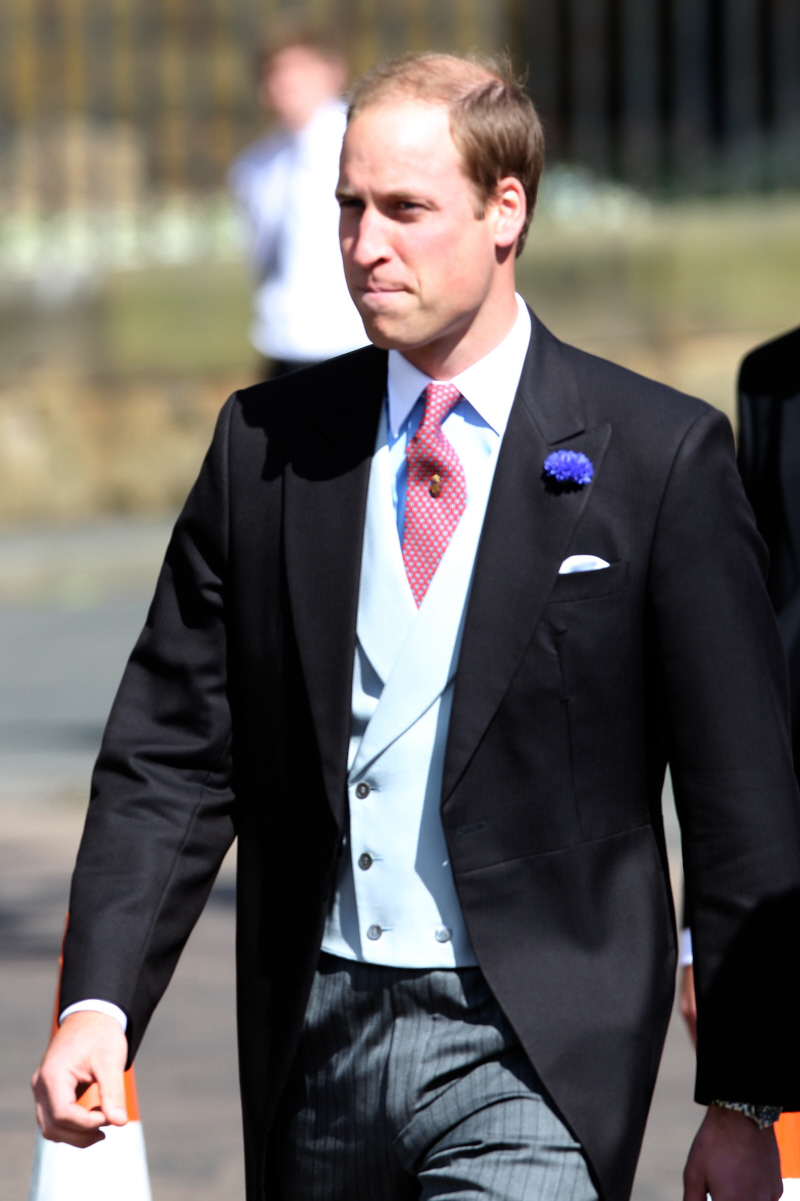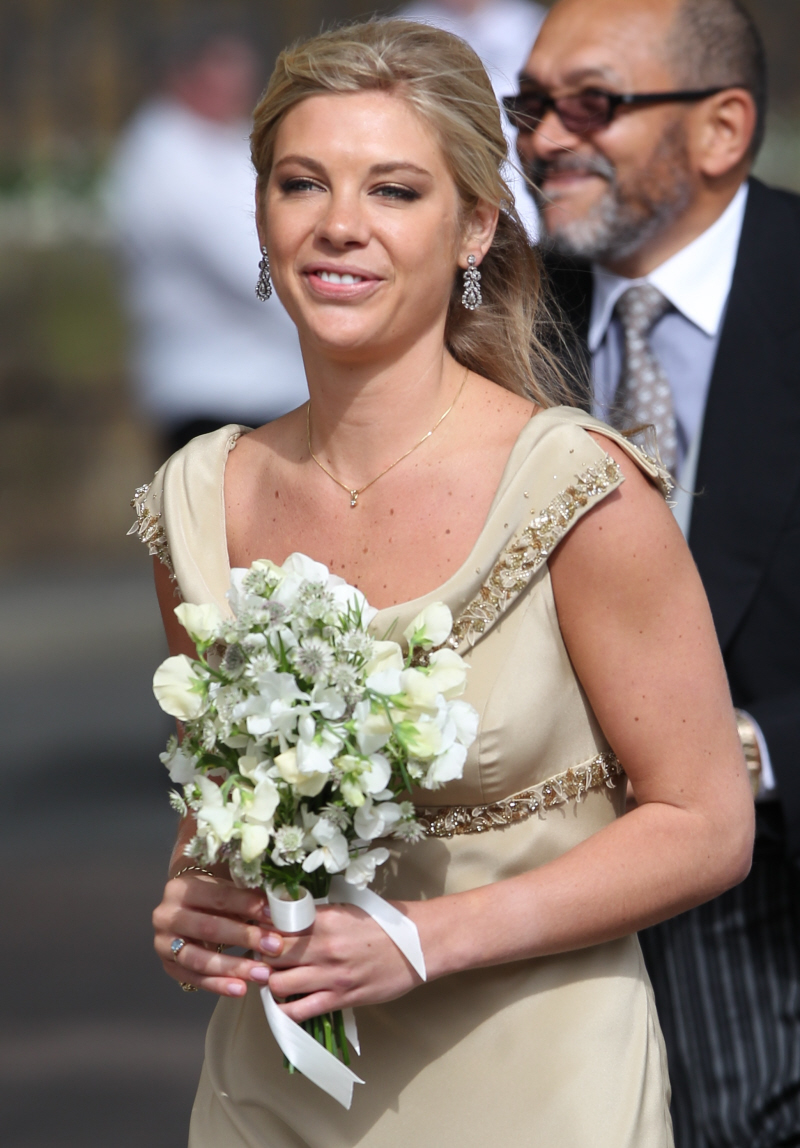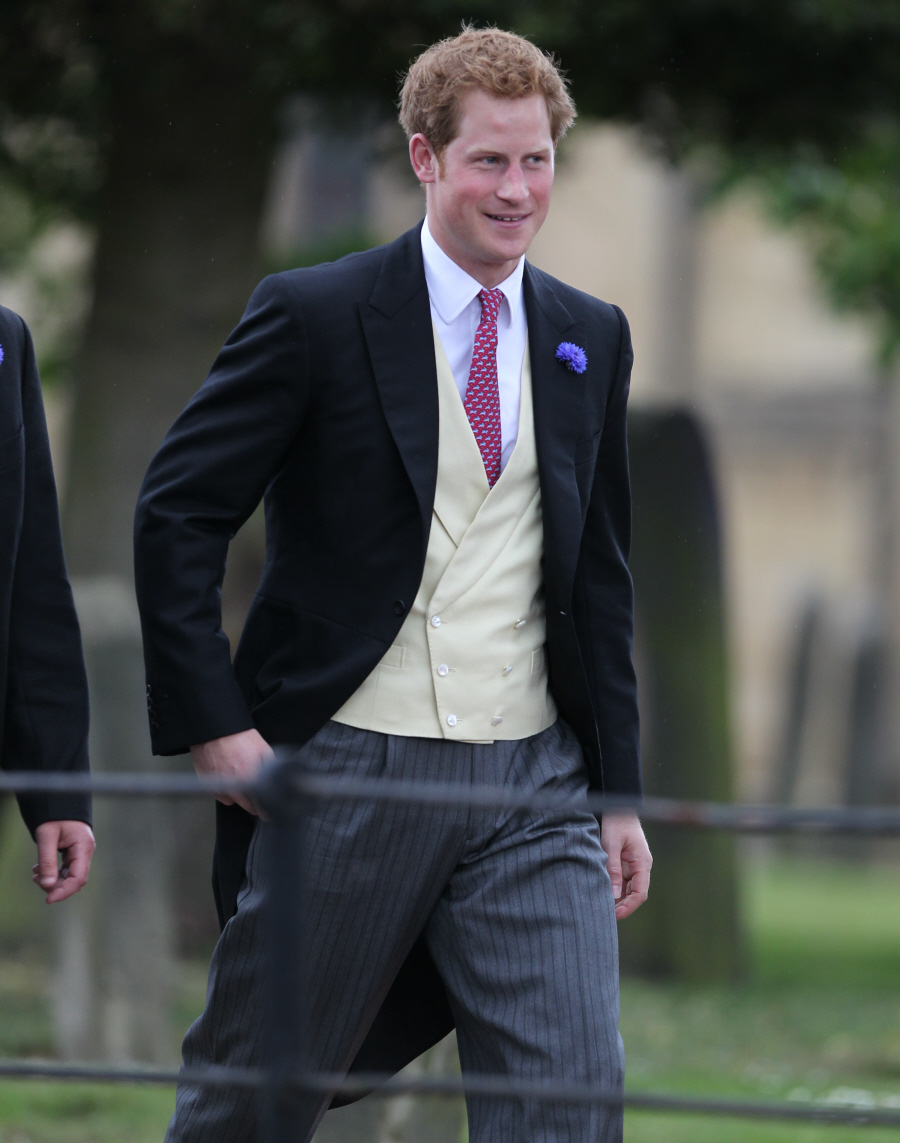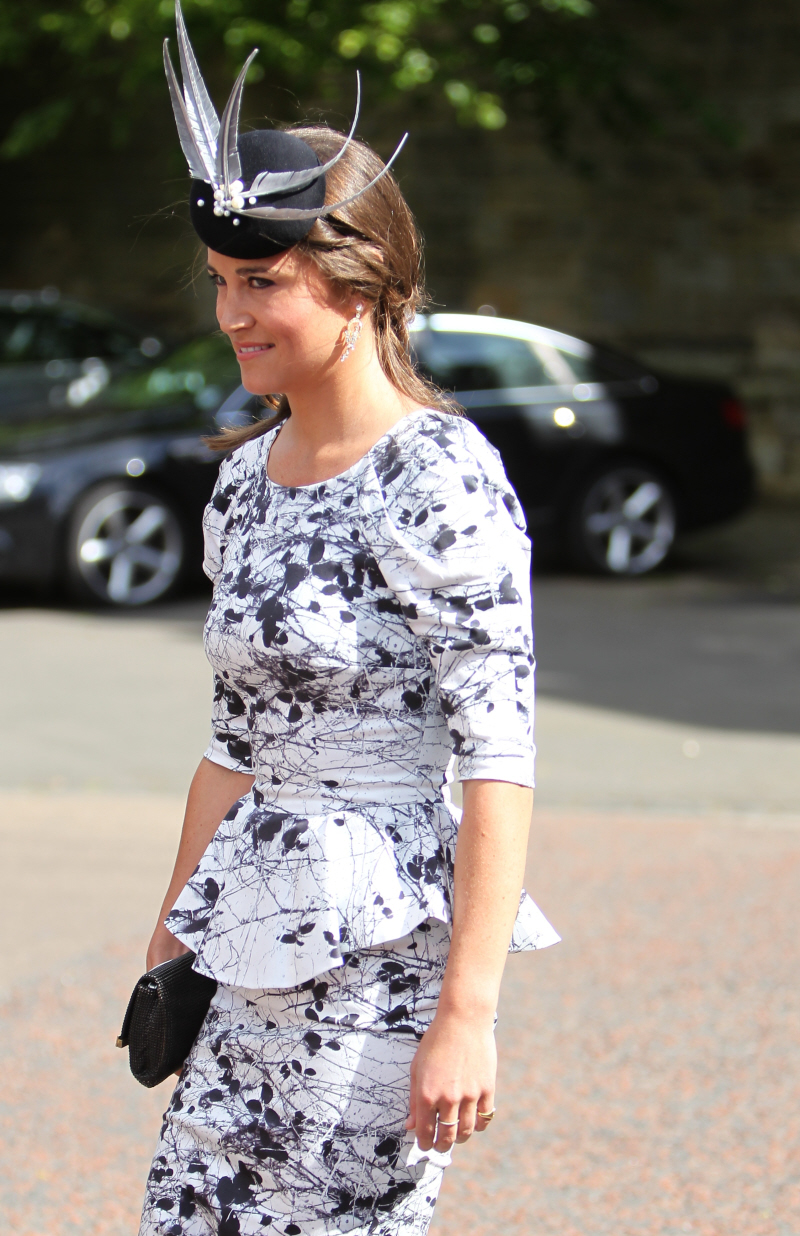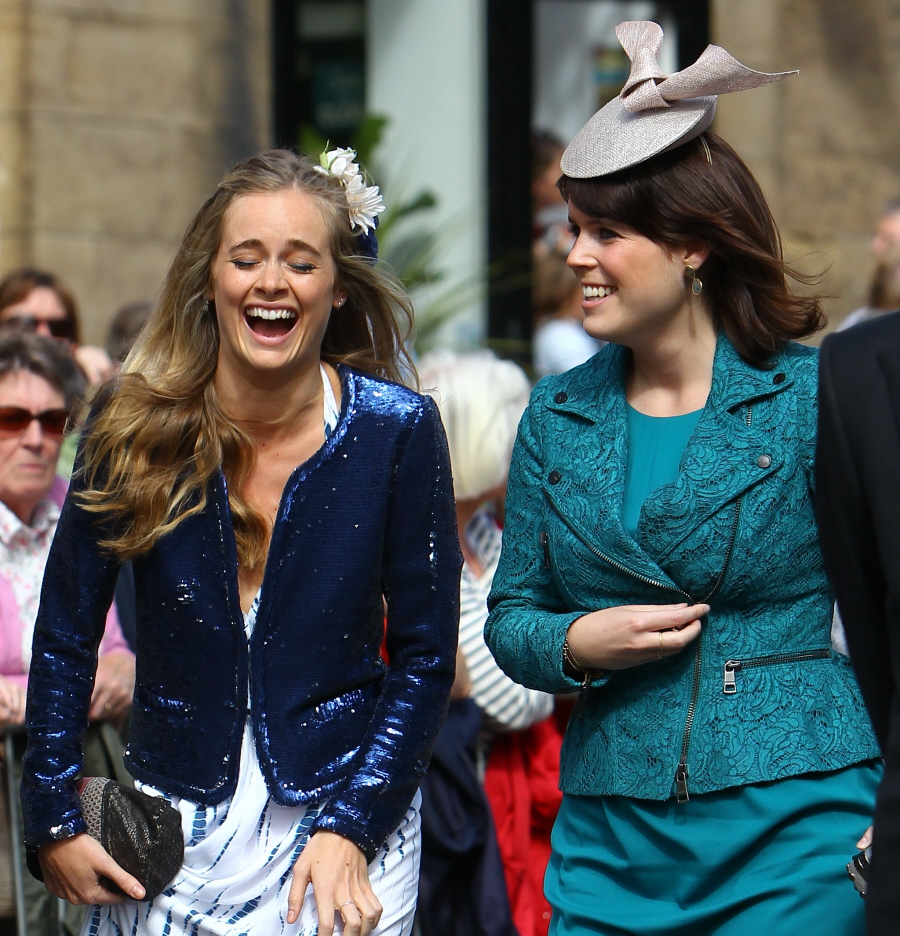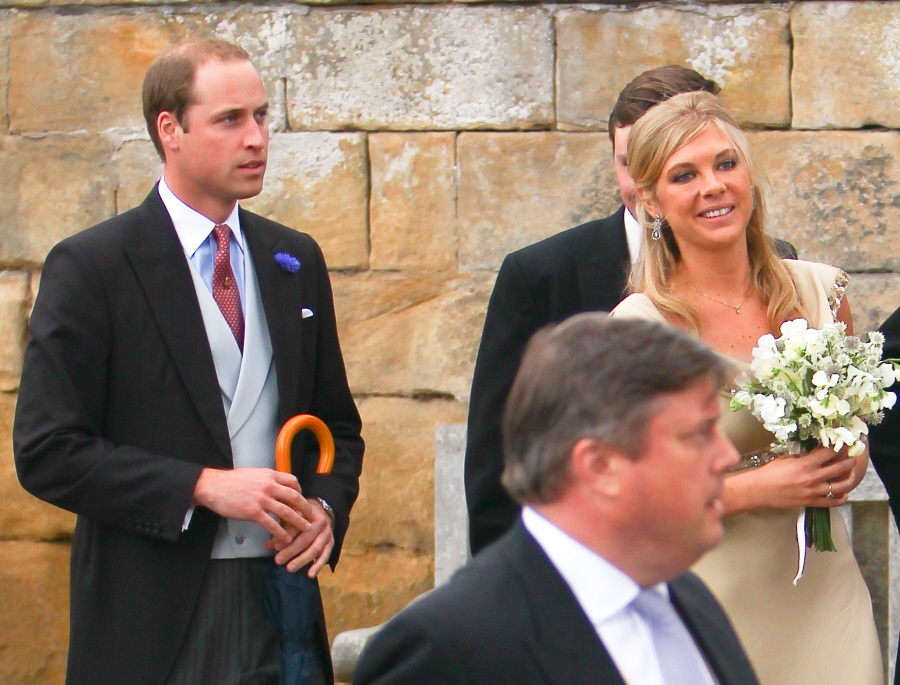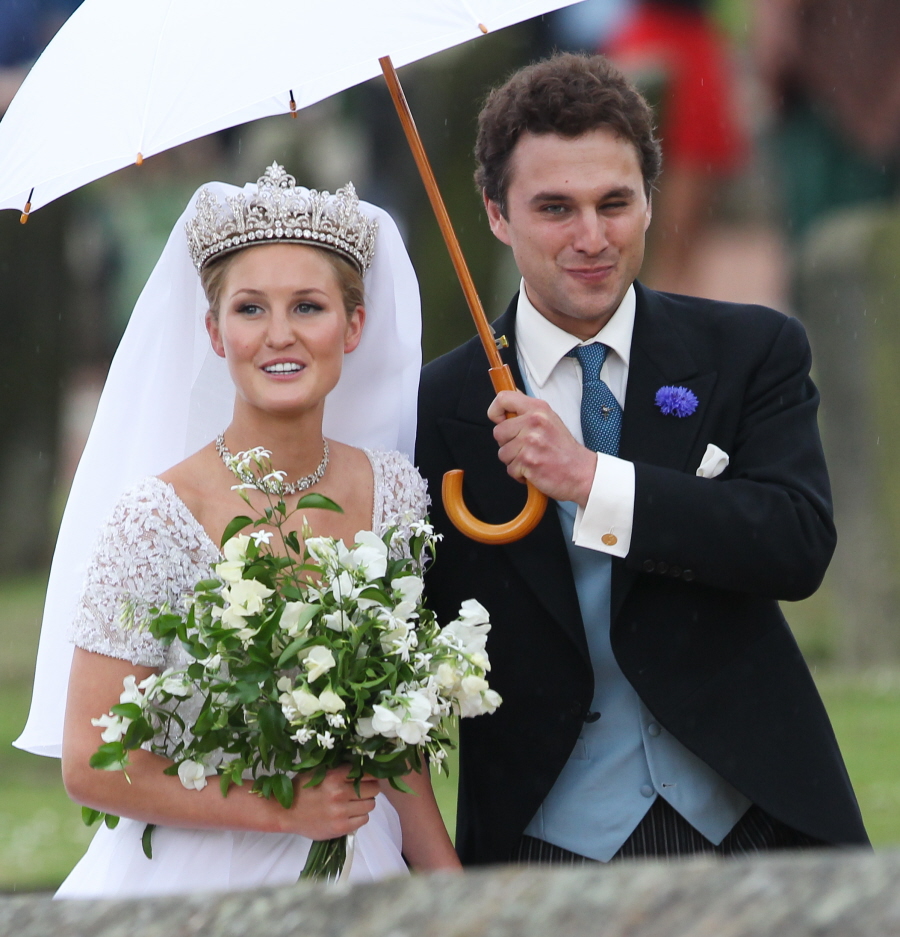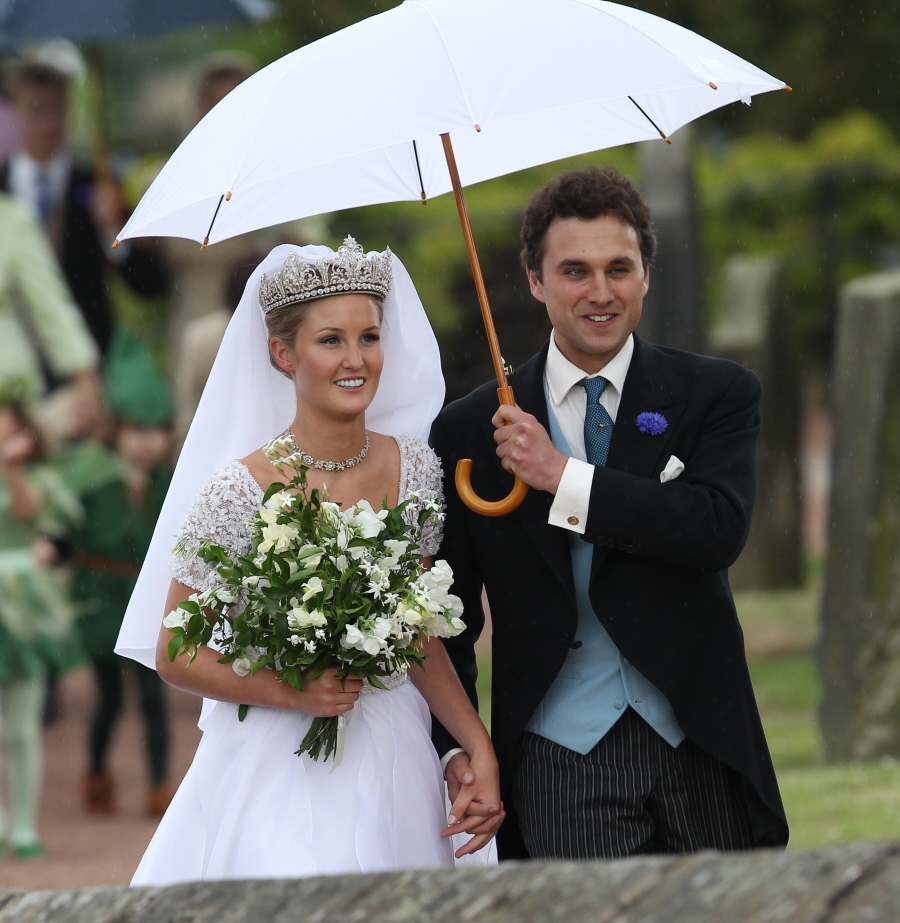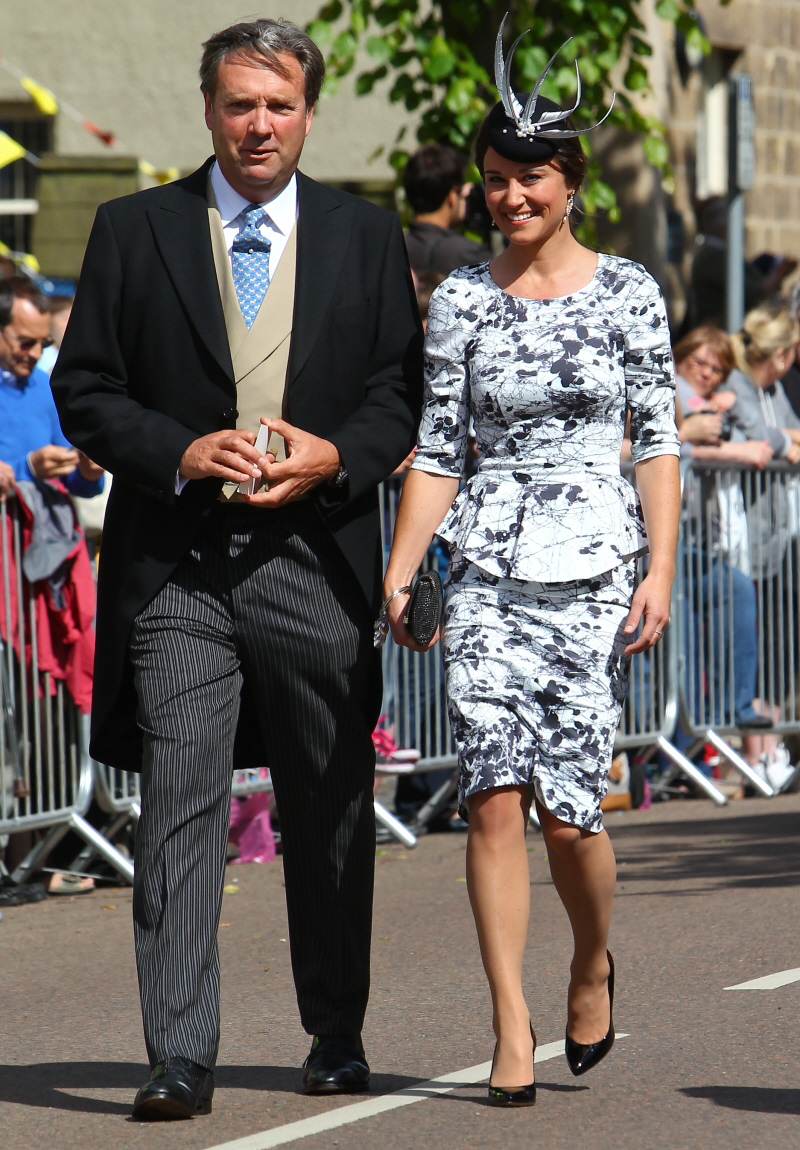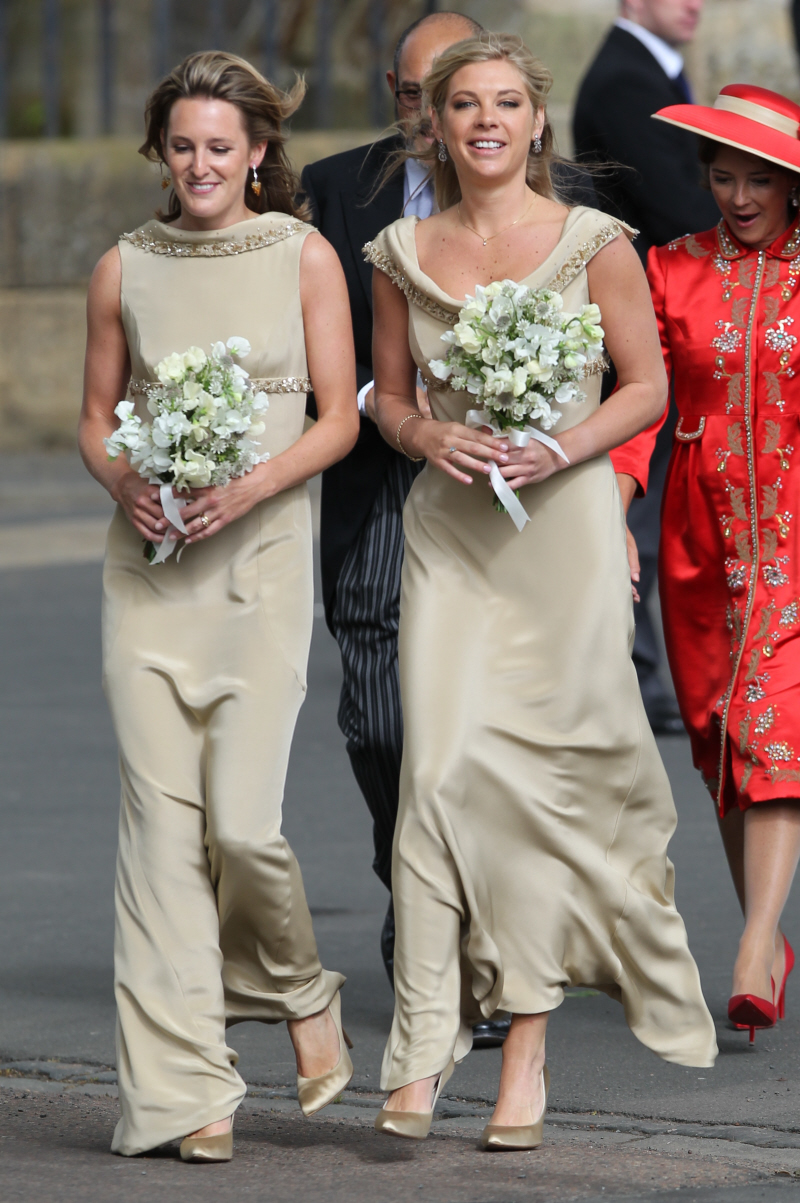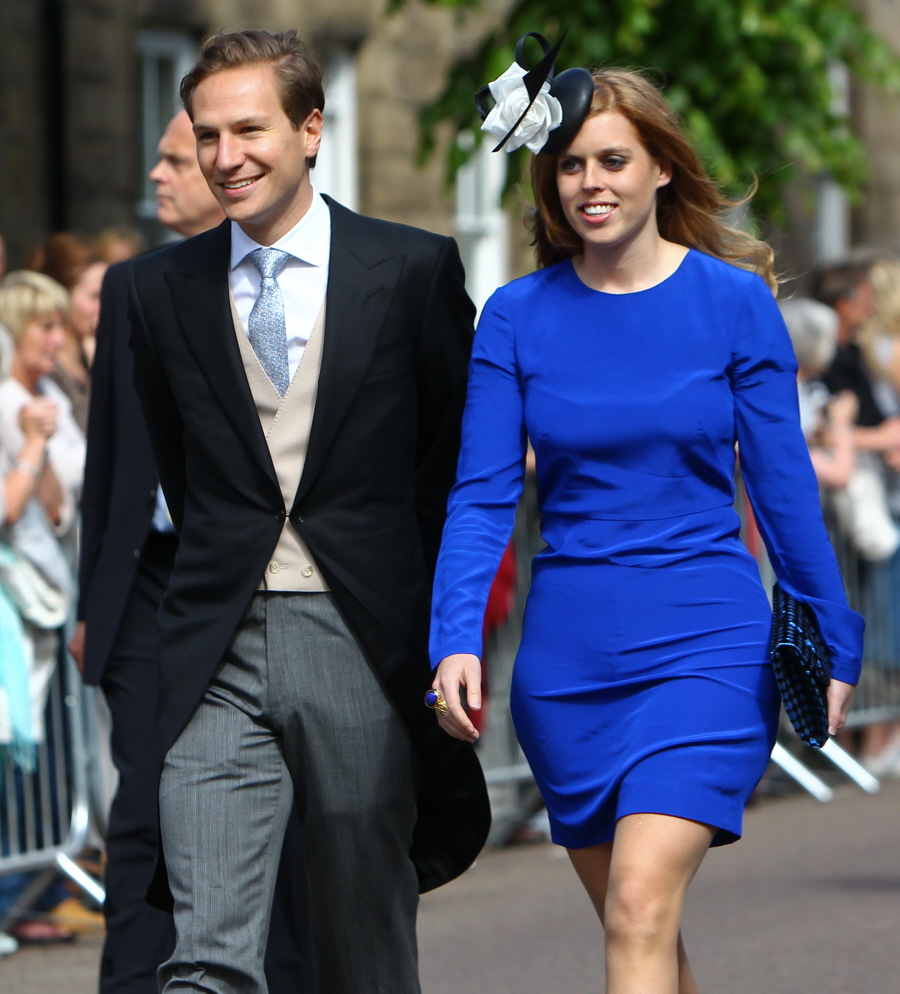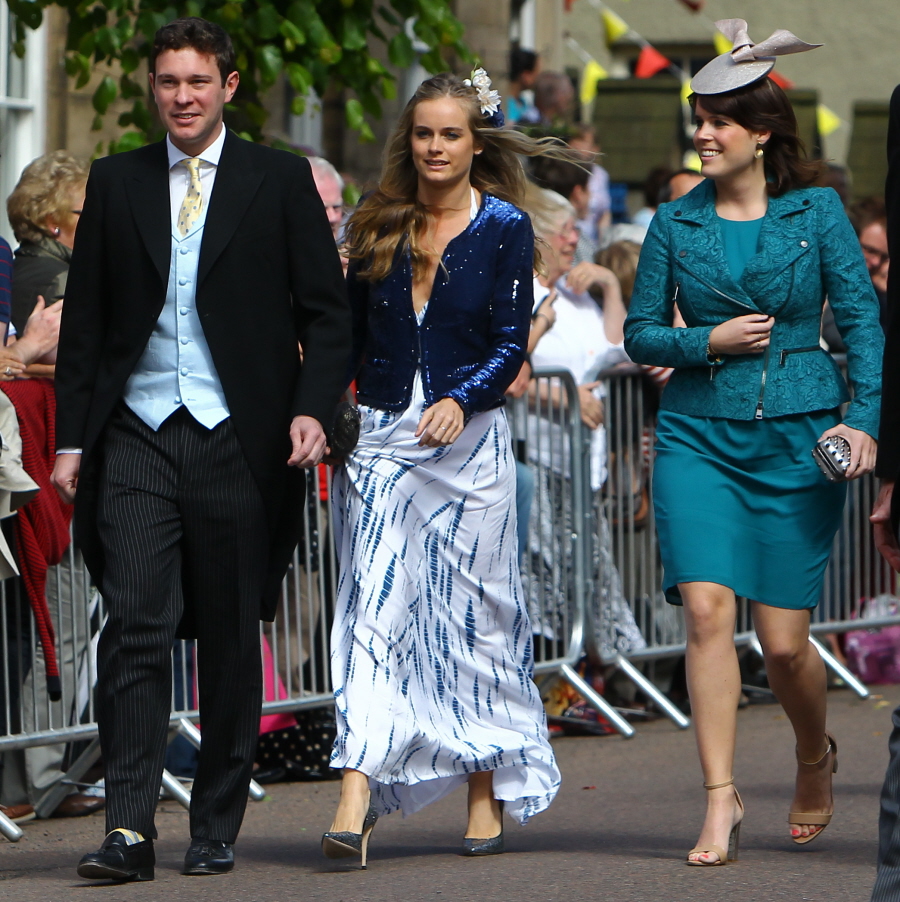 Photos courtesy of WENN.