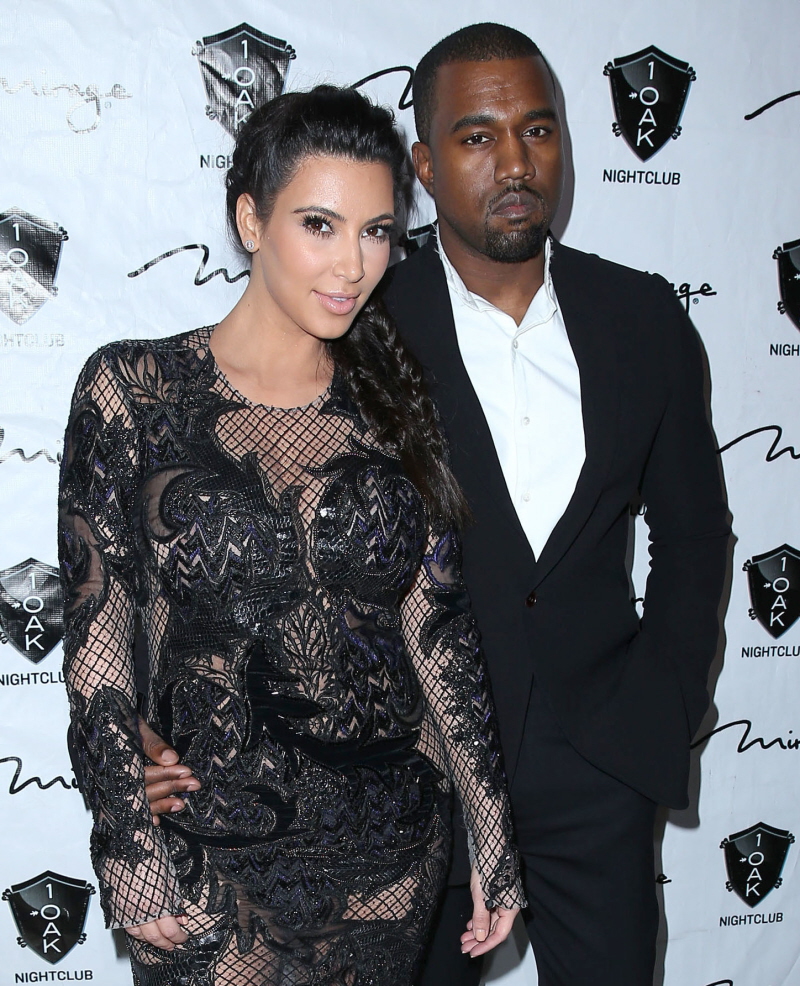 You're never going to believe this, but Kim Kardashian holds her newborn baby. SHOCKING. Kim holds baby North and Kim is breastfeeding "constantly" and she can't stop staring at her daughter. I mean… this is all very sweet, but it would be more newsworthy if Kim was NOT holding her baby or staring at her baby or breastfeeding. These are things that new mothers do every day. But there is one newsworthy part of this story – apparently, Kanye West hates leaving North's side for any length of time, but… "he's not changing diapers". Of course.
Kim Kardashian and Kanye West are getting acclimated to a new life as parents of their baby daughter North West — a life that includes a 24-7 baby nurse and lots of breastfeeding for Kim — but no changing diapers for Kanye!

"Kim is breastfeeding constantly — she loves it — Kanye holds the baby all the time," an insider told US Weekly, while another source told the magazine, Kanye "doesn't leave North for more than an hour," though "he's not changing diapers."

Another insider told the magazine Kim "can't believe how maternal she is on her own. Breast-feeding is working for her, and she already feels bonded with Nori."

One source said that the super-couple, used to being the center of attention in all of their endeavors, have focused their collective energy toward the newborn,

"Kim and Kanye constantly stare at her, obsessed with every little thing she does."

The baby has also cooled a heat between Kanye and Kim's mother Kris Jenner, who's used to being the head of the household and chief decision-maker.

"There has been drama in the past," a source said, "but the baby is more important."
They sound like every other new parent, ever. Except for the diaper part. I've heard new dads discuss how excited they get about baby poop and the pride the feel at those first bowel movements. But I guess Kanye is all "get that baby poop away from me, I'm a genius!"
In another completely predictable turn of events, the tabloids are also talking about how Kim is obsessed with losing the baby weight. Of course.
Kim Kardashian may have just given birth to her daughter North West on June 15, but she is already trying to shed as much baby weight as she can. In her delivery room, Kim "wouldn't stop talking about her body," a source close to the Kardashians tells In Touch. "She kept asking her sisters if she looked smaller and skinner after giving birth."

The source says, "Kim is obsessed with getting the baby weight off — and fast."

And Kim supposedly wants to drop half of the 60 pounds that she gained during the pregnancy immediately.

"She really believes she can lose the first 30 pounds in the first month," another source says. "She wants to look good in a bikini by the end of the summer."

And Kim is happy that her baby was delivered naturally, because if she had to undergo a C-section, it would have been longer before she could have gone back to the gym, a source claims. So, Kim is placing high pressures on herself to get back into amazing shape.

"She got so big," a friend of the Kardashians says. "So now she wants to look as hot as possible."

And her sisters teased her throughout her whole pregnancy.

"Her sisters were making fun of her because she kept tweeting old bikini pictures of herself," the friend says. "They told her she needed to relax and enjoy the weight gain."

Kim's weight-loss obsession is partly fueled by her baby daddy Kanye West's expectations.

"When Kim stacked on the weight, Kanye's vision of her maternity fashion went out the drain," an insider says. "He's not happy about how much weight she gained — and said it's her job to get rid of it quickly."

"She's terrified she will never get her body back," the first source adds. "Everyone has told her not to stress — that it's about being healthy and having a good mind-set for your baby, not about losing the weight right away. But her family knows that at the end of the day, Kim will do what Kim wants."
Ugh, the part about Kanye being "not happy" about her weight gain is disgusting. If he said anything about how it's her "job" to lose the weight quickly, she should just dump him now and be done with it because nothing will ever be enough. That being said, I doubt Kanye would even NEED to say that to Kim because I'm pretty sure she's putting those expectations on herself. While I'm not judging her for being concerned/worried about her postpartum body, she needs to spend a few months simply bonding with the baby instead of trying to make gym appointments with Tracy Anderson (UGH).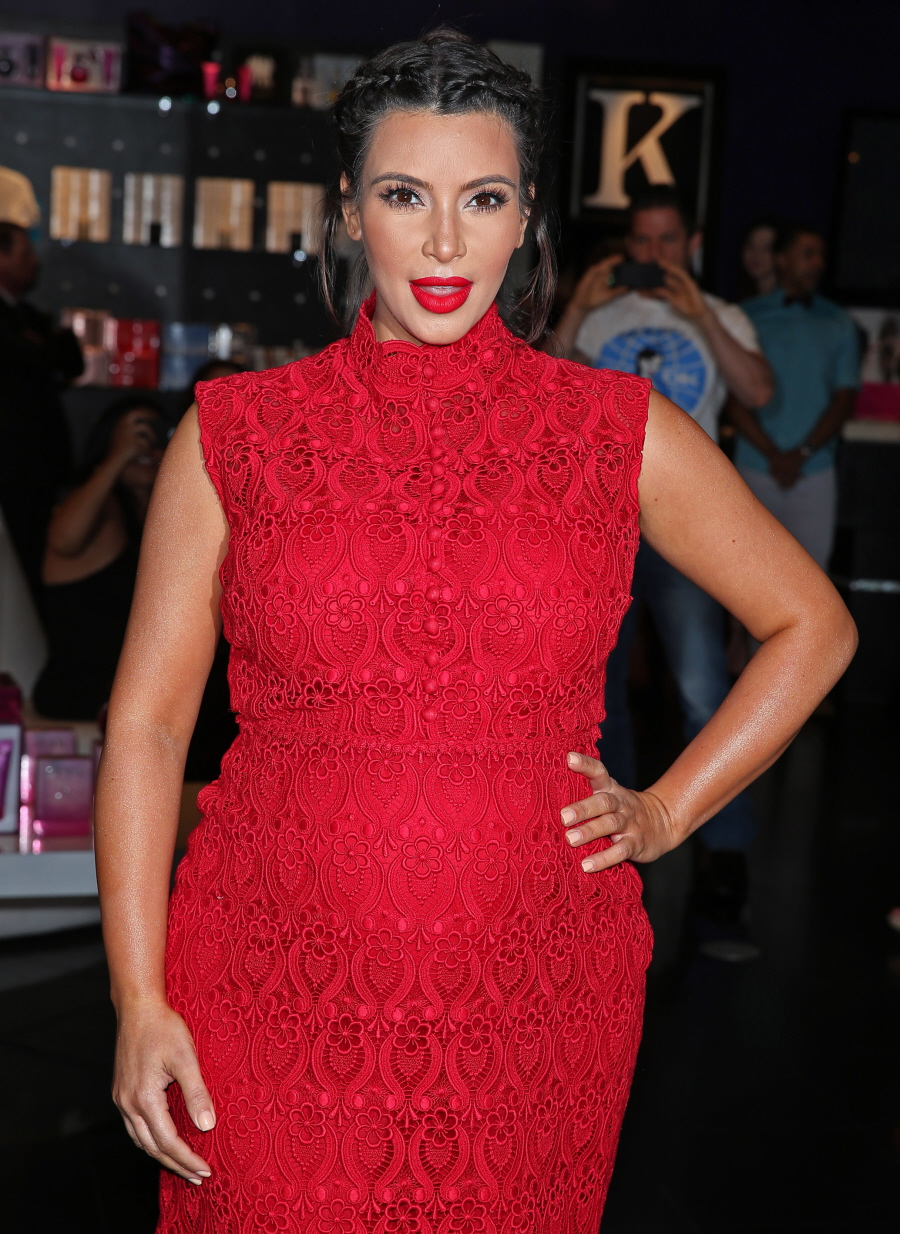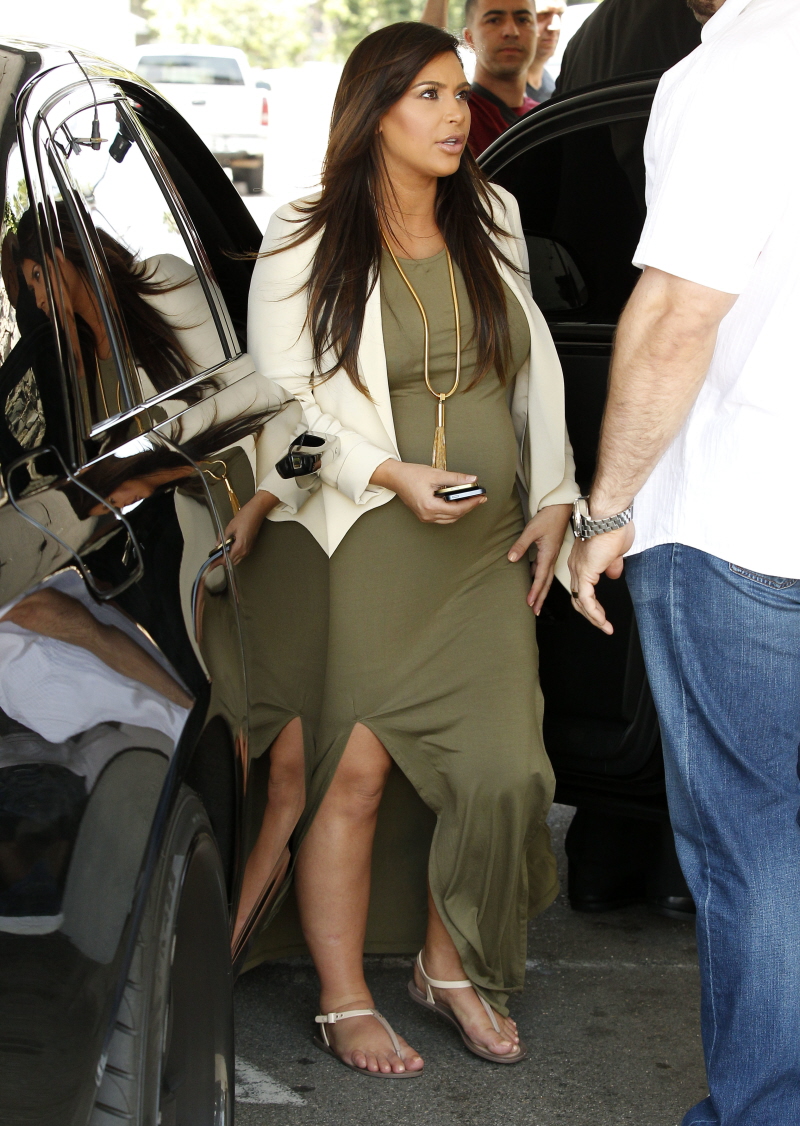 Photos courtesy of WENN.