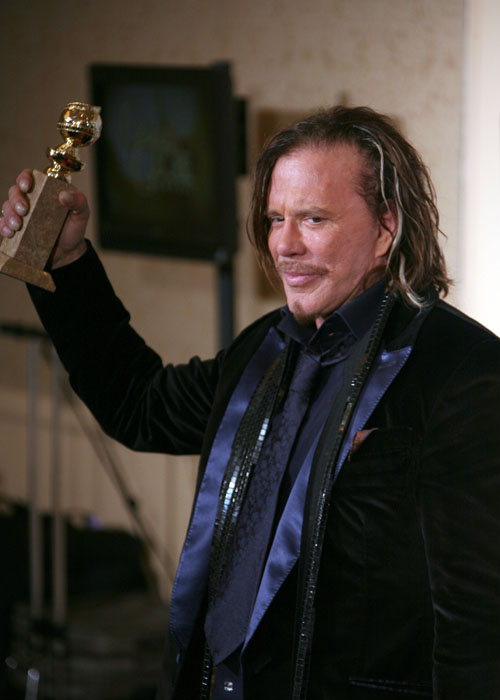 Now that Mickey Rourke is anticipating his comeback, he's ready to give interviews to magazines and make a complete fool of himself.  Rourke has never been one to keep his opinions to himself, and in the new issue of GQ the conversation turns to politics.  Hollywood is infamously liberal and Rourke is a conservative, so it would easy for the media to jump on him for his views.  But it is not his political leanings that make the interview interesting.  Instead, it's the fact that he doesn't want anyone with differing views to be allowed to speak out.  First, Rourke defends President Bush and rebukes the public for blaming the president for the current world situation, especially in regards to the reaction to the World Trade Center attacks in 2001.
"President Bush was in the wrong place at the wrong time, I don't know how anyone could have handled this situation.

"I don't give a f**k who's in office, Bush or whoever, there is no simple solution to this problem… I'm not one of those who blames Bush for everything. This s**t between Christians and Muslims goes back to the Crusades, doesn't it.

"It's too easy to blame everything on one guy. These are unpredictable, dangerous times, and I don't think that anyone really knows quite what to do."

Rourke also confesses he was so angry after 9/11, he wanted to fight the war on terror himself.
He adds, "I'm not politically educated. But I do know that after 9/11 I wanted to go over there, you know what I'm saying?"
[from Contact Music]
Then he accuses (liberal) actors of being too loose-lipped when it comes to politics.
"Actors should shut up about politics, because they tend to be ill-informed finger-pointers who just cozy up to some flavor-of-the-month liberal, you know?"
[from Pop Crunch]
Finally, he accuses the British government for upholding the freedom of speech:
He explains, "I was in London recently and I couldn't believe all these hate-talking fanatics you have over here who are allowed to carry on doing their thing even when a bus full of women and children gets blown to pieces."
[from Contact Music]
Just to be clear: Mickey Rourke thinks actors shouldn't talk about politics, and that freedom of speech is overrated, unless you're a conservative or, more importantly, Mickey Rourke. After all, his home country (the US) does have freedom of speech, meaning that he is entitled to any and all of his opinions.
And although some of his views may have merit, what bothers me about this is that he doesn't think that everyone should have the same rights.  That's not the kind of attitude that will solve any world problems or ensure his comeback among Hollywood elite.
This also isn't the first time he's been in the news recently for not keeping his mouth shut. Maybe he should take his own advice.
Mickey Rourke is shown in the press room after the Golden Globes. Credit: Fame