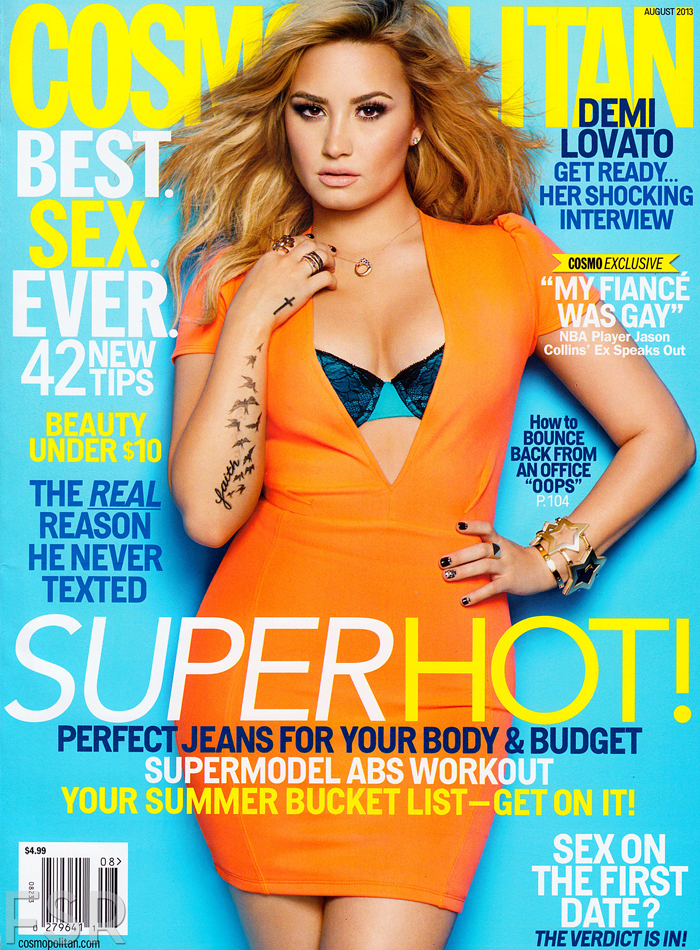 Demi Lovato covers the August issue of Cosmo magazine, and the cover itself is typical Cosmo style — gaudy colors, cleavage, and the effects of a wind machine. Demi looks good even though I'm still trying to get used to her as a blonde, but those bird tattoos flying up her forearm are … kind of tacky, right? I don't have any problem with tattoos in general, and Demi's other tattoos are fine, but those birds? Awful.
Naturally, the interview gets into Demi's struggles with her recovery, and she hints that she won't reveal some painful secrets from her past. I know some of you think Demi is full of crap with her recovery talk and rah-rah attitude, but she's really kept it together ever since going on "X-Factor." I think there's something to be said about working with Simon Cowell on a regular basis without having a public meltdown. Demi will turn 21 years old in August and says that she won't be partying and getting drunk although she'll miss it. Here are some excerpts:
On her new chapter in life: "It's a new beginning for me. A year and a half ago, I was frustrated. I was like, there are people on the radio and they're not even singing — it's all Auto-Tuned, and I know I can sing. It's taken me three albums to figure out what works for me."

On her "stay strong" wrist tattoos: "I got them in North Hollywood, right after I got out of treatment [in 2011]. I thought, there's no better place for a former cutter to get a tattoo than on a place where they used to self harm."

She has faith: "I'm not super religious, but I grew up Christian and I believe in God. When I'm in L.A., I don't talk about it that much because people are very judgmental, but I just feel like God gave me a voice, not just to sing with. He put me through those things, which seemed horrible at the time, but they were so worth it. With the obstacles I've overcome, I can help people."

She wanted to be a child star: "I remember reading about Shirley Temple and looking up at God and being like, Okay, I'm 5. I'm ready."

On starring on "Barney & Friends": "Barney could be a little codependent. At the time, I was just so grateful to be on TV, but I was really struggling. Looking back, there was a connection, probably between any kid who's ever sang that song to Barney, a little place in a child's heart, a void, that could be filled. And maybe Barney fills it. Even before Barney, I was suicideal. I was 7. With Barney, I guess subliminally, I did have a relationship with this figure that was saving my life in a way."

Her past is worse than we know: "I've talked about being bullied and the years of being a teenager, but I went through things when I was younger that I've never talked about that probably caused me to turn out the way I ended up turning out. My family knows what it's about. When I'm ready to open up that subject with the outside world, then I'll be free to talk about it. Bur right now, it's kind of one of those things where the lyrics [of "Warrior"] speak for me. It's all in the song."

Let's talk about Wilmer Valderrama: "If I'm dating someone, you may see me out, but until I'm marriage-serious, I probably won't walk the red carpet with anyone."
[From Cosmopolitan]
Hmm. Demi is semi-mysteriously alluding to something traumatic in her past, but she claims her lyrics will reveal all for those who are curious. In "Warrior," Demi sings, "There's a part of me I can't get back / A little girl grew up too fast," so I am guessing that she's speaking of childhood abuse at the hands of a (supposedly) trusted adult. Sad.
Even more sadly, Demi's father has recently passed away, and she attended the funeral this past weekend. In the aftermath, Demi has established the Lovato Treatment Scholarship, and she states that "My father dealt with mental illnesses and he wasn't able to function in society and that happens to a lot of people. There's an overwhelming sense of peace knowing my dad is no longer battling his demons anymore and that makes me so happy." Hopefully, this scholarship will do some good.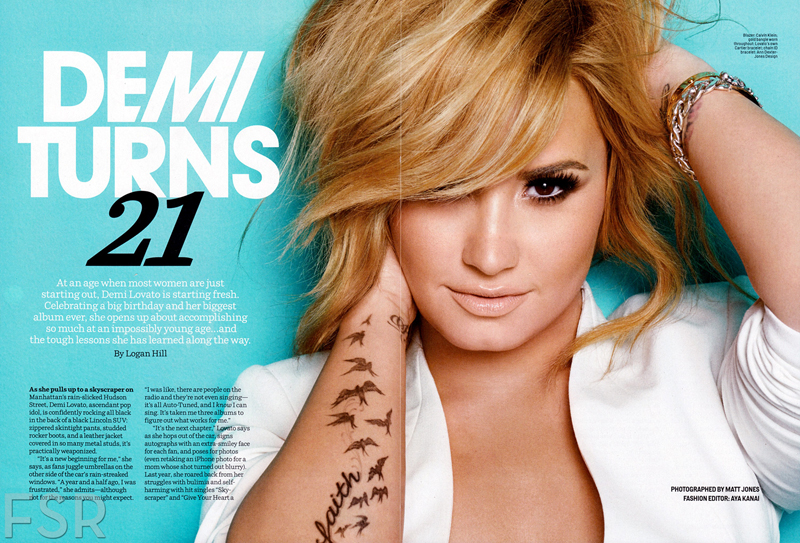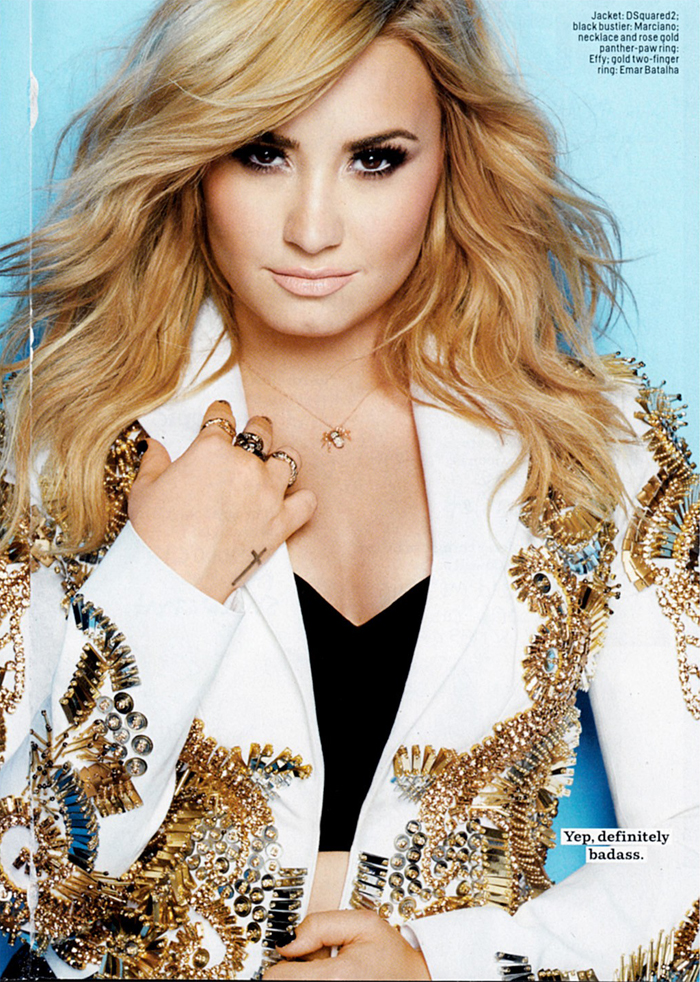 Photos courtesy of Cosmo