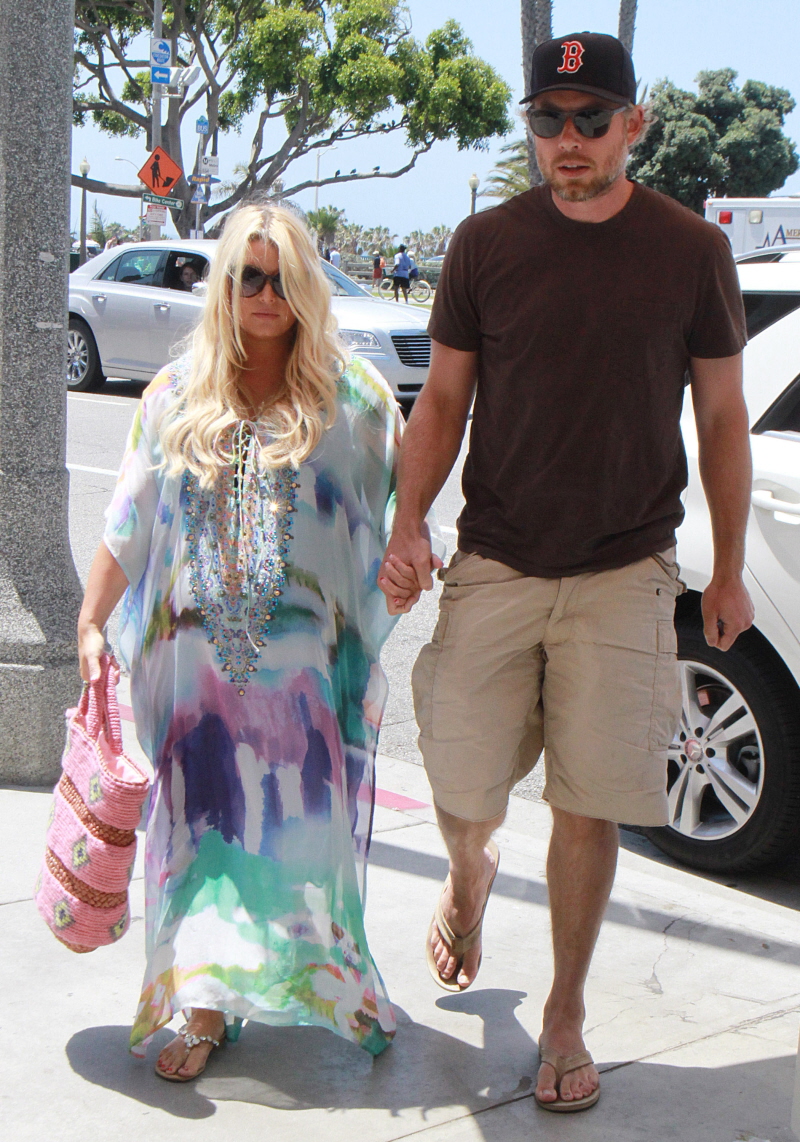 Jessica Simpson gave birth yesterday. To a little boy, which we knew already. Jessica announced she was having a boy months ago, and sources kept claiming that she and Eric Johnson had already picked out their perfect boy's name: ACE. Ace Johnson. And that's exactly what happened, only it's so much worse once you know the kid's middle name. Ace… Knute… Johnson. Pronounce it with the "K". Ka-nute. Apparently, "Knute" is for Eric's Swedish grandfather. The shenanigans are heavy with this one.
Maxwell's baby brother has arrived! Jessica Simpson and fiance Eric Johnson have welcomed their second child, a baby boy named Ace Knute Johnson, her rep tells Us Weekly exclusively. Little Ace was born in Los Angeles via scheduled C-section on Sunday, June 30, the rep adds.

"Ace Knute (pronounced Ka-nute) Johnson has arrived! Mom and baby are doing great," her rep tells Us. "Jessica, Eric and Maxwell are thrilled to welcome the new addition to their family."

The singer, 32, and Johnson, 33, are already parents to daughter Maxwell, nearly 14 months. Us exclusively revealed in November 2012 that Simpson was pregnant again just seven months after Maxwell's birth; Us also broke news in February that Simpson planned on naming her child "Ace." (Ace's middle name honors dad Eric's Swedish paternal grandfather, Knute Johnson.)

In true Jessca fashion, the Fashion Star mentor accidentally confirmed the sex of her second baby-to-be to back in March. "The crazy thing is I never knew a wiener could make me nauseous," she joked of her morning sickness. After realizing her mistake, Simpson added, "Well, I guess I just told the world that I'm having a boy!"

And gender wasn't the only difference for pregnancy number two. In an interview with Ellen DeGeneres on March 7, Simpson shared that "this pregnancy is the complete opposite. Like with Maxwell, I felt amazing. Like I could do everything, eat everything. Do whatever I wanted. I had a lot of energy," she recalled. "This time around . . . I'm like exhausted. Eating Tums. That's my snack of choice."

After about six months of dating, Simpson and Johnson, a Yale grad and former NFL player, got engaged in fall 2010, but were forced to postpone their nuptials twice due to her unexpected, back-to-back pregnancies. But a source recently told Us they're hoping to (finally!) tie the knot soon.

At the Weight Watchers spokeswoman's April 14 baby shower, she "was telling friends she wanted to get married a few months after the baby is born," the source told Us. "Jessica said, 'Let's have this wedding already before I get pregnant with another one!'"
Well, congrats. It sounds like mother and baby are doing fine. I bet Ace Knute was a big baby, just like Maxwell Drew. And I hope that Jessica went on the pill (or whatever) two seconds after giving birth, because if she doesn't do that, Eric is just going to impregnate her again. I also have to give Jessica some props for having a much healthier pregnancy this time around – she didn't pack on the pounds like she did during her first pregnancy. That being said, I'm sure she'll be in the gym as soon as possible because sources keep claiming that she wants to get married soon.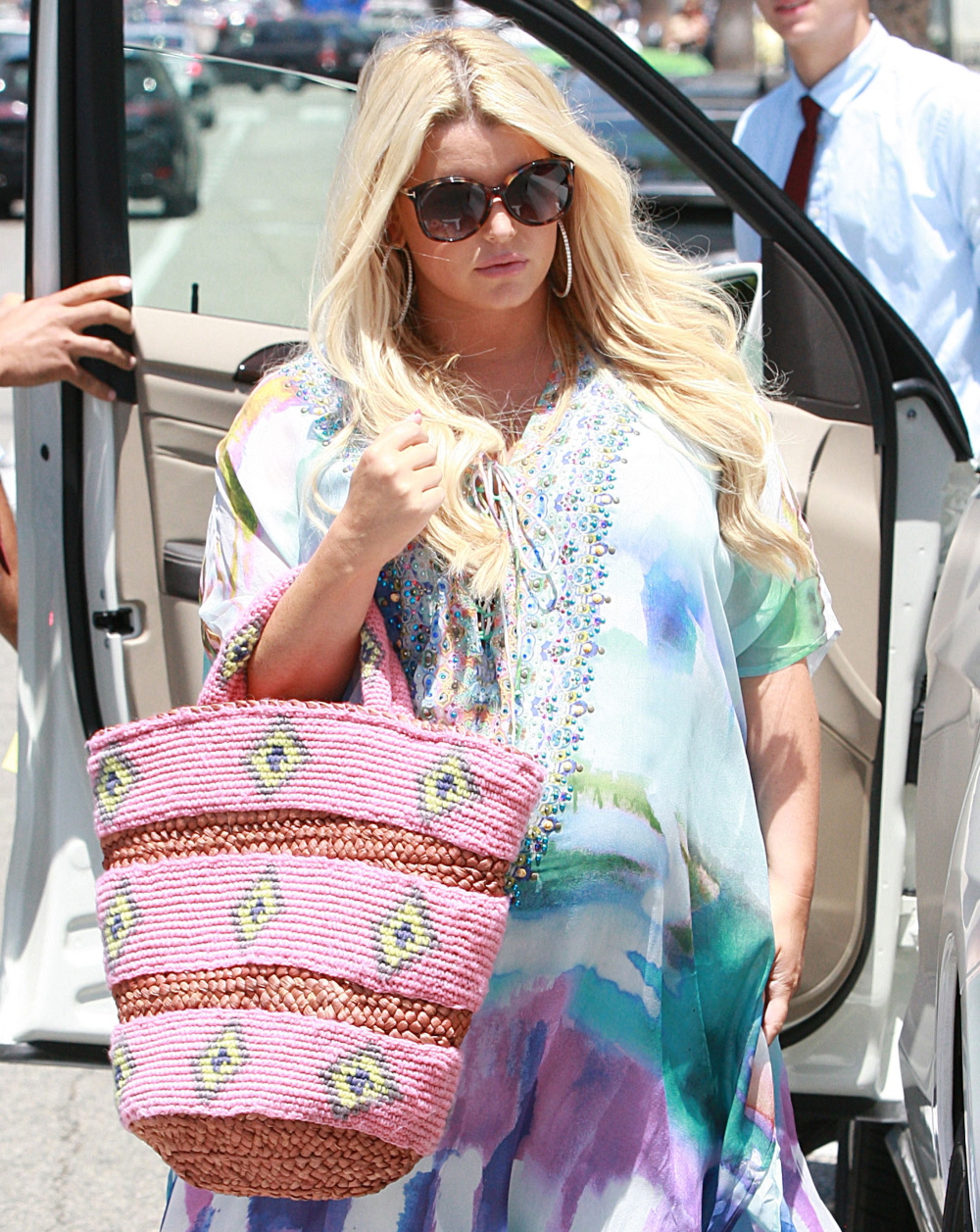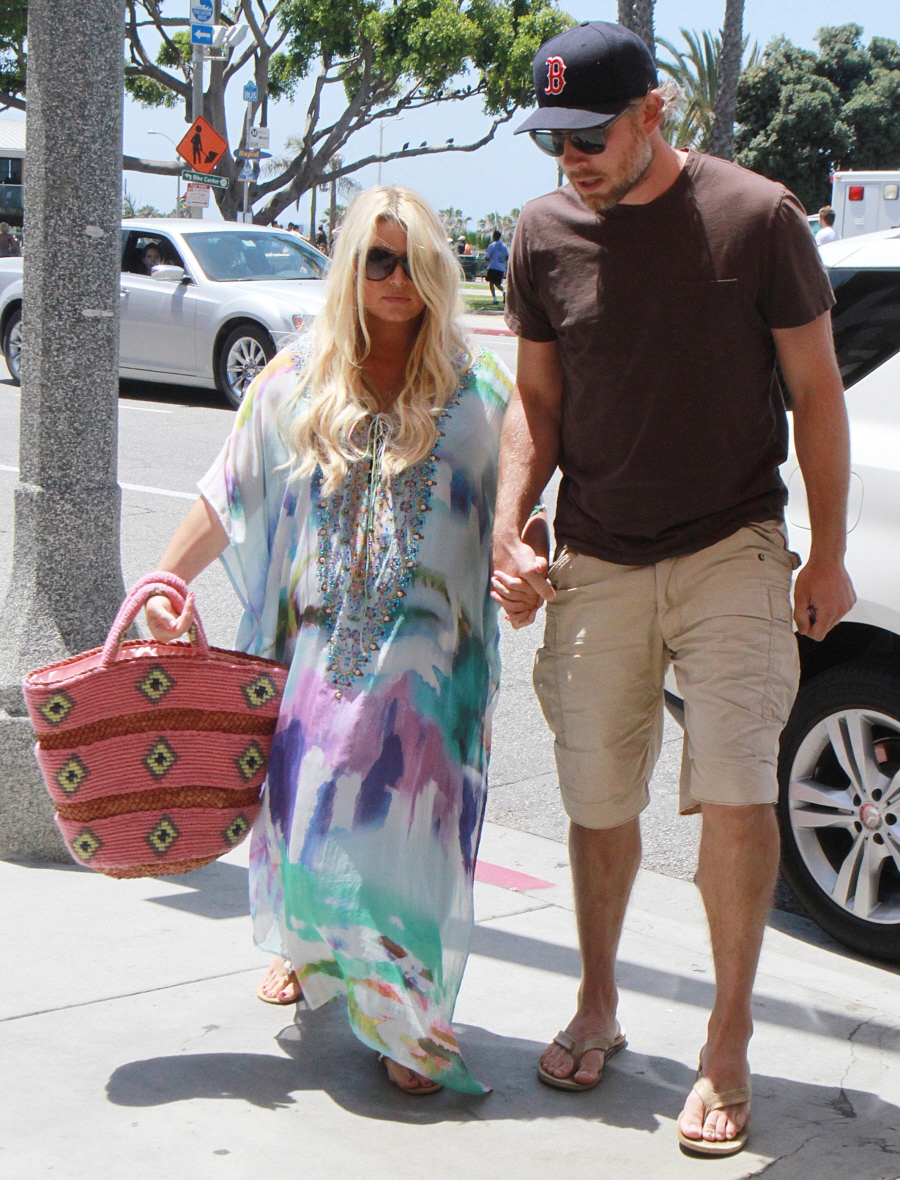 Photos courtesy of Fame/Flynet.