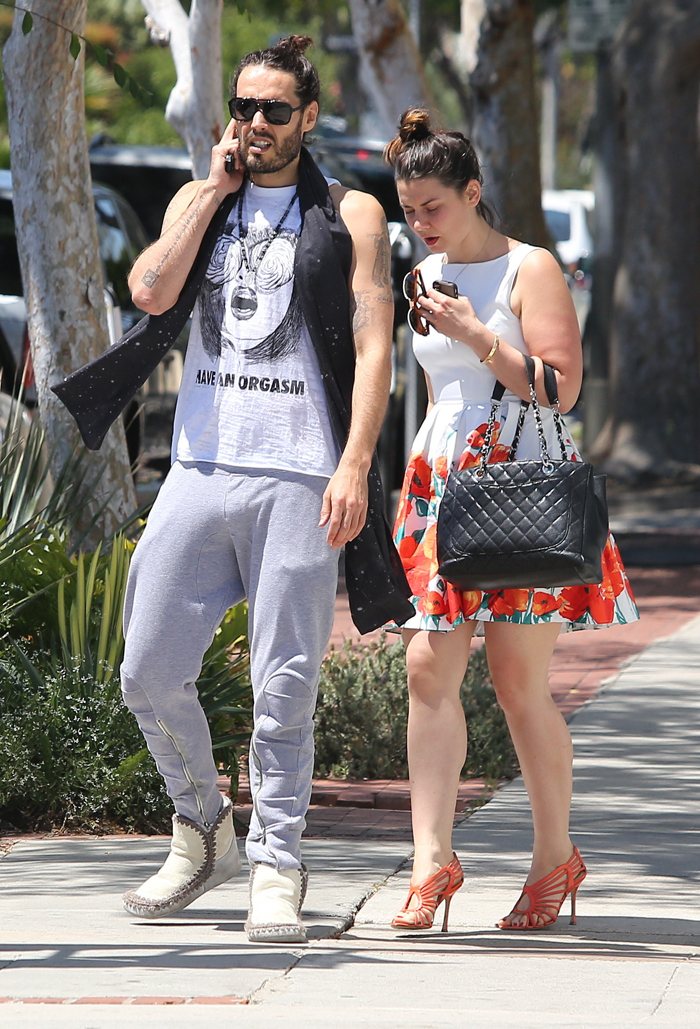 Here's Russell Brand in Los Angeles last Friday while wearing a "Have an Orgasm" t-shirt because, you know, he's a real fan of having as many as humanly possible. I was thinking about Rusty's nine-orgasm record the other day and wondering if it's even possible to near double digits without "dry heaving," if you know what I mean. Sorry, I know that's gross.
Back to the photos at hand, I don't know who the woman next to Russell is, but it really doesn't look romantic. You can tell that Rusty is sort of eyeing the paps while almost certainly anticipating the tabloid headlines to come.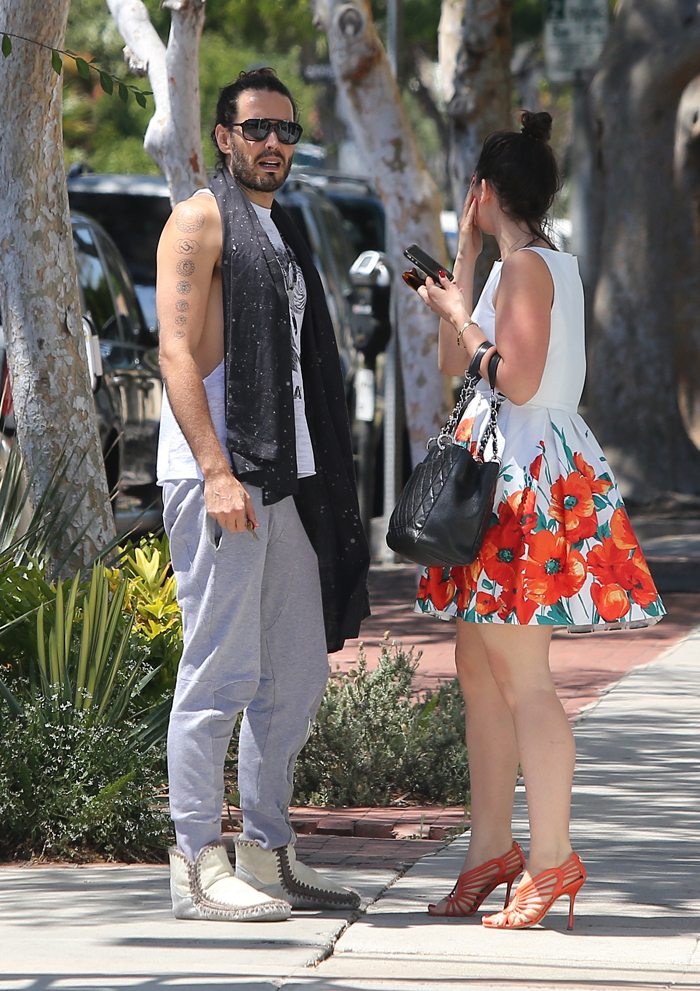 There's a new story coming from Grazia (via Belfast Telegraph), which says that Russell is not too pleased about Katy Perry's recent Vogue interview wherein she throws him under the bus. Among other things, Katy claimed that Russell told her about their divorce via text message, and that's supposedly the last time they ever spoke. At first, I wondered why Katy would bring this stuff up in an interview more than a year after the fact; but one must consider that Katy (like most starlets) wanted that Vogue cover bad, so she had to dish. Why else would Anna Wintour give the cover to a pop star who's not currently promoting anything? I don't condone Katy's tactics, but I understand why she felt the need to discuss her divorce from Rusty. Now was what she said true? In this story, Russell doesn't deny the text message method, but he doesn't get why Katy said some other stuff. Here's the Grazia take:
Russell Brand reportedly "can't understand" why Katy Perry said certain things about their failed marriage in an interview with US Vogue.

The stars were married for just 14 months before they split at the end of 2011. In a candid interview with US Vogue, Katy revealed she couldn't disclose the "real truth" about why her marriage to Russell had ended and claimed they were no longer in contact. According to insiders, Russell was deeply hurt by Katy's comments about their failed relationship.

"He's devastated by what Katy has said, given that they've been in contact on numerous occasions," a source told British magazine Grazia. "He can't understand why she would say all these things."

During the revealing chat with Vogue, the 28-year-old spoke about why the union had failed. Katy claimed Russell hadn't liked her being his "equal" and hinted at a dark secret behind their divorce.

"I felt a lot of responsibility for it ending, but then I found out the real truth, which I can't necessarily disclose, because I keep it locked in my safe for a rainy day," she said. "I let go and I was like: 'This isn't because of me; this is beyond me.' So I have moved on from that."

Katy also said she hadn't heard from her former spouse since he had sent her a text on December 31, 2011 "saying he was divorcing me."
[From Belfast Telegraph]
If this story is true, I can definitely see where Russell is coming from because Katy really dealt a low blow with her statements on their relationship in Vogue. In contrast, Russell has taken the proverbial high road even when prompted to dish with Howard Stern. Still, I can't see Russell wasting much thought on what Katy says about him, so this could be a made-up filler story from Grazia. It's difficult to tell.
Here's Russell strutting around like a scarf-adorned peacock at the BBC studios last week. He's such a rockstar.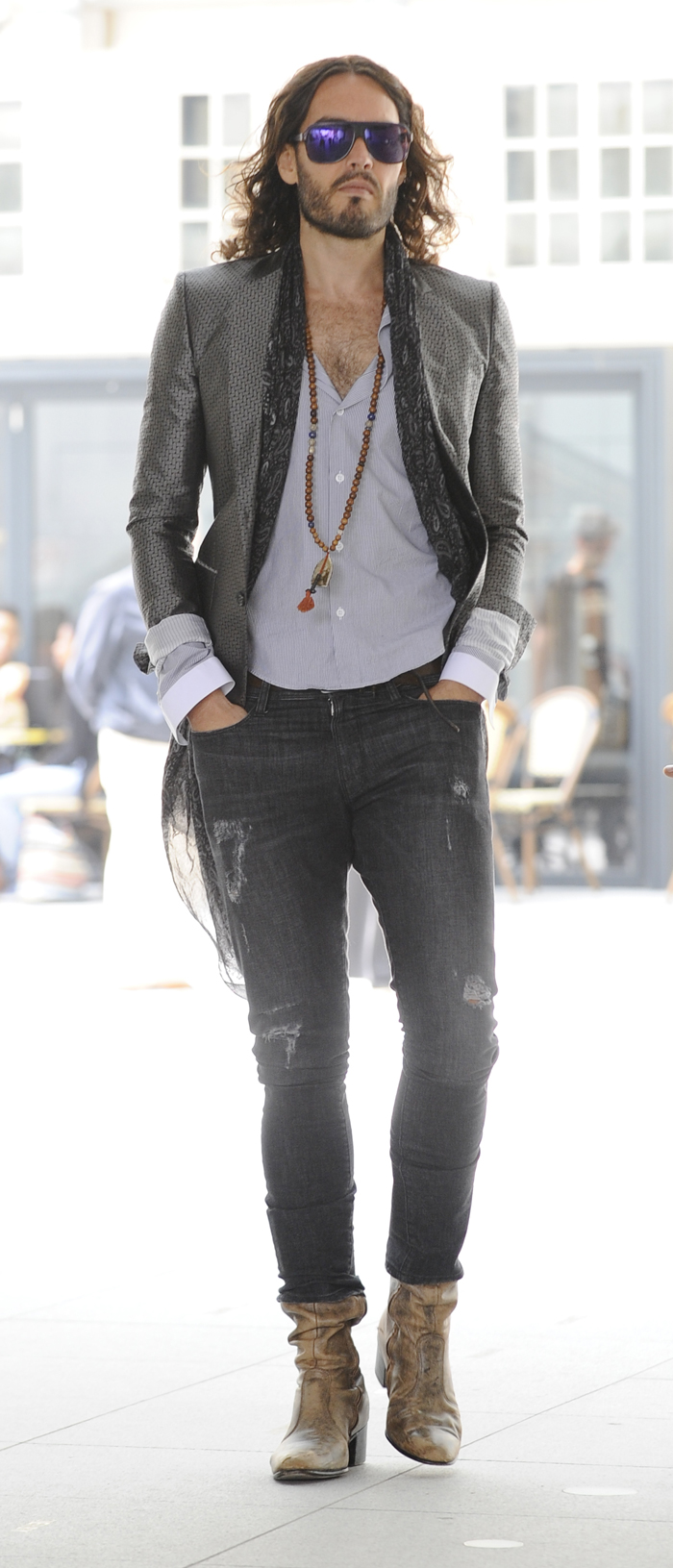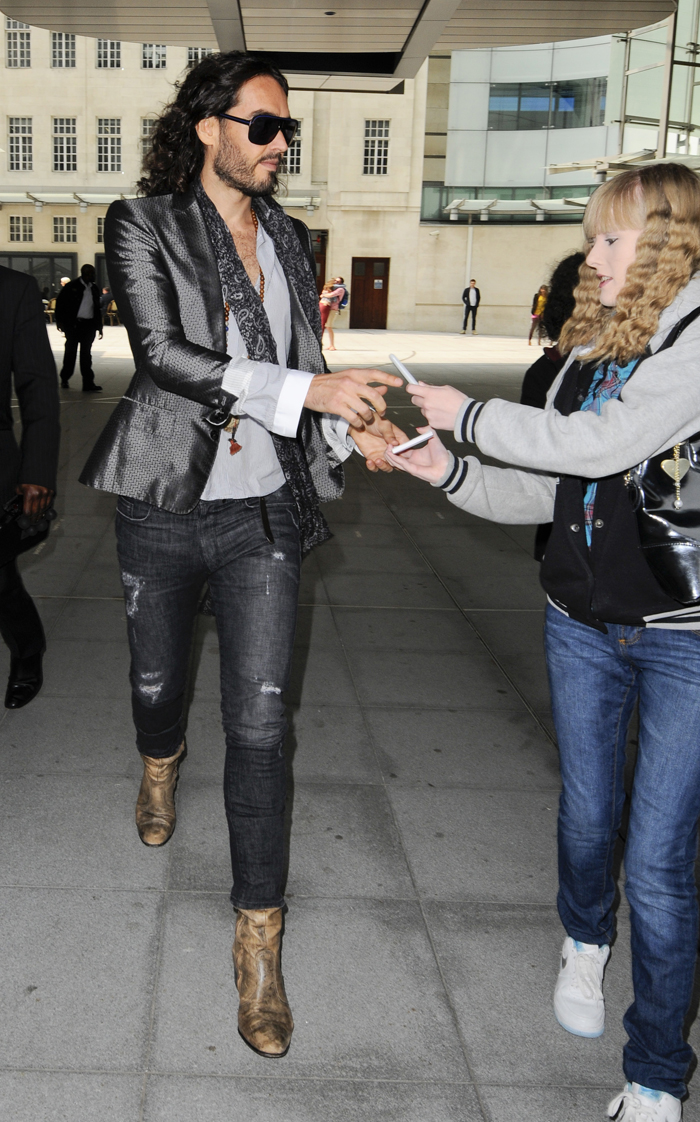 Photos courtesy of WENN