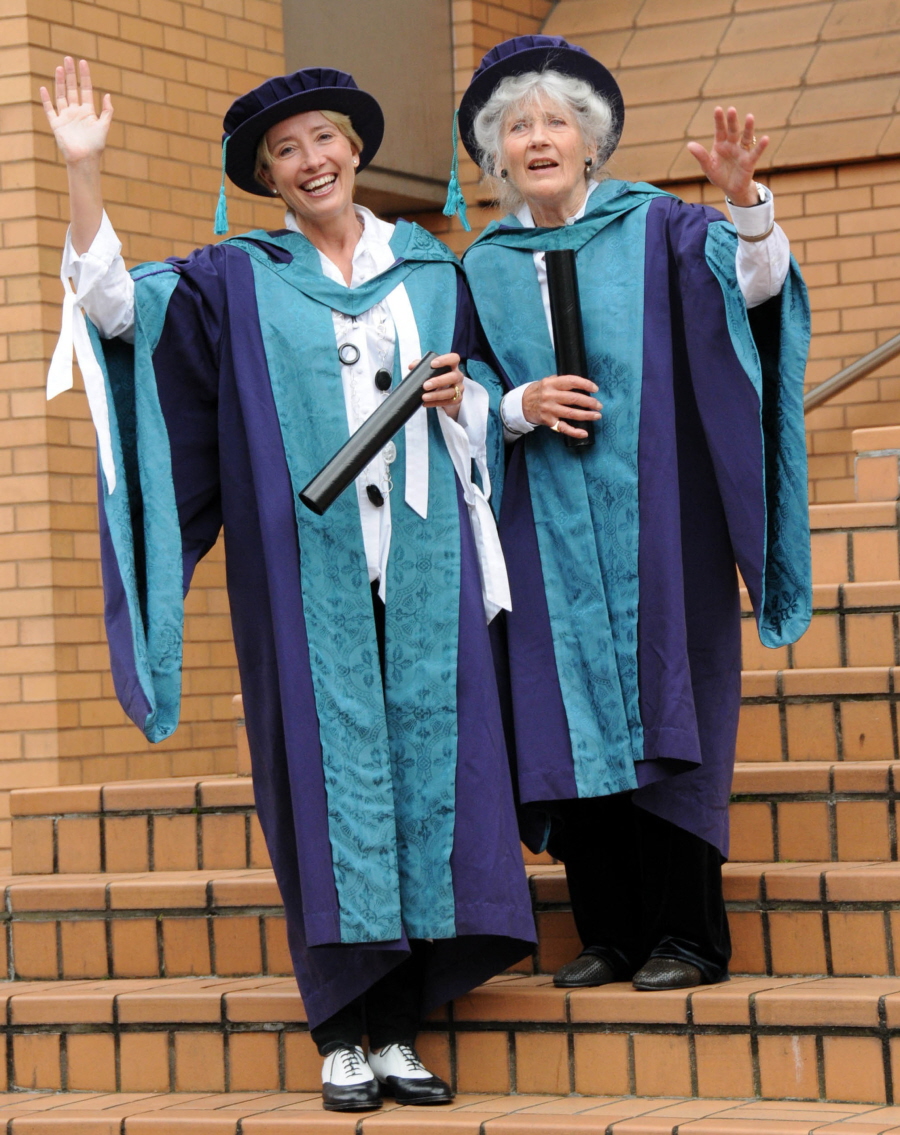 I'm sure many of you won't care about this, but these photos just make me happy. Emma Thompson and her mother, Phyllida Law, were both given honorary doctorates in drama from the Royal Conservatoire of Scotland in Glasgow yesterday. Phyllida is beautiful, isn't she? And Emma too. You can take all of the Kardashians, Bosworths, et al and just leave Emma for me. Emma is one of my favorite people in the world. She's funny and talented and cool, and her graduate garb is lovely. Unfortunately, Emma's new honorary doctorate just means that she feels like a fraud:
Emma Thompson has admited feeling like a fraud as she collected an honorary degree in Glasgow alongside her mother Phyllida Law. She said her son quizzed her on how many essays she had actually written for the degree and joked she will now demand to be addressed as doctor.

The acting duo were awarded honorary doctorates in drama from Royal Conservatoire of Scotland (RCS) in Glasgow and later posed for photos in their graduation robes and signed autographs for fans. Nanny McPhee star Thompson won an Oscar for her lead role in 1992′s Howards End and a second Academy Award in 1996 for best adapted screenplay for Sense And Sensibility.

The pair have starred in several films together, including The Winter Guest, but sharing a stage at the RCS graduation topped the bill.

Thompson said: "We've not received anything like this before and we both feel slightly fraudulent because when I told my son he asked 'how many essays did you have to [write] to get that?' So we feel really lucky that we now get to put 'doctor' in front of our names and pretend we're important. We've both had so much work as actors and are still working so to get a degree for it is great. I suppose in a sense it's a reward for hanging in there. So many actors fall by the wayside so maybe this is recognition because we're still going."

Law joked: "It's certainly not for our looks. It's a dreadful mistake to be born exquisitely beautiful because it wears off by 28. Thankfully we didn't need to worry about that."

Law, who was born in Glasgow and was married to actor Eric Thompson from 1957 until his death in 1982, has appeared in many documentaries and interviews concerning her late husband's narration on The Magic Roundabout and was in the original London cast of La Cage Aux Folles at London Palladium. The 81-year-old will receive a second degree when she becomes honorary doctor of letters from Glasgow Caledonian University later in the week.

"It's great fun to be able to do this together, much better than collecting it on your own. And to get it in Glasgow is great," Law said. "It's quite silly that I'm getting another one but it means I'll have two and Emma will be in the audience this time to see me."

Thompson is married to Royal Conservatoire alumnus Greg Wise and said she is delighted to keep up the family tradition, even if her husband is not.

"Greg graduated from here in the 80s or 90s and he's fit to be dead and spitting feathers at home because he had to do so much work and exams to get his degree and we just had to turn up to become doctors."

The honours for the mother and daughter see them join the likes of singer Annie Lennox, comedian Billy Connolly and actor Tilda Swinton, who have all received honorary doctorates from the Conservatoire, previously the Royal Scottish Academy of Music and Drama. Also receiving honorary doctorates were opera singer Patricia MacMahon and Jenny Sealy, a producer for the London 2012 Paralympics opening ceremony.
Emma is so English! That interview was a study in how not to take yourself too seriously, which should be make the list of "Very British Problems". Anyway, I always forget that Emma's husband Greg Wise is so Scotland-friendly. I believe he's part Scottish, he went to school in Scotland, and when he and Emma married, he wore a traditional kilt. Sigh… I love them. I love Emma most of all.
PS… You better comment on this post if you want more stories about Emma rather than the Kardashians!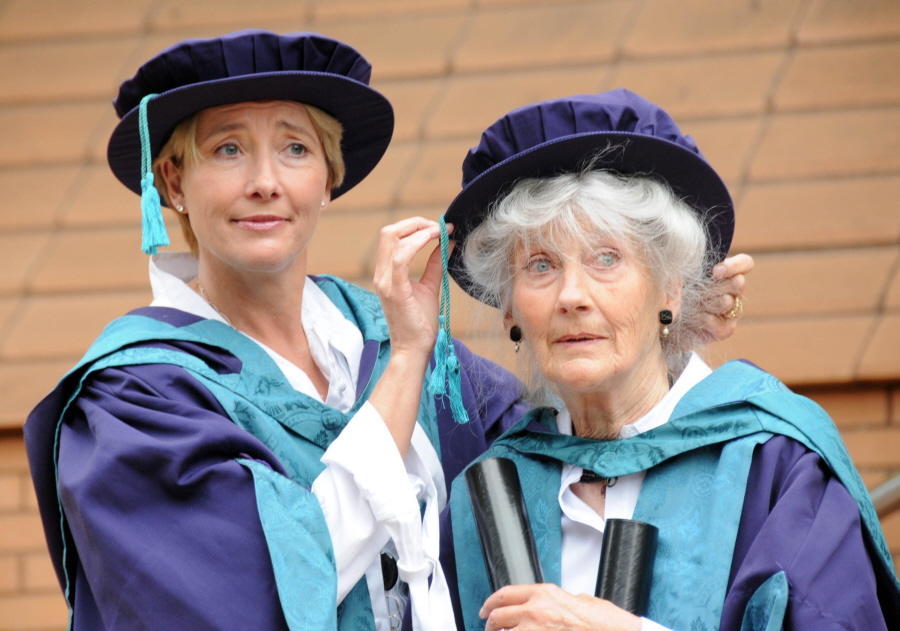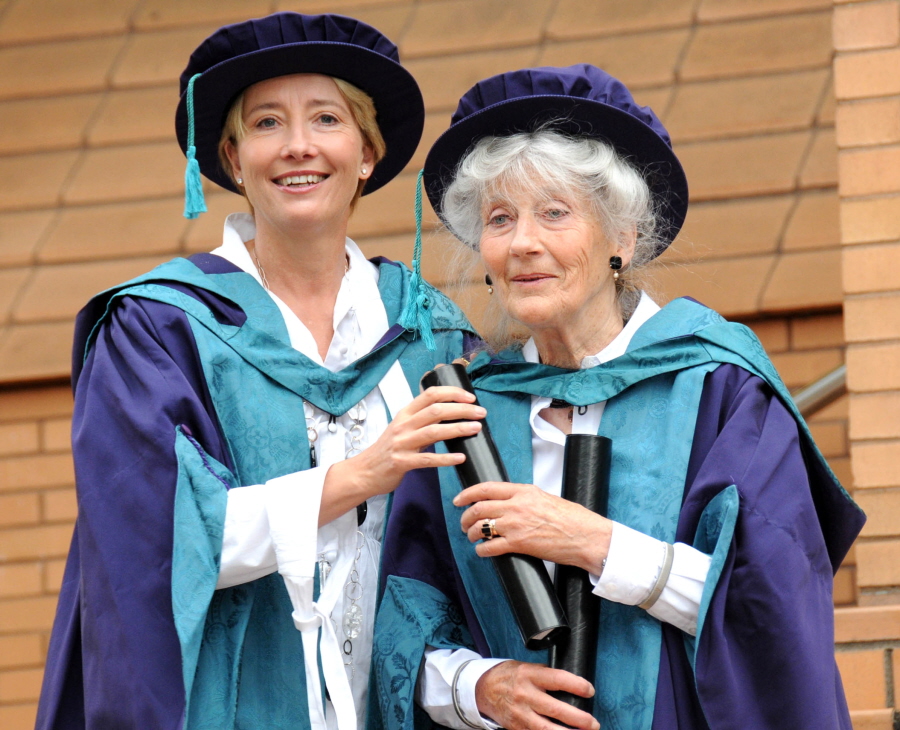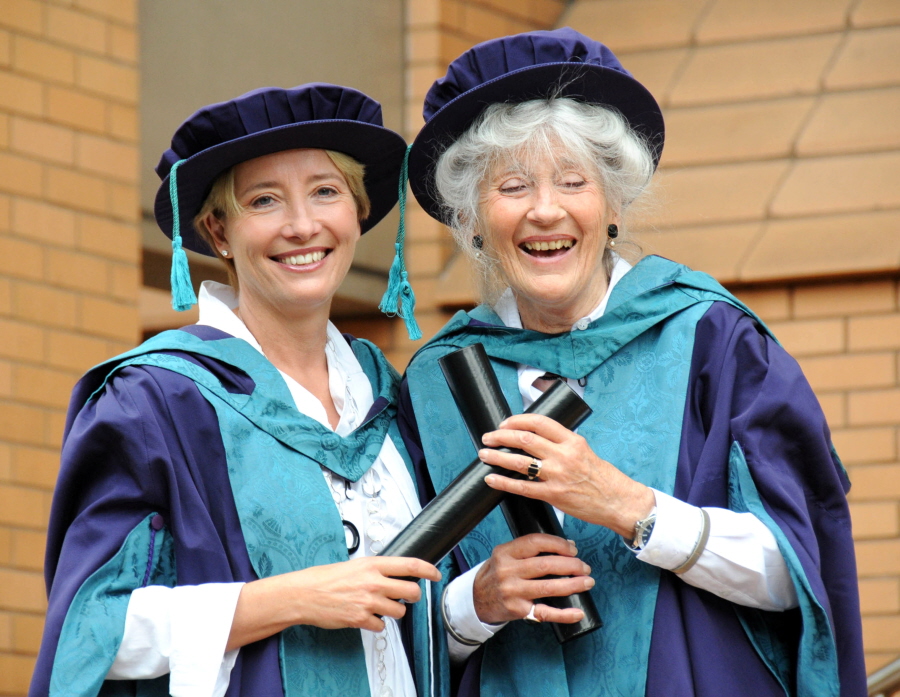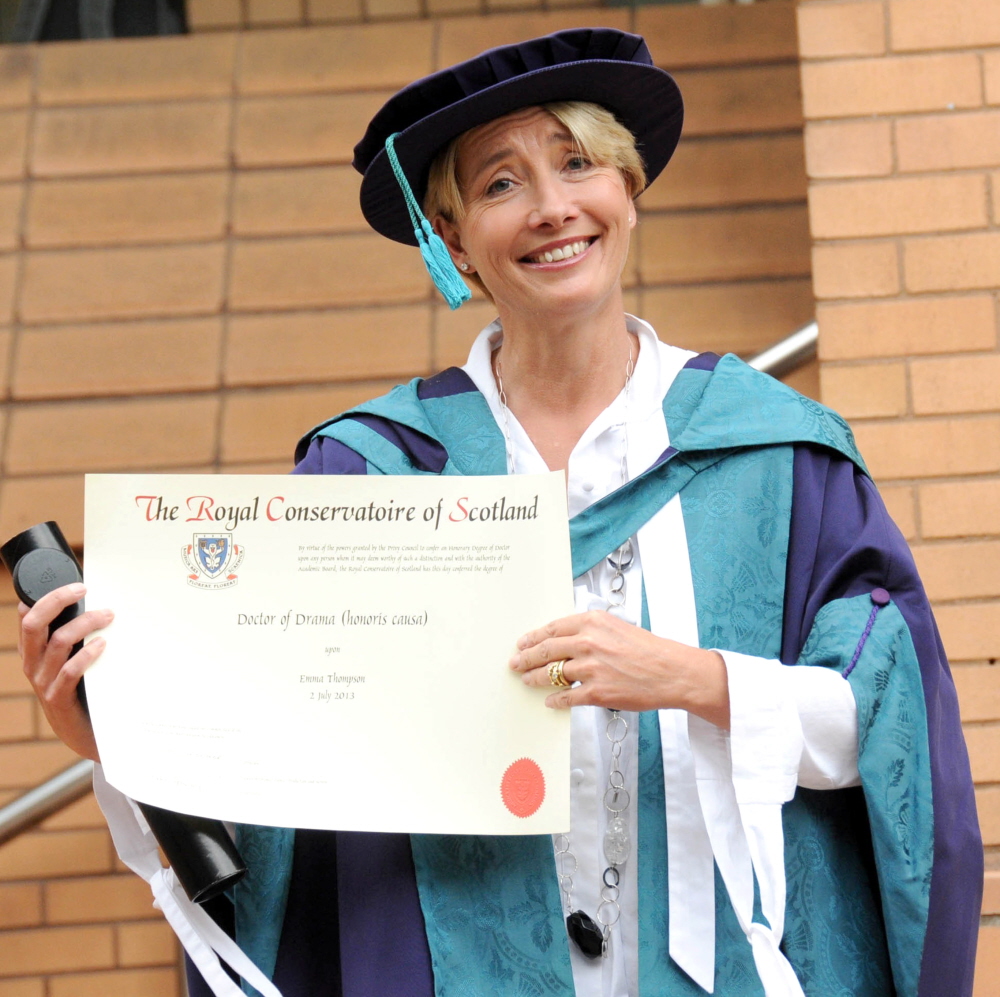 Photos courtesy of Fame/Flynet.