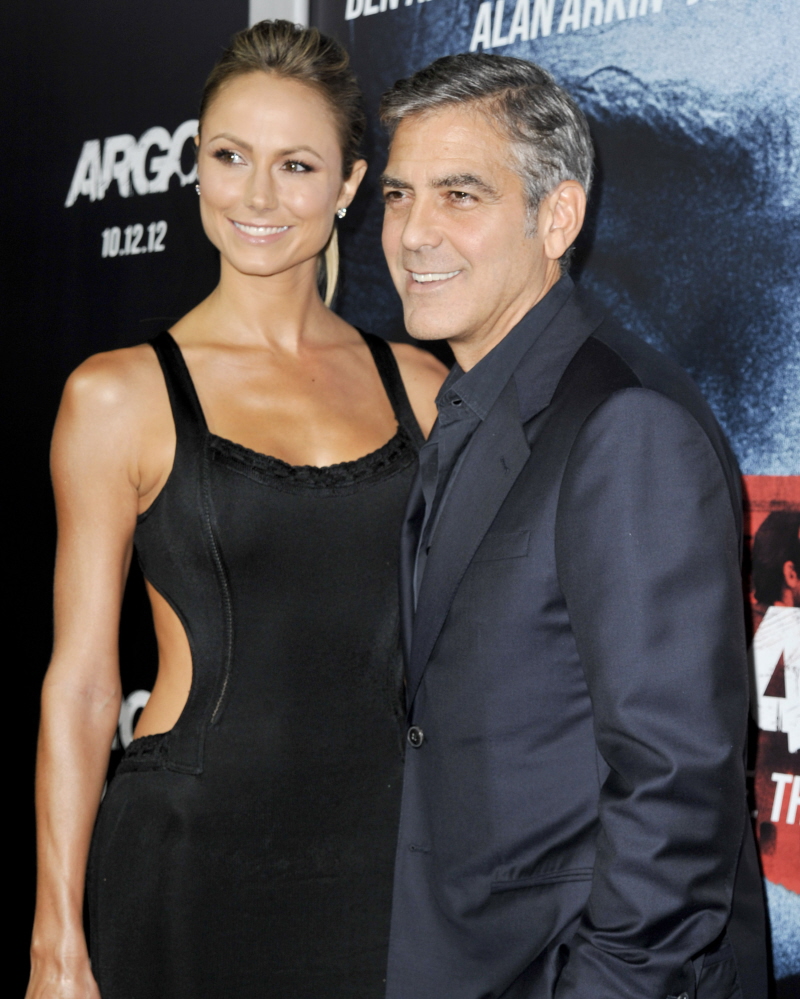 Last week, Lainey had some photos of George Clooney at Lake Como for Independence Day. This is not shocking – I think Clooney tries to spend July and August in Italy every year, and he schedules projects around his annual summer vacation. What was surprising was that Stacy Keibler didn't seem to be anywhere around Lake Como – allegedly, she's in LA right now. She's "working". So, of course, there are new rumors that Stacy and George are over. Personally, I think they've been over for several months – in May and June, George was working in England and Stacy was pretty much everywhere BUT England and George even had to deny that he was canoodling an ex-girlfriend in London. And now the UK tabloids are making it into a thing.
They're used to speculation surrounding their romance, but it seems that George Clooney and Stacy Keibler's relationship is perhaps finished for good as sources claim that the pair spend one of America's biggest public holidays apart.

The actor spent July 4 celebrating Independence Day thousands of miles away from his blonde bombshell in Italy, while Stacy spent the holiday partying in Malibu, fuelling speculation that he has laid another relationship to rest.

The movie hunk, who has been busy filming a war biopic in the UK alongside Matt Damon, jetted to a party at the exclusive Villa D'Este Hotel on his speedboat, while his model girlfriend posted pictures online of herself partying stateside.

Reportedly, the pair haven't been seen together in public for three months, but Clooney has allegedly refused to call time on their two-year relationship despite a source claiming that The Descendants star is quietly distancing himself from Stacy.

And it seems that one of Hollywood's most eligible bachelors, who has enjoyed a string of romances since his divorce from actress Talia Balsam 20 years ago, has no plans to make more time for his 35-year-old lady.

"It's not like George and Stacy couldn't find time to get together if they really wanted to," an insider confessed, according to the Sunday People. "George is quietly backing away from the relationship. It's always the same. As soon as he feels a woman is getting too close he pulls back."
The Daily Mail has a similar story with the same quotes and some additional backstory too. At this point, I pretty much believe that Stacy and George are done and they've been done for a while. What bugs me, however, is that George hasn't confirmed anything. Usually he's pretty good at getting the word out either way, and it just seems like Stacy is clinging and he's letting her cling to this idea that they're still sort of together. Meanwhile, is George actually at Lake Como without a girlfriend? I don't think he's ever done that before?!
UPDATE: Yeah, so now it's official. People Mag has confirmed it, and they say Stacy dumped George. Do you believe that? I don't believe that.
George Clooney and Stacy Keibler have split. The couple, who began dating two years ago, apparently want different things in life.

"Stacy called it quits. She wants to have children and a family someday. She knows where George stands on that," a source close to the couple tells PEOPLE exclusively. "They talked and they quietly stopped being a couple several weeks ago."

The source also says Clooney, 52, and Keibler, 33, will remain on good terms: "They talk every day. They were friends before they started dating and they'll be friends after. It was a friendly [breakup]."

Although she wants to be a mom one day, it's clear Keibler is already a dedicated godmother. She Tweeted a birthday wish to her goddaughter with a series of hashtags – "#mylove #myheart #mygoddaughter" – on June 10, before posting an inspiring message the next day about going through tough times. "Trying times are not the times to stop trying," she Tweeted.

The news of a split comes after the pair have spent a lot of time apart. They were last photographed together in March in Berlin, where Clooney was filming his upcoming drama Monuments Men.

In a recent interview with PEOPLE to promote her new show Supermarket Superstar, premiering July 22 on Lifetime, Keibler spoke about her hectic schedule and her desire to travel this summer.

"My schedule is keeping me pretty busy until the show airs and then hopefully I'll get the chance to go to Europe," she said. (Look for more from Keibler's interview in an upcoming issue of PEOPLE.)

But while Clooney was photographed boarding a boat near his Italian villa on July 4, Keibler partied with girlfriends in Los Angeles at a starry bash thrown by top Hollywood manager Guy Oseary and sponsored by DeLeon Tequila.

"They haven't seen each other in a while and they've both been working so much, so in recent months, they've started growing apart," a second source tells PEOPLE.
Wait, didn't Elisabetta get to do something like this too? Wasn't the official line from Elisabetta that she dumped George too, only it was just after Eli gave an interview about wanting children? Why does George always pick the ladies who want kids?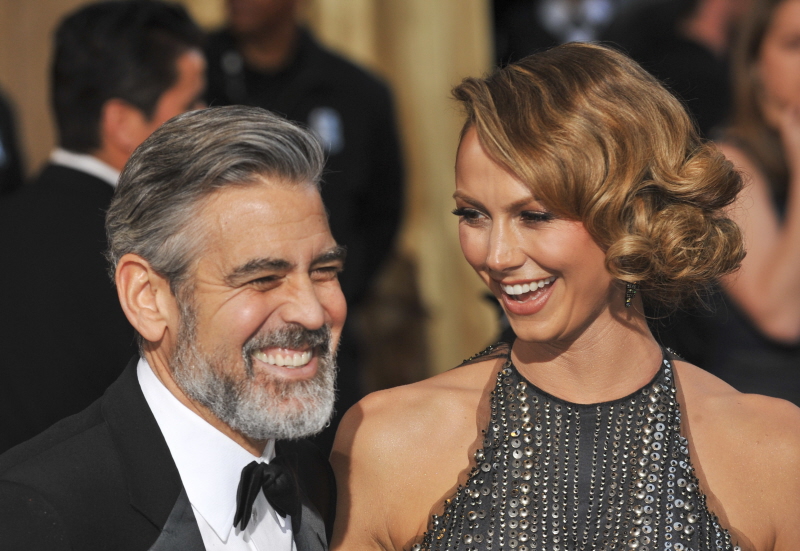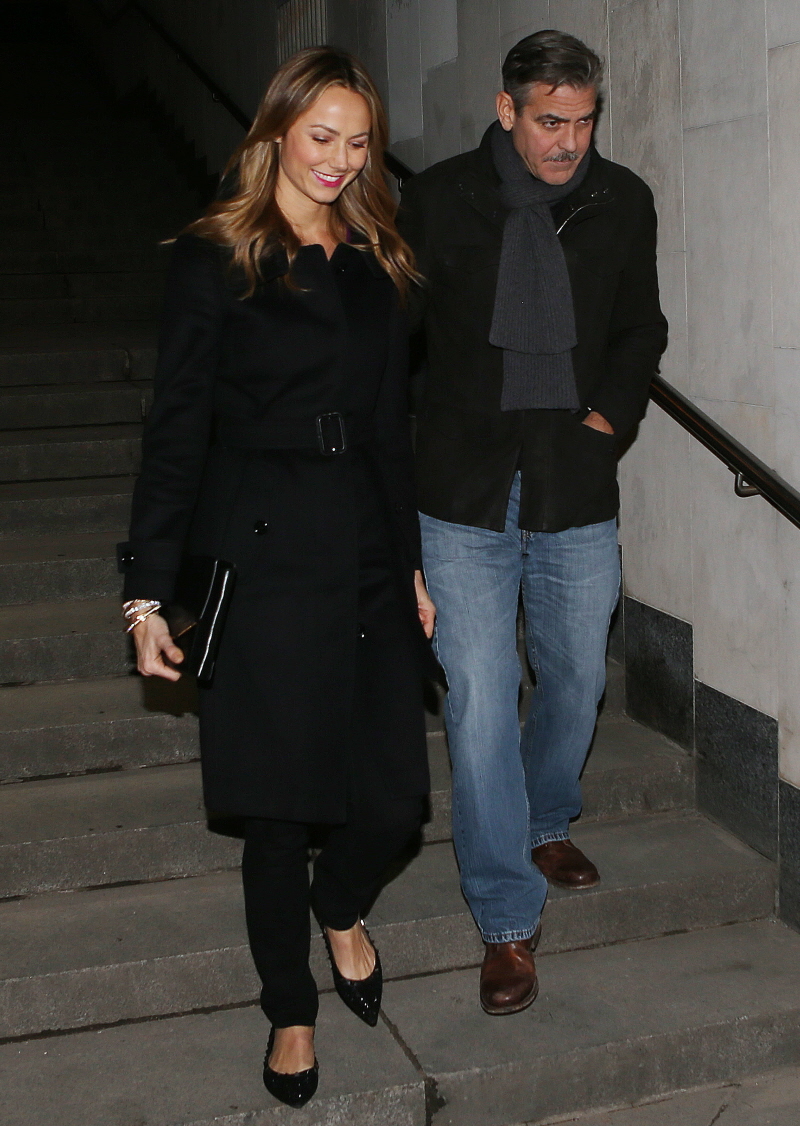 Photos courtesy of WENN.