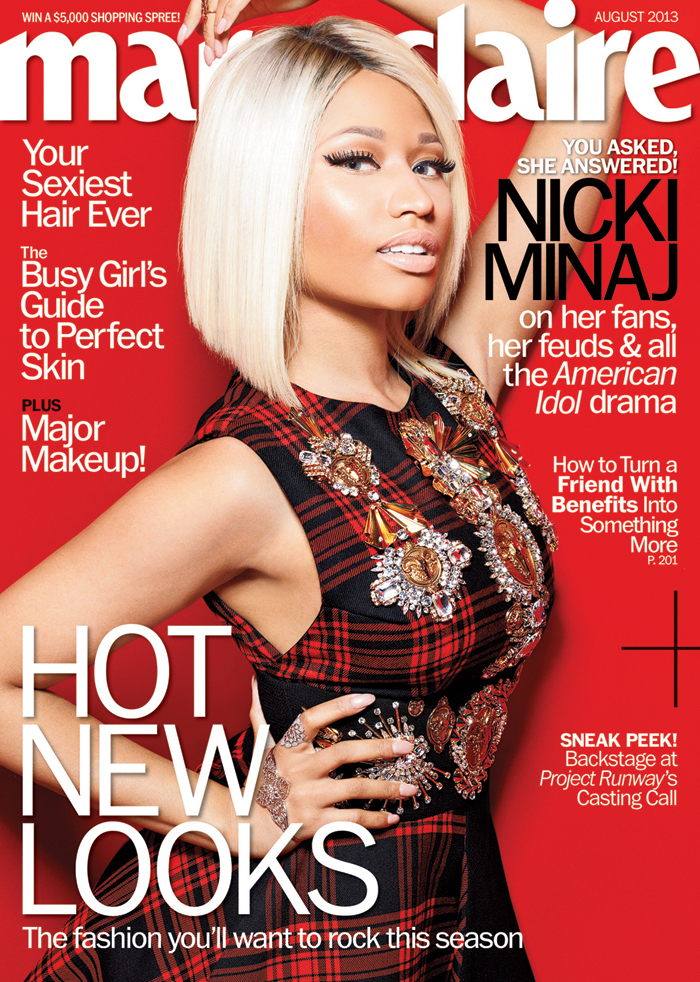 Nicki Minaj covers the August issue of Marie Claire, and I think I'm stating the obvious by saying she looks unexpectedly normal here, right? She still looks like herself, but the magazine has toned down Nicki's usual technicolour nightmare in favor of a more flattering, red-white-and-black palatte. I think this look suits her, but I'm (perhaps unfairly) assuming Nicki probably didn't enjoy the shoot very much.
In the interview, Nicki discusses her fandom (they're called "Barbz"?), her short run on "American Idol," and she hands out some surprisingly useful advice for young women. In addition, she hints that she really wants to be an actress, and you'll have to tell me whether or not that sounds like a plausible goal. Here are some excerpts: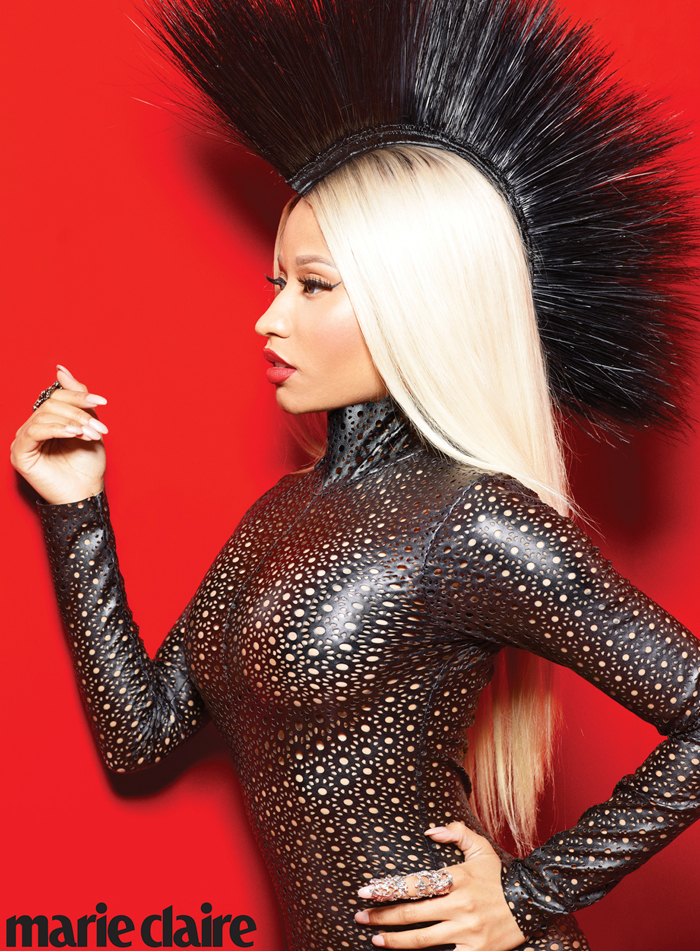 On her special language with her fans — her Barbz: "I'm very aware that millions of people on Twitter have no idea what we're talking about. That's because we kind of have our own language. I used to think it was just a Queens language or a New York language or an East Coast language, but now it's a Barb Nation language. I have South African Barbz, Japanese, German, Saudi Arabian. You can be a Barb wherever you live."

On her time as a judge on American Idol: "The perception that people had of me completely changed because there are no cue cards, there's no script, it wasn't be performing a song. It was, 'Let's see you real personality.' My core is a genuine human being who roots for other people. I didn't want to blow smoke up their ass. I wanted every contestant to leave with something that they could remember."

She wants to become an actress one day: "I at least want to do three more albums. If I can do that, I'll feel complete…One day, when I start getting a couple gray hairs, maybe it will all be only acting. I just never know…I've kind of become the poster child for doing the things that no one expects."

She almost became a lawyer? "I just loved the thought of going into a courtroom with mostly men and defending someone — just being able to persuade people with your words. It seems glamorous in a way. Very inspiring and ballsy."

On her "weird epiphany" of her 2012 tour: "I was on a world tour, a big feat for a female rapper. For the first time, I allowed myself to feel proud of where music had gotten me, and I felt an overwhelming sense of gratitude. You feel the need to pay it forward, which starts with analyzing yourself with a true desire to grow. I was praying every day, 'You know what, Lord? I want to be a mom one day, and I want to start becoming the woman who I want to parent my child.' I wanted all of the feelings of entitlement to leave me, because some people have this life for a year or five or 10 — and a lot of them lose it. I didn't want to become a person who wasn't enjoying the moment."

Her tips for seducing a lover: "Don't chase any man. Put your school first. Men love independent women. You don't have to be a bitch, but there's nothing wrong with it at times. And: Men are kids at heart. They want to be nourished and pet like a dog."
[From Marie Claire]
I have to laugh at Nicki's perception of the daily life of a lawyer. Most of the work involved in the legal profession includes writing, writing, and more writing. Courtroom action is actually a rare thing for the vast majority of specialties, and even if one specifically goes into litigation, the goal is to settle most cases out of court. I guess Nicki's been watching too much "Law & Order," but I can't fault her for that. It's just funny to imagine her in her crazy-ass wigs while rapping to a jury.
However, what Nicki says to young women is spot on. If only I had avoided boys, things could have happened so much quicker for me, schoolwise.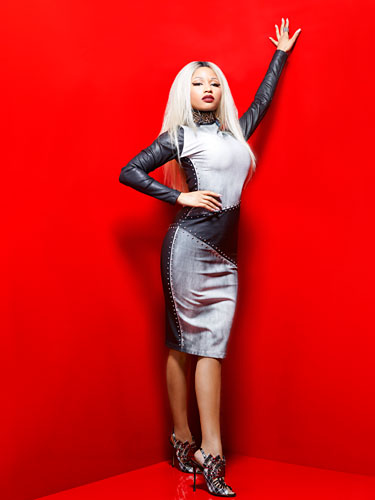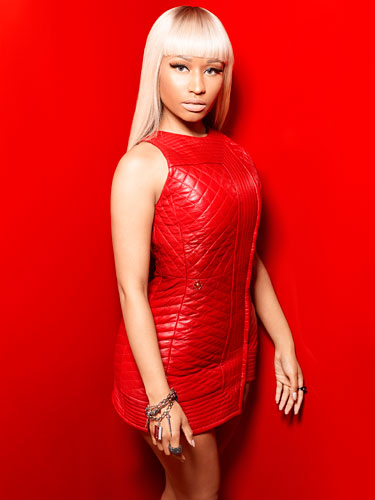 Photos courtesy of Satoshi Saïkusa/Marie Claire