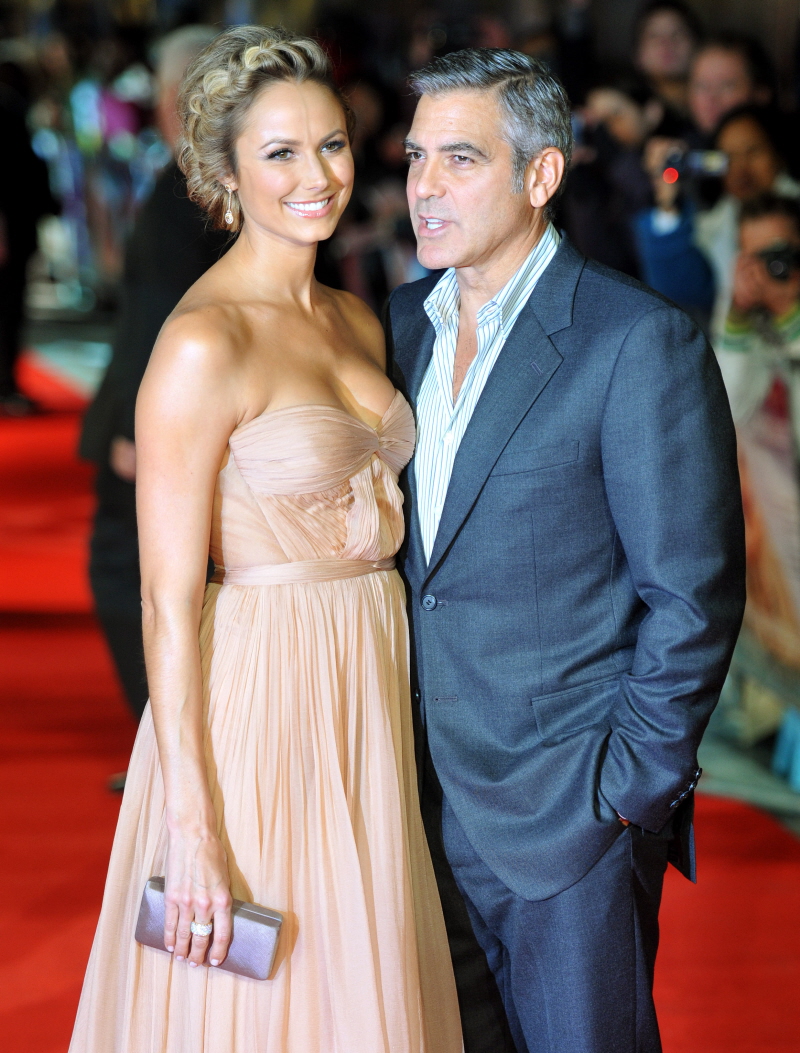 George Clooney & Stacy Keibler's breakup is the gift that keeps on giving. Yesterday, we heard a particularly indiscreet story which I believed came from Team Keibler, something about how Stacy and George hadn't had sex in "months" because they were always in different cities and probably because George was really tired of her. I feel like Team George is pushing back a little bit, because there are two new stories which make it seem like Stacy was clinging hard:
George Clooney and Stacy Keibler phoned in the end of their relationship … as in, they broke up over the phone while they were half-a-world apart … TMZ has learned.

Sources close to the couple tell us … the two had been growing apart over the past 3 months, with George in Europe working on a movie and Stacy in L.A. working on her new TV show.

But with Clooney scheduled to remain in Berlin until December — Stacy decided she couldn't do the long distance for another 5 months.

One source tells us, "Both sides realized there is no way to have a relationship when you don't see each other."

We're told the two talked out the situation like adults — and both agreed going their separate ways was best.

So how did George handle it? Like a friggin' gentlemen — "He was very respectful, adult about the situation … and they discussed the fact that they were friends before they dated and want to stay friends after."

There are reports that Stacy was pushing GC for kids and that's why the relationship fizzled — but we're told that couldn't be further from the truth.
Basically, George dumped Stacy over the phone and then he said some stuff about how they could still "be friends". This is basically how every one of Taylor Swift's relationships end! Except Taylor gets to sing about getting dumped over the phone. All Stacy gets is $10 million and a nondisclosure agreement. Yes, you heard me: $10 million!
George Clooney asked Stacey Keibler to move out of his Hollywood home, by phone, about three weeks ago, a source tells Page Six.

While Keibler's clueless publicist strongly denied this to us at the time, we're told that the actor, who's currently filming in Europe, asked Keibler to start moving her things out of his house last month.

While some outlets reported Keibler decided to end things, our source tells us the opposite. But their relationship has worked well for Keibler, who has raked in an estimated $10 million in promotional fees, according to reports.

Meanwhile, a relaxed-looking Clooney was spotted yesterday boating on Italy's Lake Como with friends.
As I've been saying this whole time. Clooney dumped her. Over the phone. He told her to move her things out, but he gave her some time to do some damage control and get her stuff in order. It's not like Elisabetta Canalis, who (from what I truly believe) had to pack her stuff and leave in just one day after George dumped her. I think George even had security guards watching Eli. I guess George just trusted Stacy more.
As for Stacy's $10 million nest egg from all of her promotional appearances from the past two years… that was really smart of her. She parlayed the Clooney relationship into those smaller, paying gigs much better than any Clooney Girl before her.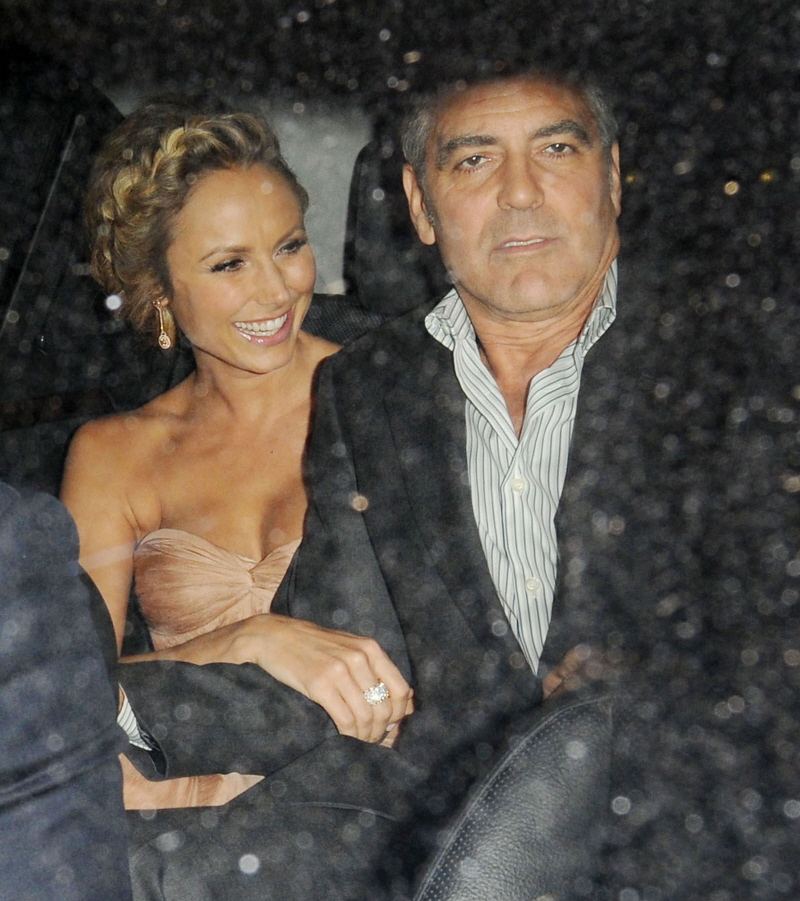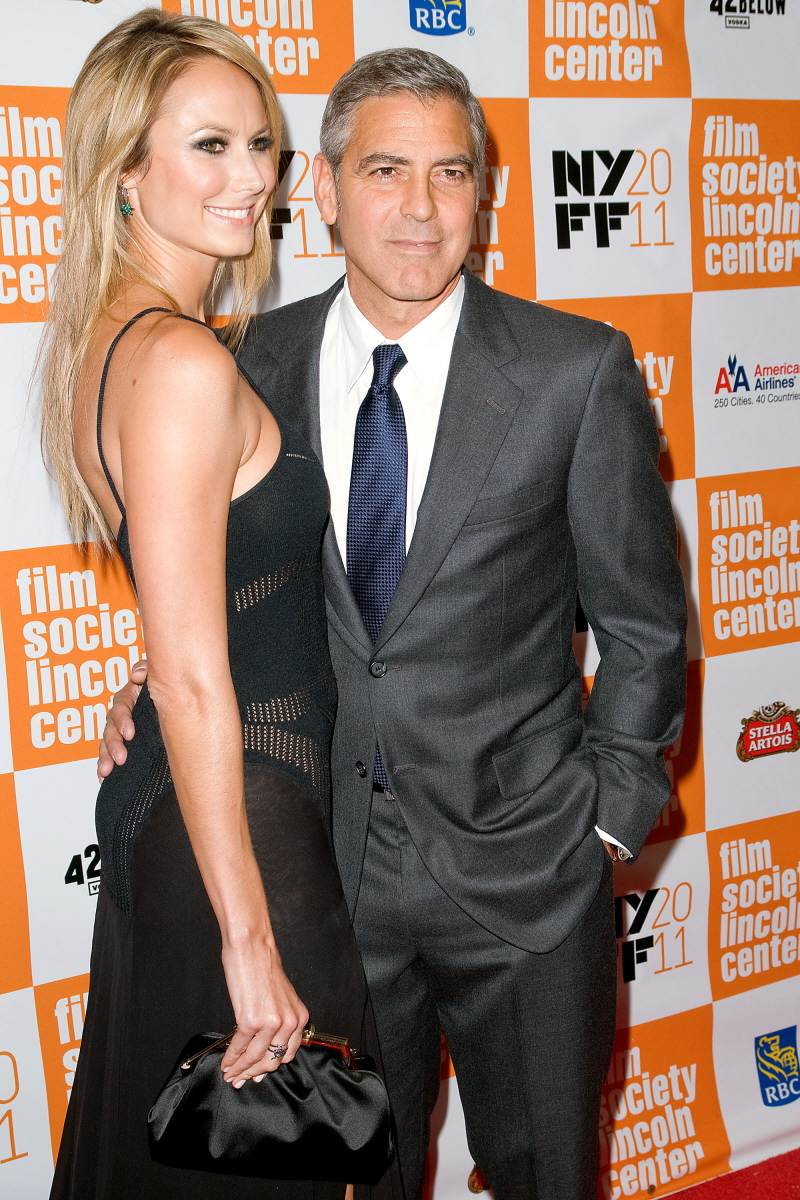 Photos courtesy of WENN.