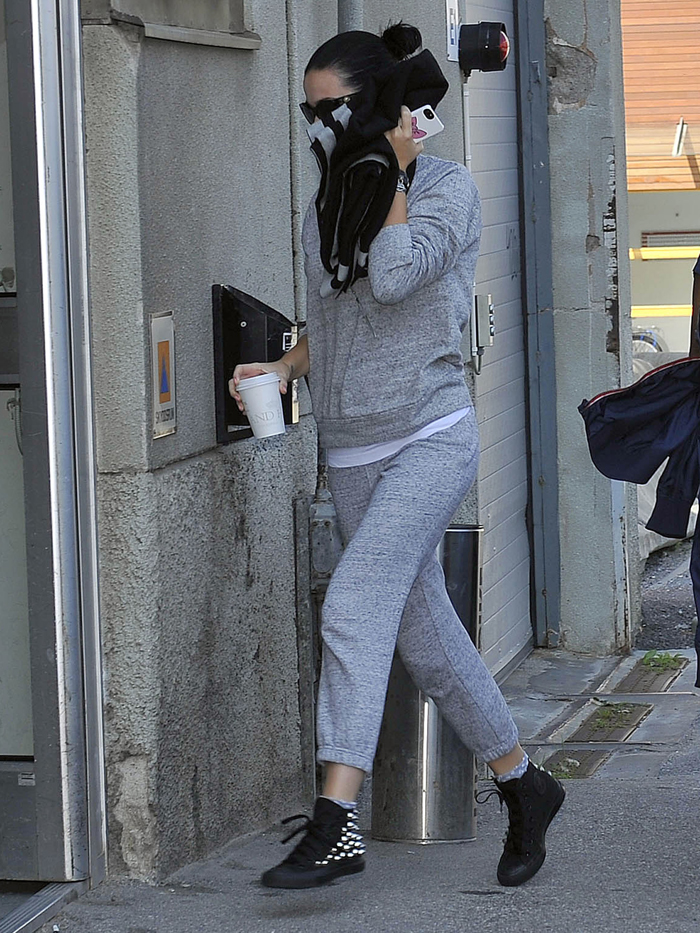 Katy Perry has a new interview with Women's Wear Daily to promote her latest fragrance, Killer Queen, with Coty. Katy made the shift to Coty after growing frustrated that many of her fans complained that they couldn't access her last fragrance, Meow. Surprisingly, Katy appears fairly business savvy in this piece, and she seems self-aware enough to realize that she's been packaged and marketed as a pop star. Yet she claims that she can get away with her excessive costuming because of raw talent. Okay, I'll admit that she's got a pretty good voice, but her lyrics are … juvenile and hilarious. Oh well. She's not building bridges — she's a pop star.
Yet I'm getting ahead of myself and have neglected thus far to discuss the top photo, which shows Katy on Saturday in Stockholm, Sweden. As you can see, she's is hustling towards the building's entrance while hiding her visage, and Katy's often photographed this way whenever she's neglected to "put on her face." In this interview, Katy talks about just how long it takes her to properly get ready for the cameras — 90 full minutes, which explains why she usually looks like her makeup has been applied with a palette knife. Damn, 90 minutes? That's some seriously high maintenance stuff: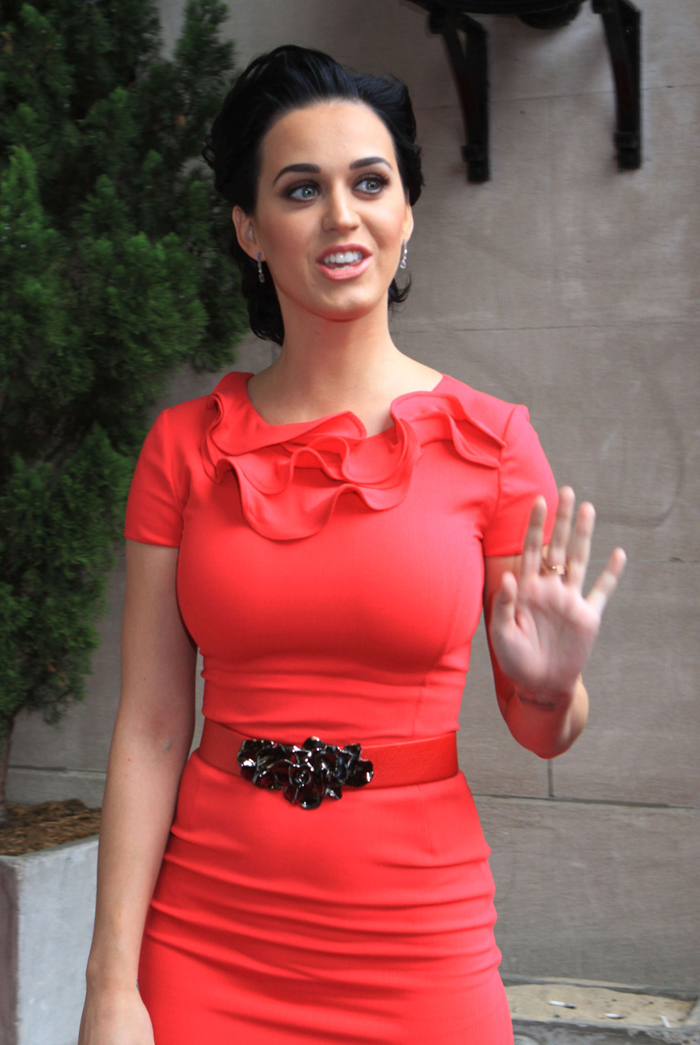 She's not worried about longevity: "This is how I view my career: not as a ticking bomb. A lot of people do things out of fear. A lot of people make choices [based on thinking] they won't have a career in five years. I know where I am, I know what I do is worth something and does not have an expiration date on it. I'm not making choices — in any capacity of my life, with any kind of endorsement, with any kind of product — out of fear."

Her new Coty fragrance, Killer Queen: "Killer Queen has been in my vocabulary since I was 15, because of the song 'Killer Queen' by Queen. Freddie Mercury painted the lyrics of this woman who I wanted to be. She seemed very powerful, and she captivated a room when she walked in. I named my company Killer Queen after those lyrics. I feel like, after all this time, it was appropriate to use that name in association with something I did. I feel like I'm falling, finally, into that woman Freddie painted. Killer Queen is powerful, edgy, sophisticated — and that's exactly where I'm trying to be now with my music. There were two different aspects in creating the fragrance. It's almost like [using] two different parts of your brain — the packaging and bottle and marketing, but essentially all that doesn't matter unless you have the juice."

Likewise about her own "packaging" & "marketing": "I spoke one time at a songwriting thing and the kids were asking me questions about being an artist. [I told them] all of the costumes and the glitter and the glitz and glam is great, but if you don't have the talent, you just look like a freak."

Her own beauty routine: "I'm a product wh-re. I have a [beauty] regimen that spans an hour and a half, and nothing goes out of order." She chuckles and admits that's hard to do 'if you're sleeping over at a new boyfriend's house."

She keeps social media in perspective: "I'm very particular about my Twitter. I like Facebook, and I use it and I appreciate it, but it's mostly just to let everyone know what's going on, what's coming up. My Twitter is like a smorgasbord of things I like, things I don't like, what I want to say, what I want people to hear, if I want to be funny or retweet, talk to my fans and have impromptu Q&As. It's also a way for me to announce things, to share things. It's like picking up the phone to your closest friend, because it's so easy and so direct."

Will she ever design clothes? "I would like to [branch into fashion], but this circus act can only juggle so many balls. It's to be determined, but we'll see how it goes. It's a long process, and I want to find the right place for me. There are a lot of people I really look up to in fashion — [like] Alice + Olivia and The Row — and I like that price range, too. I love what Victoria Beckham did, but I also have to figure out with myself what actually is the market I want to be in. Is it a high fashion market or is it an accessible market? Nothing is [currently] being created; there aren't even sketches on the table, nor a contract."

Her 2013 Met Gala gown: "That was true punk. And when I woke up really hung over the next day, I saw I was on WWD's cover."
[From WWD]
LOL at Katy declaring her Dolce & Gabbana "Joan of Arc" dress to be "true punk." I am actually quite surprised that Katy hasn't designed her own clothing line for tweens with a cotton-candy theme. Kids would eat that crap up, and their parents would buy it if Katy kept things G-rated. Or Katy could design her own line of sports bras. I'd probably try one out and then get angry about spending so much money for something with a huge bounce factor.
Anyway, I still can't believe Katy wastes 90 minutes doing her hair and makeup. If she did this every day, that would be 547 hours per year. In a lifetime … I don't want to even think about it. Seriously, I feel like a troll now with my air-dried bedhead and 5-10 minutes per week of makeup. But hey, that's a lot of saved time!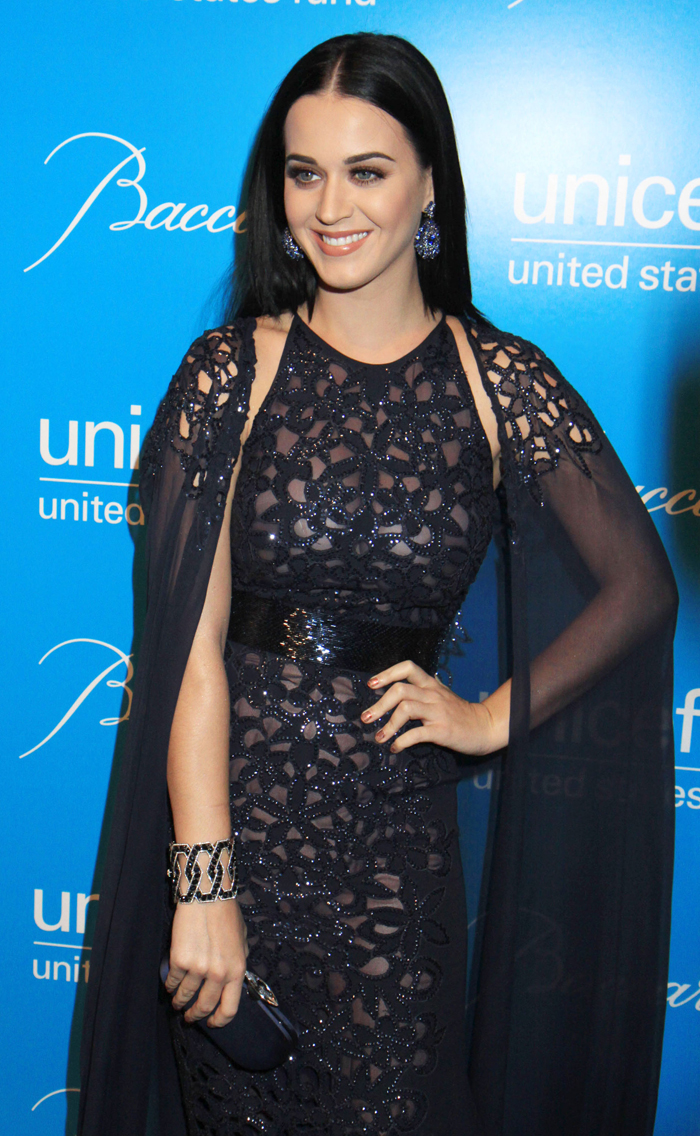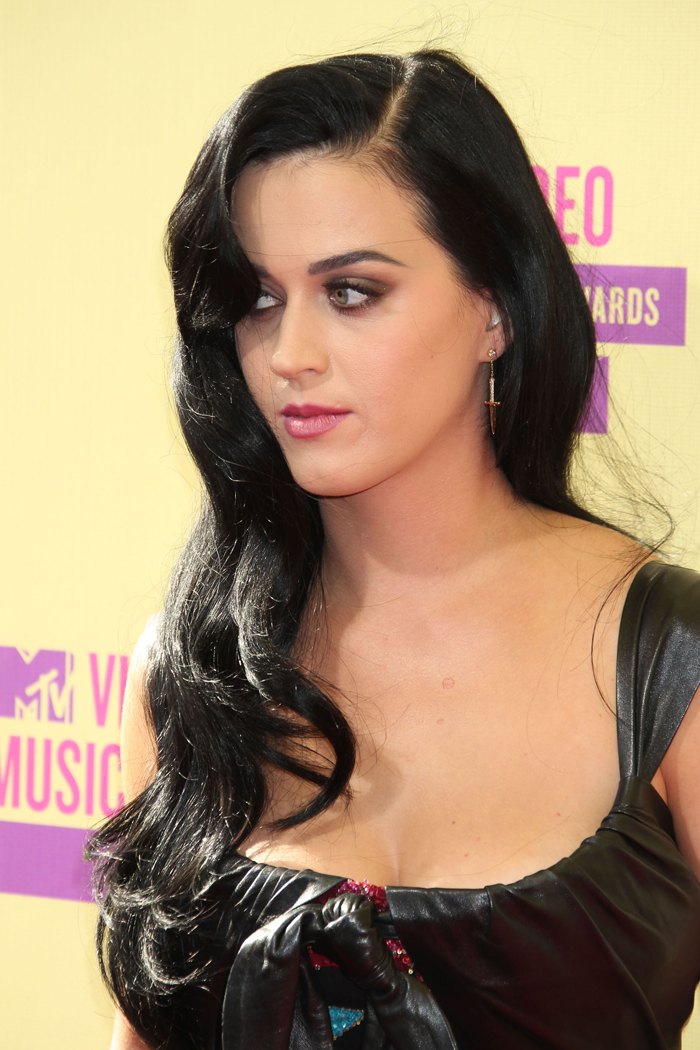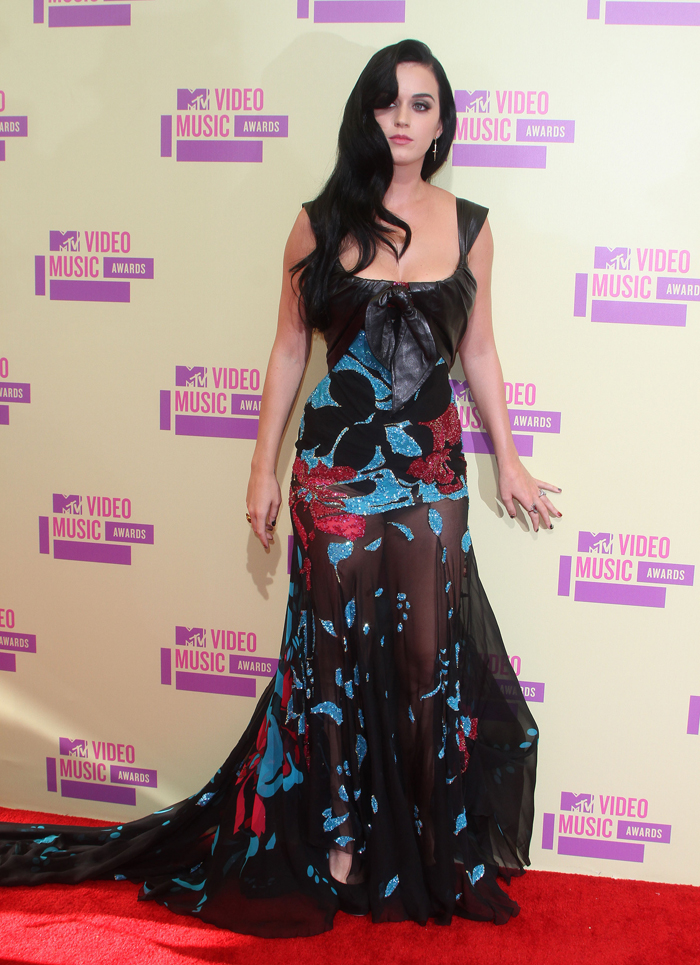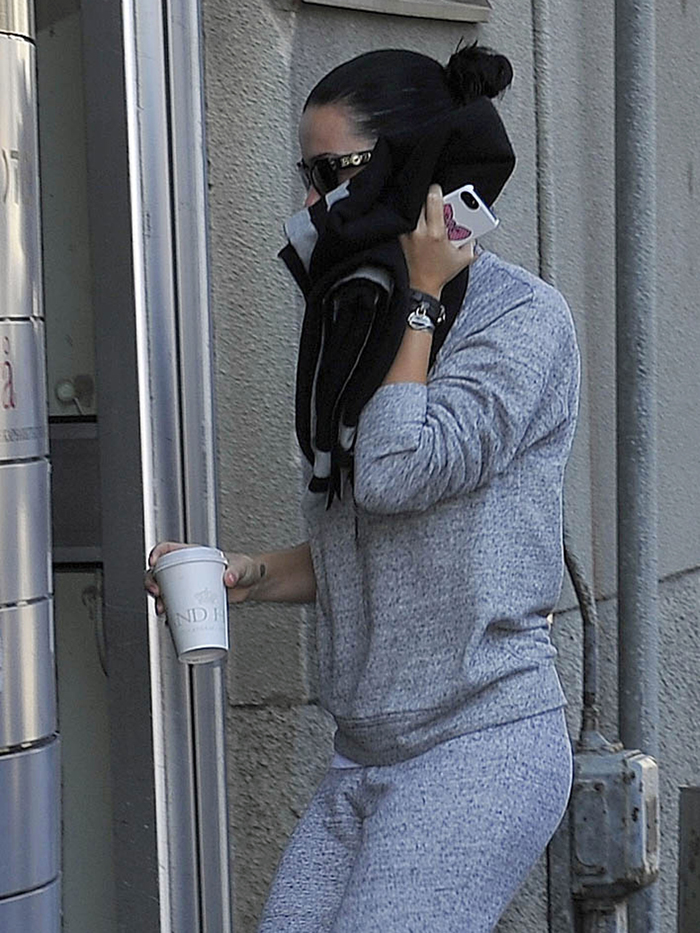 Photos courtesy of Fame/Flynet