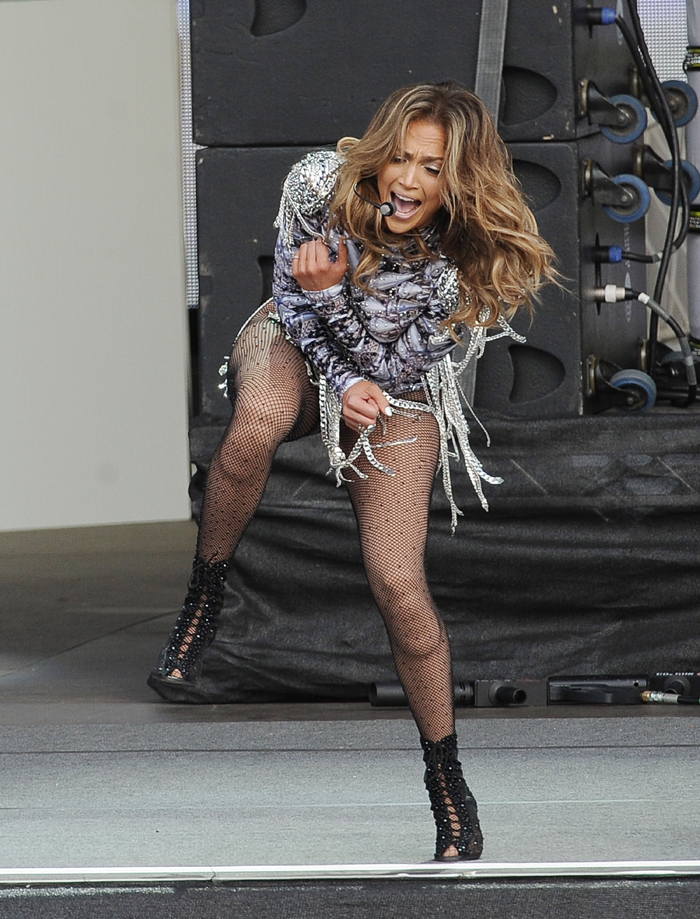 Well, I'm probably more excited than I should admit to being because we've got some brand new photos of Jennifer Lopez performing on Sunday at London's Barclaycard Summer Time festival. I really do think JLo gives an even more hilarious version of "RAWR! COME AT ME!!" poses than Beyonce performs onstage. But now onto business, which can only be accentuated by these amazingly fierce onstage photos.
At the beginning of the month, we reported that JLo had earned an easy $1.4 million by performing at a birthday celebration for President Gurbanguly Berdymukhamedov, the autocratic despot of Turkmenistan, which is described described by the Human Rights Watch as "one of the world's most repressive countries.." At the time, JLo claimed that she wasn't aware of the injustices committed within Turkmenistan, and her team's excuse was a flimsy one of blatant ignorance. Of course, JLo has a history of such behavior. In the wake of JLo's latest such performance, the Human Rights Watch urged her to make remedy: "Jennifer Lopez could make amends for this blunder by donating the proceeds to a worthy cause." Now and according to a new blistering summary report, HRW has declared that their advice was "met with silence" by JLo's camp. The organization has also taken great care to detail Jennifer's history of "serenading crooks and dictators," and I've preserved HRW's hyperlinks to sources just so the curious among you can explore just how low JLo can go: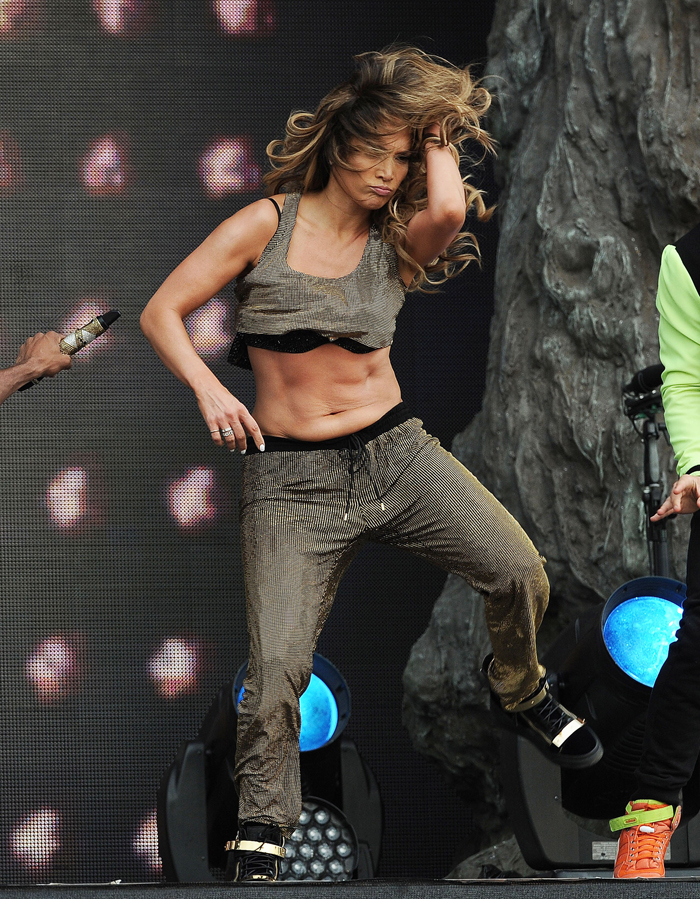 Research by the Human Rights Foundation reveals that pop singer Jennifer Lopez received in excess of $10 million for serenading crooks and dictators from Eastern Europe and Russia.

Since Jennifer Lopez's performance at Turkmen dictator Gurbanguly Berdimuhamedov's birthday celebration on June 29, 2013, the media has been saturated with stories about Turkmenistan and "J.Lo." Lopez publicist Mark Young responded to the media outrage, declaring "had there been knowledge of human rights issues of any kind, Jennifer would not have attended."

"What those covering this story have missed is that J.Lo and her management have misled her fans and the public," said HRF president Thor Halvorssen. "J.Lo has repeatedly mingled with and entertained some of the world's worst thugs and their cronies. The 'Jenny-from-the-block-who-doesn't-Google' clarification may be credible in one instance, but it beggars belief in light of a pattern of repeated behavior. This is not about ignorance, it's about greed."

* In July 2011, Lopez was paid $1 million by corrupt Uzbek industrialist Azam Aslanov to perform at the wedding of his son. One of the guests at the wedding was Chechen dictator Ramzan Kadyrov. Prior to this, Lopez was paid $1.4 million to perform at the birthday celebration in Moscow of a businessman engaged in widely reported acts of corruption: Russian oligarch Telman Ismailov.

* In September 2012, Lopez was booked by the dictatorship of Azerbaijan to perform at a FIFA soccer tournament. The fee was reportedly $2.5 million. While in the capital city of Baku, Lopez's representatives met with the dictator's wife and began negotiating a contract to put together a music festival in Azerbaijan in partnership with Los Angeles-based Creative Artists Agency. The event was initially planned for September 2013 but has been rescheduled to 2014.

* In October 2012, Lopez traveled to Belarus, the only dictatorship in Europe, where she performed a leg of her world tour. Details of her stay in Minsk and her engagements are not public record, and the Lopez team has ignored requests for comment on the matter.

* In November 2012, Lopez traveled to Russia, where she was scheduled to sing happy birthday to Alexander Yolkin, a Russian bureaucrat accused of corruption. Yolkin was arrested the day before Lopez's performance at his birthday party. Russian media claim that the reported $2 million paid to Lopez was the product of kickbacks and bribery schemes. It is not known if Lopez returned the fee.

* The claim that Lopez's performance in Turkmenistan for the dictator and his family was a "last minute request," and that the event "was not a government sponsored event or political in nature," is contradicted by both coverage of the event in Turkmenistan itself and the fact that the event was financed by the Chinese dictatorship. The China National Petroleum Corporation, an oil company owned by the Chinese regime, underwrote the event for a reported $2.5 million fee and is itself under scrutiny for human rights violations in Burma.

"The collective outrage that now follows Lopez's behavior is a categorical signal that it is not right to enjoy a free society, and then seek to profit from those who have acquired their riches from cronyism and the wholesale negation of human rights," said Halvorssen. "Performers are frequently blinded by greed and they willfully sidestep reality and become part of the public relations machinery of the world's worst people. They should be disqualified from having any moral standing to opine about matters involving human rights or business ethics."

HRF's position is that Lopez has the right to perform for whomever and wherever she is contracted, but she can hardly claim ignorance of the nature and impact of her actions as she cozies up to dictators and their enablers.
[From Human Rights Watch]
Obviously, this behavior by Jennifer Lopez is completely inexcusable, and one can only claim ignorance for so long before a clear pattern of behavior emerges. Whenever JLo is questioned about human rights conditions in the various countries where she flies-for-hire, her response is always "I don't like to talk about politics." So basically, JLo doesn't care at all what happens as long as she's raking in the big cash. Since she's technically not breaking the law with these performances, I guess there's no way she can really be punished for these misdeeds, but I really wish her fans would stop buying concert tickets as a result. Only when JLo loses monetary support from the public will she ever change her ways.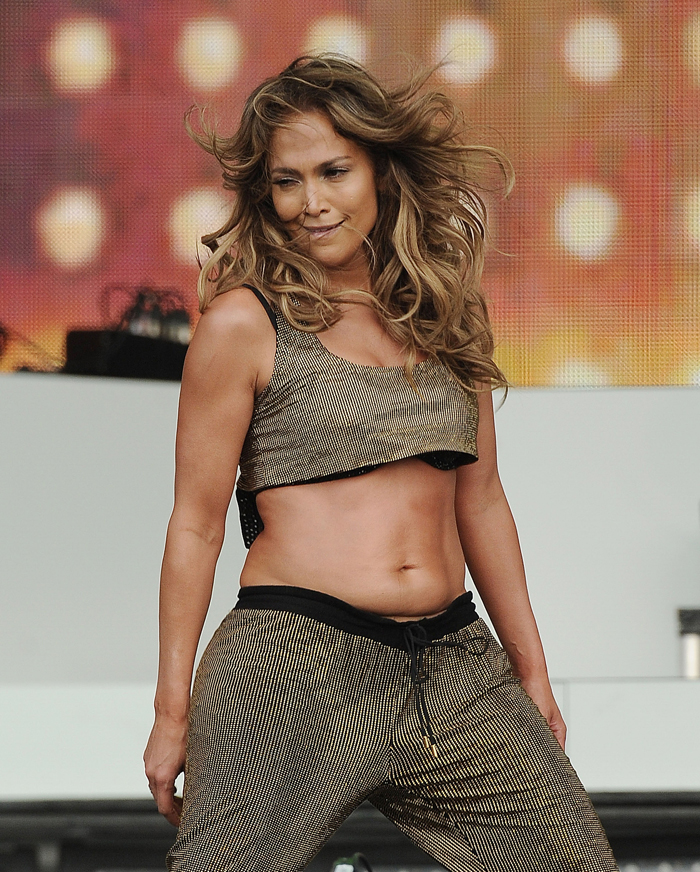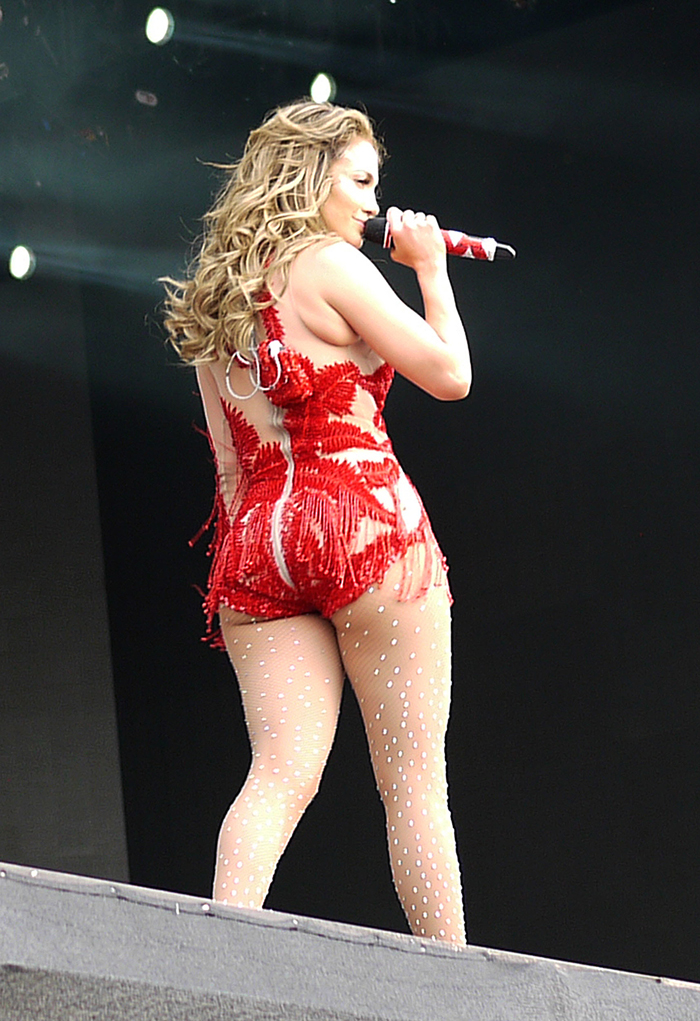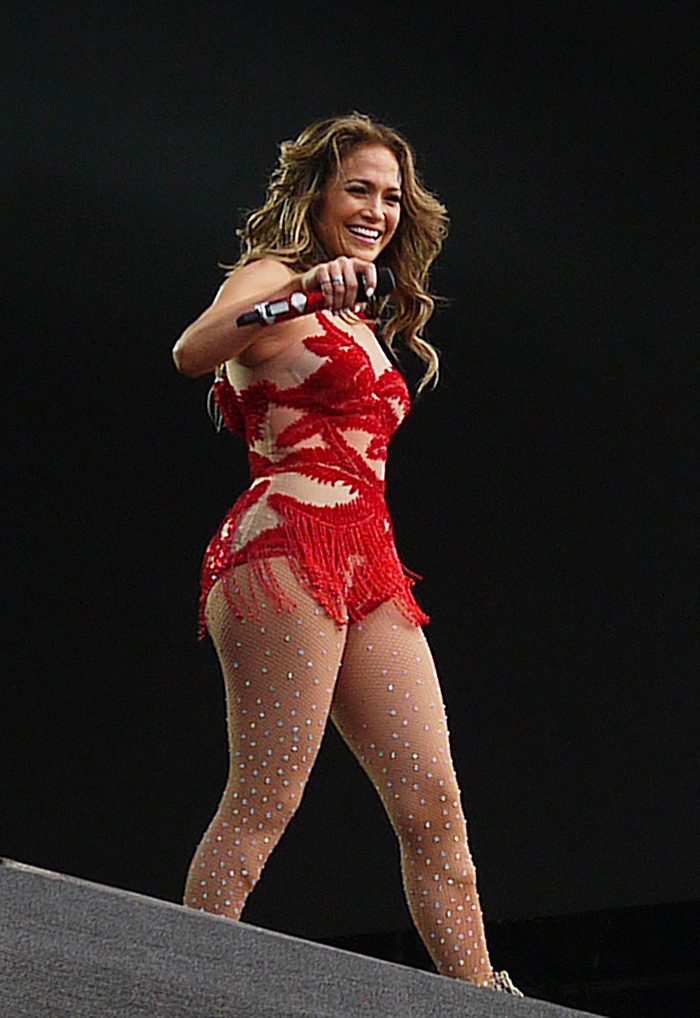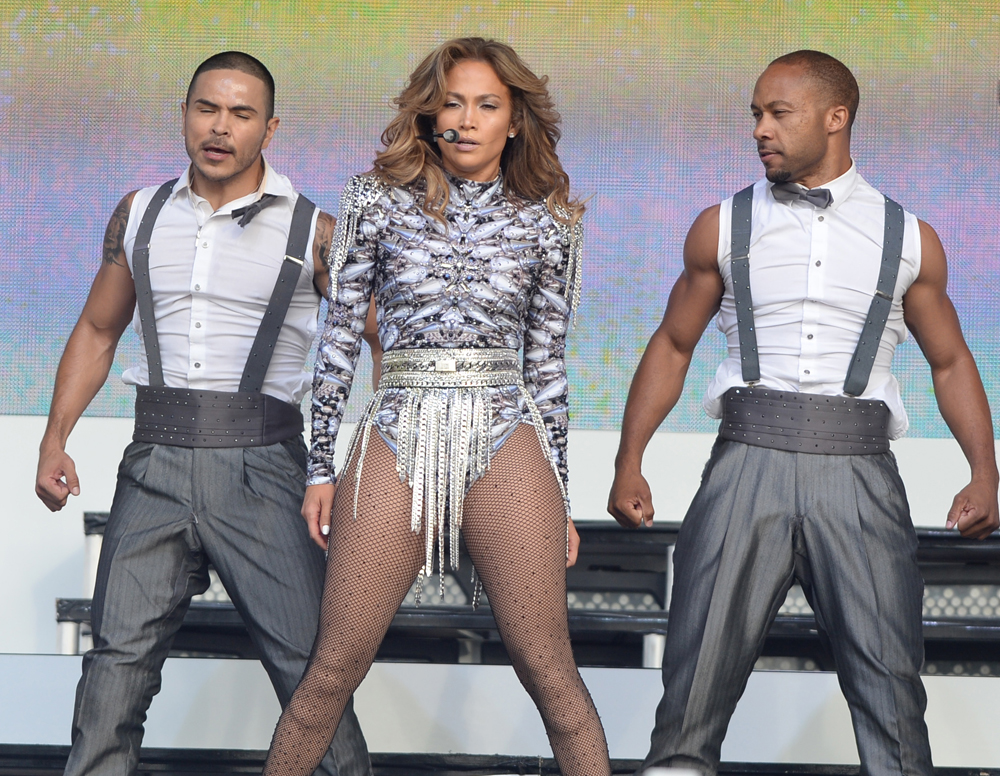 Photos courtesy of Fame/Flynet and WENN