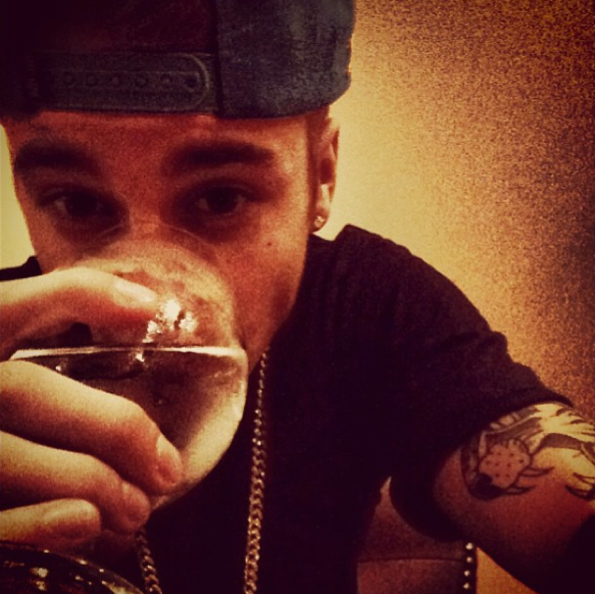 Justin Bieber is always good for a Friday laugh (especially since the above Instagram photo is captioned "sparking water is tasty"), so let's kick this off with a discussion of Bieber's tattoos. Biebs is only 19 years old, and soon his entire body will be covered to the extent where he'll look like the most wannabe Hell's Angel ever. And of course, he'll probably regret most of these pieces of "art" before he even turns 30. Because it's not like Bieber is getting cool tattoos. Nope. Instead, he's getting silly things like a little crown to symbolize how "kingly" he beliebs himself to be. Let's replay that amazing "Selena cam" photo, shall we? It's one of my very favorite pictures of the Bieb (notwithstanding the ubiquitous carseat photos):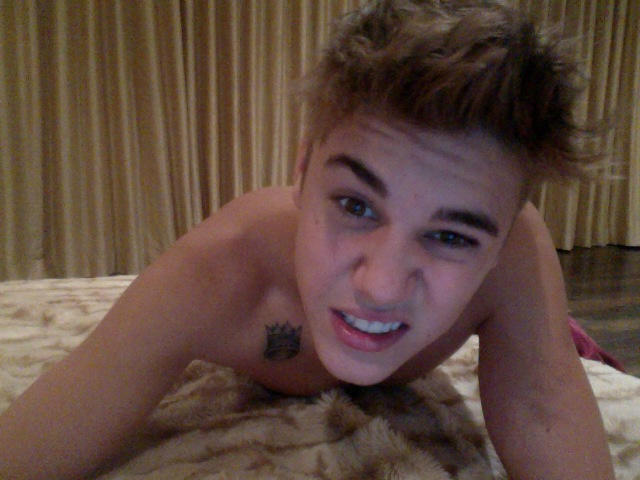 Now Bieber has a brand new tattoo, which is of a giant eye that symbolizes his mother's gaze. Bieber has captioned this photo, "Mom's always watching

." When I saw the picture, I momentarily thought lower half of the tiger king was actually a Hello Kitty face, and the thought of Biebs with a Hello Kitty tattoo didn't surprise me at all. I'm so disappointed now, but here are more details about the eye and news that Bieber and Selena are probably on the rocks again because he's banging other chicks now: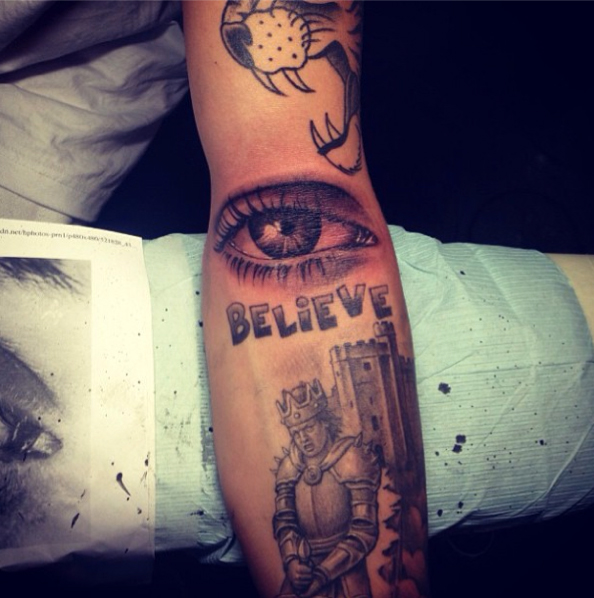 Justin Bieber had a wild night out on the town Tuesday that ended with a tattoo. The 19-year-old was spotted partying with a group downstairs at the Darby and later at 1 Oak. A Darby rep tells us, "Justin was not served alcohol, nor was anyone in his group drinking." The underage "Baby" crooner then headed to Bang Bang Tattoo, where he got his mother Pattie Mallette's eye inked on his inner arm. Tattoo artist Keith McCurdy, who gave Bieber his "Believe" tattoo a year ago, said he opened the store especially for the singer. "Justin said the tattoo was about his mother always watching over him, kind of like a protection," McCurdy tells us. "He said it hurt because it's a difficult place to tattoo, so he asked me to hurry up. He wants more tattoos. He likes realistic stuff." Bieber told him, "He got one in Sweden and he got one from a random parlor." Rihanna, Adele, Katy Perry and Bieber's flame Selena Gomez have all been tattooed by Bang Bang. We're told Bieber ended the night by bringing two women back to party at his hotel. His rep declined to comment.
[From Page Six]
What's really weird about the eye tattoo is that it looks less like an eye but more like a vagina, and the eyelashes look kind of like teeth, which creeps me out because Bieber effectively has a drawing of the mythical vagina dentata on his arm. Before you laugh at me, I'm not the only one with my mind in the gutter here. Complex even points out that the tattoo is on Biebs' inner elbow, which is a known erogenous zone. When it comes to Bieber, that's just gross.
Oh, and I'm not at all surprised that Bieber's either sleeping around on Selena, or they broke up again.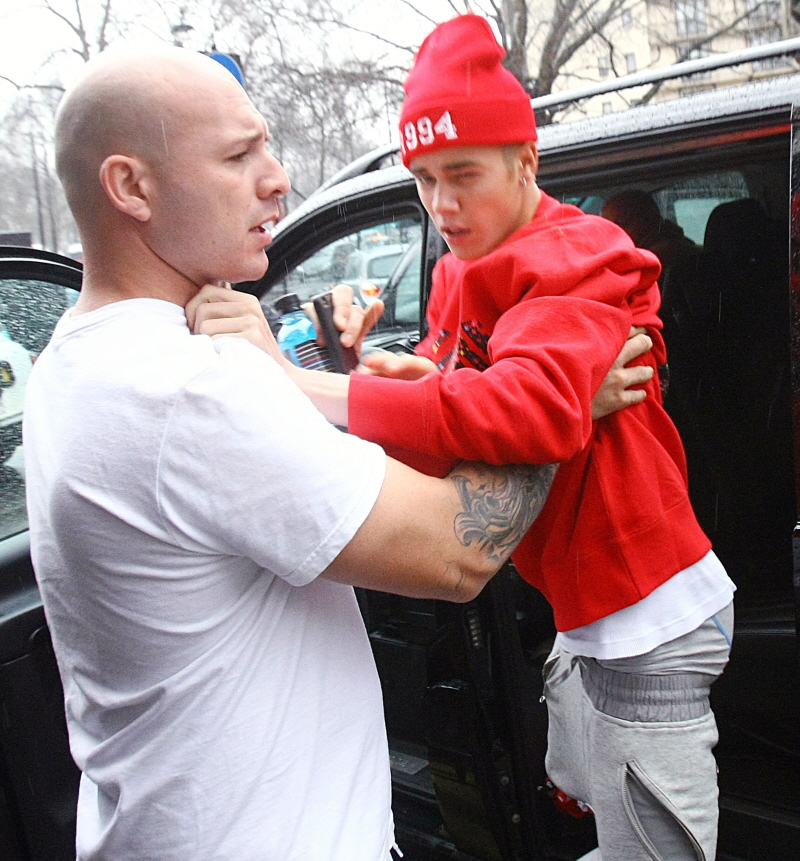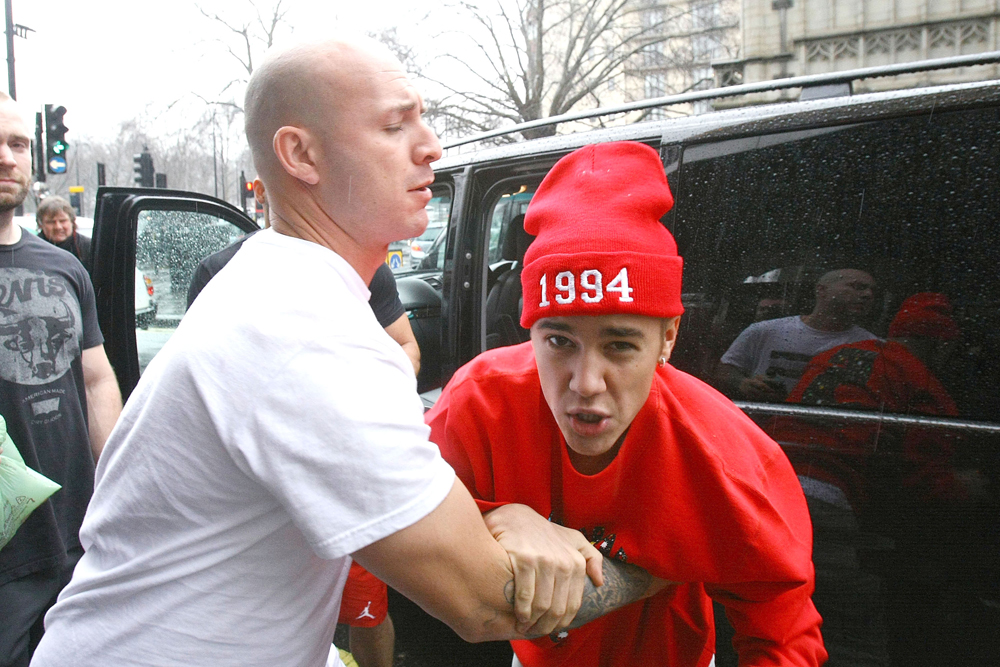 Photos courtesy of Fame/Flynet and Instagram