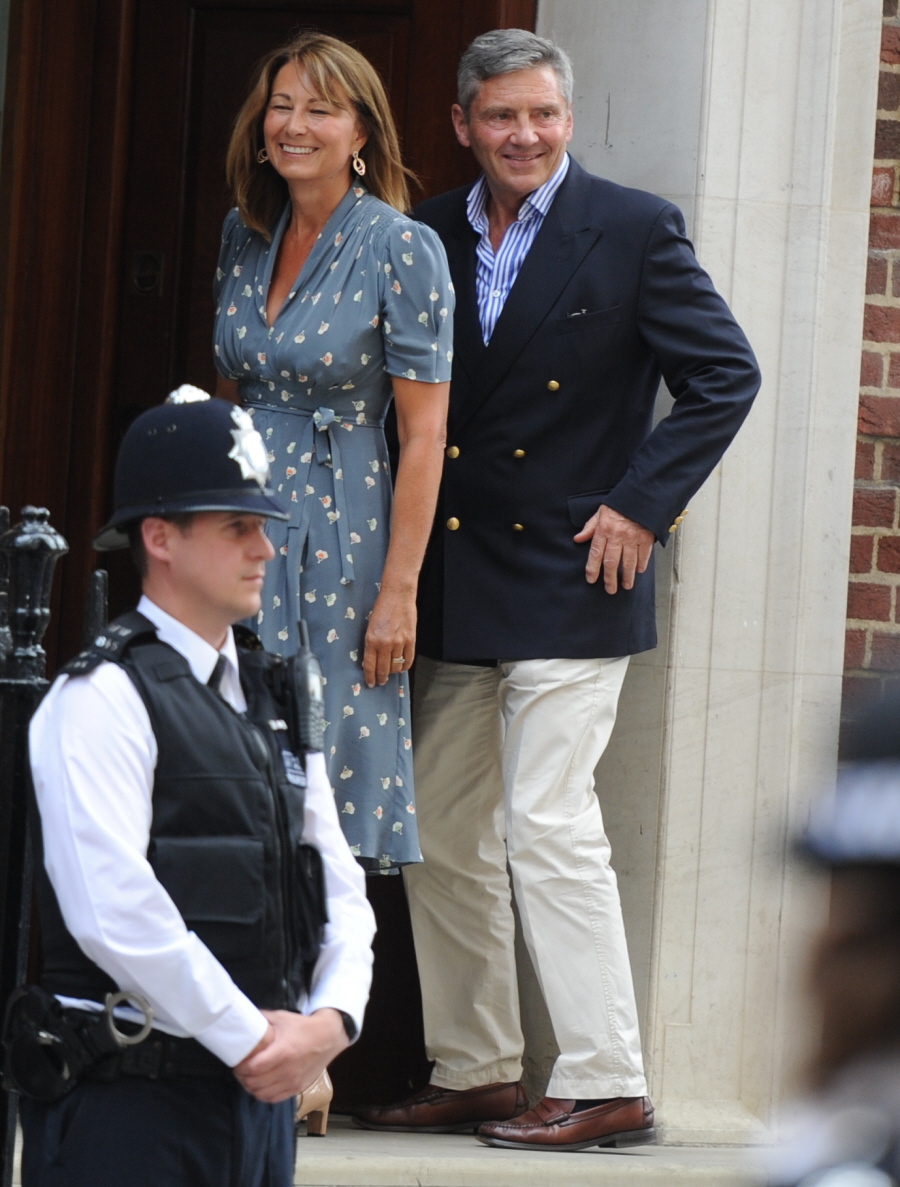 Over the past week, I've been reading the Twitter feeds of a lot of the "royal beat" journalists who were camped outside of St. Mary's. Some of them had strong feelings about the Middleton family and about royal protocol, which would have dictated that the heir's first visitors would be members of the royal family (but Charles is away from London now, so blah). These are photos of Carole and Michael Middleton arriving at St. Mary's yesterday, several hours before Duchess Kate and Prince William will debut HRH Prince Crumpets/Cambridge. Meaning that no matter what, Carole and Michael (the "commoner" grandparents) got to spend more time with the royal baby before Charles, before the Queen, and before the general public got to see him.
Day-old Baby Cambridge – whose name is yet to be announced – got his first visitors Tuesday when Kate's parents came to meet their grandson.

Michael and Carole Middleton arrived (in a cab) at the Lindo Wing of St. Mary's hospital in London – where Kate gave birth Monday – at 3 p.m. Tuesday afternoon.

Upon entering, the proud grandparents were met by Jonathan Ramsay, the lead clinician of the Lindo Wing.

A beaming Carole walked up the five steps slightly ahead of her husband as she acknowledged calls from the crowds of photographers with a smile.

Meanwhile, Michael nervously fidgeted with his navy blue blazer while following her inside.
I have mixed feelings about the "royal protocol" angle of bashing Carole and Michael for this. This is their first grandchild, and Kate is their oldest (and perhaps most beloved) child. We can theorize about Carole's Kris-Jenner-like qualities, but there's no debate in my mind that the Middletons are a very close-knit family. So, I don't have any problems with Carole and Michael being the baby's first visitors or the first grandparents to see Prince Crumpets. And they probably just wanted to see Kate and make sure she's okay too. My problem isn't with the Middletons so much as with William and Kate's insistence on waitying to announce the birth, waitying to do the first photo-op, etc. The constant delays have a petulant air.
It's especially interesting given this little detail that got buried in yesterday's Royal Baby Extravaganza – apparently, Kate insisted that William should be the only other person in the delivery room, and she actively didn't want her mom in the room when the baby was born. Not only that, Carole, Michael and Pippa didn't come to the hospital on Monday when Kate actually had the baby. This is only weird because in the reporting leading up to the royal birth, there were SO many reports that Kate wanted her mom in the delivery room and that Carole and Michael were going to be there for everything.
UPDATE: So Prince Charles just came to visit the baby too. Good. I don't know why he waited.
UPDATE: So, I'm really tired of waiting for Kate and William to debut the baby. We will have photos later today, probably.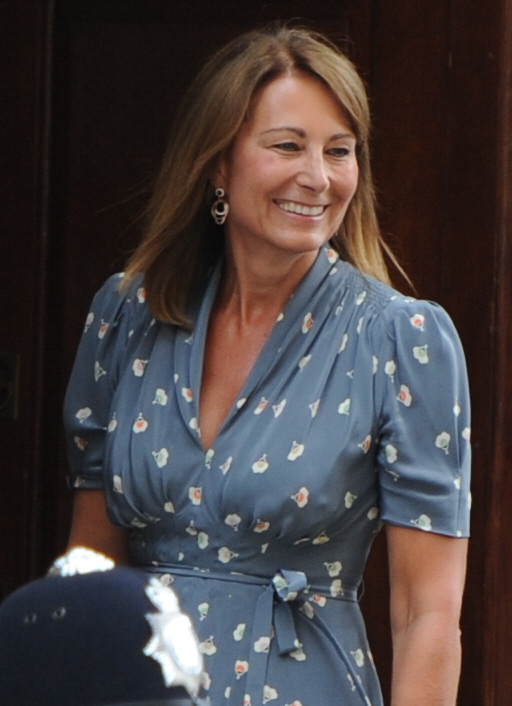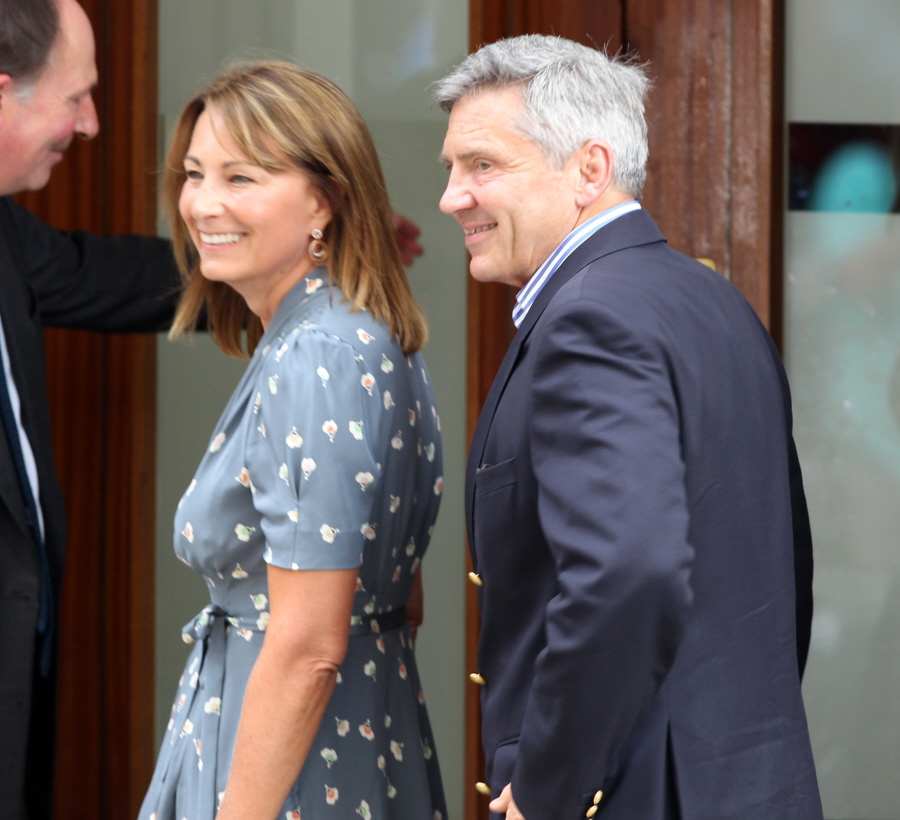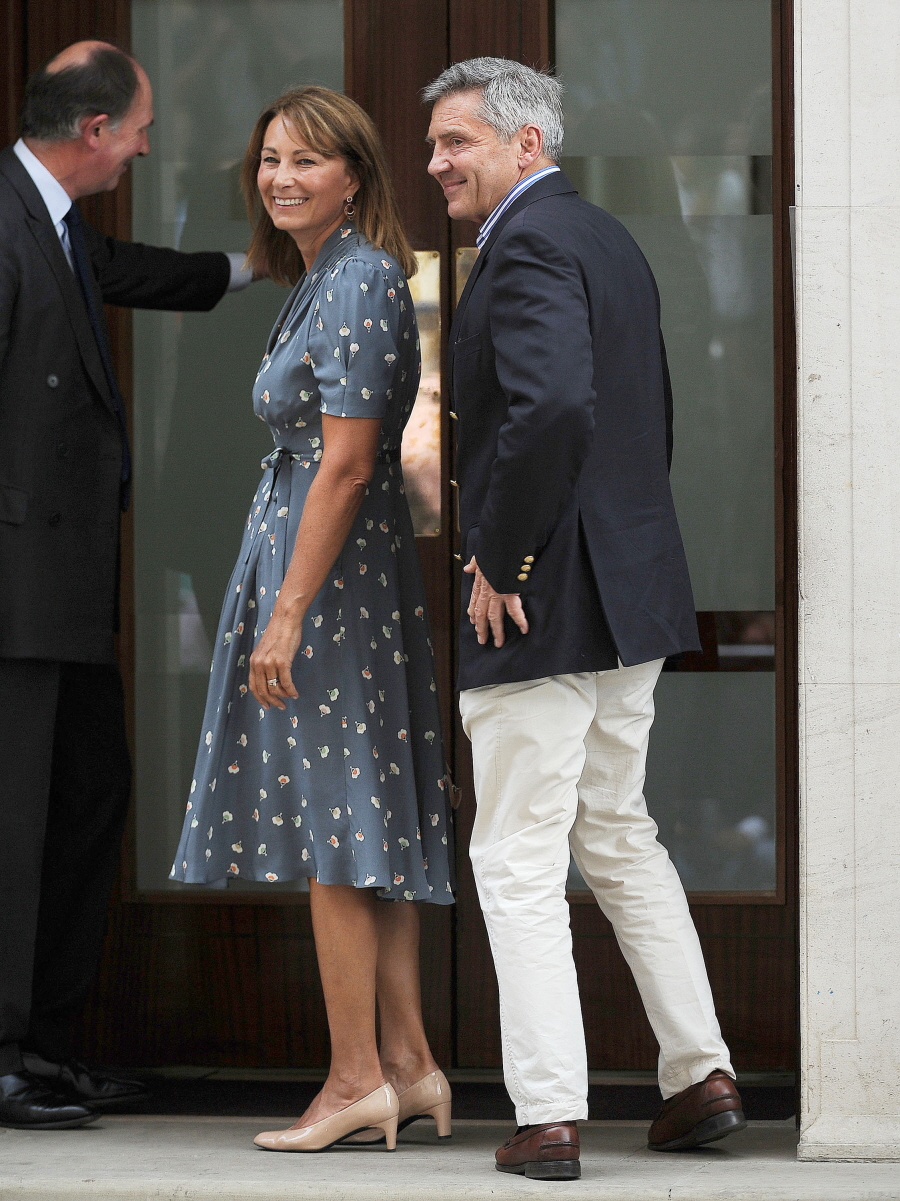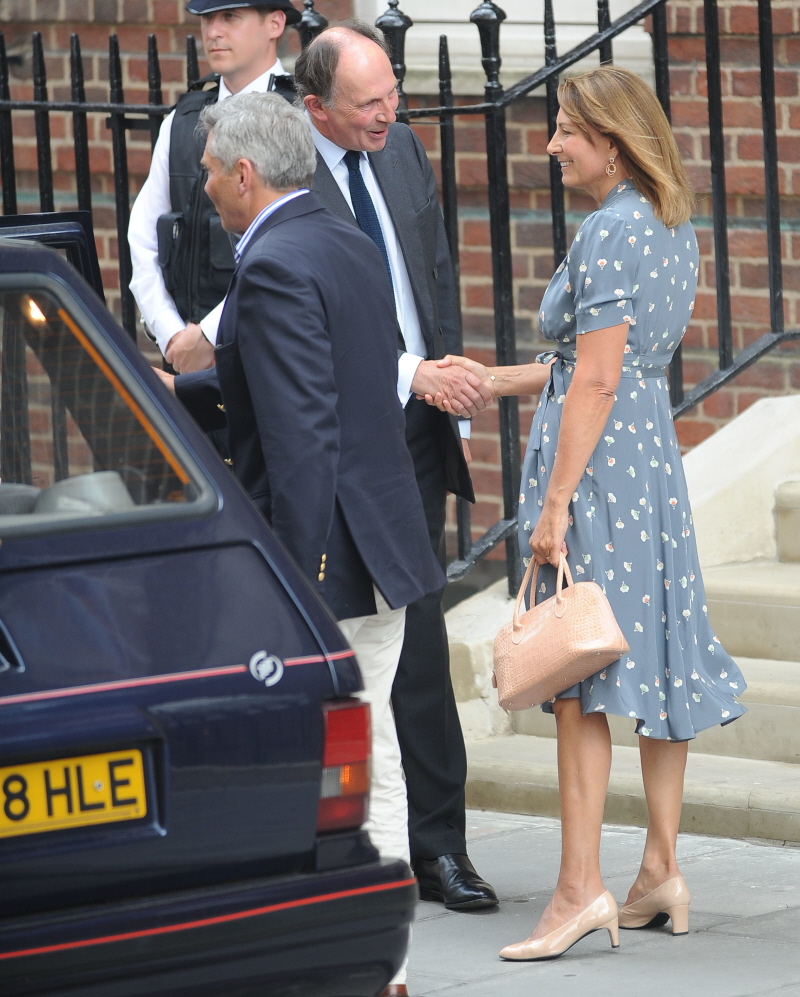 Photos courtesy of Fame/Flynet and WENN.