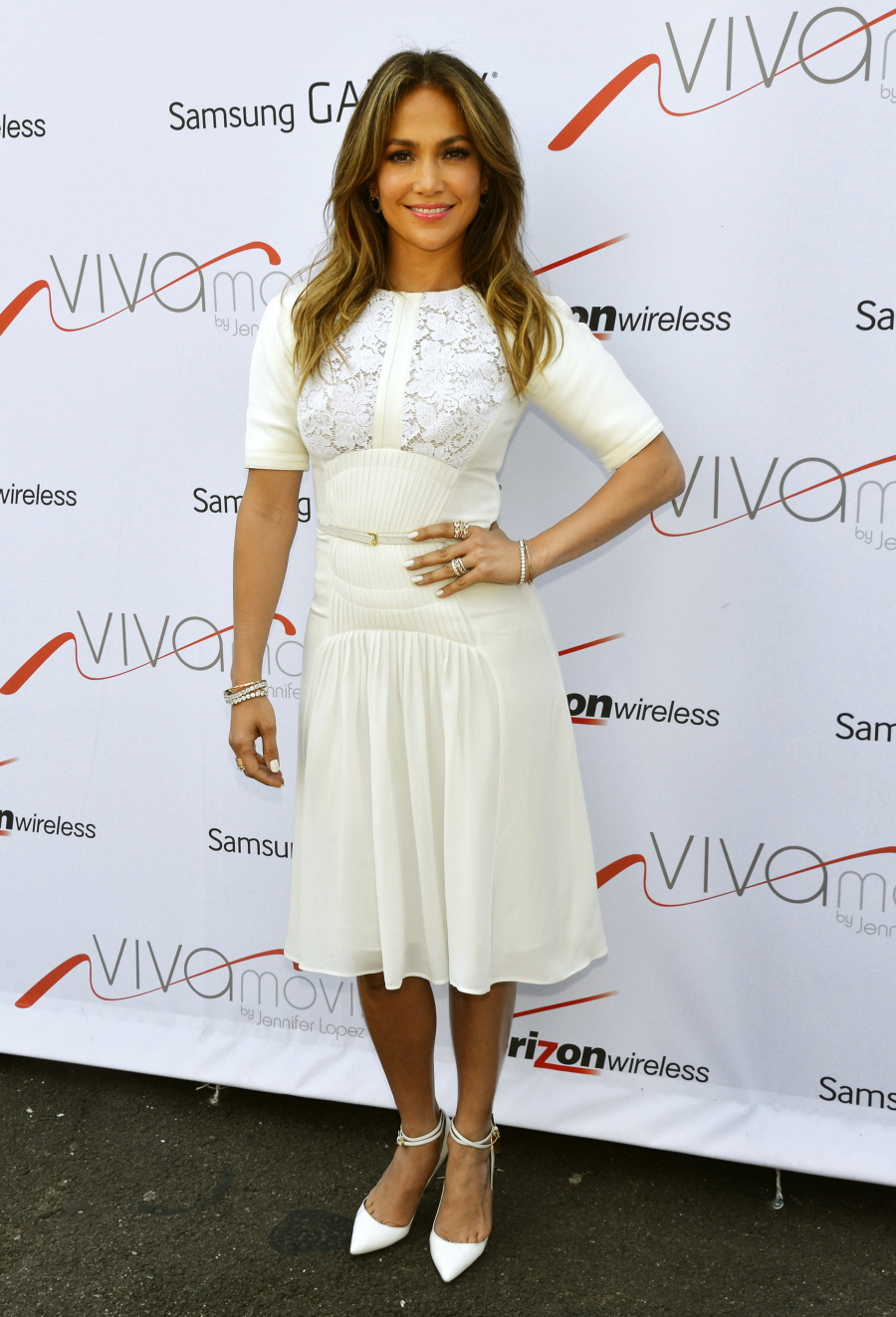 Here are some photos of Jennifer Lopez at the grand opening of her new Brooklyn store, Viva Movil, on Friday. Viva Movil is a cell phone store. Jennifer Lopez is getting into the cell phone business? Sure. It's some kind of subsidiary of Verizon, according to Wiki. For the grand opening, Jennifer wore this Elie Saab dress and Tom Ford shoes. I like this a lot. I like this on her so much. It's feminine and pretty without being cloying and immature. The white is crisp and her blowout looks good.
Jennifer turned 44 years old last week, and for her birthday, her young lover Casper Smart sent her a… tweet. Not flowers, not jewelry. A tweet. I mean, maybe he gave her more than that. But if he did, wouldn't we have heard about it? Jennifer would have run to Us Weekly or People Magazine to tell them all about her beautiful gift from Casper, or she would have just tweeted a photo of whatever he gave her. So, I think he just gave her a tweet calling her a "sexy bear". It's been almost two years for them and still no engagement. And I really think that's on Casper – he doesn't want to propose, apparently. For her birthday, Jennifer had to face another round of rumors that Casper might have proposed, but she sent out a denial through her reps about it.
Meanwhile, did you know that American Idol producers want her back? She left the show in 2012, allegedly because of Casper's urging – he wanted her to go on tour and go back to being a full-time diva or something. So Idol got Mariah Carey, and I think we can safely say that Mariah was a total disappointment in every way – she didn't bring in ratings, she was a barely coherent judge, and no one really cared about her beef with Nicki Minaj. So Idol wants Jennifer Lopez to come back. But now there's an issue with the money.
The behind-the-scenes reboot of American Idol is starting to pick up steam. A source tells The Hollywood Reporter that the Fox show is closing in on its season 13 judges lineup. At the top of producers' wish list: singer, actress and mini-mogul Jennifer Lopez, who was a judge on Idol for two seasons, in 2011 and 2012.

But talks between producers and Lopez's representatives seem to have reached an impasse over — what else — money.

While on Idol, Lopez earned an estimated $15 million per season. It was reported that her successor, Mariah Carey, got $3 million more than that. No doubt Lopez's manager Benny Medina, who, another insider says is "pushing hard to do a deal," is asking for a hefty pay raise for Lopez. (Also worth noting: Midway through Idol's lackluster season 12, producers approached Lopez's team with a plan to replace Carey with Lopez.)

Meanwhile, Idol also is talking with season three alum-turned-Oscar winner Jennifer Hudson, who has long been believed to be close to finalizing a deal. Keith Urban, the well-liked country star and season 12 judge, looks set to return, and the show might add Will.i.am, who spent the last two seasons as a coach on the U.K. version of The Voice (though a source says the Black Eyed Peas frontman still hasn't decided if he's returning to The Voice). Dr. Luke, pop hit-maker (Kelly Clarkson's "Since U Been Gone," Katy Perry's "Teenage Dream") and newly minted label head (his Kemosabe Records is a joint-venture with Sony Music), was also in the running, but a source says Idol has cooled on him.

Even at this late stage — auditions for season 13 of Idol are taking place now, with some 8,000 turning out for try-outs in Detroit; the next stop is Friday in Atlanta — the new powers-that-be seem to be wavering. J Lo makes sense in light of the fact that new executive producer Per Blankens, who came over from Swedish Idol to take over for longtime EPs Nigel Lythgoe and Ken Warwick, is "looking for big names" to fill out the panel. The Swede's thinking: this is "American" Idol — the biggest of the franchise. The judges should be the same.

On the other hand, a salary north of $20 million for four months' work would set a bad precedent in a TV sector that's seen ratings nosedive of late. Idol's season 12 finale, for instance, only saw 14.3 million people tune in, down from 21.5 million the year before. That drop of more than 40 percent contributed to the show's lowest rated finale ever and the first time since the series launched in 2002 that it didn't hit 20 million viewers.

Among the other ideas floated is an all-alumni panel. Sources say Blankens and newly arrived producers Jesse Ignjatovic and Evan Prager — whose experience producing live television events like VH1's Divas special and the MTV Video Music Awards is seen as a major asset for the reboot — have somewhat soured on the all-alumni idea. Still, as recently as two weeks ago, another sources said talks with Adam Lambert were ongoing. The season eight fan favorite has said on multiple occasions that he would be "thrilled" to join if asked.

Veteran judge Randy Jackson said before the season's end that he won't return in 2014, as have Carey and hip-hop star Nicki Minaj. Reps for Lopez and 19 Entertainment did not respond to THR's request for comment. FremantleMedia, which produces Idol, and Fox would not comment.
Jennifer Hudson would be a decent addition, and I think if Jennifer Lopez does sign on again, the two Jennifers would probably get along really well, don't you? So maybe instead of manufacturing stupid girl drama, we would see how two professional women get along. That might be nice. People seemed to like Keith Urban, and I don't hate the idea of Keith continuing in this vein. Idol producers must be kicking themselves that they haven't found some fan-favorite country artist like Blake Shelton (who is currently the biggest name on The Voice). They could always hire… lol… LeAnn Rimes. She could fill the "crazy" quotient left by Paula Abdul, and I bet LeAnn would do it for $10 and a pack of gum.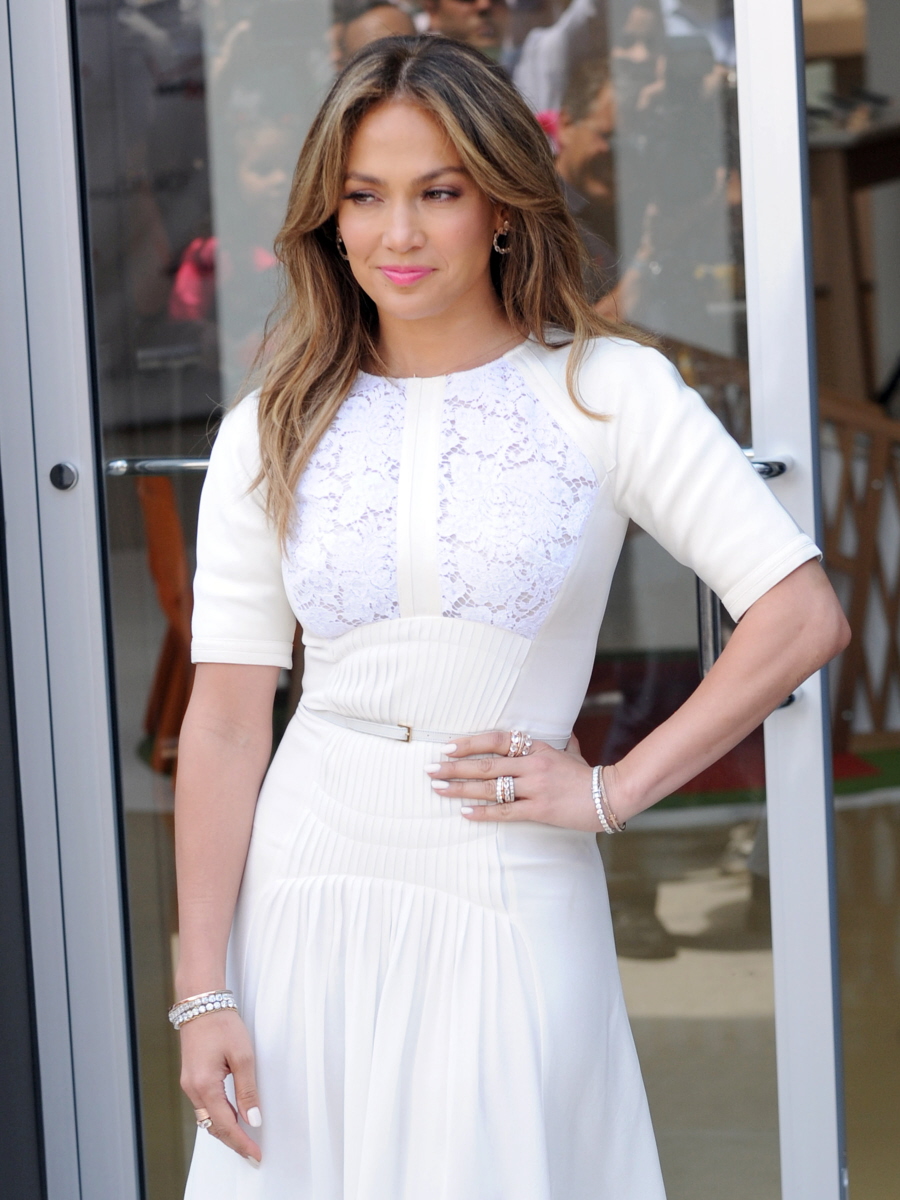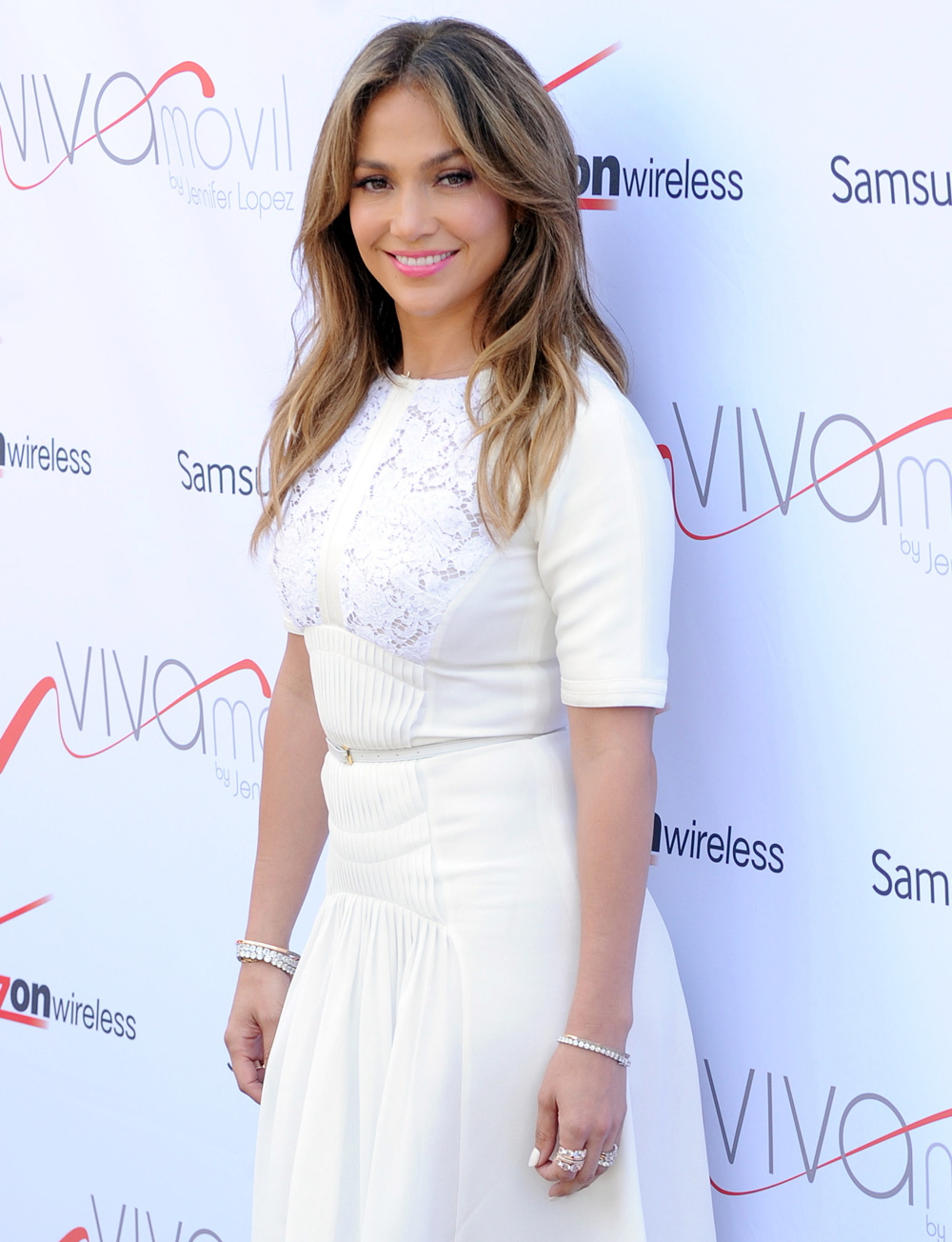 Photos courtesy of Fame/Flynet.