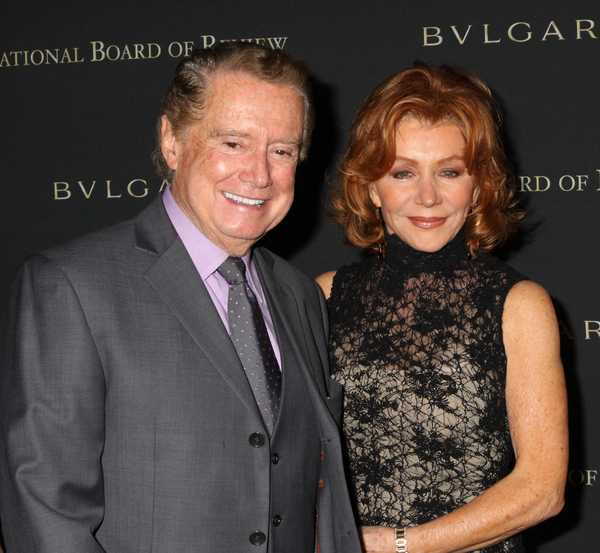 Three weeks ago, we ran a story that originated in the National Enquirer that claimed that Regis Philbin was not providing assistance to his disabled son and daughter-in-law, who were reduced to borrowing money from friends in order to buy groceries. Danny Philbin is Regis' son from his first marriage, and is bound to a wheelchair due to a spinal cord birth defect and an amputation made necessary by his condition. Danny is college educated and used to hold a job at the Pentagon, but had to move to California and give up his job after his mother in law was injured in Hurricane Katrina and needed a drier climate. He gets by making handcrafts like light switch covers and selling them at craft fairs, but it costs money to rent booths that he can no longer afford.
We had a lively discussion on that Regis thread when a man claiming to be Danny chimed in and talked about how his relationship with dad Regis is strained. Given the commenter's tone, the information he shared, and the fact that his IP address was from the exact area that the Enquirer said he lived, I believe it was Danny Philbin. Danny said that he and his wife didn't approach the Enquirer to sell their story and that the Enquirer contacted them after seeing a local story about it. He also said that while his father will give him money occasionally, he doesn't like to go to him as their relationship is strained:
this Enquierer thing grew out of an article in my local paper about wheelchair inaccessibility where I was trying to get employed by an "Equal Opportunity Employer." The Enquirer got hold of the story, called us, and we told the truth. My father helps me, but it hurts me to ask him for more when Ineed it.. I cannot handle his demeanor when asking for some extra help. We asked not out of "want," but "need." Think of me what you will; my wife and I have to have, at least, our medications. Oh, neither the TV stations, or anyone else, wants to piss Regis off. They haven't called me and I will not put more strain on the relationship btwn me and my father. He does and has done plenty for me, all I asked for was some extra help.
[Comment on Celebitchy from guy claiming to be Danny Philbin, IP address makes this seem likely]
According to the latest edition of the National Enquirer, Regis has helped Danny out. Danny's wife, Judy, claims that Regis and his wife Joy contacted them after reading the article. Regis supposedly wasn't aware of Danny's difficult circumstances and of course the multi-millionaire takes care of his own:
After seeing the Enquirer article, Regis promised to take care of the couple's mounting financial problems, Judy says.

"That God, Regis and Danny have reconciled," said Judy Philbin. "The story in the Enquirer about our difficulties made all the difference.

"Regis and his wife Joy read about our desperate situation and reached out to us.

"Regis said, 'I had no idea things were so bad until I read The Enquirer story.

"'Danny knows I love him. Why didn't he just call me?'

"All I could tell Regis is that Danny felt so angry and upset about his job situation and the difficulties in his life that he found it hard to communicate with is father. Danny felt hurt and angry, and blamed some of it on his dad.

"But now – knowing Regis loves him and stands behind him – Danny is feeling much better."
[From The National Enquirer, print edition, January 26, 2008]
The guy claiming to be Danny who commented here was pretty abrasive and got defensive and personal with some commenters, which made it seem even more likely that it was really him. He said after working for government there was no way he would apply for disability or supplemental security income as he didn't want a handout. It looks like his dad has stepped in to help him out at a time when he really needed it. A lot of families have long standing feuds and it's hard to judge from the outside what's going on. Many commenters vilified Regis for not supporting his son, but there's probably a lot more going on in that relationship that we don't know about.
Regis and Joy Philbin are shown at the National Board of Review on 1/14/09. He is also shown below on 11/5/08. Credit: PRPhotos