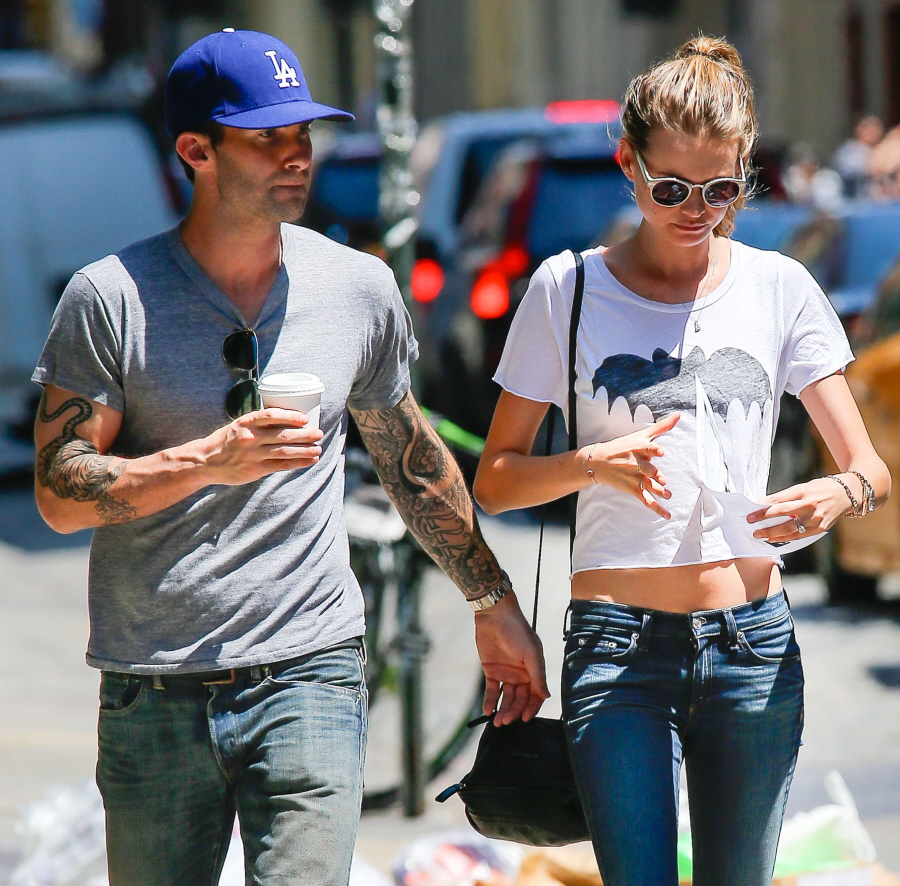 By now, we all now HOW Adam Levine and Behati Prinsloo got engaged. First they broke up, then he started dating Nina Agdal, then he dumped Nina via text and got engaged to Behati two seconds later. So, these are some photos of Adam and Behati out and about in NYC on Monday. They were going apartment-hunting. Behati was wearing her ring, although I couldn't find a really high-quality photo of it (you can see an HQ one here), so I just had to crop one of these photos: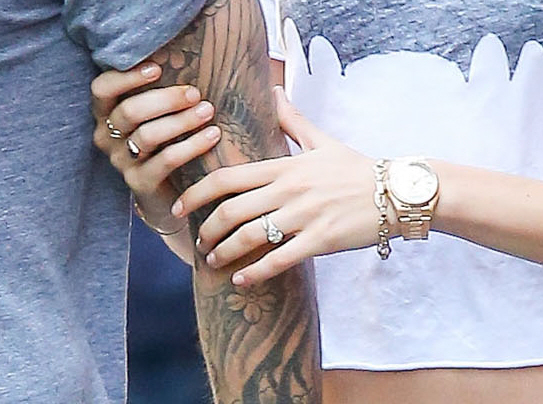 It looks nice – not too big, not too small, it looks nice on her hand, etc. It also seems like she's wearing it with some kind of band too, right? Damn, did they already get married? Probably not. But Behati is all about this engagement now:
Levine popped the question with a vintage sparkler over the July 13 weekend in L.A.

"It was a surprise," Prinsloo, 24, gushed to Us Weekly at the July 18 launch party for the new Victoria's Secret fragrance in New York City. "It hasn't even sunk in yet! Last night, I forgot I slept with my ring on. I woke up and went, 'Oh, hello!'"

The Voice mentor's pals are just as stunned about the quickie proposal, given that he split with Prinsloo in March and had been dating Sports Illustrated model Nina Agdal, as recently as June.

"His friends are dumbfounded," a Levine insider says in the August 5 issue of Us Weekly (on stands now). "Everyone thought he and Behati were done!" But according to a Prinsloo pal, the recently reunited couple "never stopped talking."

(Levine, 34, told Agdal, 21, about his engagement to Prinsloo via text message. "Adam just went M.I.A. on Nina and stopped answering her calls," a source said.

For now, the betrothed stars are content to simply enjoy this phase of their relationship. "We haven't talked about any wedding plans," Prinsloo said of Levine. "We're just so excited in the moment."
"Adam just went MIA on Nina and stopped answering her calls." I hope Behati is paying attention. Because history does have a way of repeating itself, especially when it comes to douchebag rock stars and their ladies. Of course, Behati might already know this – after all, Adam already dumped her and started up with Nina two seconds later, only to dump her and get back with Behati. So maybe Behati was already the recipient of Adam "going MIA". And personally, it wouldn't surprise me at all to learn that Adam would easily go MIA on Behati if Anne V came back to him. This is ALL about Anne V.
Also, my lord, Behati is SO skinny.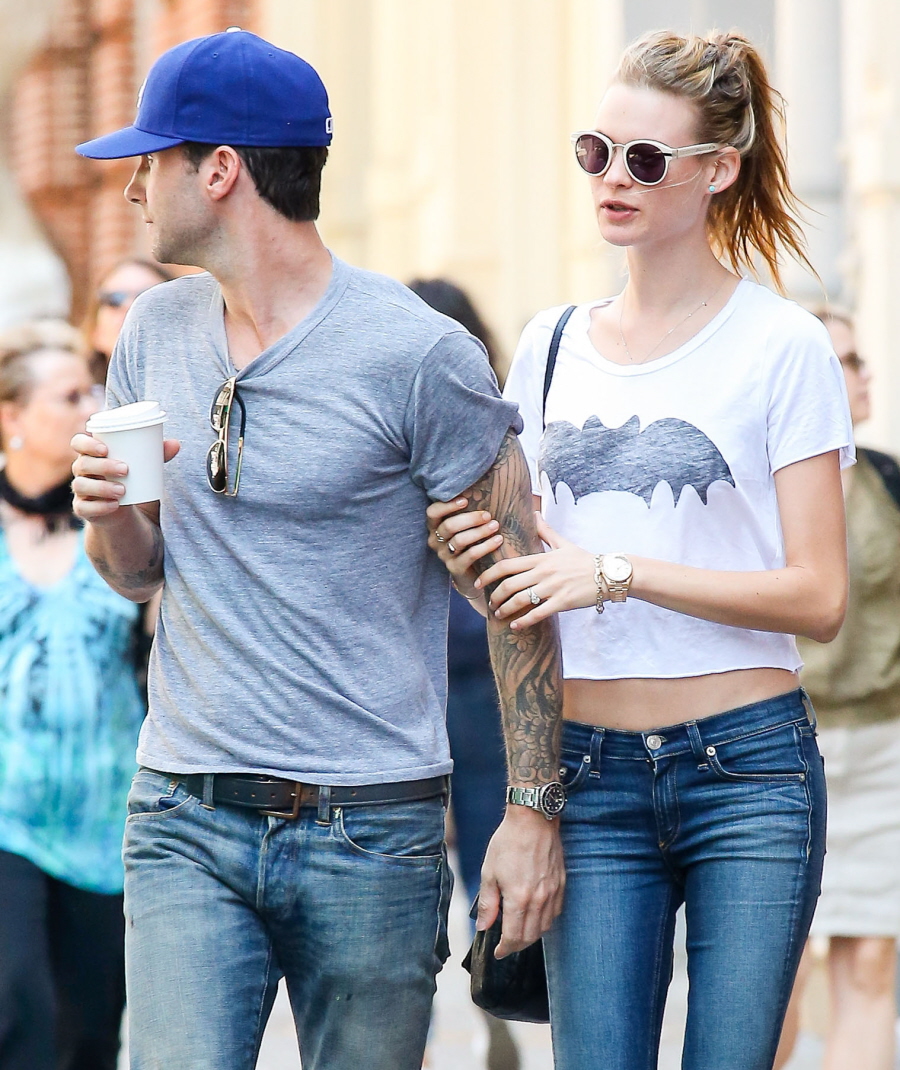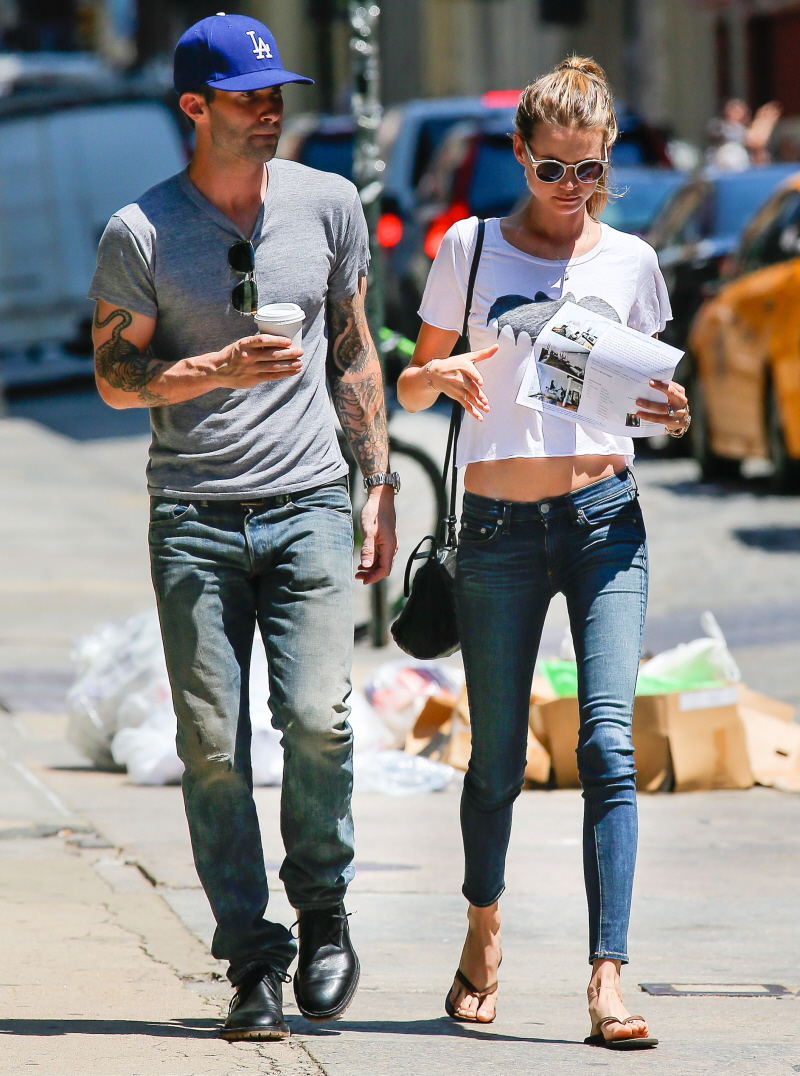 Photos courtesy of Fame/Flynet.