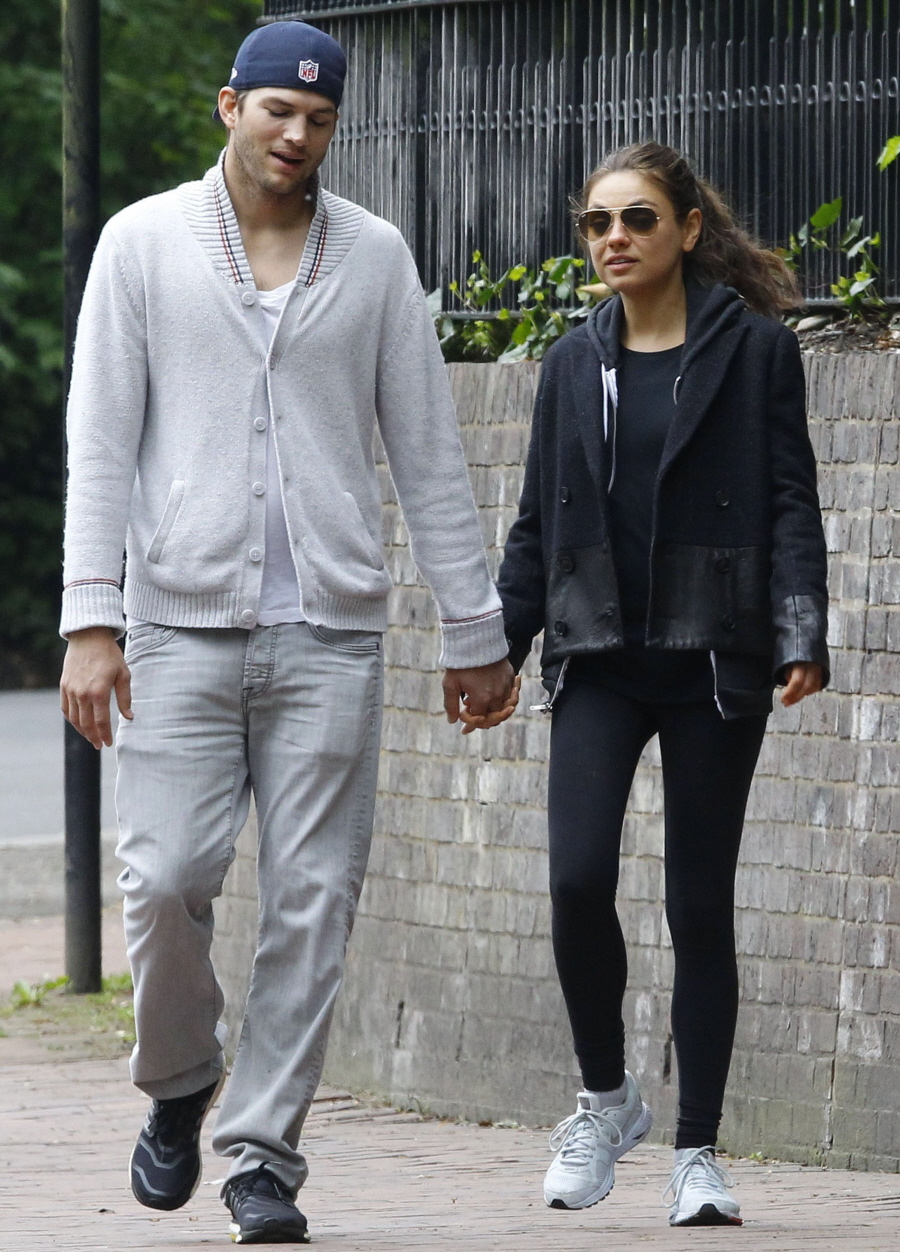 What is the point in the relationship when you absolutely need to have the conversation about babies? I would say it's definitely not first date or even third or fourth date material. I would put the Baby Conversation around the time when you first exchange "I love you." And I'm not talking about the one line here or there of "Yes, I would love to be a mother/father, now should we order Chinese food?" I'm talking about the actual conversation, the plan of where you see your life going and whether it involves kids and how that will happen, etc. The conversation should definitely happen before you move in together.
So, Mila Kunis and Ashton Kutcher live together at this point. Although… I bet they still have their individual homes, because that just seems to be how celebrities do it. But they've been together more than a year, their lives are intertwined and they spend time with each other's families and they are joined at the hip. So they should have had the baby conversation by now, right? Star says that Mila only recently told Ashton that she's not all that interested in having babies in the next five years. Huh.
Ashton Kutcher and Mila Kunis are not only not on the same page when it comes to their future – they're reading entirely different books! Ashton and Mila are at odds with Mila's recent revelation that she doesn't want to have kids anytime soon, while Ashton is desperate to become a dad.

"Mila still has a lot she wants to do careerwise," states a pal. "She told Ashton that he'd have to wait at least five years."

Because of the shocking news, Ashton is rethinking the entire relationship. "He's devastated," continues the source. "It was one of the biggest issues he had with Demi and part of the reason he wanted out."

Now that Mila has revealed the truth, insiders say the couple's future is unknown. "They had a huge blowout fight… he was set to propose and even looked at rings, but he isn't as excited as he was before. It's not looking good."
[From Star Magazine, print edition]
Of course, it could be BS. It probably is. Months ago, the tabloids were even claiming that Mila would get knocked up before Ashton and Demi Moore's divorce came through (it's still going on, isn't it?). And personally, I always kind of thought that Mila would get pregnant sooner rather than later, but you never know. Mila is only 29. It would also make sense that she would think "Oh, I've got time, right now I need to focus on my career." And since I know someone will come along and scream "It's her body, her choice, blah, I hate you!" let me say that of course it's her body, her choice and if she doesn't want kids for five more years, that's fine with me and none of my business. I only judge people for doing the bait-and-switch – like, if Mila had been telling Ashton she wanted to get pregnant right away and then suddenly she was like "Oh, no, wait five years." Then I would judge.
The Enquirer also has a weird/funny story about Ashton getting really jealous of Channing Tatum – Channing and Mila are working together on Jupiter Ascending, and it seems like they have a flirtatious and fun relationship. And Ashton is jelly. Of course he is. Channing's career is going like gangbusters and Ashton's career… isn't.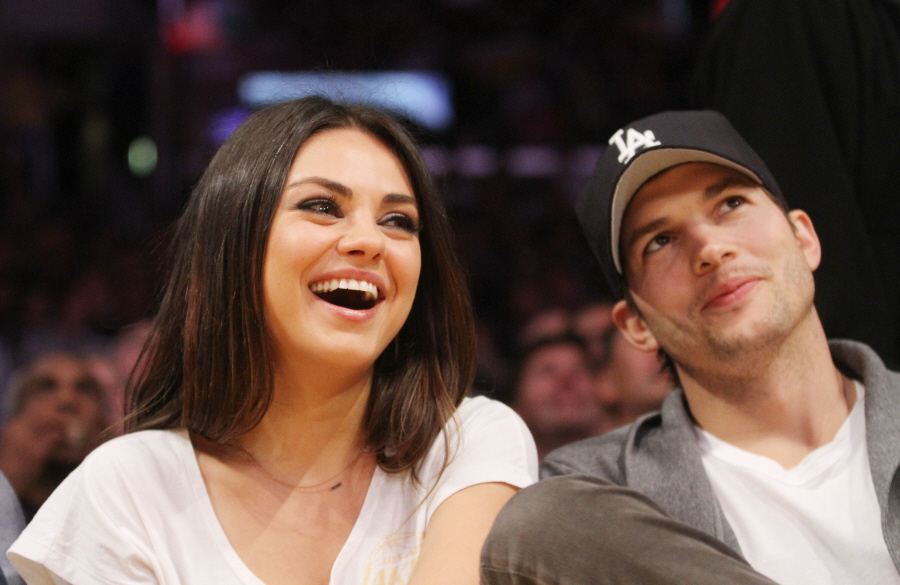 Some photos of Ashton going solo at the 'Jobs' premiere two nights ago. What's up with his belt?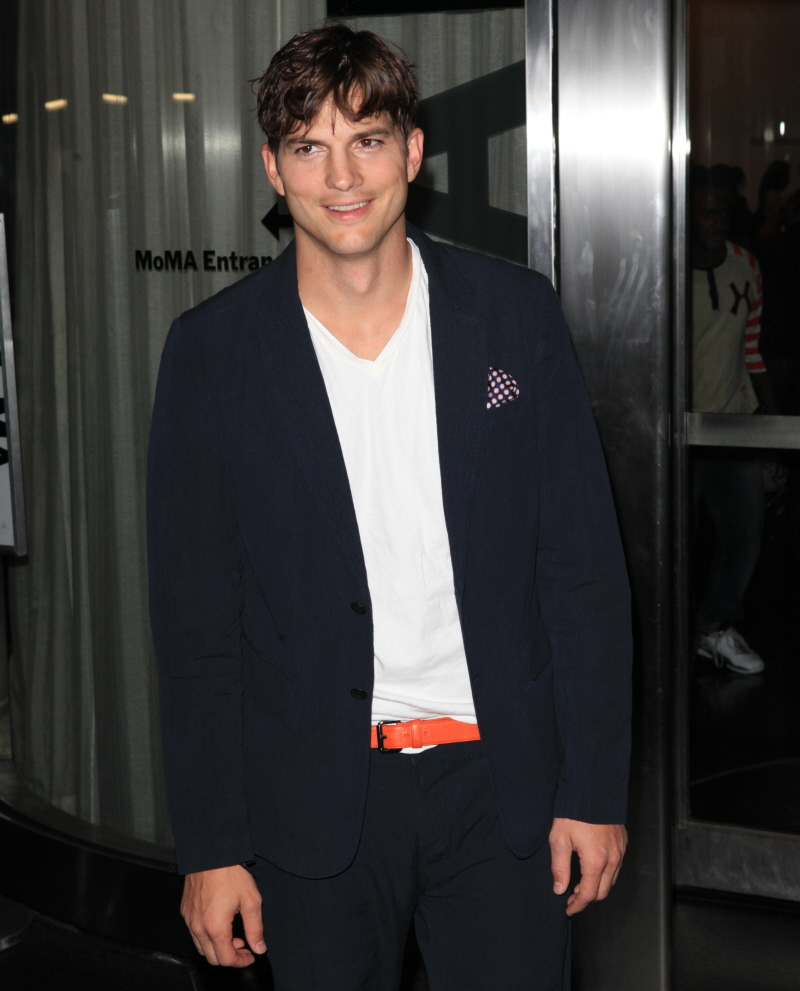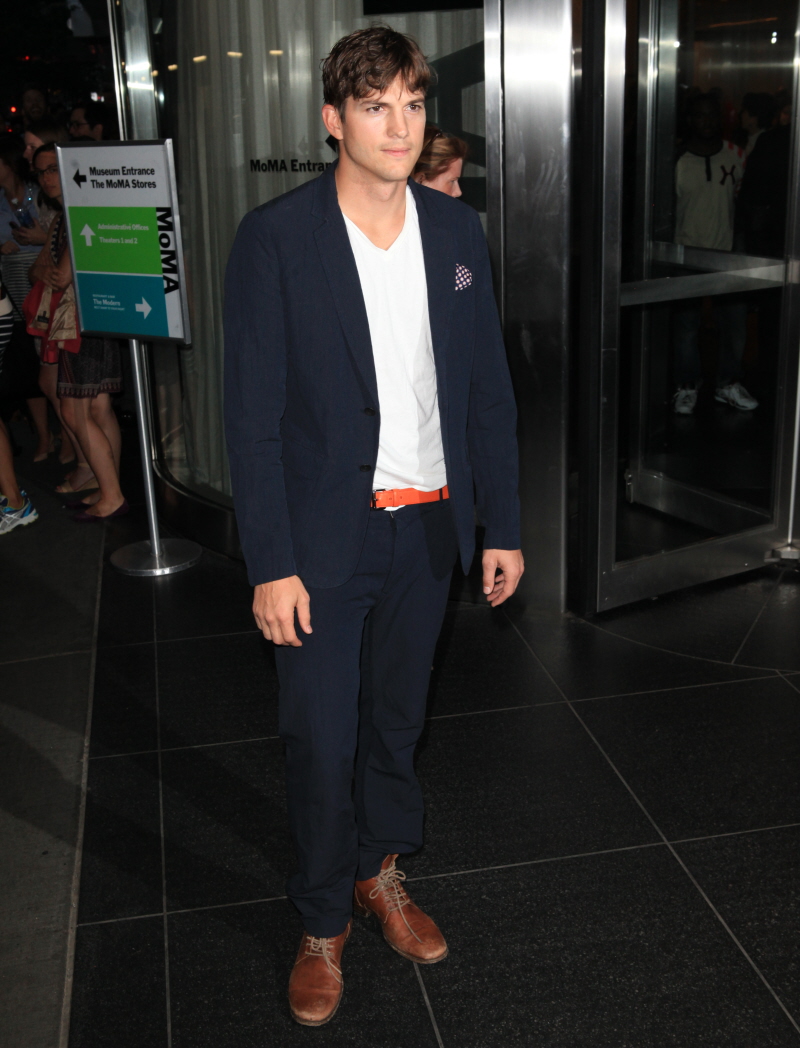 Photos courtesy of WENN, Fame/Flynet.