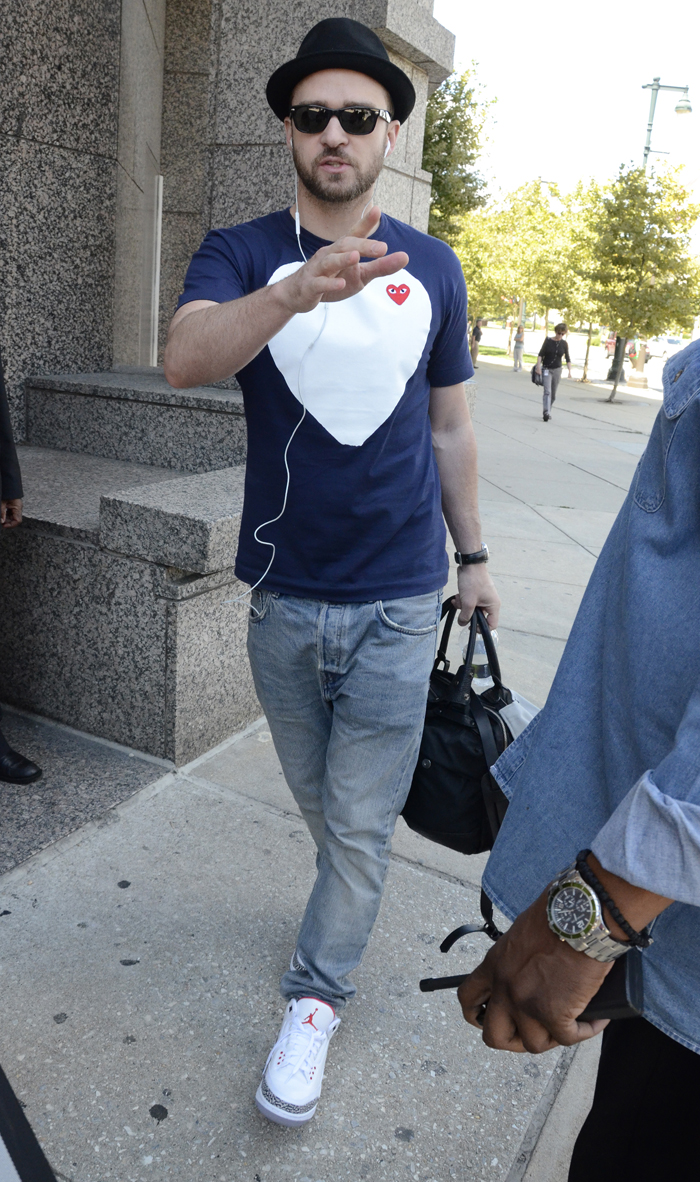 These are pictures of Justin "My Music Career Hangs Over Me Like A Cloud" Timberlake outside his Philadelphia hotel last week. I feel the inexplicable need to apologize on behalf of JT for douching up one of my favorite cities (Philly forever!). Naturally, Justin was wearing one of the dual-heart t-shirts that is meant to signify his current tour with Jay-Z.
That detail brings me to a point that I attempted to make the last time I discussed how Justin resented returning to his music career because — let's face it — what he really wants to do is act. Poor JT is such an industry cliché that he doesn't even realize it. I've been keeping tabs on him since he signed onto The Social Network, and my armchair diagnosis is that JT felt spurned by the fact that Jesse Eisenberg received an Oscar nomination for that movie while he was utterly forgotten. After all, Justin was piddling along with "SNL" appearances and bit roles in substandard films for a few years, but he figured that good ol' David Fincher would score him his much deserved Oscar nom. It turns out that Oscars have (arguably) higher standards than Grammys.
So Justin sighed heavily. And then he returned to music with a lackluster, substandard album called The 20/20 Experience, which was far below the level of his 2006 release, Future Sex/Love Sounds. Because we forced him do so in order to continue to earn millions of dollars. And then he toured with Jay-Z. Because we made him do it.
Now Justin must be feeling truly desperate because he's agreed to perform a reunion with his former NSYNC members at the MTV VMAs: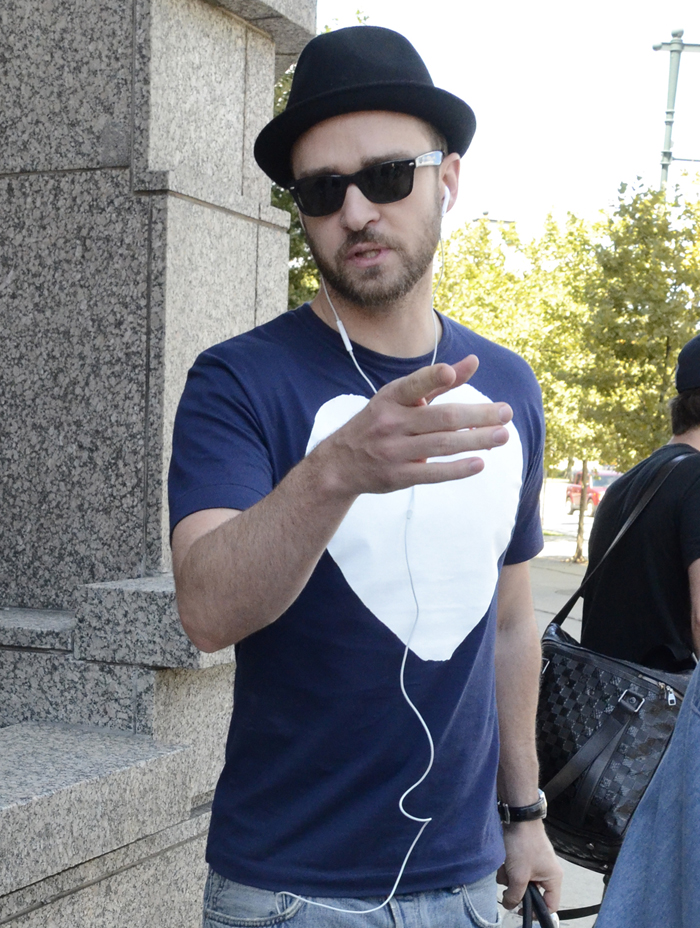 Justin Timberlake and his former *NSYNC band members are set to reunite for a special performance on the VMAs Sunday night at the Barclays Center, sources tell Page Six. MTV announced that Timberlake, who topped the charts in the late '90s with the band, will perform at the VMAs and receive the Michael Jackson Video Vanguard Award. But we're told former bandmates J.C. Chasez, Lance Bass, Joey Fatone and Chris Kirkpatrick are scheduled to join him onstage for a reunion performance. On Friday night, the *NSYNC crew were all spotted in the singer's VIP section at his concert with Jay Z at the Sun Life Stadium in Miami, joining Jessica Biel and Timberlake's mother, Lynn Harless.
[From Page Six]
Okay, I'll admit to looking forward to watching this edition of the VMAs, but that's only to see what Miley Cyrus churns out. Also, I'm genuinely looking forward to watching Robin Thicke in a live capacity. As for Justin's NSYNC reunion? Bitch, please.
In the meantime, let's all feel very sorry for Justin while he earns tons of money while touring with Jay-Z and Timbalake. Poor guy clearly has to get drunk onstage while doing so.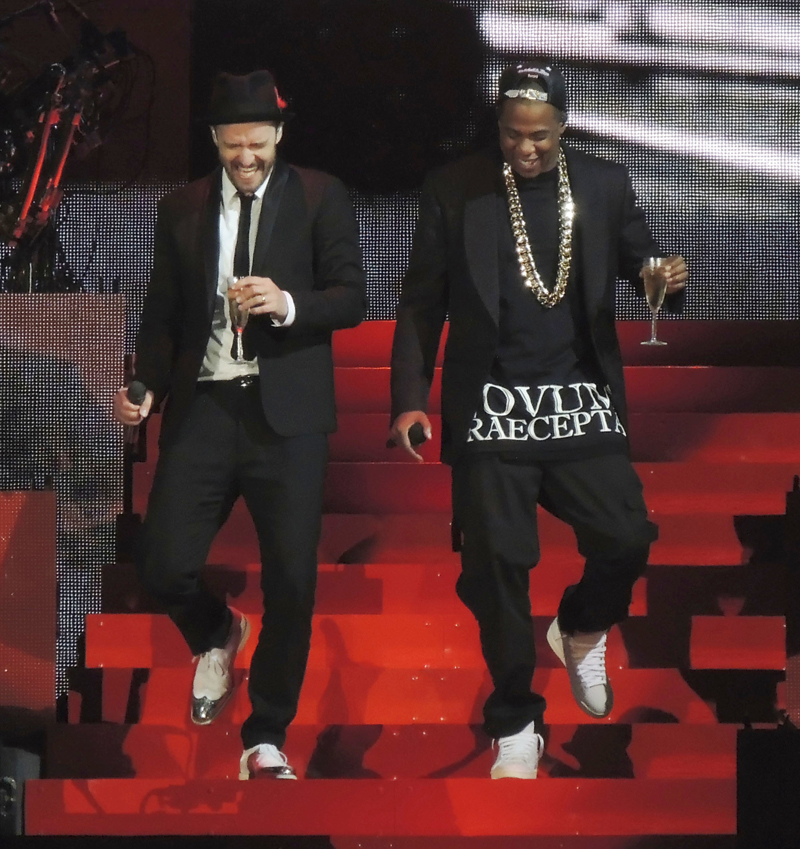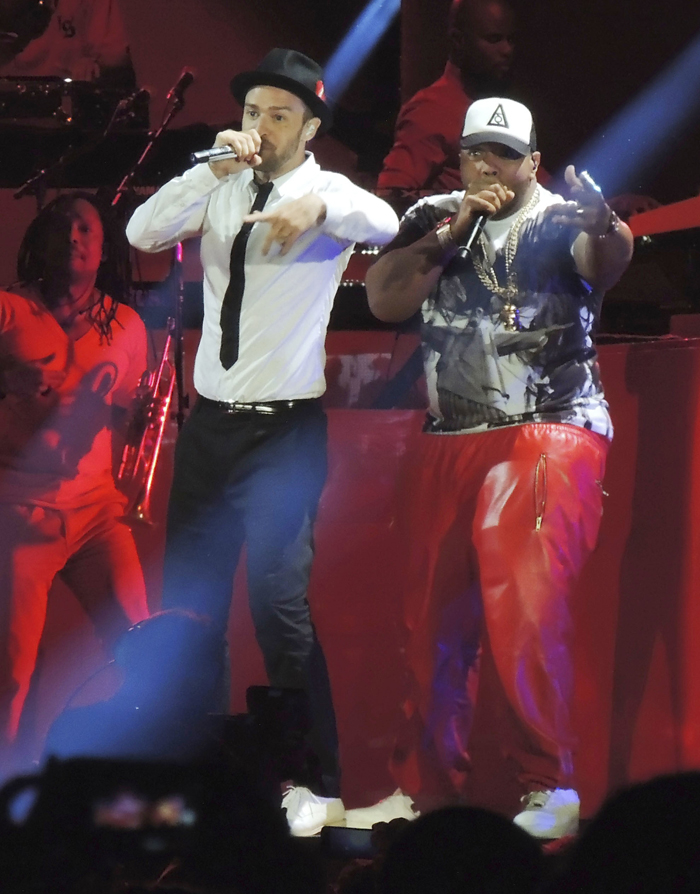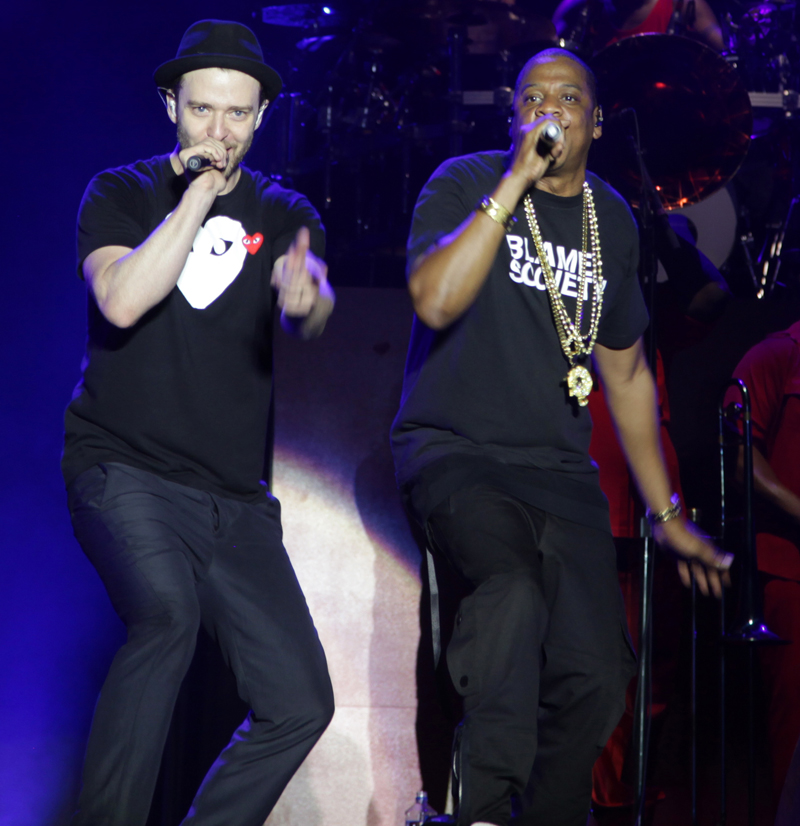 Photos courtesy of WENN