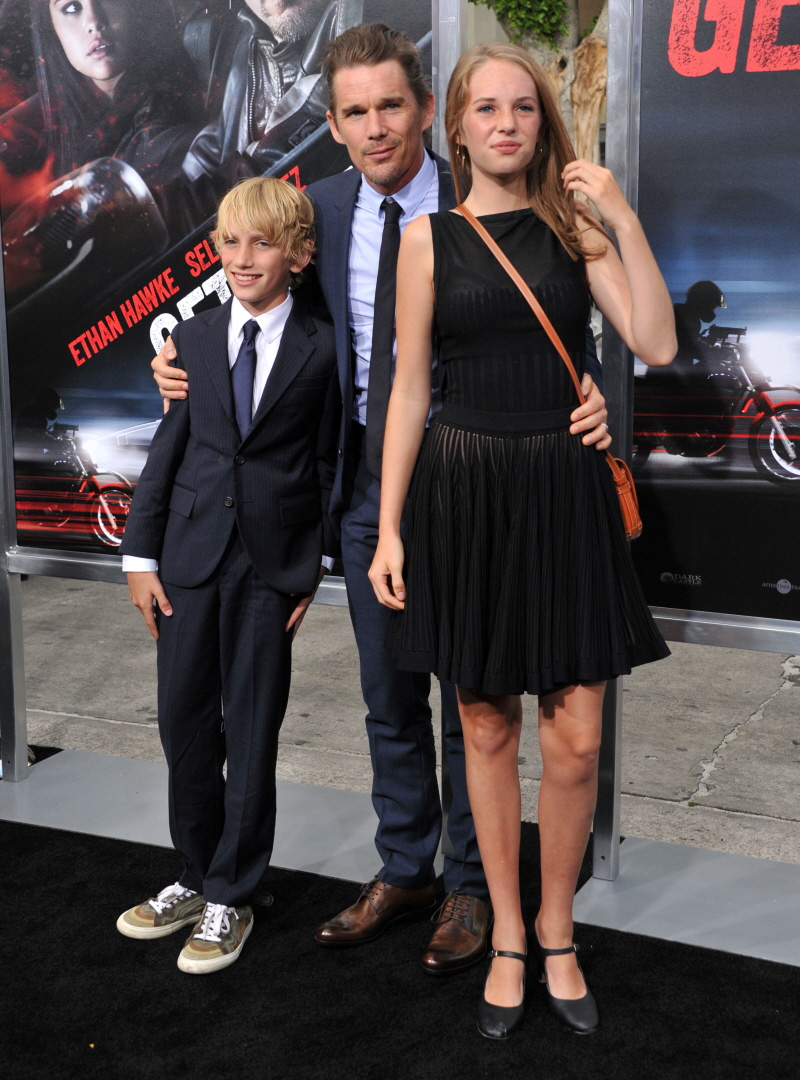 Here are some photos of Selena Gomez and Ethan Hawke at last night's premiere of Getaway, that really stupid-looking movie they did together. Something about Ethan's wife being kidnapped and Selena is trying to help him and they're in a car driving really fast, etc. It seems like the kind of script written for Jason Statham, not Ethan. Interestingly enough, Ethan brought out his older kids as his "dates" for the premiere – that beautiful young woman is 15-year-old Maya, and the blonde boy is Levon. Their mother is Uma Thurman, obviously. I can't get over Maya! She'll probably try her hand at modeling, don't you think? Also: I can't help it, I think Ethan looks really sexy in these photos. Ugh.
Anyway, Ethan is still giving interviews to support Getaway, and this one that he gave to Crave Online is pretty good. It's not as controversial as his Elle interview (where he basically said monogamy is a joke), but there are some good quotes:
Doing such a 'Fast & Furious' movie: "There's some 13-year-old boy inside every grown man, maybe not every, but that longs to know what it's like to drive 100 miles an hour and smash into things. That little part of me is both fast and furious so I played him both ways."

Doing movies that make money: "Believe it or not, The Purge actually opened bigger than Training Day. It's always strange to me how these things work out. It's like this year seems to be a different chapters to a life, particularly a life in the movies. For me, I think I've entered some other new chapter. This summer has been a lot of fun. As you said, the funny thing about Before Midnight is that movie's a long time coming. I cowrote that movie. That movie is a big part of me and my ethos and what I believe in with cinema. I really love it. The funny thing about The Purge is Jason Blum was my old partner. We started a theater company together when he was right out of college and I was hanging out in New York. We've has 20 years of hanging out and talking about movies and talking about how to beat the system. One of the things that's remarkable about The Purge that people don't even really talk about is we made that movie for under three million dollars. That movie cost less than Before Midnight."

He's getting more offers now: "You know, it really has. It's funny, this business. I've seen it. Dead Poets Society came out the summer of 1989. What's that, 24 years ago? So it's been a long time. For me to get to make movies and continue to make relevant movies is a real sleight of hand trick. Yet, it's totally true. If you don't make people money, you don't ever get jobs. The way I like to think about it is when movies are successful, it gives all the different people who secretly wanted to hire you before the ammunition to do it."

Working on a film with multiple cameras going at once: "Yeah. I've never really loved, like a lot of directors love to roll two cameras. Maybe it's just because in my heart of hearts I'm a stage actor. I kind of love a proscenium. I love to know where the audience is at any given moment during a movie. One of the really difficult things about this movie is I never did. They weren't rolling two cameras. They were rolling 15 cameras all the time, all these little GoPros, all these little mounted cameras so you never had any real sense of where the audience is. What happens is you end up just having to rely tremendously on the editor."

He never comes to sets just to watch: "No, I spent my life on film sets. It's so boring, film sets. When you're not involved in it, it's kind of like watching paint dry."
Ethan can be so pretentious. I mean, I've always known that about him, but he dropped in "I'm a writer" several times, and the whole "Maybe it's just because in my heart of hearts I'm a stage actor. I kind of love a proscenium" gave me a fit of eyerolls. Bless his heart. I have to give him credit though – he's become something of a journeyman character actor, and he really is capable of giving these really interesting, diverse performances.
Selena is wearing Vera Wang, by the way. It's pretty and kind of meh all at once.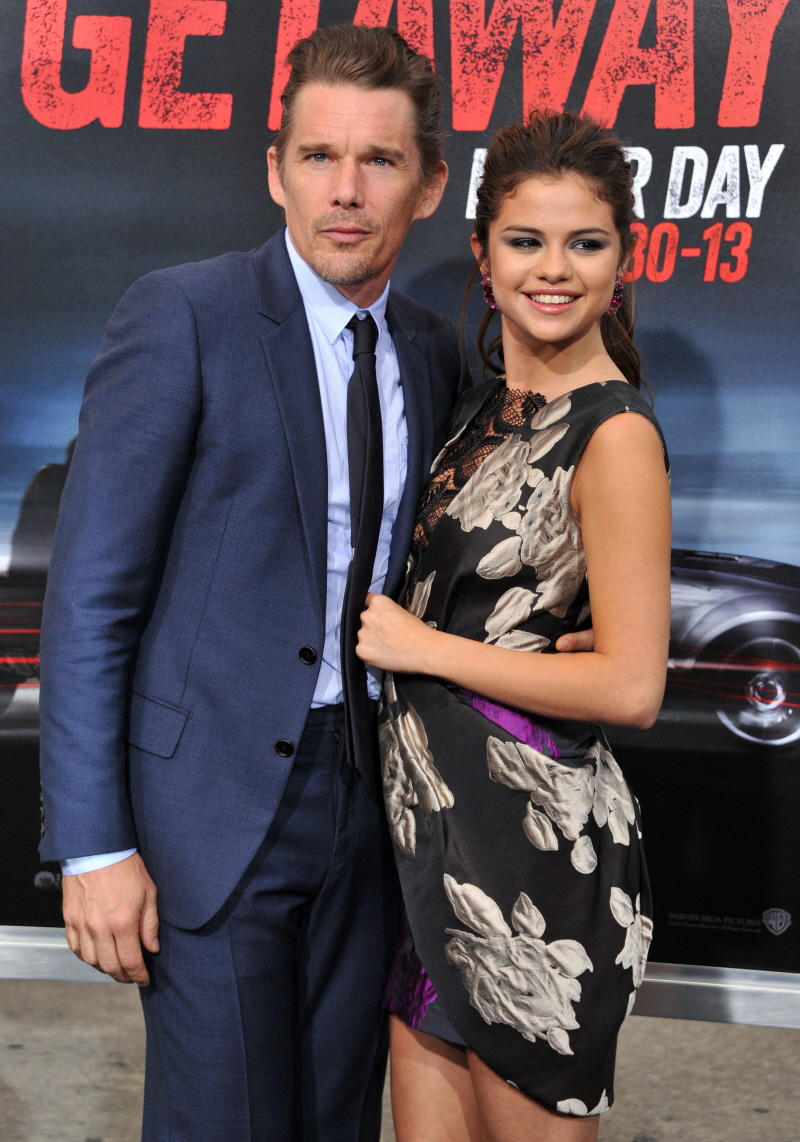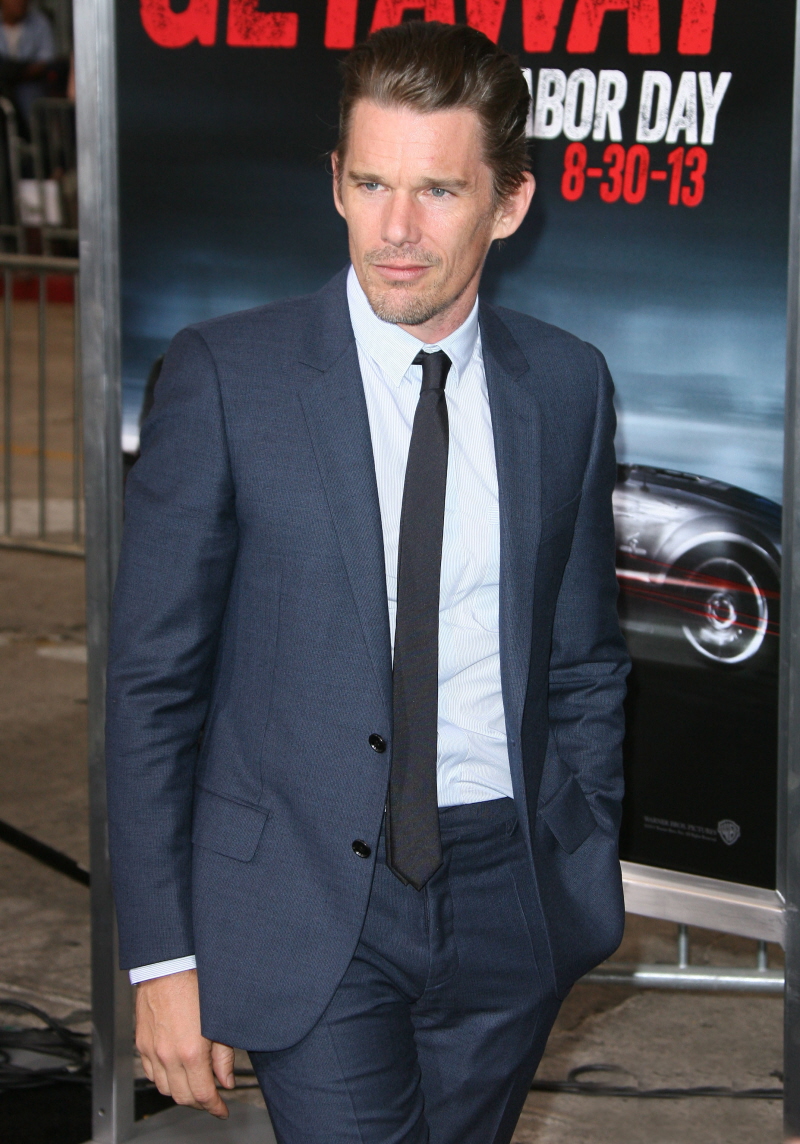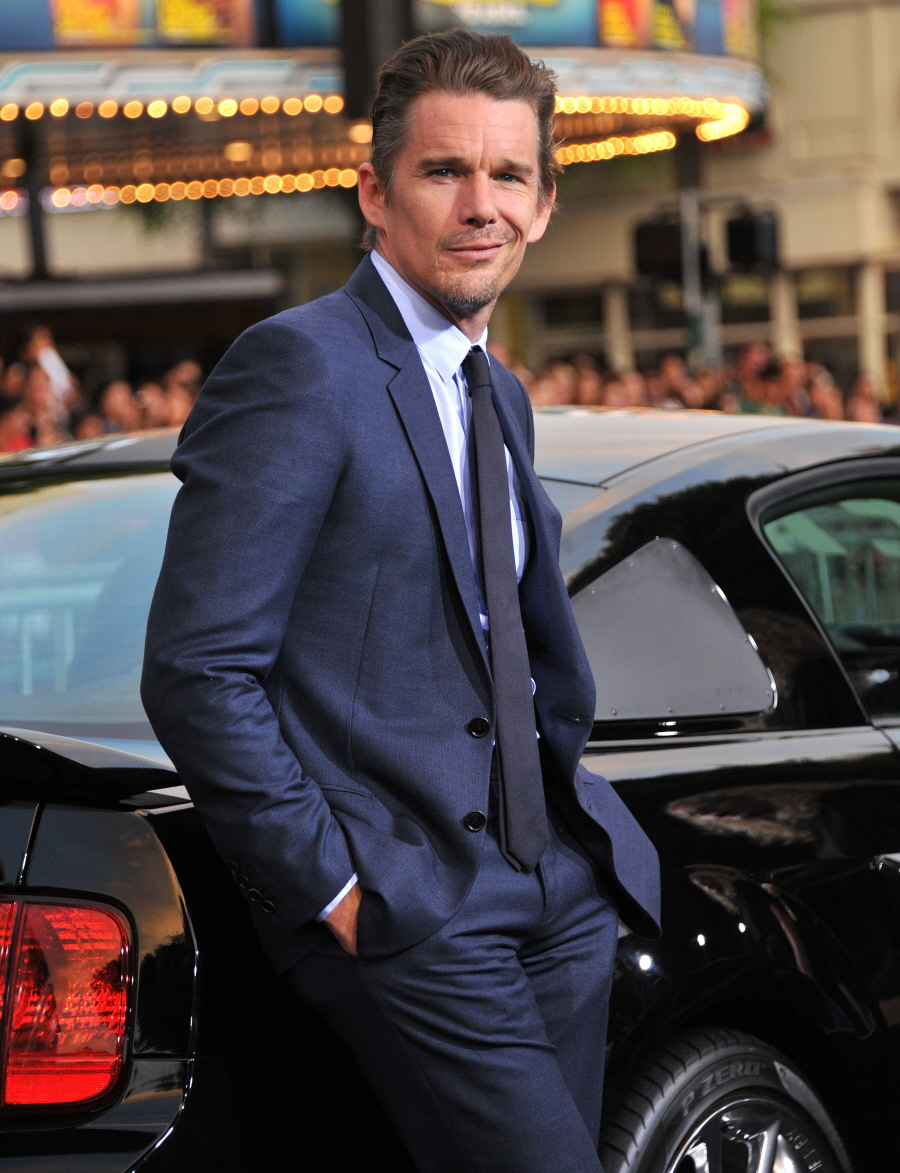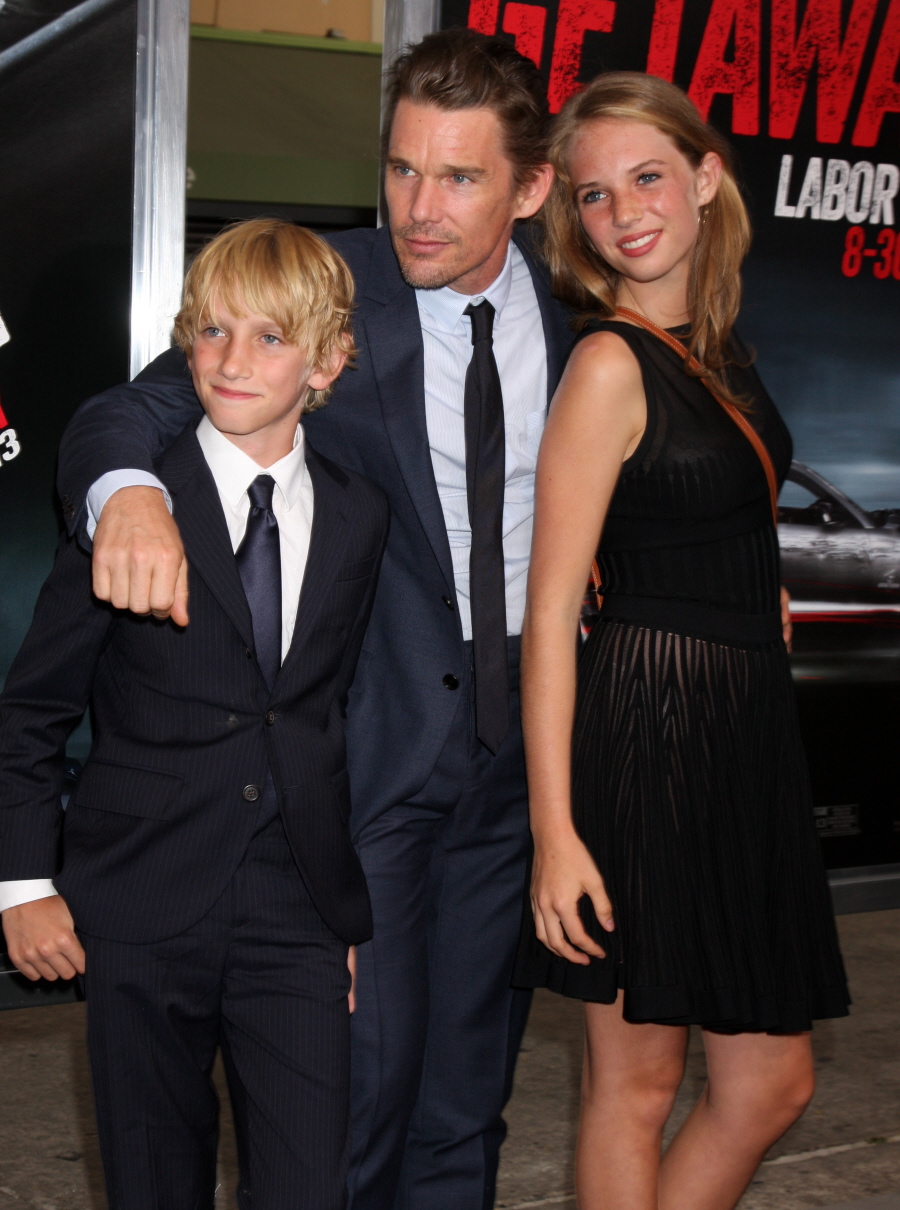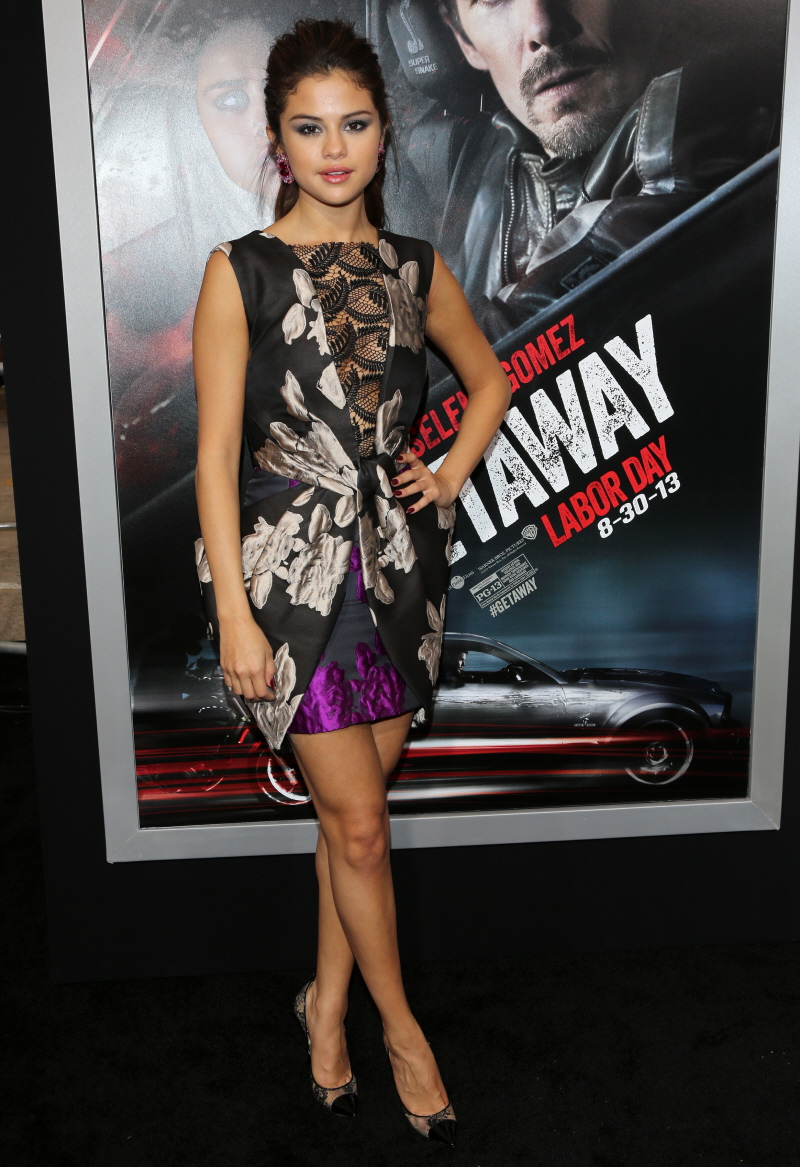 Photos courtesy of WENN.