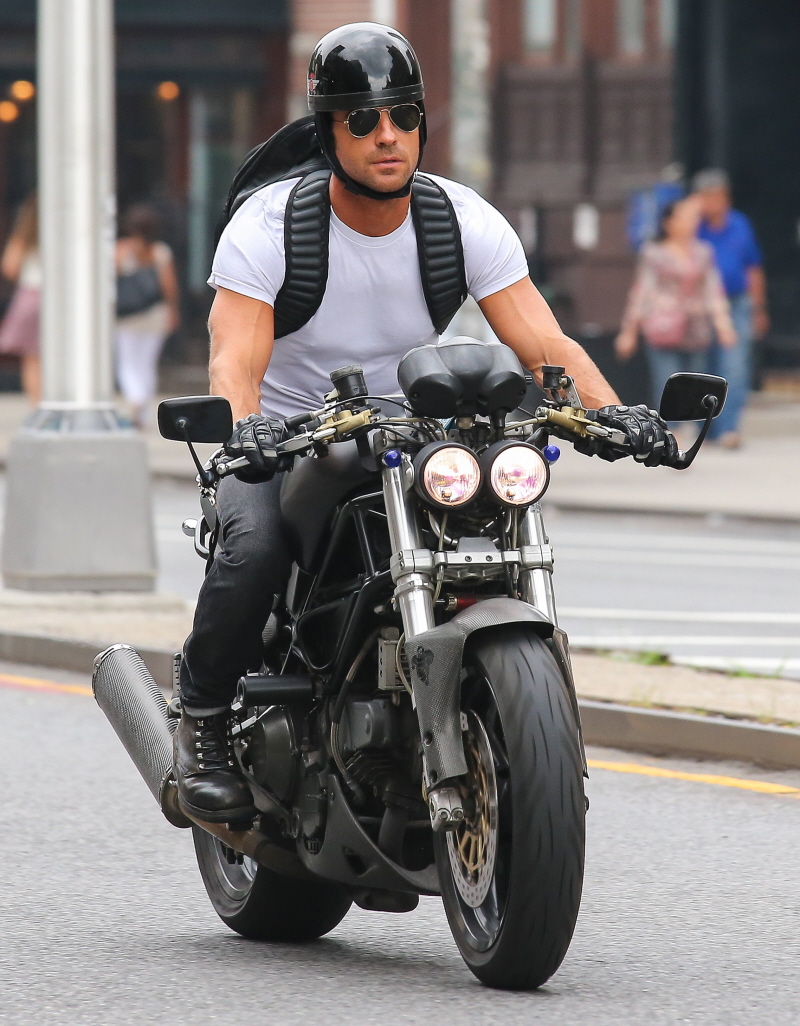 Just how cheap is Justin Theroux? Well, he's engaged to Jennifer Aniston. *rimshot* Seriously though, Justin is so cheap that he figured out a sort of ingenious, mad-scientist plot to avoid parking tickets in NYC. Because his lady's SmartWater money only goes so far, I suppose, and mama doesn't pay his tickets, so Justin had to figure out a way to avoid them altogether. Just to be clear, I'm sure dozens of you are going to start yelling "OMG, you've never heard of that? My boyfriend/cousin/best friend's uncle does that, you are so stupid!" But I've never heard of this before.
Jennifer Aniston's fiancé Justin Theroux may have plenty of dough, but The Enquirer caught him pulling off a sleazy trick to park in NYC with no fear of getting a costly ticket. The 42-year-old has apparently rigged up a Velcro-attatched license plate for his pricey Ducati motorcycle that he can take with him so cops can't give him a parking ticket.

NYPD authorities say that Justin's ruse allows him to avoid tickets, but they can't do anything about it. Without a plate, the bike is considered abandoned and can't be towed by the cops. And while the Department of Sanitation can haul it away if it's on public property, that can take up to three business days.

Justin drove off scot-free after putting the plate back on the bike. Meanwhile, a car parked in the same area did get a ticket, which typically costs more than $100.

"Justin has been living in New York City for more than 15 years… he clearly knows his way around the parking laws."
[From The Enquirer, print edition]
It's sort of ingenious, right? They can't give you a ticket if they don't have your license plate, and you can't drive without a license plate, so you just rig it up with Velcro. Of course, the wheels could very easily come off of this scheme. For one, Velcro isn't perfect. I can totally see how the license plate might fall off and then Justin would get a moving violation for driving without his plates. The better plate-fail would be for some enterprising traffic cop to "boot/clamp" his motorcycle. You know, to put one of those "boots" on the wheels. That would be awesome.
Old-school fill in the blank game! Justin Theroux is so cheap, he _____________.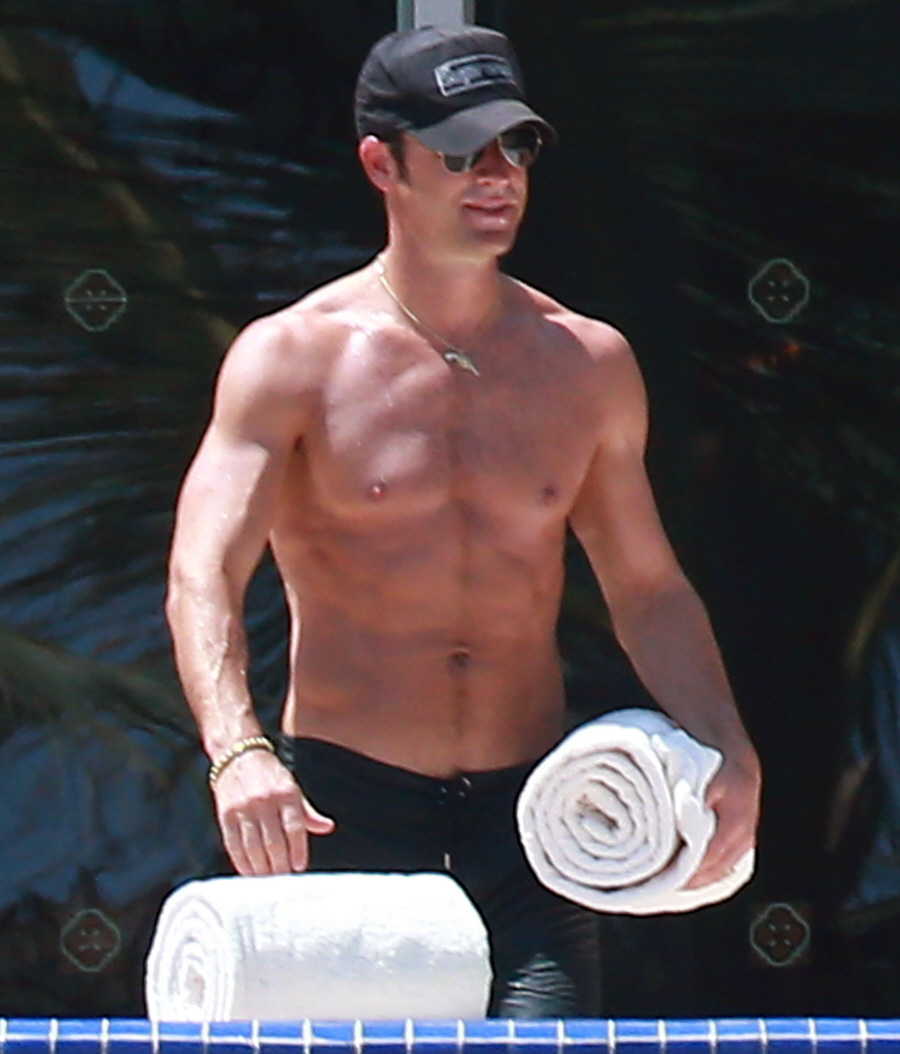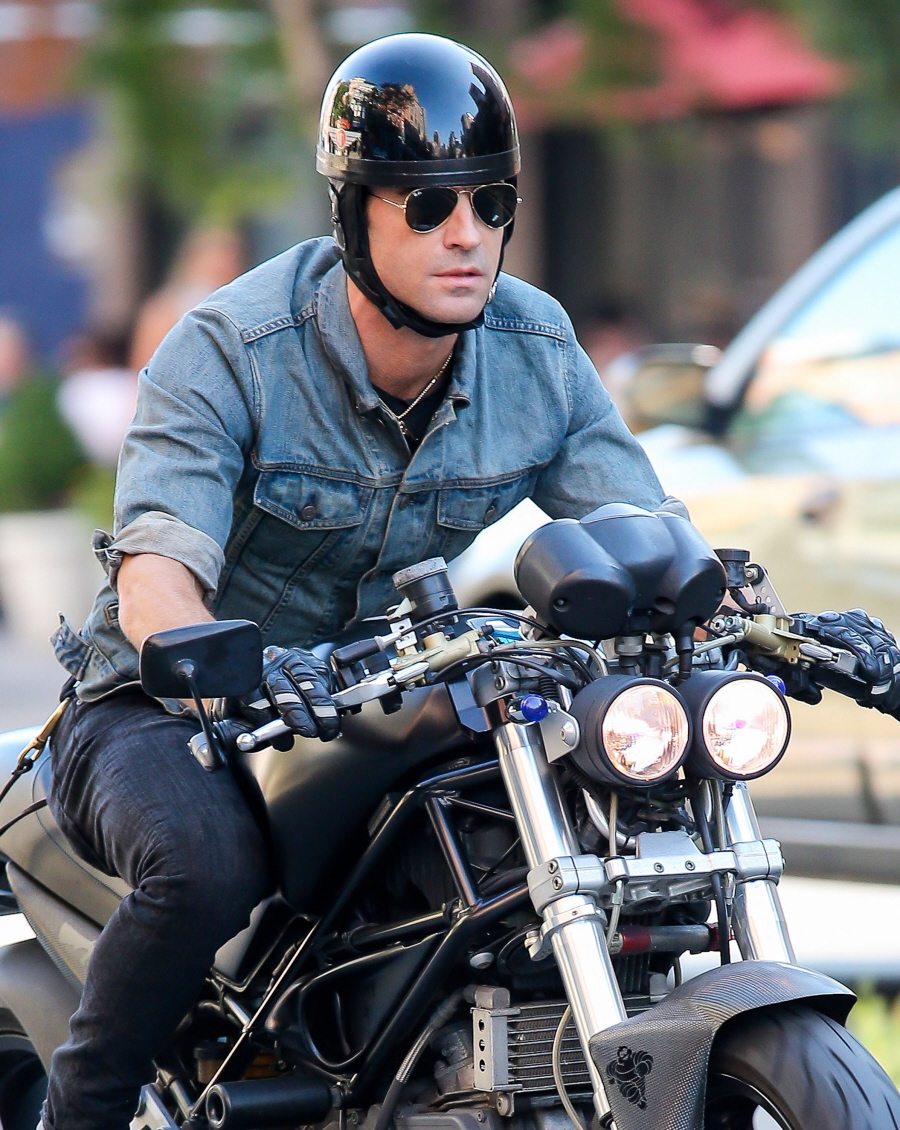 PS… or he could just put orange cones around his parking space, right?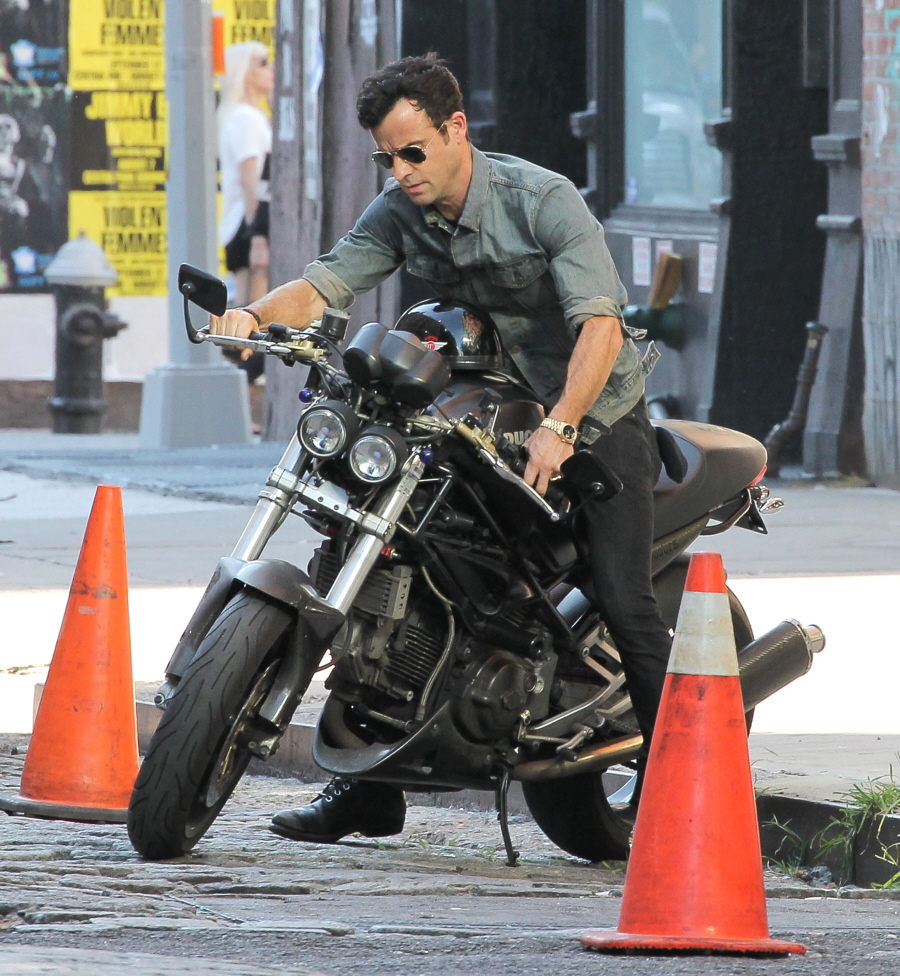 Photos courtesy of Fame/Flynet.