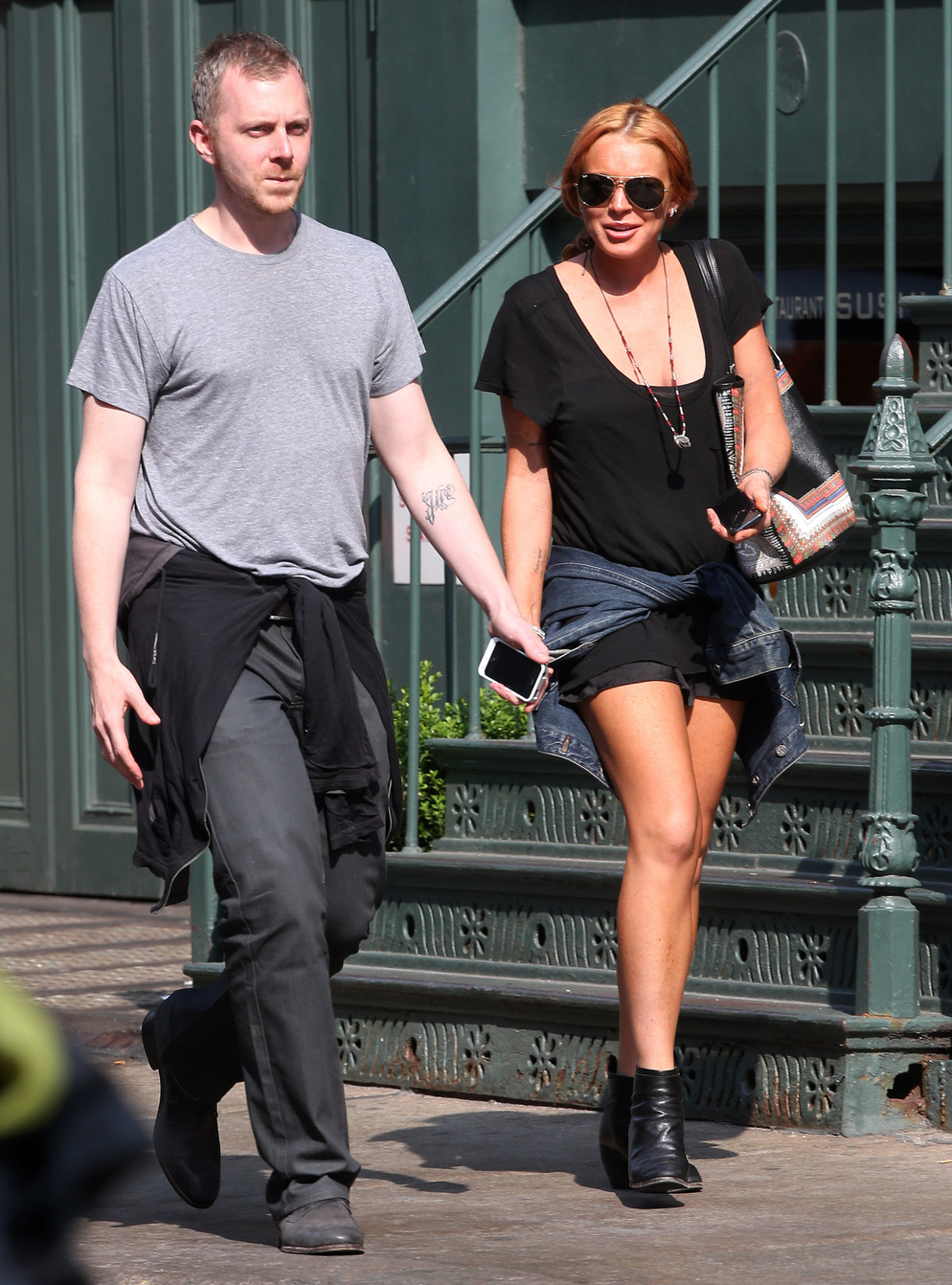 Here are some photos of Lindsay Lohan out and about in NYC yesterday with a "mystery man". I suspect that this is the same mystery man that she's been seen with in NYC for the past few weeks, although that's not narrowing it down that much. She spends the daylight hours with this guy, who I think is her "sober companion" and then she spends the evenings partying like a crackhead with her new boyfriend.
According to Perez Hilton (yeah, I know), Lindsay was partying at a club called Raven a few nights ago. Perez says: "LiLo went out last night for New York Fashion Week and ended up PARTYING at a new club called Raven in the Meatpacking District. And she wasn't alone! She showed up around 2:30 a.m. with a man she was calling her new boyfriend! And the relationship is so legit that she made sure to avoid talking to another man there who was an ex of hers!" Even though it's Perez, I believe this. I'm primed to believe any story about the Cracken in a club at 2:30 am. It's her natural habitat.
But what about the sober companion? Well, now that Lindsay has Oprah-money to blow (operative word: BLOW), it seems that LL is spending some money on the priciest sober companion money can buy.
Lindsay Lohan's appearance on Tuesday as she wandered around Manhattan in black shorts and a slightly see through vest, suggested that she's doing really rather well. And that might be in part thanks to her companion – a $2,500 a day 'sober companion.'

Clearly keen to overcome her demons, Lindsay, 27, has hired the coach to help her stay on track and steer her away from temptation. But why does Lindsay need such an expensive service? Doug Caine, who runs Sober Champion, a stable of sober coaches with backgrounds in nursing, social work and psychology told PEOPLE: 'You need to use your sober coach to bring treatment home, to the set, to the attorney's office when you're negotiating your next movie. Without bringing a sober coach to those places, she is highly likely to relapse.'

Linday's decision to employ a coach to help her fight temptation is a good sign she might stay clean this time around. It's unclear how much support Lindsay is getting from her sober companion, but some may sleep in the spare bedroom in the client's house, join them for dinner, and accompany the client to to doctor and dentist appointments.

Lindsay is currently living in New York with her younger sister Ali, a model, and is focusing on her health following her much-reported troubles.
Where is her sober companion when she goes out gallivanting in the night? My guess is that he's not the live-in sober companion she probably needs. He's probably just some dude/enabler that Lindsay pays to make it look like she's taking her sobriety seriously. I mean, seriously, $2500 A DAY? Maybe that's the excuse Lindsay gave to Oprah for why she's blowing (cough) through $2500 a day: "It's for my sober companion! I swear it's not cocaine! Promise!"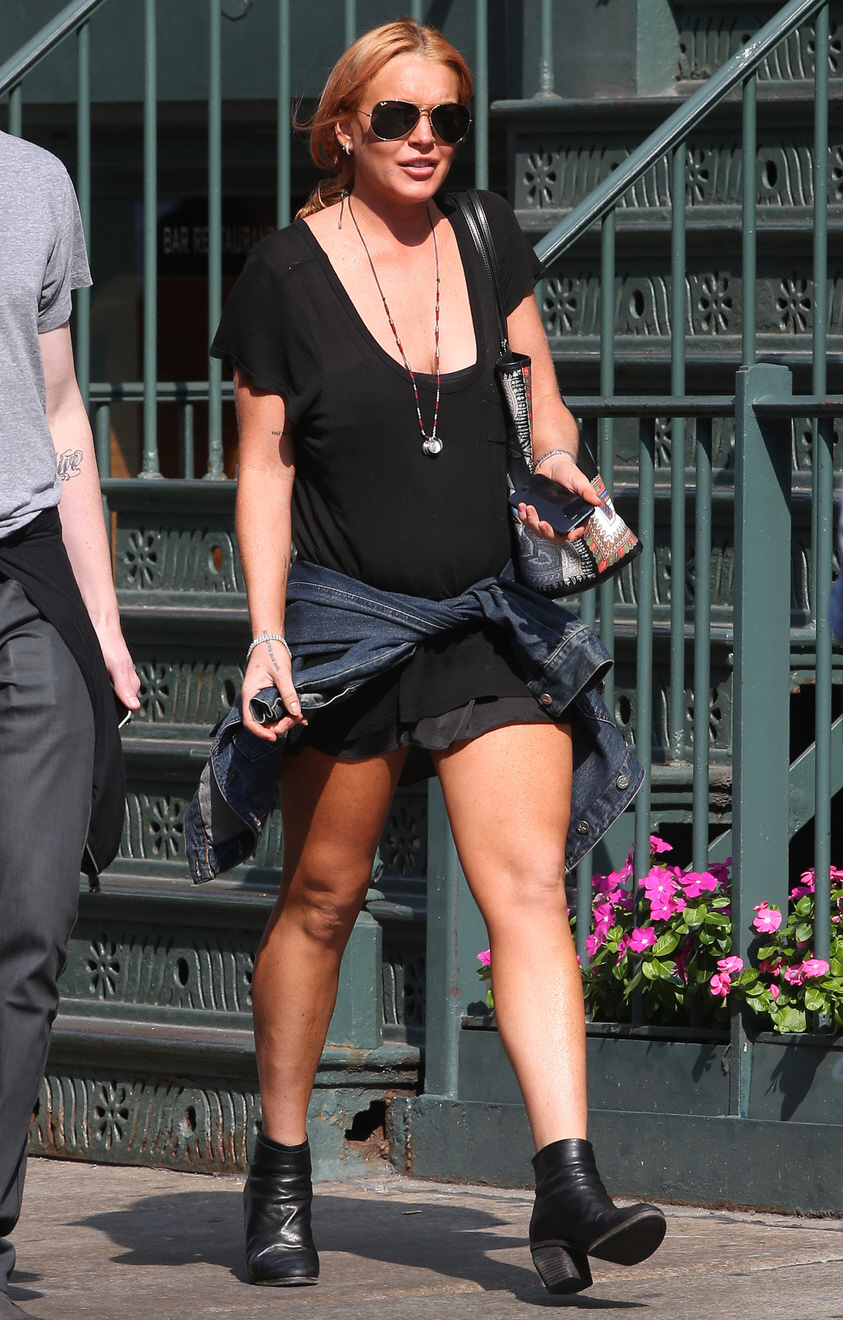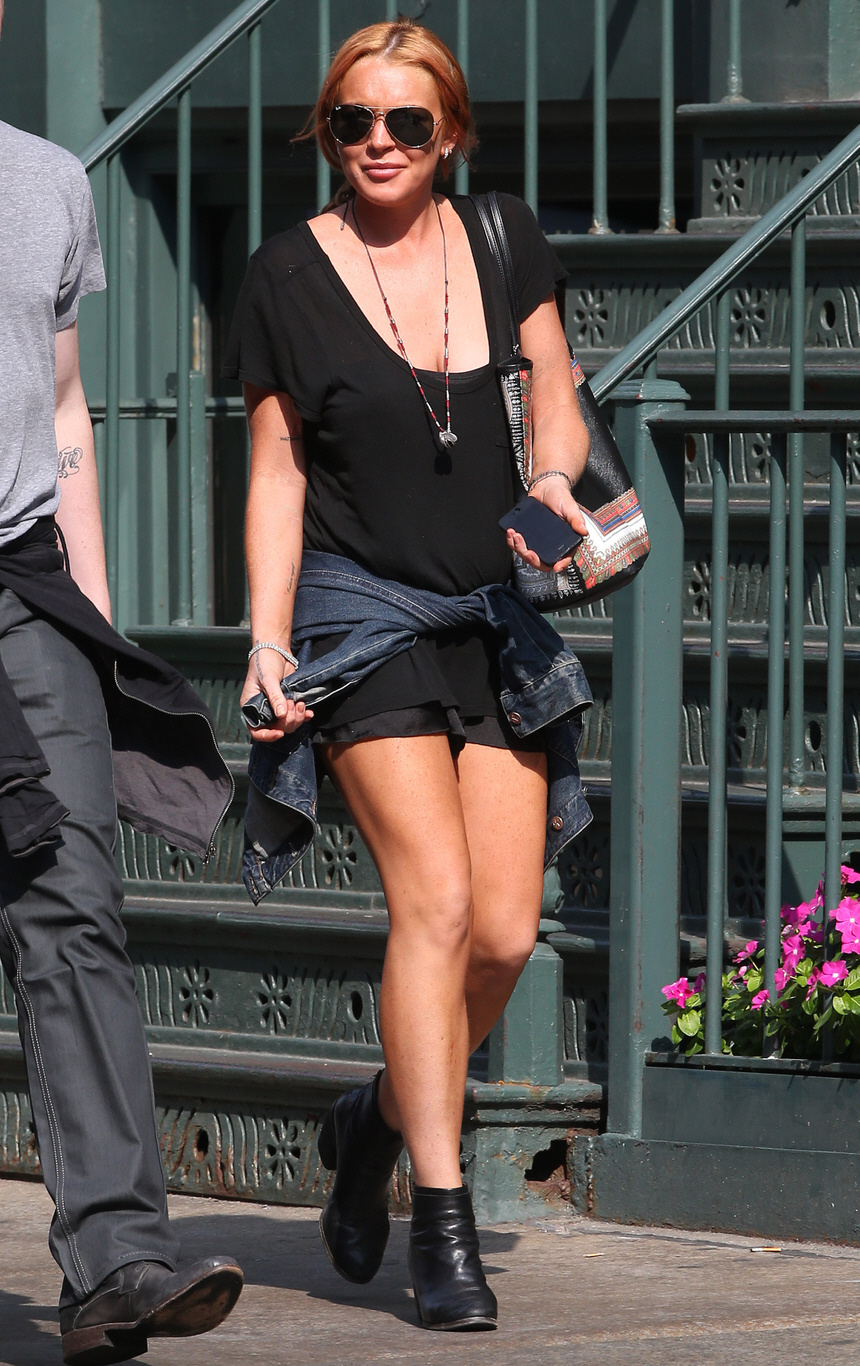 Photos courtesy of Pacific Coast News.