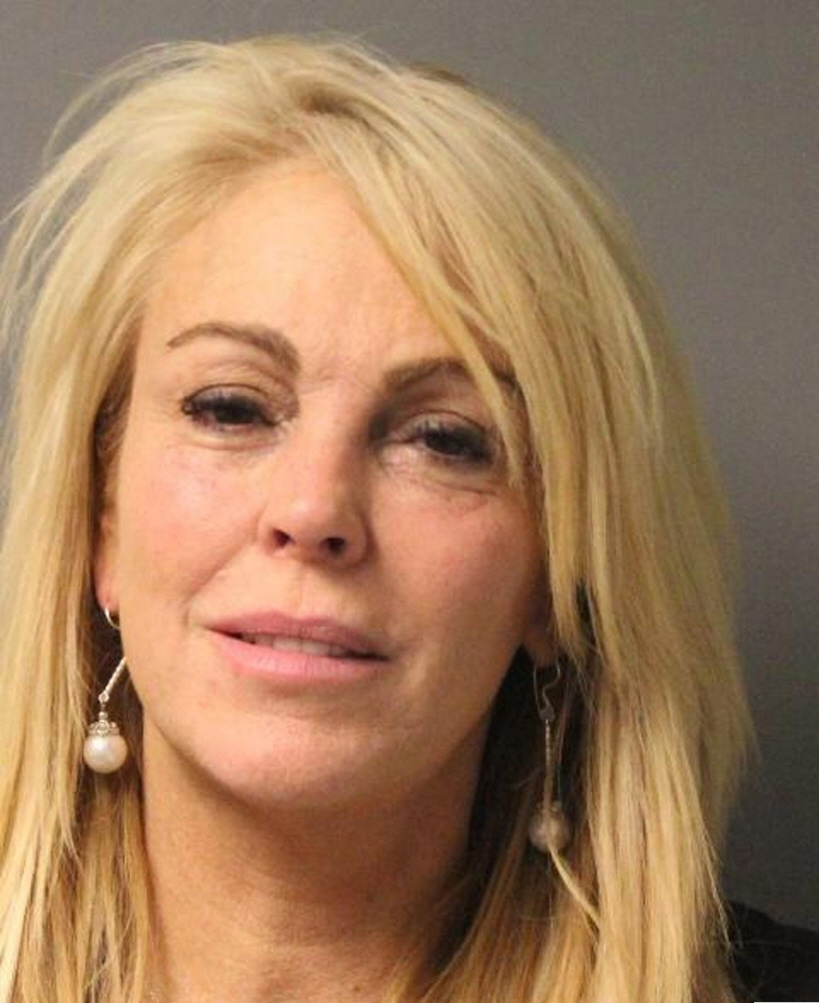 As we discussed on Friday, Dina Lohan was arrested late Thursday night for speeding and for driving-while-sh-tfaced. Dina was allegedly/probably driving home to her nearly-foreclosed-upon Long Island Booze Mansion, and because her last name is Lohan, Dina tried to claim that arresting officer harmed her in same way, but later took it back. Basically, this whole incident is Classic Cracked-Out Lohan, and I'm absolutely sure I can just re-use this post in three months when Lindsay does the same thing, and I'll just have to change the first names.
Hilariously, Dina and Lindsay share the same lawyer, sort of. Lindsay eventually booted that poor bastard Mark Heller, but it looks like Dina is still stuck with him. So Mark Heller released a statement to Entertainment Tonight and OMG.
Dina Lohan's lawyer is pun-tastic. Lohan, 50, was arrested on Thursday, Sept. 12, for driving while intoxicated on Long Island, and in a new statement, her attorney Mark Heller couldn't help but reference her famous daughter's classic movie debut.

"Dina Lohan is a good person. Her life has been dedicated to her four children. She has worked hard her entire life and she has been a 'Parent Trapped' with the entire world watching her in a fishbowl with murky water due to no fault of her own," Heller, told Entertainment Tonight in a statement on Friday.

He continued: "She appreciates the grave seriousness of this matter and is mindful that the Nassau County District Attorney considers these types of cases a top priority. But as an attorney with 45 years of experience, I am confident that as a first time offender, with absolutely no prior record, that the Judicial System will treat Dina Lohan with even-handed fairness."

The mother of four was arrested on the Northern State Parkway in Oyster Bay around 11 p.m. after going 77 mph in a 55 mph zone. She was issued traffic tickets for speeding, DWI and aggravated DWI when her breath test revealed her blood alcohol concentration was twice the legal limit, at .20%.

Lohan is due back for a hearing in Nassau County First District Court on Sept. 24 at 9 a.m.
Is this what we get when someone is caught driving three sheets to the wind? I don't have any respect for drunk drivers, especially drunk drivers who are as old as Dina. But instead of just some apology, we get this completely bullsh-t statement about how Dina was only caught for a DUI because she's Lindsay Lohan's mother? ARE YOU KIDDING ME? And "She has worked hard her entire life"? Doing what? Don't say "momager". What has she been doing that's been such hard work? I can't even start with this statement.
As for what poor little Crack Child Lindsay thinks about her mom's legal issues, Radar had a helpful story:
One person that wasn't shocked when Dina Lohan was arrested for drunk driving was her own legally challenged daughter, Lindsay, RadarOnline.com has exclusively learned.

"Lindsay wasn't surprised that her mom got popped for a DUI," a source close to the 27-year-old actress said. "It was only a matter of time, according to Lindsay."

Lindsay was released from her court-ordered rehab stint in August and the source said Dina's own actions have been straining their relationship.

"Since being released from rehab, Lindsay has had limited contact with her mother because Dina can be a bad influence on her daughter's sobriety," the source said. "Dina will say she is the last person that has a problem with booze, but she does. Lindsay loves her mom, but she is putting herself first, and her recovery, which is a very good thing."
"It was only a matter of time, according to Lindsay." Ouch. Dina better check for tire tracks because she just got thrown under the bus. ET TU, Cracken?! Well, Lindsay should enjoy this brief moment of satisfaction of not being the biggest Lohan screwup of the week. But I say that Lindsay's smugness will come to fast and bitter end shortly. Ten bucks says that she'll try to one-up her mom and she'll drive down the Long Island Expressway drunk AND waving a loaded gun.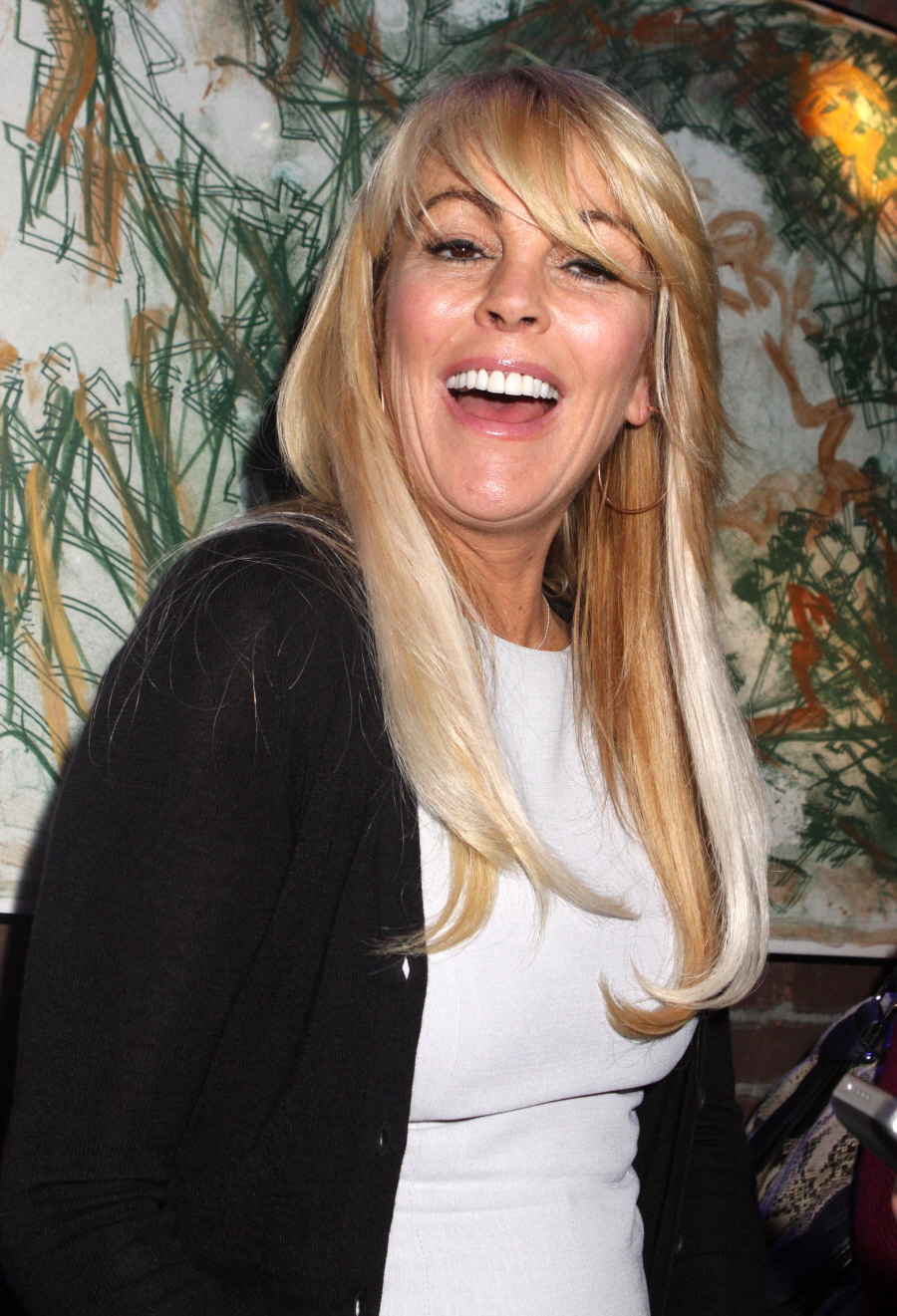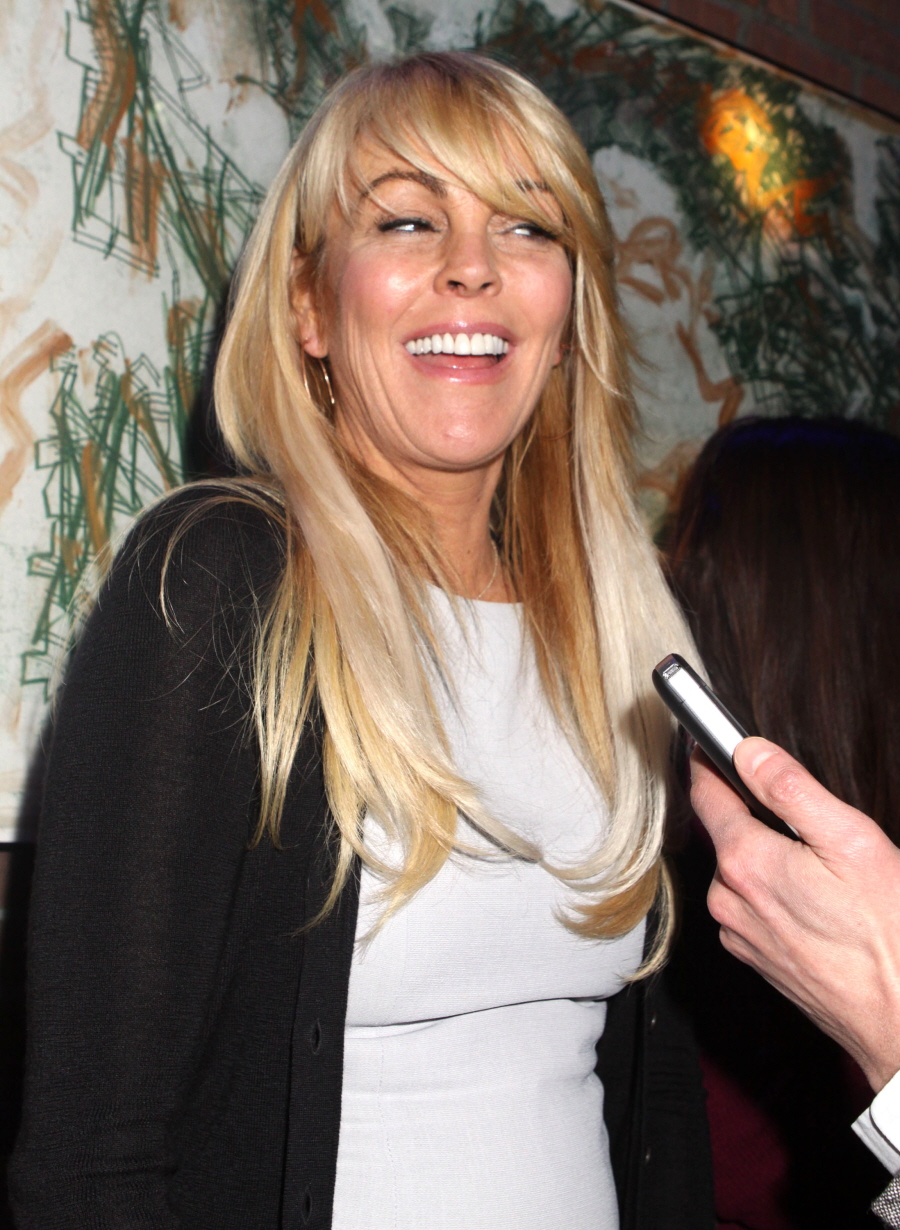 Photos courtesy of Fame/Flynet.