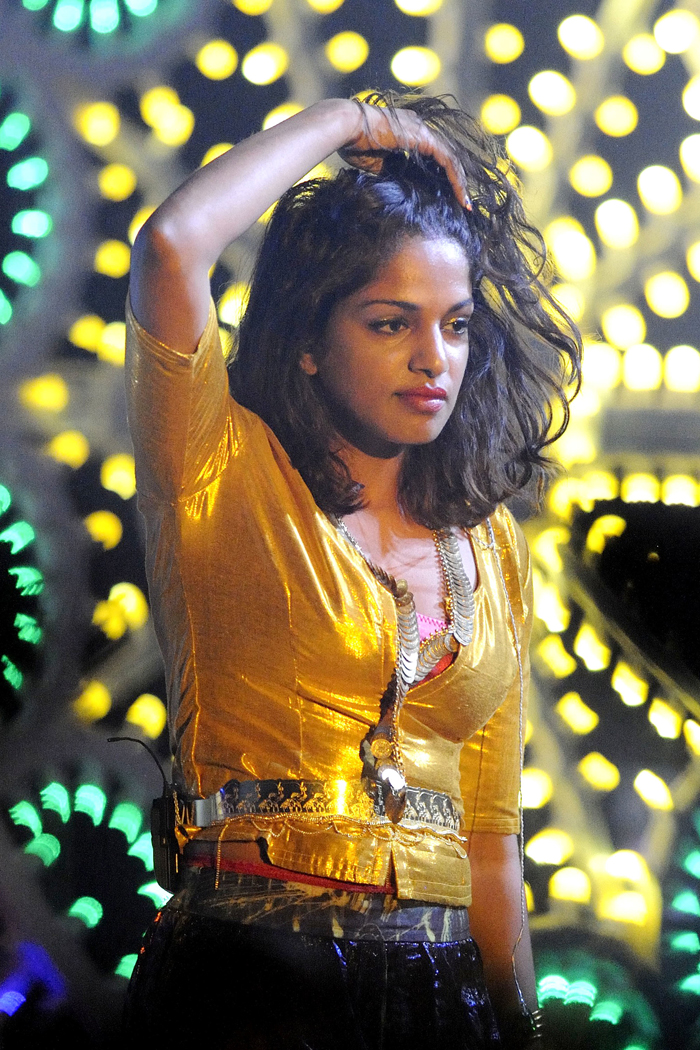 This is an interesting development in light of the brouhaha following Miley Cyrus at the VMAs. You know, the twerk heard round the world. Of course the parenting associations freaked and people wrote ridiculous complaints to the FCC. Never mind that any parent with a tween girl should know better than to let them watch the VMAs. It's a notoriously risqué cable awards show. Don't do it.
In contrast, the Super Bowl is a relatively family friendly, network-televised program. At least that's the reputation the NFL seeks to protect, and they are taking aim at M.I.A. for her 2012 performance with Madonna. Remember how M.I.A. flipped the bird and sang "I don't give a sh-t" (video here)? Madonna was so angry and called it "such a teenager/irrelevant thing to do." The NFL hasn't forgotten the incident. All this time they have been pursuing legal action. They are demanding M.I.A. pay a $1.5 million fine for a split-second flipping of the bird. What?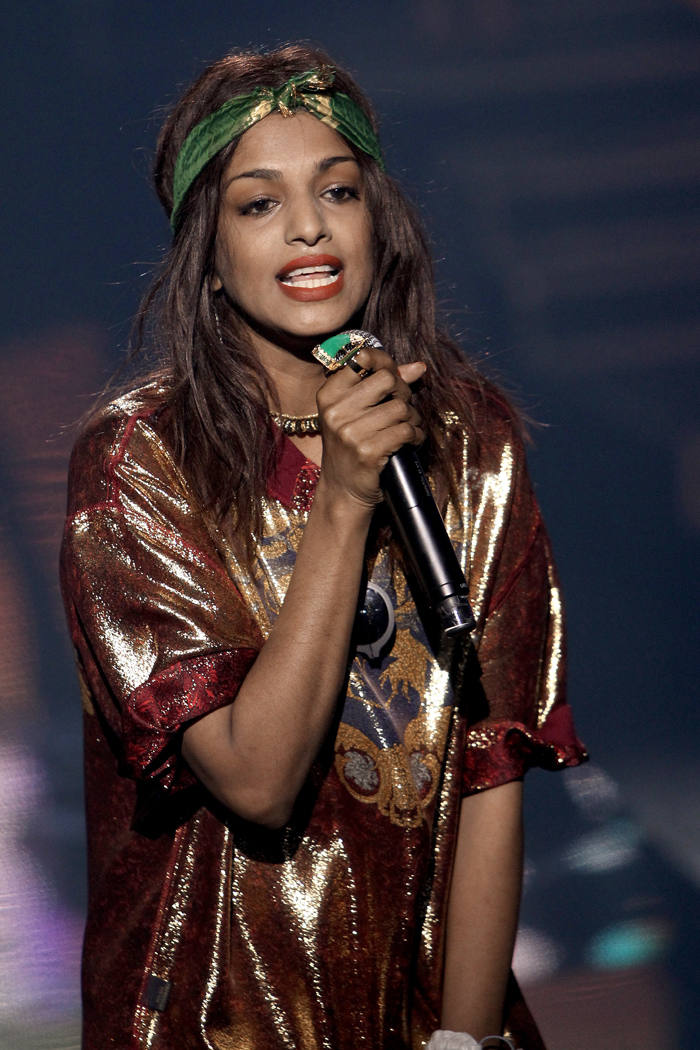 On Feb. 5, 2012, nearly 167 million TV viewers tuned in to Super Bowl XLVI to watch a matchup between the New York Giants and New England Patriots. Besides the football action, what had people talking that day was a halftime performance by M.I.A. and, specifically, how she extended her middle finger during a performance of "Give Me All Your Luvin' " while mouthing, "I don't give a sh-t."

But the NFL did care. One month after the performance, the league initiated legal proceedings against the English-Sri Lankan rapper-singer. In a March 13, 2012, filing at the American Arbitration Association, obtained by The Hollywood Reporter, the league demanded $1.5 million from M.I.A. for allegedly breaching her performance contract and tarnishing its goodwill and reputation.

In the 18 months since, the 38-year-old M.I.A. (born Mathangi "Maya" Arulpragasam) has been waging a secret legal war with the NFL over what happened at Super Bowl XLVI. Last week, league lawyers continued their push to have her deemed liable for her actions on summary judgment before moving to a trial for damages.

This is not going over too well with M.I.A, best known for her catchy agitpop music including the hit song "Paper Planes," which includes the repeated sound of gunfire. She's also used her fame to spotlight human rights abuses in her war-torn South Asian homeland. Now her lawyer Howard King tells THR that his client plans to launch a public war on the mega-powerful football league.

"She is going to go public with an explanation of how ridiculous it was for the NFL and its fans to devote such furor to this incident, while ignoring the genocide occurring in her home country and several other countries, topics she frequently speaks to," King says.

King adds that she had hoped to settle the case privately once it became clear that neither NBC nor the FCC were ever going to make a stink over what the NFL says in legal papers was an "offensive gesture … in flagrant disregard for the values that form the cornerstone of the NFL brand and the Super Bowl."

"Of course, the NFL's claimed reputation for wholesomeness is hilarious," King tells THR, "in light of the weekly felonies committed by its stars, the bounties placed by coaches on opposing players, the homophobic and racist comments uttered by its players, the complete disregard for the health of players and the premature deaths that have resulted from same, and the raping of public entities ready to sacrifice public funds to attract teams."

An NFL spokesman didn't have immediate comment on the legal dispute or King's comments beyond saying that "any monetary damages for her actions would have been donated to charity."
[From Hollywood Reporter]
This is a pure and simple (metaphorical) witch hunt. A $1.5 million fine is ridiculous and seeks only to punish — not to protect the "wholesomeness" of the NFL. Of course the NFL is trying to put the fear into future Super Bowl performers. You know what I think? The NFL is trying to make M.I.A. pay for Janet Jackson and Justin Timberlake's boobgate. They could never prove that JT and Janet intentionally flashed the flesh. The problem is M.I.A. was dumb enough to flip the bird, which can't be explained away as an accident. Hopefully the case will settle before going to court.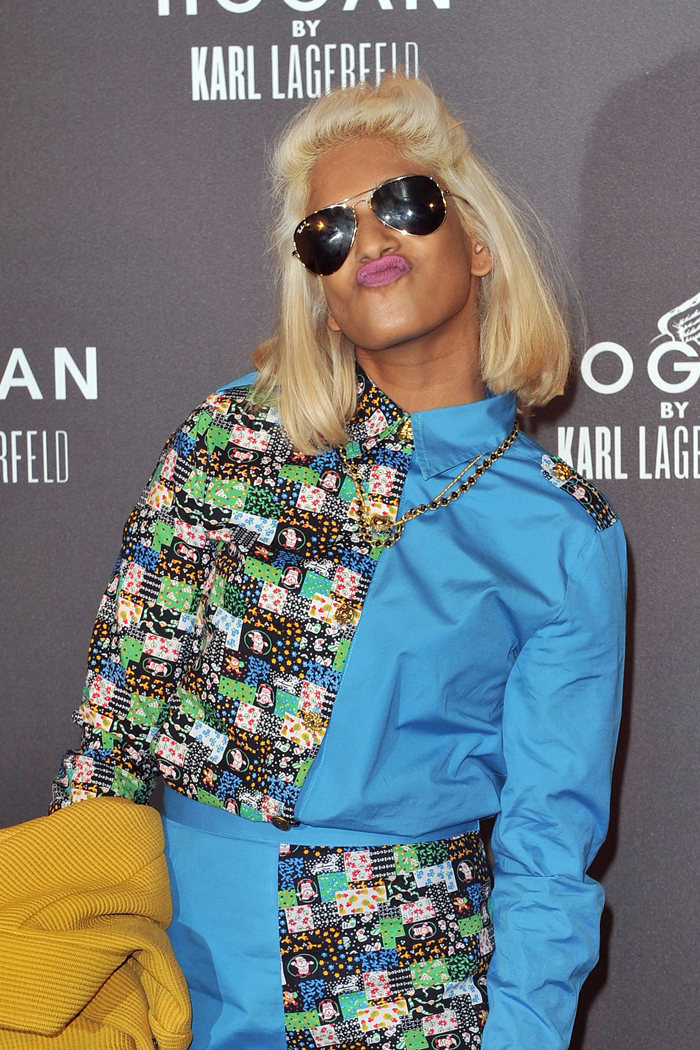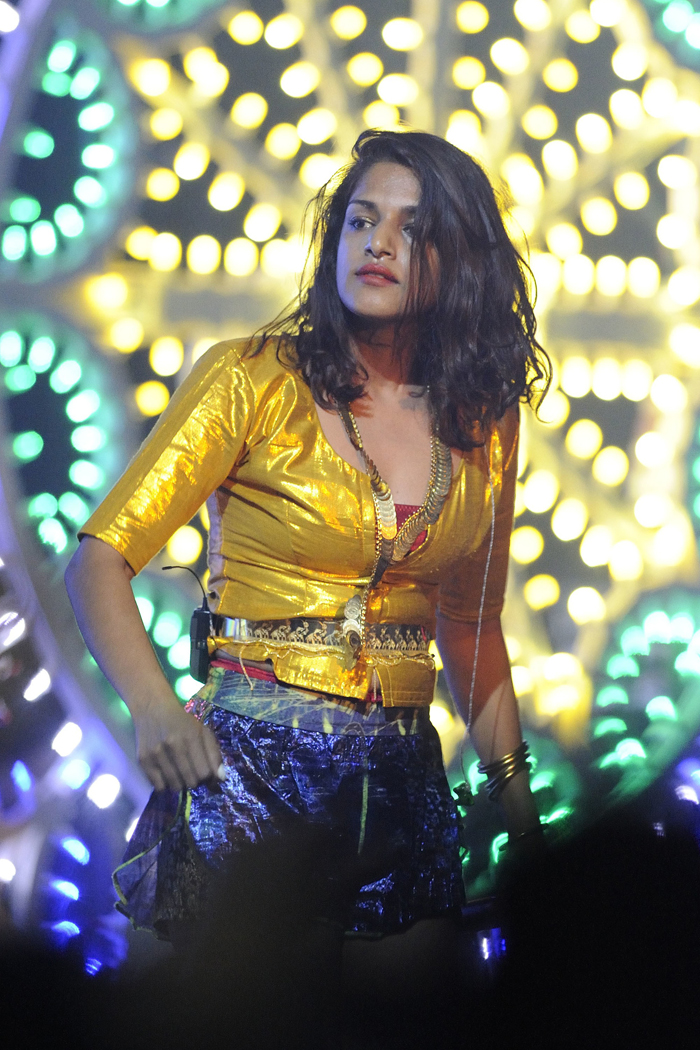 Photos courtesy of WENN