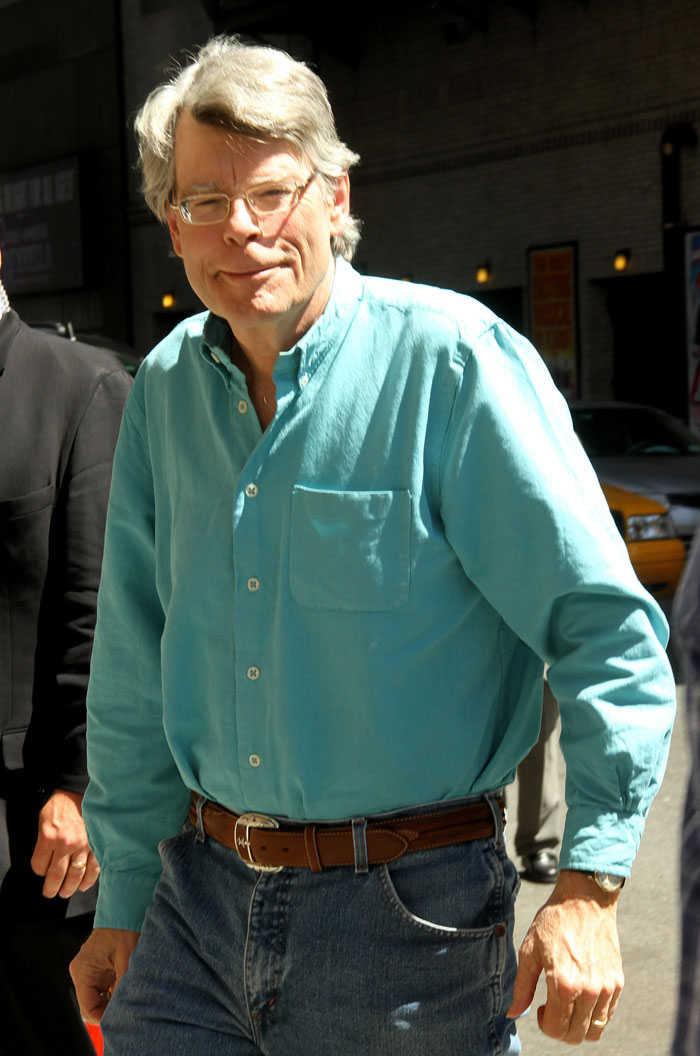 Stephen King sat down with the Guardian to promote his 56th novel, Doctor Sleep, which comes out today. The book is a follow up to The Shining and catches up with young Danny Torrence in his adulthood. Poor Danny is wrestling with the realization of becoming an alcoholic drifter like his father. Danny's supposed to be a hospice doctor too, which is interesting. I'm looking forward to reading the book before anyone on Facebook tells me not to read it. People like to bag on King's contemporary books a lot. Not cool, people.
As usual, King is full of opinions in this interview. He's already once said that Stephenie Meyer "can't write worth a darn." King is not letting go of his distaste for Twilight, which is fine because even Stephenie Meyer can't stand Twilight anymore. More targets, including The Hunger Games, tempt him into a ranting state:
His AA background fueled this book: "The only thing is to write the truth. To write what you know about any particular situation. And I never say to anybody, 'This is all from my experience in AA,' because you don't say that." It was King's 36-year-old son, Owen, who, after reading the first draft of Doctor Sleep, told him there was something missing. "He said that the scene he remembered best from The Shining was the one where Jack Torrance and his friend are out drunk one night and they hit a bicycle and think they've killed a kid. And they say, 'That's the end; we're not going to drink any more.' And Owen said, 'There's no scene that's comparable to that in Doctor Sleep. You ought to see Dan at his worst.' And, as usual, Owen was right. And I think every alcoholic has a story comparable to that. Something where you actually hit rock bottom."

King's own rock bottom: "I don't have anything as dramatic. Of course, in a novel, you're looking for something that's really harsh. Harshly lit. For me, when I look back, the thing that I remember is being at one of my son's Little League games with a can of beer in a paper bag, and the coach coming over to me and saying, 'If that's an alcoholic beverage, you're going to have to leave.' That was where I said to myself, 'That's something I'll never be able to tell anybody else. I'll keep that one to myself.' I drew on that memory."

He still hates Twilight: "I agree with Abra's teacher friend [in Doctor Sleep] who calls Twilight and books like it tweenager pr0n. They're really not about vampires and werewolves. They're about how the love of a girl can turn a bad boy good.

"I read Twilight and didn't feel any urge to go on with her. I read The Hunger Games and didn't feel an urge to go on. It's not unlike The Running Man, which is about a game where people are actually killed and people are watching: a satire on reality TV. I read Fifty Shades Of Grey and felt no urge to go on. They call it mommy porn, but it's not really mommy pr0n. It is highly charged, sexually driven fiction for women who are, say, between 18 and 25. But a golden age of horror? I wouldn't say it is. I can't think of any books right now that would be comparable to The Exorcist."

He has painful memories of intervention: "There's a thing in AA, something they read in a lot of meetings, The Promises. Most of those promises have come true in my life: we'll come to know a new freedom and new happiness, that's true. But it also says in there: we will not regret the past nor wish to shut the door on it. And I have no wish to shut the door on the past. I have been pretty upfront about my past. But do I regret? I do. I do. I regret the necessity."

His near-death experience in 1999: King was walking down a road near his house when he was hit by a truck and thrown 14ft in the air. There were no white lights, but it did get him thinking seriously about death. "Our body knows things, and our brain knows things that don't have anything to do with conscious thought. And I think that it's possible, when you die, that there is a final exit programme that goes into effect. And that's what people are seeing when they see their relatives or a white light or whatever it is. In that sense, there may really be a heaven if you believe there's a heaven, and a hell if you believe there is one. But there's some kind of transitional moment. That idea that your whole life flashes before your eyes." He smiles. "Of course, they say about co-dependents – people who grow up around alcoholics – that somebody else's life does."
[From The Guardian]
I find it completely hilarious that Stephen King picked up a copy of 50 Shades and read the whole thing. You know, I always laugh when I see people reading that book on airplanes and in cafes. I'd love for someone to Instagram a picture of King doing the same thing. It would be the highlight of my year to see it happen.
After reading King's On Writing a few years ago, I learned his most important tip to be a writer. One must read. To paraphrase — if one doesn't have time to read, one definitely doesn't have time to write. That's always stuck with me, but there is no way in hell anyone could ever get me to read 50 Shades. King will read anything though, and then he'll tell you his opinion on it.
I don't quite understand what he's saying about not like The Hunger Games. He's saying it's like one of his books (The Running Man), right? What a strange reason not to like it.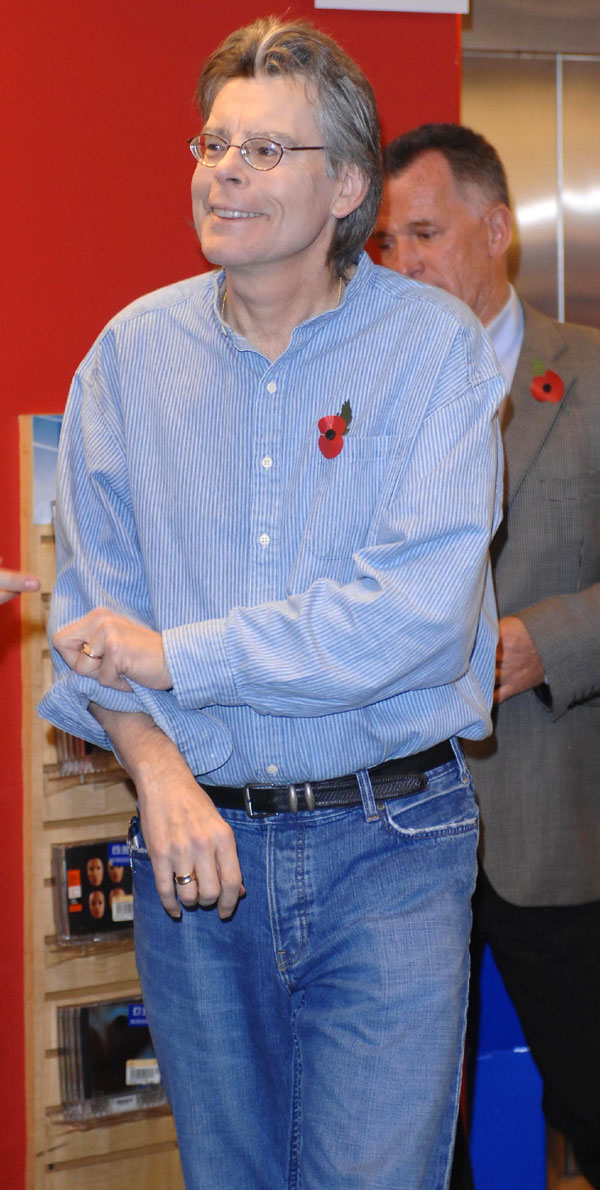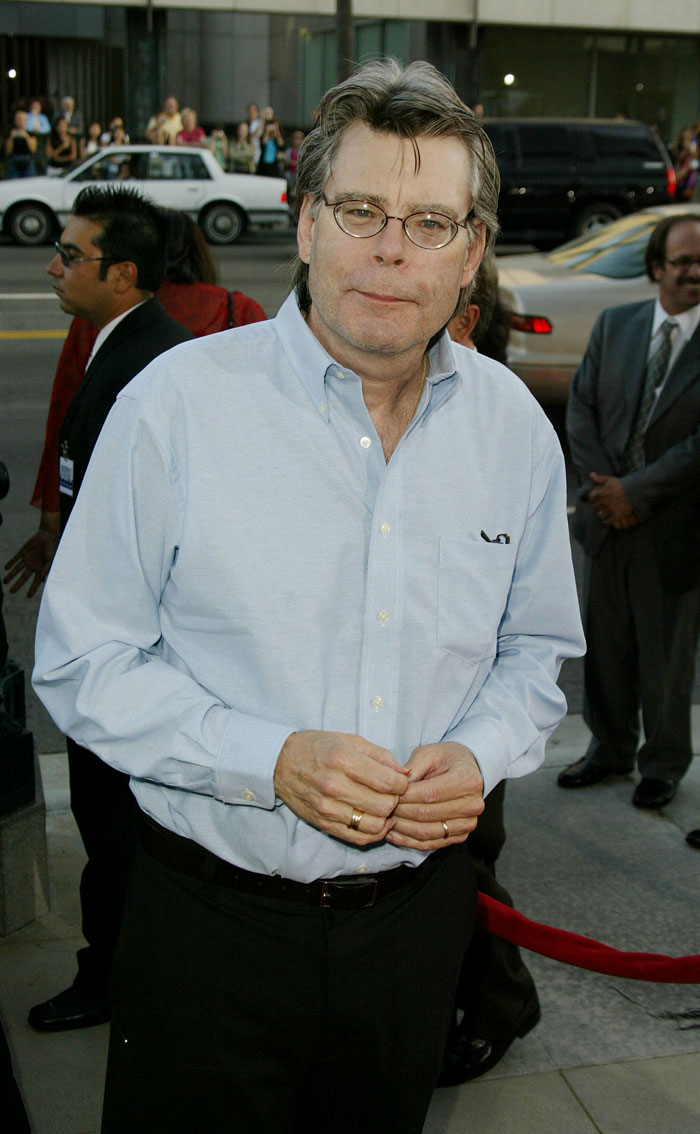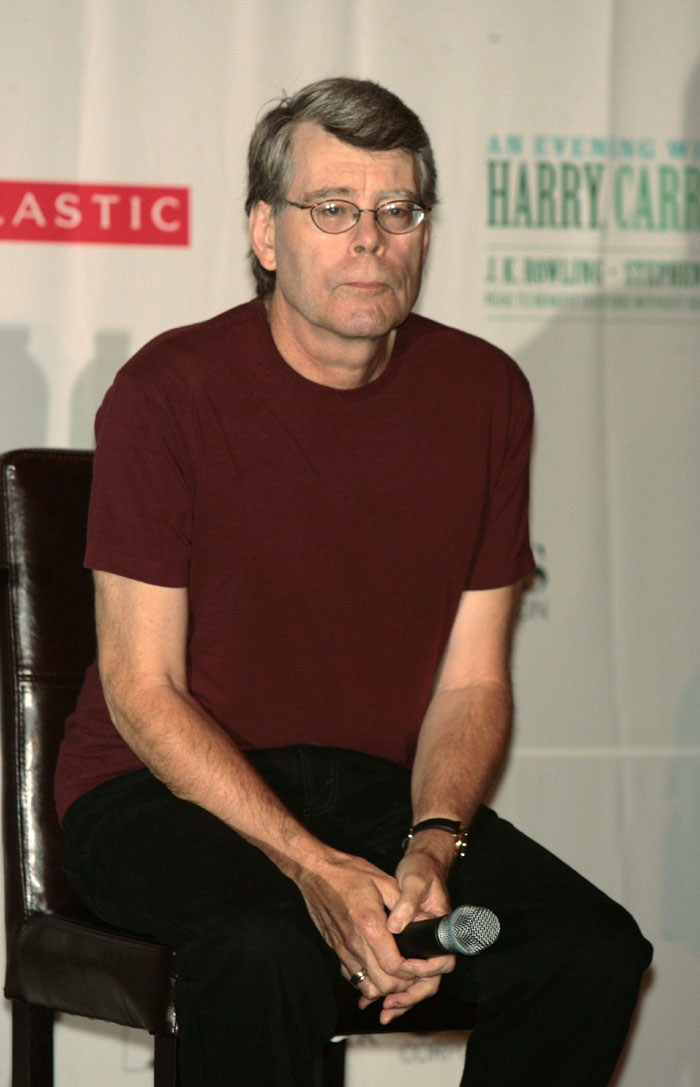 Photos courtesy of Fame/Flynet and WENN