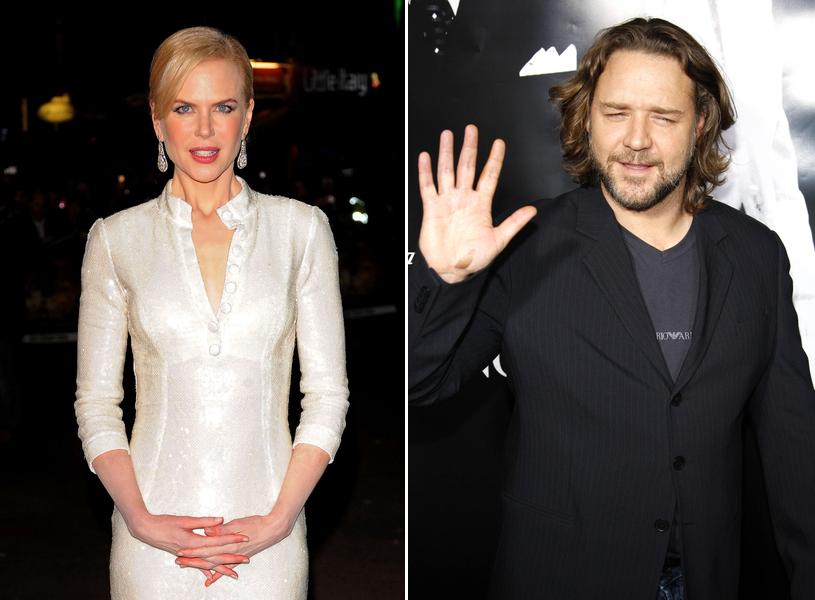 When I was a kid, I used to collect stamps for a brief time. "Brief" because stamp collecting is very time-consuming and deserves a lot patience, patience which is difficult for a child to muster. I had some really beautiful stamps, though, and I learned a little about how and why each country puts certain things or people on their stamps. Many of Great Britain's old colonies still put members of the royal family on their stamps, even after gaining independence. In America, we never put living people on stamps – people have to be dead for a certain number of years before they can be considered "stamp worthy". Many other countries feel differently.
Australia is one of those countries. They have no qualms about putting their biggest exports – their actors – on their stamps. Their current batch features Nicole Kidman, Cate Blanchett, Russell Crowe and Geoffery Rush – all Academy Award winners. Australia's Post released the stamps yesterday.
You've seen them on the silver screen, and now Oscar-winners Russell Crowe, Nicole Kidman, Cate Blanchett and Geoffery Rush may soon be starring in a letter box near you after their homeland Australia recognised their achievements by putting them on postage stamps.

The 55 cent (36 U.S. cent) stamps, which went on sale on Thursday, bear pictures of the four Australian Hollywood stars and are part of Australia Post's celebrations for the January 26 national day, Australia Day.

"The four Academy Award winners were named the 2009 Australian Post Australian Legends in recognition of the outstanding contributions they have made to Australian
entertainment and culture," managing director Graeme John said in a statement.

In addition to their Oscar gold, the stars will also be presented with a 24-carat gold replica of their stamp in recognition of the honour, the statement added.
[From Reuters]
It's a nice gesture, but what about Oscar-nominated Aussies? Naomi Watts must feel left out. And what about Heath Ledger? A stamp with Heath would have been a nice way to commemorate his life and work. Out of all of the stamps mentioned, though, I would most want to lick Geoffrey Rush!
Here's Cate Blanchett on the Hollywood Walk of Fame on December 5, 2008. Images thanks to Bauer-Griffin.