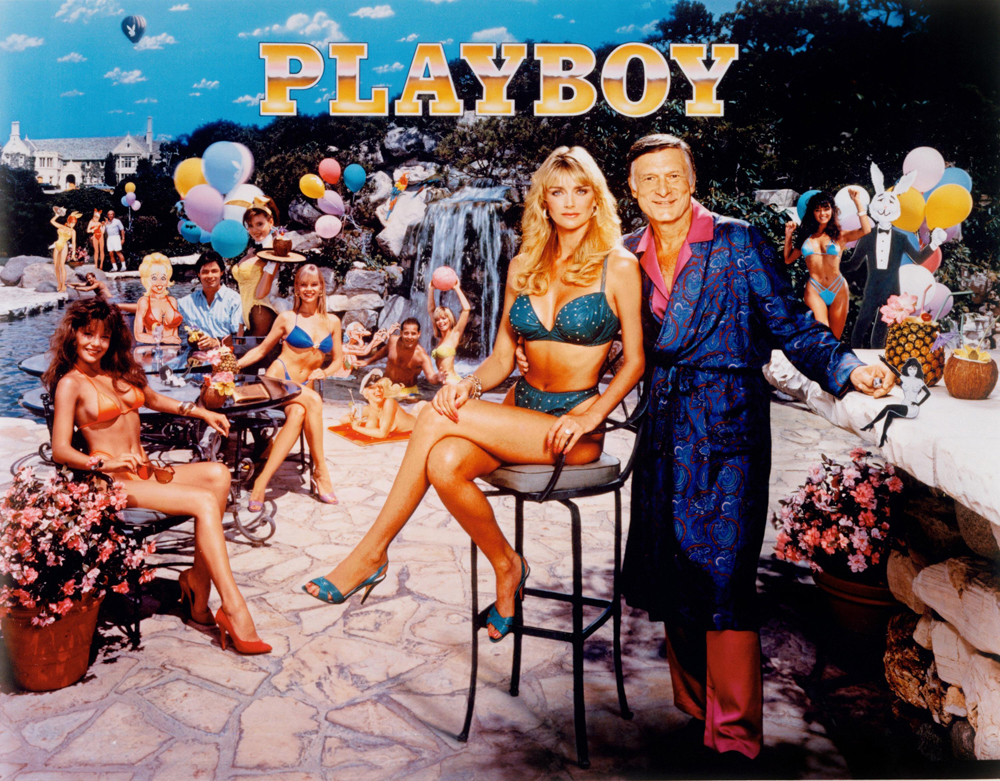 Is Hef more traditional than we all thought? Probably not, though he might be a little more loyal than previously believed. Hef's estranged wife, 1989's Playmate of the Year Kimberly Conrad, still lives on the grounds of the famed Playboy mansion. The former couple has two sons, Marston, 18, and Cooper, 17, who live with her in a house separated by tall hedges and about a hundred yards.
Conrad and Hefner separated sometime around 1998/1999 (depending on the source), but she refused to grant him a divorce and for some reason Hef never fought it. They managed to come up with an unconventional living arrangement that works for them.
Now there are some rumblings that they may have rekindled their romance, since Conrad showed up for a Playboy event for the first time in a long time.
It has been many years since Hugh Hefner's estranged wife and 1989's "Playmate of the Year" Kimberly Conrad stepped foot in her old stomping grounds for a party with other girlfriends around, but it seems the blonde beauty is bringing a little of her bunny-life back.

"I don't care about them (Hef's other companions). They actually try to avoid me," she once said, adding that she only visits the Mansion for Tuesday's "Family Night," when no other hotties are hopping around. So, Conrad reportedly caused quite a stir of surprise when she recently showed up to one of Hef's female-frenzied movie nights, spending the evening hanging out with a bevy of beauties and the men's magazine mogul.

"They still have a very special connection, you can see that when Hef looks at her," a mansion insider told Tarts. Conrad and Hefner married in 1989 and have two teenage sons together, and while they separated ten years later, the pair have never divorced ,and according to our inside source, it isn't likely that they will.

"This upset Holly (Madison) a lot, as she really did want to marry Hef and have a family with him, but she realized it was never going to happen and that's when she left," said our source.
[From Fox News' Pop Tarts]
Special connection or not, I doubt Conrad will be moving back into the mansion anytime soon. According to Pop Tarts, Hef's new lady love Crystal Harris has managed to unceremoniously knock the trashtastic twins Karissa and Kristina Shannon out of first place. She recently moved into the mansion, taking up residence in the master bedroom. To those not in the know, that's like moving into Buckingham Palace and sitting on the throne. If you had to give the king beejs to get there. Though I would love it if Kimberly Conrad were thrown back into the mix – it could definitely add a twist to the drama.
Here's Kimberly Conrad attending the opening of 'The Color Purple' at the Broadway Theatre in New York City with Quincy Jones on December 1st, 2005. Header from the promo material for Playboy's 25th Anniversary in 1988. Images thanks to WENN.