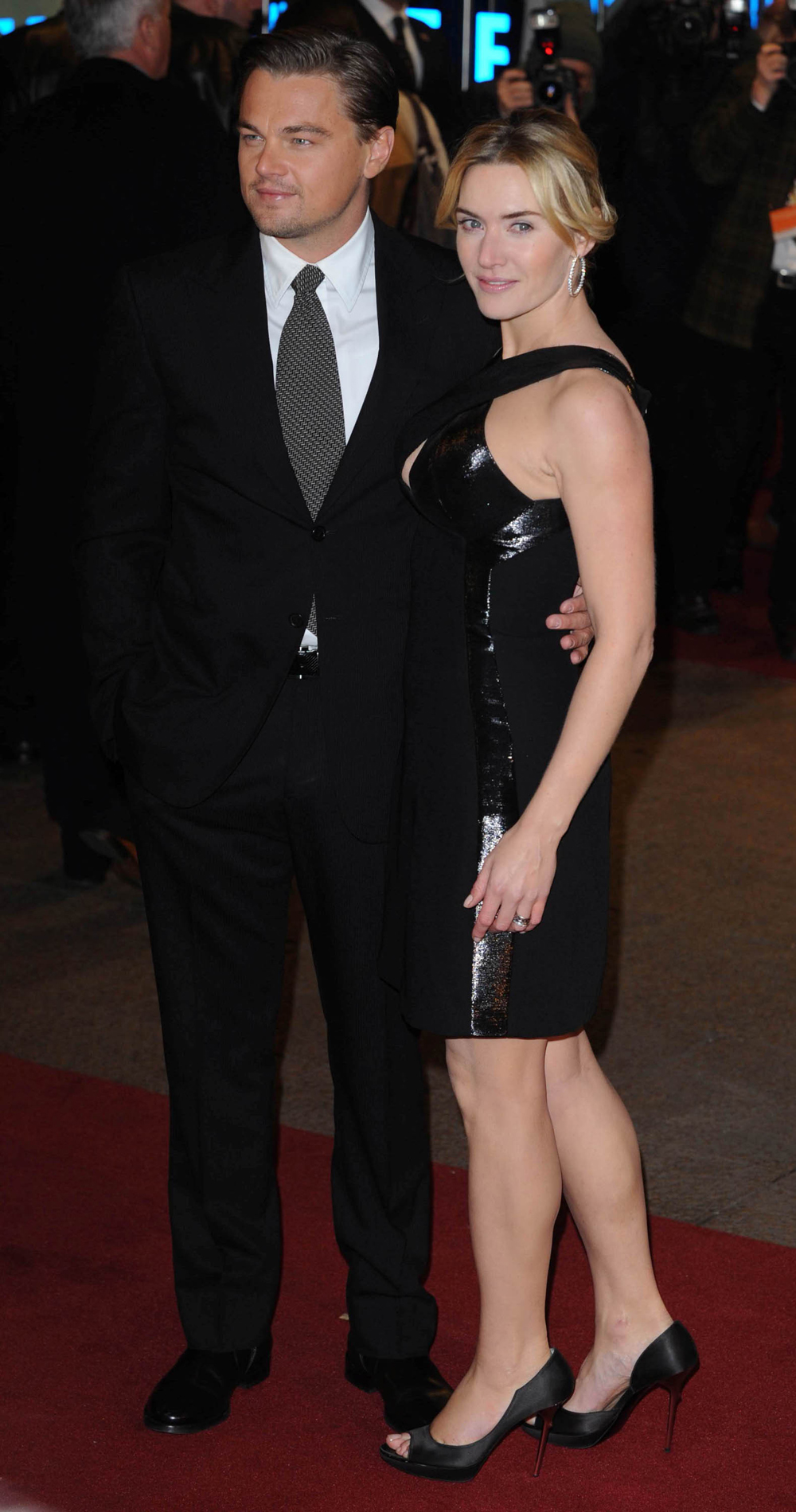 Kate Winslet's got a lock on the Best Actress Oscar for her role in The Reader, but her film Revolutionary Road was snubbed. Still, Kate is a complete professional, and she and her on-screen husband Leonardo DiCaprio have been promoting the hell out of the film, directed by her real-life husband Sam Mendes. The two actors have been spending so much time with each other that Kate's gotten confused as to who she is actually married to.
British actress Kate Winslet says she spends so much time talking about Leonardo DiCaprio she's starting to confuse him with her real husband, Sam Mendes.

Winslet is in the U.K. promoting the movie "Revolutionary Road," which Mendes directed. The film reunites her with her "Titanic" co-star and longtime friend DiCaprio.

The duo's reunion more than a decade after the melodramatic blockbuster was hotly anticipated, and both have been peppered with questions over whether their on-screen chemistry is still as strong.

Winslet told Britain's GMTV Monday that DiCaprio "feels more like my husband than my real husband, I have to say. I'm talking about him so much!"
[From The AP Hosted by Google]
Am I alone is sort of wishing Winslet would leave her husband for Leo? Those two really do seem to love each other in a very deep, meaningful way. When Winslet got up to accept her Golden Globe for Revolutionary Road, she cried and spoke directly to Leo, in the audience, saying how much she loved him and how much their friendship has meant. Even Leo looked like he was near tears. Both Kate and Leo have consistently maintained that they are each other's favorite actors, favorite screen kiss, et cetera. Leo even told Oprah once that Kate is "his girl".
Russell Crowe, however, is not Kate's favorite. Fox News is reporting that Winslet was offered the role of Maid Marian to Russell Crowe's (bloated) Robin Hood. This was the role that Sienna Miller was supposed to play, but Sienna was either pushed out or quit. There were some mutterings about Russell's intemperate behavior and his rapidly-expanding size.
It's a war of Kates — or Cates — as the search for Robin Hood's Maid Marian continues.

I told you the other day about Sienna Miller leaving "Nottingham," the Ridley Scott directed feature set to star Russell Crowe. The feeling was that petite, young Miller would seem dwarfed on screen by the older, beefier, "Gladiator" star.

Now comes word from sources that Kate Winslet, nominated for Best Actress in "The Reader," has passed on the role of Maid Marian and the opportunity to spend quality time with Crowe, Scott and pals in the woods.

A new offer has just gone out to Cate Blanchett, I am told, but the answer is likely to come back negative. Blanchett is likely too expensive and too serious to get involved in this venture. An Oscar winner herself for The Aviator in the Best Supporting Actress category, Blanchett also has to set her sight her sights on a Best Actress win. Plus, she already did her action thing with the recent "Indiana Jones and the Kingdom of the Crystal Skull."

Producers are mulling a back up plan, I'm told, waiting to make an offer to Rachel Weisz. This seems almost perfect, as Weisz may be the right price and just at the right point in her career to have "Nottingham" make a difference in upping her profile. And if she doesn't take it, my suggestion to the producers is Jennifer Ehle. But no one asked me!
[From Fox News]
Rachel Weisz would be a good choice. I approve. I'm not really eager to see Winslet and Crowe share the screen – I don't know why, they just wouldn't seem right together. Probably because she needs to be with Leo!
Here's Kate and Leo at the UK premiere of "Revolutionary Road" on the 18th. Images thanks to WENN.